Banner image: Ubisoft/Kirill B.
Tomorrow, on Sep. 9, the third and final stage of the APAC South Division will get underway in a continuation of the closest league across the pro-circuit competitions. With just five points separating all eight teams during Stage 2, this is unquestionably the most competitive league in "Rainbow Six".
Let's see how the teams line up now for the start of Stage 3 and who exactly you should watch out for.
Teams
Knights -- Dino, Hayward, StryderEpic, Jsh, Juicy, and Pikniq (Coach)
After winning Stage 2 of the APAC South League and automatically qualifying for the Six Mexico Major, Knights has opted to not make any changes as it hopes to repeat this performance in Stage 3.
While it is somewhat unlikely that any of the Australian teams will be able to attend the November Major, a good performance in this stage will almost guarantee the Knights a spot at the 2022 Six Invitational even without competing at the Finals.
Chiefs Esports Club -- Dgtl, GodLeg1on, Worthy, Fishoguy, Ethan, WarTurtle (Coach), and Hell (Analyst)
Chiefs ESC had a mixed Stage 2, to say the least. While it failed to make it to the APAC Playoffs in fifth, it was just three points away from Knights in first. Now to make up for this difference, it has brought the ex-Wildcard player of Ethan out of a year long hiatus to replace the retiring Vast.
Ethan previously competed at multiple APAC LANs throughout 2018 and 2019 before finally qualifying for the Season 10 Finals and SI 2020. Now, he's back and hoping to drive the Chiefs into a top-four finish.
ORDER -- JackDaddy, Bailey, Naate, Speca, Nikoh, Derpeh (Head Coach), and ItBeStyle (Coach)
Ethan's ex-teammate on Wildcard of Derpeh had also returned to pro-tier play a day prior to Ethan's return, as he joined ORDER as its new coach.
ORDER has had a very rough year so far with seventh and eighth-place finishes. However, both stages were very close, which meant that the team finished Stage 2 tied with Wildcard on overall points. It is also only three points deep into the relegation zone, meaning a good Stage 3 is all it needs to escape its predicament.
Wildcard Gaming -- EmoRin, Giovanni, Pat, Vincere, Milostka, r0usty (Head Coach), and Fluxx (Coach)
Rounding off the Australian rosters, outside of former coach and manager syliX retiring, Wildcard Gaming has opted to make no changes going into Stage 3.
Just like the Chiefs, Wildcard had been just one win away from winning the whole league with 10 points compared to 13 points for the victor, Knights. Coupled with an improvement from eighth in Stage 1 to sixth in Stage 2, the team seems confident that it is improving enough to break the top-four barrier this stage.
Dire Wolves -- Ray, Pikan, Ed, Souffle, JackyWu, Odin (Coach), and Ratio (Analyst)
By far the busiest team during this transfer window was the Taiwanese 7th Heaven roster. Not only did it sign with the Australian organization Dire Wolves, SPirited also retired and was replaced by JackyWu, while Cyan was replaced on the bench by SHADOW.
These changes come after the team dropped from a fourth-place finish in Stage 1 to a seventh-place finish during Stage 2. It will now be hoping that JackyWu's addition can make up for lost ground and put it back into at least a playoff spot for Stage 3.
Invictus Gaming -- Lunarmetal, Jo, HysteRiX, SpeakEasy, jrdn, Ultima (substitute) and GiG (Coach)
As one of only two APAC teams to qualify for both the Six Invitational and Six Mexico Major this year, iG is likely very confident in its ability to repeat this feat during this stage.
They did, however, only qualify for the Major on the tightest of results after they finished Stage 2 in fourth by one point to qualify for the Playoffs and then won the fourth-seed spot to the Major due to a 7-5 on map three against Elevate during the Playoffs.
An improvement is definitely gonna be needed in order to not need to sneak by once again.
QConfirm -- Lycolis, Producerboom, Hajime, HealthcareOG, and DomeDominic (coach)
After leading the APAC South division for most of Stage 2, the Thai roster fell just short on the final week following losses to Elevate and Wildcard. Now, the team has made a big change as Roldinii and Darkk have both left the six-man team after Roldinii replaced Darkk on the main roster halfway through the stage.
Qconfirm is yet to announce its fifth player, but will need a strong signing to push for first in the hyper-competitive league.
Elevate -- Sapper, DCH, Nay..Pew, sprOnigiri, AnGryX, Dr.Bestsiaer (coach), and redsun (analyst)
Elevate had a very similar stage to QConfirm, as a 7-5 loss to iG on the final day of Stage 2 led it to miss out on auto-qualification to the Mexico Major. The misery was doubled when iG also beat Elevate in the Playoffs, 2-1, to clinch the final spot at the Major.
Elevate did, however, win in Stage 1. As such, across the 2021 season, Elevate currently sits as the top APAC South roster. Due to this, it has joined iG and the Knights in making no changes to its team this window after BGMan joined very late into Stage 2.
Format and Schedule
Following its kick off tomorrow at 3:30 PM SGT (UTC+8), the APAC South Division will have play days every Thursday for the next six weeks, with an additional play day on September 28th. Each play day has four best-of-one map games, which means that every team plays at least once a week.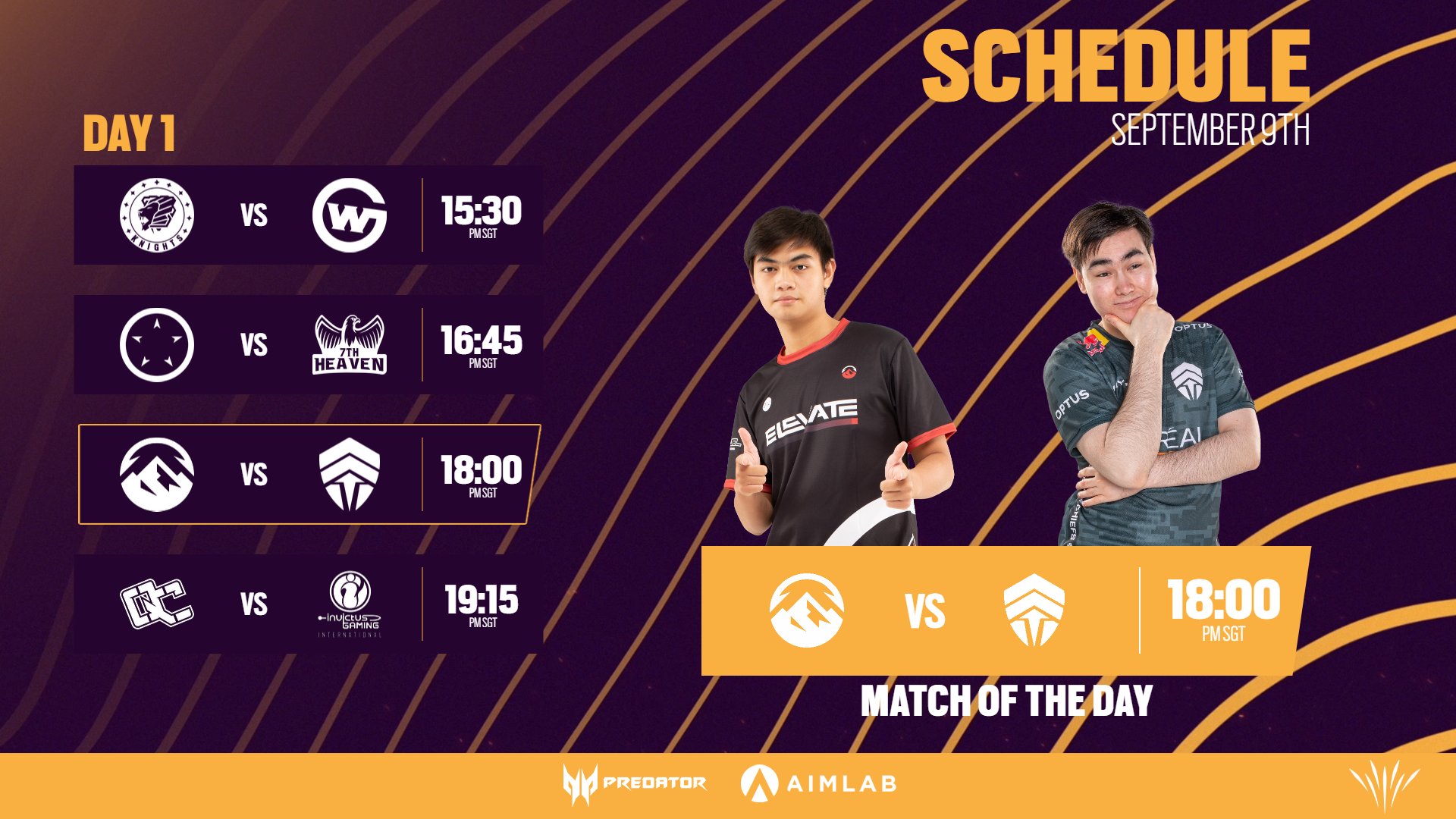 Following the seven play days, the league victor automatically qualifies for the November Major, while the second to fourth place teams qualify for the subsequent APAC Playoffs.
The league will be cast by the returning talent from Stage 2 of Devmarta, Guzz, Raven, Manic, Zenox, and Bluepanda with Skye and Rappel observing.
Running parallel to this league is the APAC North tournament, will kick off on Sep. 8 and will have games every Wednesday.
As well as this, on Friday Elevate and QConfirm will be competing in the Operation League Thailand tournament. Meanwhile, on Saturday, the Oceanic Nationals kicks off for the Australian rosters, while Dire Wolves will be competing in the Operation League Taiwan.
---
Keep up to date with all of these tournaments and teams here at SiegeGG over the next few weeks as the final stage of the 2021 pro-circuit kicks-off.