With many leagues now on a short break ahead of the Six Invitational there were very few games happening in the R6 World. Nevertheless, be sure to check out our dedicated articles on last week's GSA and PG National play days.
Until then be sure to also check out our pre-SI coverage including the following interviews with more to come next week:
As for everything else, Tier 2 to 3 tournaments took place across every region, including the Challenger League in North America, CL qualifiers in Europe, the Brazil Cup in LATAM, and the GAKGUAY Scrimmage Thai tournament in APAC which saw the debut of Elevate Academy. Here's the best of the action at the end of Stage 1 as the pre-SI break slows things down.
Jump to:
NA Challenger League: Parabellum & KCP Both Hits Hurdles
Firstly, this week continued the upsets in NACL as the newly acquired Group B leaders of the Kansas City Pioneers lost their second game under the org against Orgless which includes the players of Jarvis, StorMz, and Prod.
This game was dominated by Jarvis who went 10-4 as a number of slow attacks led Orgless to take an initial 4-2 lead which they eventually took 7-3. Despite this result, KCP remains in the first place while Orgless also remains in third but now just three points separate the teams.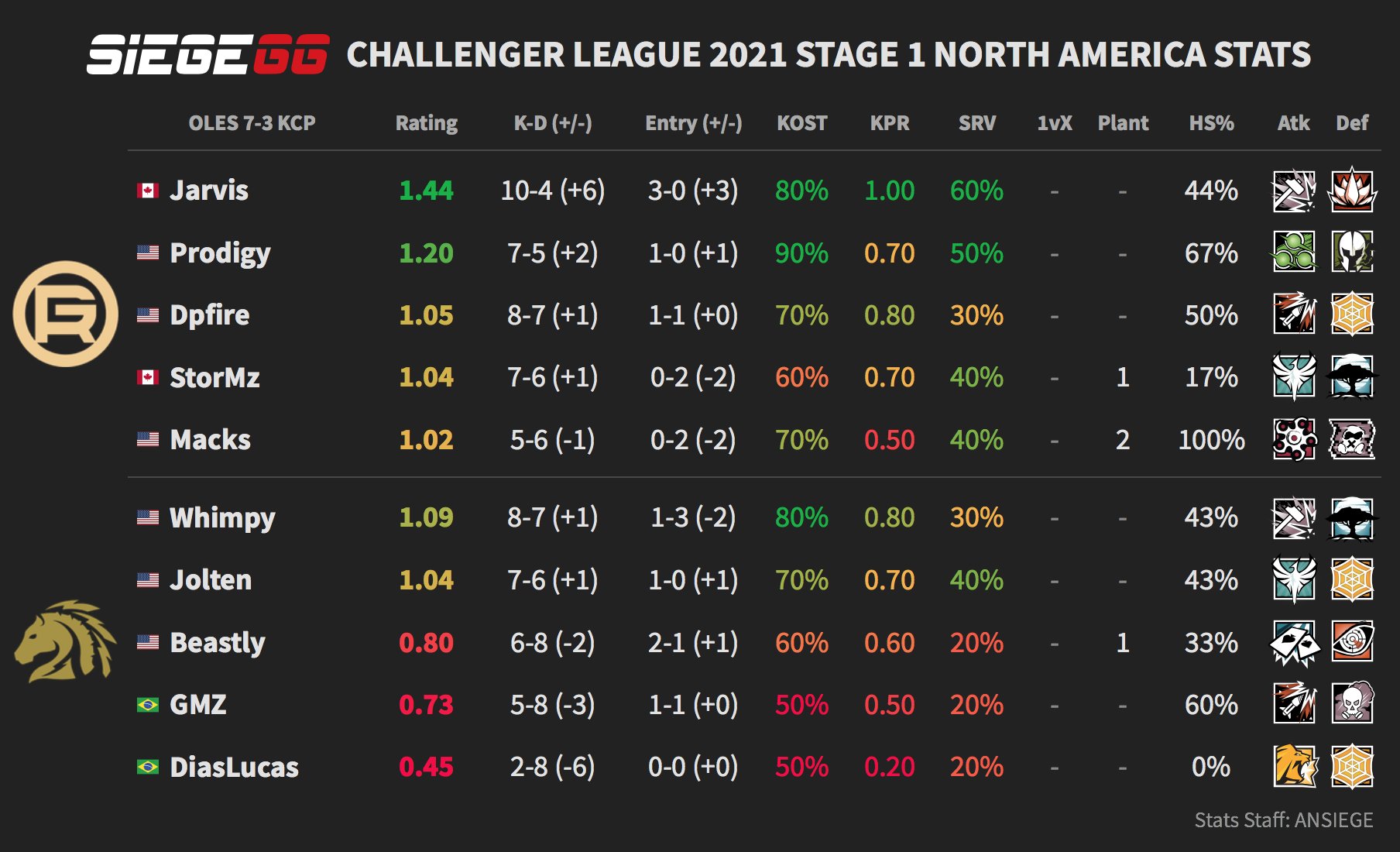 In Group A, meanwhile, the attention was on Parabellum who, ahead of their Six Invitational appearance next week, played three games this weekend against OCG and PDHM on Saturday and Honor on Sunday.
The first two of these games went fairly smoothly for PBLM with 7-2 and 7-3 victories as SpiriTz went 13-3 and Eskaa went 14-5. Game three, however, was an issue.
On Coastline the sixth-placed roster of Honor was initially kept at bay by Parabellum as a 4k from SpiriTz on Ash put them ahead 4-2. As the sides switched, however, Honor came back with a 4k of their own from Oreo and a 1v3 win from Pox. The only defensive round win won was a 1v2 by Sonar as the game ended 7-5 in Honor's favor.
Clearly, Parabellum's focus isn't on Challenger League so close to SI, and with two extra games played they have shot to the top of the Group A standings. This result is, however, a big deal for Honor as this now puts them in joint third with PDHM and OCG with APE just two points ahead of them.
Finally, Aqualix finally got their first points of the season with a win over Smoke Break who also sat with zero points likely answering the bottom standings in Group A.
EU CL Qualifier #1: Mkers Reigns Supreme but GCE Takes Them to the Edge
The SI-qualified roster of Mkers surprised noone with their victory in the first Challenger League qualifier this weekend, taking the grand-final in a straight 7-2, 7-1 scoreline. There was, however, a surprise in the semi-finals as they faced the current last-placed GSA League team of GC Esport.
This game took them all the way to map three with a defense start during the overtime on Villa which ended 8-7 being the difference between a win and a loss.
Earlier in the tournament they also lost a map against the French roster of DeathroW 7-1, however, won maps two and three in 7-1, 7-2 scorelines to win the series.
We can't be prouder, but we have to thank this amazing community for all the support! Thanks in particular to @Lordchanka98, @ChiNook_R6, and @etrurianx
Elsewhere, notable results saw the BNL League leaders of GAMMA playing with their substitute of Phenomene be knocked out by Hmble, the GSA leaders of Sissi State Punks lose to Imagine 11, Mkers themself knock out the Russian leaders of 43rti, and both the UKIN leaders of WYLDE and the Spanish leaders of Mav3ricks eSports be taken down by GCE.
The next two qualifiers will take place after the Six Invitational. After all three the top five teams by points qualify for the Challenger League.
Copa do Brasil: BD, BD Academy, INTZ & oNe Academy All Eliminated
While week one saw W7M Gaming be first rounded against Dromedalho, play day two then saw INTZ and BD Academy fall while yesterday Black Dragons and oNe Academy lost.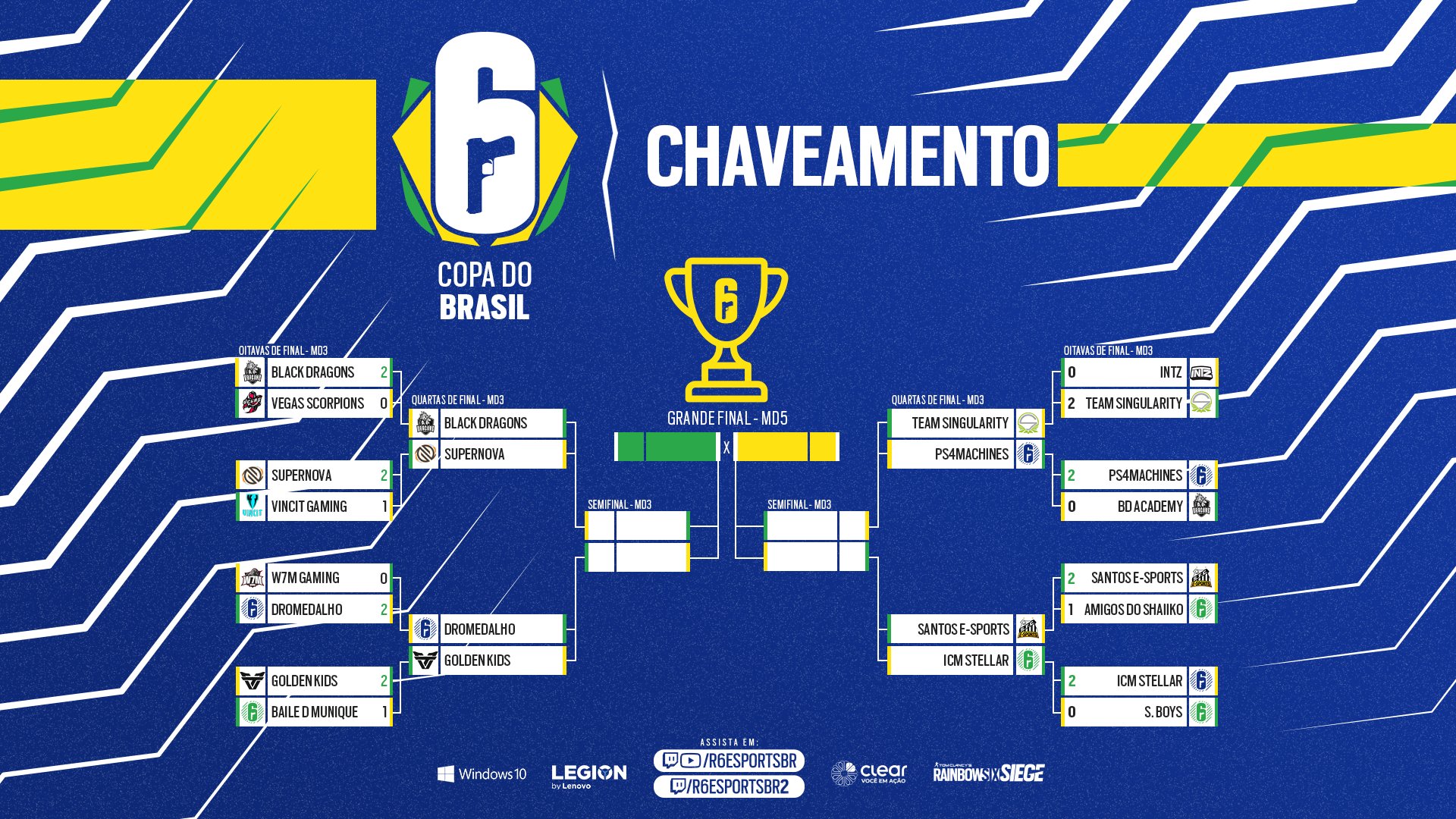 Looking at the two pro-level upsets, we start with INTZ vs Singularity. This SNG roster includes the ex-BD player of GdNN1 -- the player of which the FaZe/BD match-fixing scandal was based around -- as they frankly demolished their opposition.
Across Villa and Club House INTZ won just four rounds total as SNG's ZaaK went 21-8 on Ash/Jager including 5-1 on entry and a 1v1 victory. Both teams also secured a 1v3 with GdNN1's being in a post-plant situation:
The Black Dragons loss meanwhile came in the semi-final stage against SuperNova Team who had just defeated the ex-Santos roster of VINCIT the round prior. This game was much closer with it coming down to 8-6 on map three and did see resetz subbed-in for yoona following yoona's Twitch ban.
The standout player here was Peress who went 14-6 on map one followed by 14-9 on map three, both primarily on Ash making himself a pretty hot pickup for BR6 teams once the transfer window opens up again.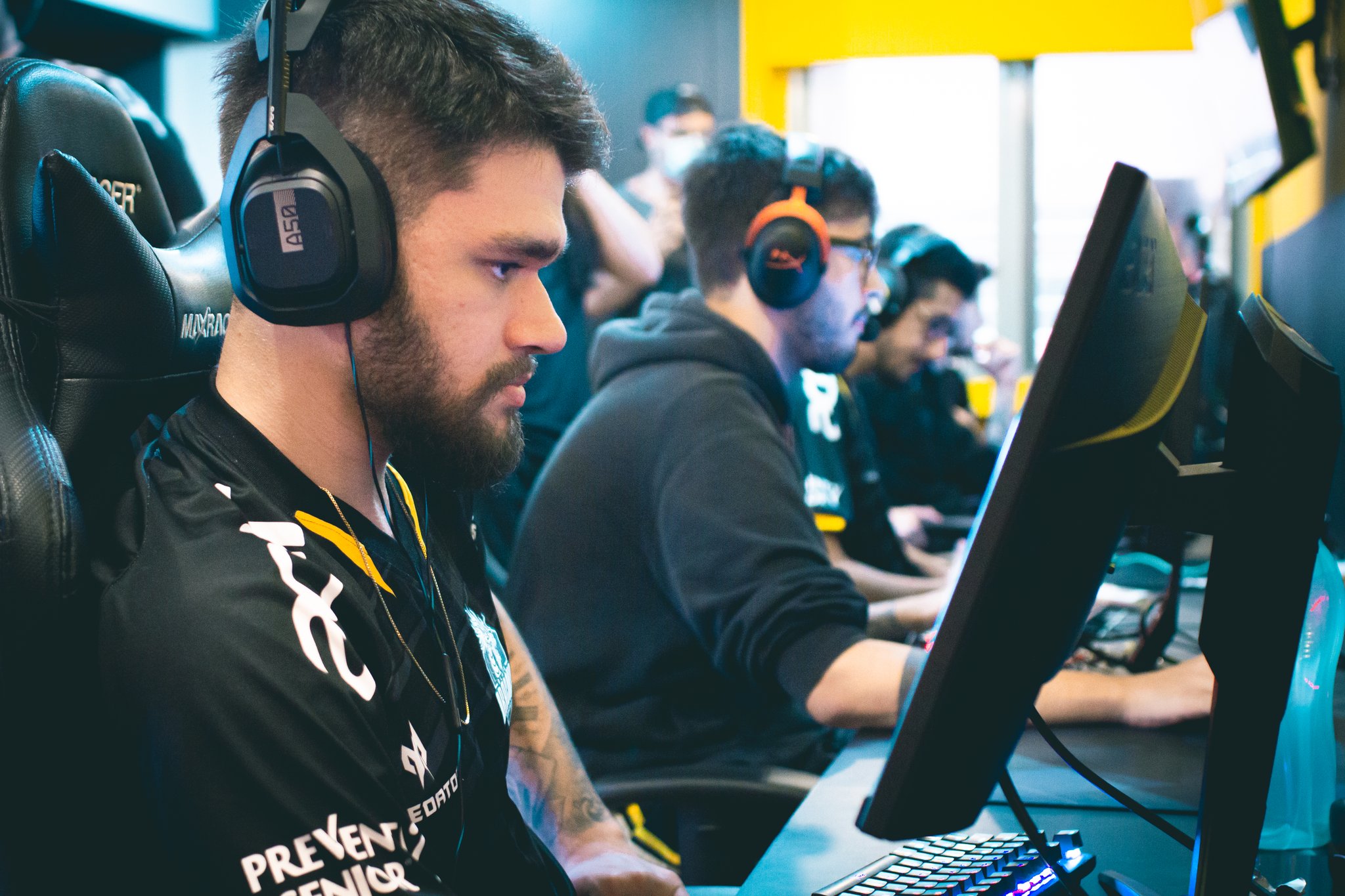 Finally, Dromedalho impressed once again last night as they followed up their week one win over the BR6 team of W7M with a win over the top-seeded tier-two roster of Team oNe Academy, both in 2-0 scorelines.
With these results, tonight will see Singularity vs PS4 Machines and ICM vs Santos in our remaining quarter-final games. The weekend will then see the finale of this tournament as SuperNova and Dromedalho meet in the first semi-final and the victors of tonight's games meet in semi-final two.
Be sure to catch out much more in-depth rundown on the tournament next Monday following the grand-finals of the Brazil Cup as well as the Mexican and South American Super-Cups and the Brazilian Women's Circuit.
Benelux League: GAMMA Falls to KVM but Retains First
The last week saw two play days on Wednesday and Monday with the biggest game of the season so far taking place seven days ago.
This match saw the two league leaders of GAMMA and KVM match up which KVM immediately took the lead in on Oregon. A single 1v1 from Leonski over Kwekko meant the first half ended in a respectable 4-2 before a 4k from Deapek and a 1v2 from Leonski tied up the scoreline.
The teams traded rounds all the way to overtime and through to round 15 where Flixow on Maverick stood up with a triple kill on Maverick as he successfully covered the defuse with zero seconds on the clock.
This is, therefore, the GAMMA roster's first domestic defeat in over a year since April 23rd 2020. Despite this, as it was an overtime defeat they still remain in first place in the league and insist that once the transfer window opens and they pick up their desired players they'll be truly unstoppable.
Elsewhere, across the seven other games, KVM and GAMMA both handily won their follow-up matches, however, a number of upsets did happen in the mid-table. Most notably Clutch Rayn in sixth place took down both the third and fourth-placed rosters of 4E and AvE in 8-6 and 7-5 scorelines.
These results came despite their Ash/Jager main of Sanginell going 15-21 as Zevroz went 14-6 against AvE and the team secured three separate clutches against 4E. These results push CR up to fourth place just three points shy of KVM who they face tonight.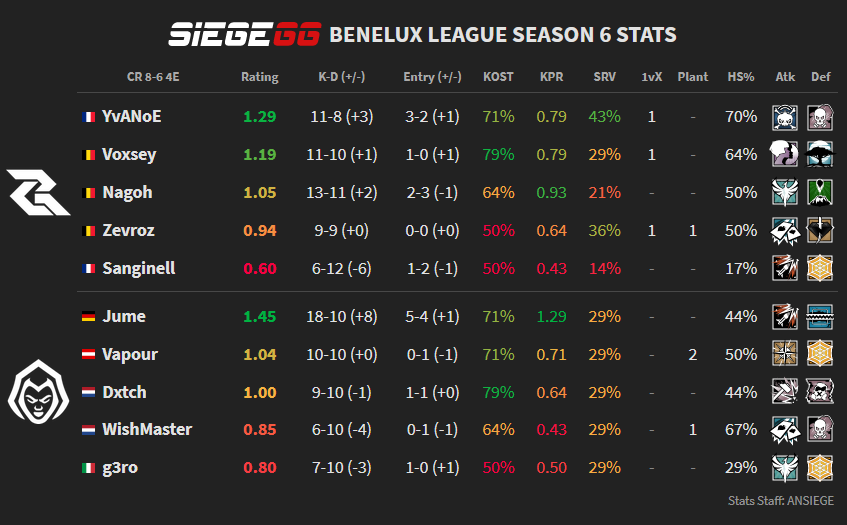 Finally, after coming into this week with a 2-0-0-2 record, 7AM has slipped two spots with two key defeats. This includes a 7-0 defeat against second to last Game Fist as 7AM clearly weren't practiced on Chalet followed by a 7-3 defeat against 4E on Monday.
The most notable thing about this game, however, isn't from 7AM but from Game Fist as their win came thanks to a colossal 14-1 stat line from LNG which secured him one of the largest SiegeGG Ratings ever awarded at 2.45: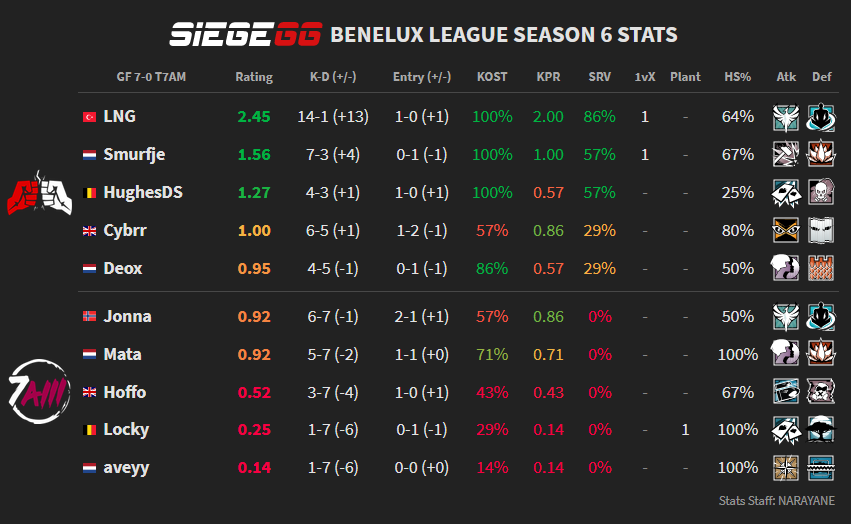 GAKGUAY Scrimmage: Elevate Academy Impresses in Debut
The GAKGUAY Scrimmage tournament is an online $9k Thai tournament currently in its second season which kicked off on Monday. While many national level tournaments take place around APAC, this is notable as being not affiliated with Ubisoft which means, unlike in any official tournaments, Elevate and the newly acquired Elevate Academy roster are both allowed to play.
While their head-to-head will not happen for a few weeks, both of Elevate's rosters played yesterday with them both securing a win. While Elevate Academy won their debut under the organization against Sharper Esport, 7-0, the main Elevate roster won 7-2 against Team Insen in what was also a national-level debut for this team after being picked up from Xavier only last month.
With QConfirm also competing and Sharper being last season's runners-up ahead of Xavier, this season is set to be pretty close as we get our first insight into who may be challenging for an APAC League spot at the end of the year.
Concerning the Elevate Academy roster pick-up, this replaces the Elevate Women's roster which disbanded last week following three straight XP Women's League titles.
This new Academy roster includes the player of Nerix who played for Young Bloods last month, was picked up for Elevate as a substitute for three weeks, and now returns to Young Bloods which has since been picked up as Elevate Academy. It is likely he has remained as a substitute for the main lineup in a first outside of the LATAM region.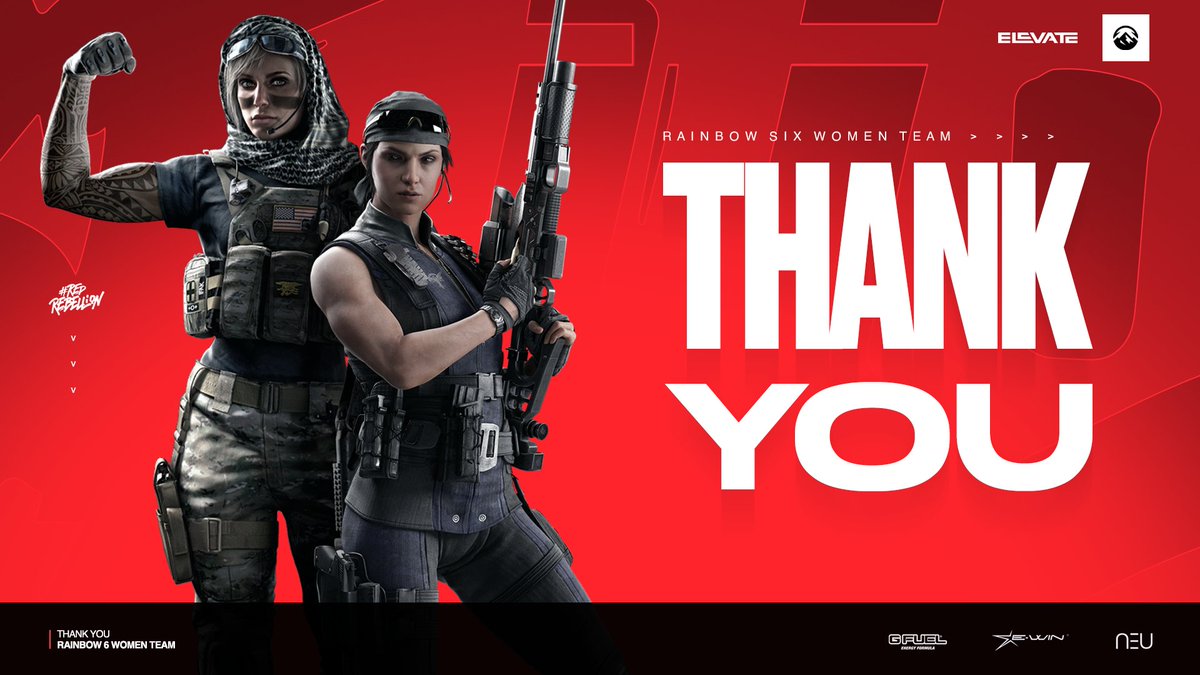 This, therefore, marks the Elevate org's 10th distinct roster; three in NA, two in LATAM, three in OCE -- two of which were women's lineups -- and now two in SEA.
---
Next week will see the start of 2021 Six Invitational and so all other tournaments will be paused until afterward. Be sure to check SiegeGG for a full rundown on the SI21 action throughout the week.