Women's only tournaments designed to get new people involved in R6 esports have been going on in Latin America for over a year now, with a number of different tournaments having taken place, and two of three such tournaments are still ongoing. The rest of the world, meanwhile, has seen the just one notable event -- the GamingIsFun Women's event cast in Hungarian earlier this year -- prior to the CCS Women's League kicking off in North America and Europe last month. Here's a quick rundown of the recent action across these ongoing leagues:
Jump to:
Circuito Feminino 2019: Greenk - Black Dragons Defends Title
The Women's Circuit tournament sees four teams qualify via open qualifiers to tournaments held at large gaming festivals in Brazil. Last year's events took place at the Geek & Game Rio Festival in July, and the Game XP event alongside the BR6 Finals in September. This year, the tournament once again opened ahead of the BR6 Finals at the Game XP event and saw its second event at the Greenk convention -- the largest technology, innovation and sustainability festival in Brazil -- last weekend.
The tournament saw three out of four of the top teams from the GameXP tournament qualify, with the lone exception of Athena's e-Sports replacing the INTZ eSports Club Female roster with the Black Dragons (BD) e-Sports Female roster being the firm favourites to take this tournament as they have won all three previous Female Circuit events. We spoke to Black Dragon's captain, Myllena "Myss1" Almeida, about the roster prior to the since-cancelled DreamHack Rio R6 event earlier this year back while they were playing under the Brazilian Crusaders (BRC) organisation:
Firstly, can you introduce your roster to us?
BRC consists of the following players: Myss1, Lara, Ch3rn4, Russa, Thaii and Naty. We practice every day in order to be the first all-female team to play in the Challenger League.
At DreamHack you will be playing against Pro League teams, do you have any previous experience at this level and what results can we expect?
We have already practised some times against some Pro League teams and we managed to perform well in some rounds. Also, by practising against them, we managed to find some mistakes in our gameplay. We expect to play some good games at DreamHack.
Why do you think all-female tournaments are so popular in LATAM but not in any other region?
I think that Ubisoft LATAM started to act after seeing some all-female teams playing amateur championships or GO4s. I believe that the other regions should do the same in order to attract women willing to compete.
At the Circuito Feminino 2018 Finals, you played in an Olympic stadium on the biggest screen in the world -- what was this experience like?
It was such a unique experience, we got goosebumps when we saw that big screen. But the best part was seeing lots of people cheering for us from the crowd.
Do you have anything to say to your fans?
We are counting on all of your support, this is just the first opportunity for us to show how much we have dedicated ourselves to this game.
This event started for BD with a matchup against the New Eagles Team (previously known as Resilience e-Sports Club, the GameXP 2019 runners-up) and while it was a somewhat tighter result than their last meeting, it was still a clear blowout for the reigning champions. The matchup on Coastline and Consulate saw standout performances from Lara and Thaii, with the duo finishing with a combined count of 26 kills to 13 deaths on the second map alone in their 7-3, 7-4 victory.
The following day saw another two-map matchup in the second semi-final between the Team Brave Soldiers Female roster and Athena's e-Sports, with the former reversing their GameXP performance as they won by the same scoreline they lost last month -- 8-6, 7-4 -- to set up a meeting with BD in Sunday's grand final. Black Dragons vs Brave Soldiers for the $2,000 prize pool looked to be the first real challenge for BD in these tournaments in over a year as the first map of Clubhouse went down to the final round between the teams, before double kills by Thaii and Ch3rn4 ended round 15 in their favour. BD followed this up with a quick victory on their pick of Bank, 7-2, to take the title once again.
With a perfect run, the @blackdragonsBR girls have once again shown their strength in the face of the Women's Circuit and are the great champions of the @greenk_oficial stage!Congratulations girls, a title more than deserved!!!
Queen of Hearts 2019
With the Women's Circuit now over for 2019, eyes now turn to the Queen of Hearts tournament which involves many of the same teams. These online finals are the finale of six months worth of competitions, from the initial White Rabbit Cup taking place in April, followed by two Seasons of the Mad Hatter competition, in which teams competed for points to be invited to the Queen of Hearts group stage, and then the eventual finals to cap off the Alice in Wonderland themed competition.
This final, taking place this coming Saturday, will see Black Dragons aim to win yet another title against the team they defeated last week, the New Eagles Team, with $3,500 on the line. While this may seem like a somewhat straightforward game for BD -- and it likely will be -- the New Eagles have the one advantage that they come into this grand-final as the top seed, having narrowly secured more points than BD in the Mad Hatter tournaments (3537.5 to 3500) and has secured more second-place finishes than virtually any team ever seen before.
To add to this matchup further, earlier this week an ex-New Eagles player of Carol has joined the Black Dragon's roster as a sixth player with a game against her old team first up on Saturday:
Hi girls and boys, this is @CarolAerroc our new sixth player.
CCS Women's League
North America
With the season now at its halfway point with four out of nine playdays played, Artemis currently sits confidently at the top of the standings as the only unbeaten team in the league with four wins against three of the four teams below them in the standings -- Queen Yolo Mid (QYM), Victorious Secret, and Axious -- as well as 8k Gaming, who sits down in seventh place out of the ten teams. This, however, hasn't been clean sailing for the lineup, as a number of their games have been very tightly contested, with their game against Victorious Secret being as close as it could be -- ending 8-7 despite Artemis initially going behind 4-1.
Trailing Artemis is both QYM and Disrupt Gaming in second and third, who both faced off two weeks ago in what many thought would be a season-defining matchup. The game, cast by the two Pro League casters of Stoax and Interro, was initially taken control of very early on by QYM, as the first half ended in a dominant 5-1 scoreline, which included a 1v2 victory by Kasumi. The second half looked better for Disrupt, though, as the following two rounds saw them get 3v1 man-count superiority before QYM pushed themselves onto map point with a flawless attack onto the Blue/Sunrise Bar objective. The map eventually ended after a dominant round for each team put the scoreline on 7-4 in QYM's favour, with Kasumi and Bapperz both achieving at least a 2.0 K/D.
Finally, to round out the top four, we see Victorious Secret, which includes the streamers of Lil_Lexi and Thatonebritt who, after coming into the season as one of the favourites, currently sit with two wins and two defeats. Starting off with their victories, they secured a very confident 7-1 win over POWERHAUS Mischief last week (where JustBreezy got 10 kills to just two deaths), while back in week two they defeated Team SiNister.RED 7-4 (where both RachelBoo and JustBreezy had a K/D just below 2.0). As for their defeats, they include the 15-round 7-8 loss versus Artemis and a 3-7 defeat to Disrupt -- two of the top teams in the league. Now, having played against two of the top and bottom teams in the league, they will be tackling those around them in the league to keep their playoff spot.
Europe
The European league which is also at its mid-way point has also seen two rosters of note jump to the top of the standings in Team Queen and North Sea Gaming, two teams set to play each other as the opening game tomorrow evening.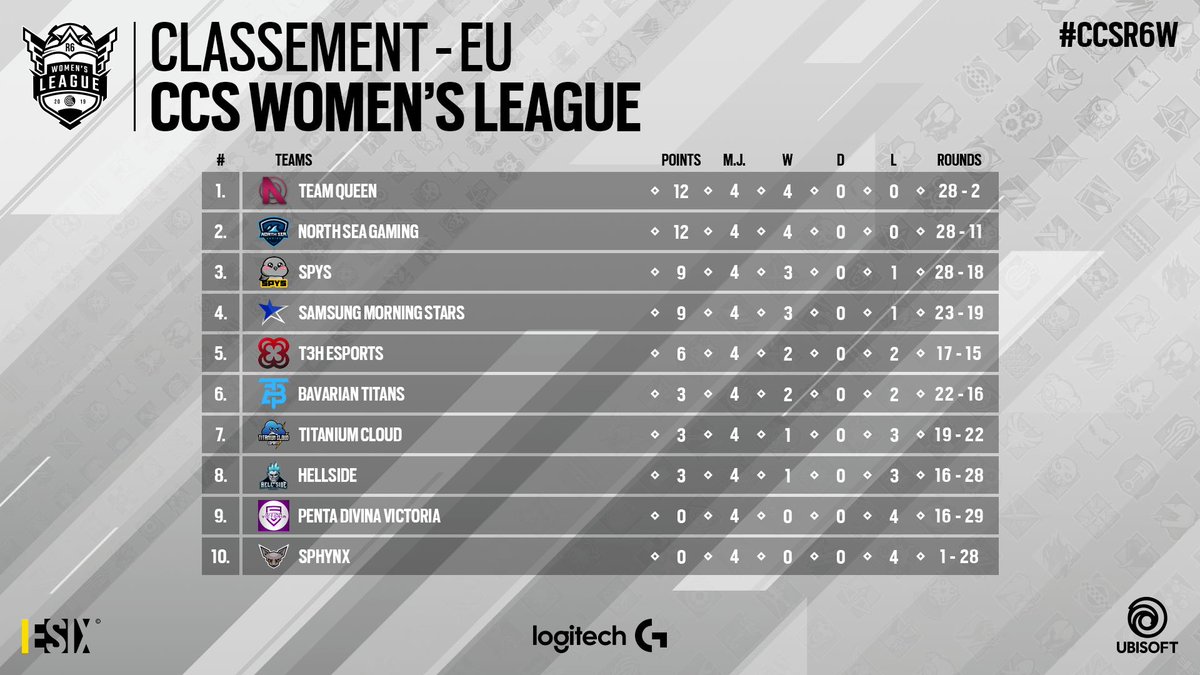 The Team Queen roster, which includes the French streamer and Twitch Rivals winner of Kitty, has currently lost just two rounds across their four maps played -- a record few, if any, teams have matched. This is because their last few games against Sphynx, T3H Esports, and HellSide Esports have all ended with 7-0 scorelines, with just Baravarian Titans Esport being able to take two rounds off them in the first week.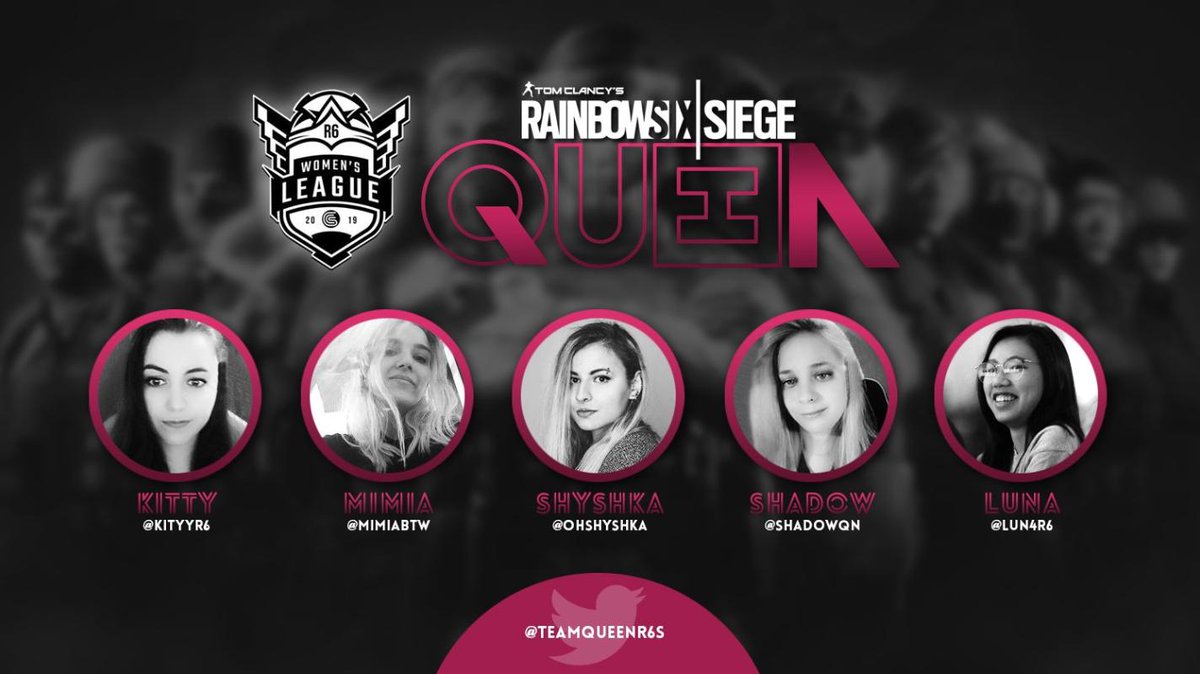 We therefore briefly spoke to Kitty from Team Queen to ask about the season so far:
Firstly, can you introduce yourself and tell us how your team initially came together?
So my team is European, we started something one year ago with Team Queen. I joined this team that Shyshka and mia started and it was an only female team too and it was great but we had no goals so we stopped. Then CCS got announced so we wanted to give it a shot. I'm a streamer and have been streaming r6 for a bit more than a year now.
On Wednesday you play NsG who you're joint top within the league, have you been practising for this game and how do you think it'll go?
We've been practising the game against NSG and we just hope to win and give to people a good show!
Are there any players in any other teams in EU or NA that have stood out to you?
The one that stood out to us the most is Valkja (pascal.genial) in Spys. She did a lot of nice plays
What has been the best part of playing competitive R6 so far?
I would say the best part to play competitive is just trying to get better as a team every day. Even if we do mistakes as long as we improve we're happy and confident that we can go far.
North Sea Gaming (NsG), meanwhile, have also found four wins in four weeks, but these have been much closer games. The three teams Team Queen defeated 7-0 took a total of seven rounds from NsG -- 7-4 against HellSide, 7-3 versus T3H, and another 7-0 against Sphynx -- while last week NsG defeated Titanium Cloud Esports 7-4 thanks to a 5.0 K/D from Arya. These are undoubtedly great results for the NsG team, and currently puts themselves joint first, but with games against the three other teams currently in playoff spots yet to come, their season is far from over.
Just below these two in the league, with nine points, sit the SPYS (which includes the streamer of Valkja) and Samsung Morning Stars Athena roster (the organisation which the ex-PENTA coach of Jess joined as head coach last week, with her role presumably limited to the men's team to prevent any conflict of interest). So far, both these teams sit with nine points from three wins and one loss, with SMS' loss coming from SPYS, while SPYS' defeat came from the previously mentioned Bavarian Titans roster.
This matchup between the two third place teams played on week two was somewhat one-sided for the mixed-French/Austrian/Croatian/Russian roster as SPYS won 7-2, but with the Dutch ex-T3H player C4NARY joining them last week, and with six games left to go, it is hard to judge where these two teams will stand when the playoffs arrive next month.
Other Events
As previously mentioned, there have been a number of other women's-only tournaments in both Brazil and Europe. The first of these was the Liga Feminina tournament that ran from February to June this year in Brazil by LSA (Liga Six Amadora, the closest thing LATAM has to the CCS), which was once again won by the current Black Dragons roster where they defeated the current New Eagles roster in the semi-finals. Last year there was also the Super Liga Feminina tournament which saw Season 1 be won by the Black Dragons roster and Season 2 be cancelled due to lack of signups.
In Europe, we've previously seen the GamingIsFun Women's Cup where the current Team Queen roster took the title against five Hungarian rosters, a Spanish lineup which included the Spain Nationals player of Reina, and a lineup which includes players from the current SPYS and T3H rosters, as well as the previous coach of PENTA and one of the organisers of the CCS Women's League, Jessica "Jess" Bolden.
Despite these tournaments, however, Latin America and Europe remain the two regions with the fewest women playing at the top level of R6 esports, as Lauren "Goddess" Williams plays in North America's Pro League on the Susquehanna Soniqs, while Kaya "Loona" Omori plays in Australia and New Zealand's (ANZ) Pro League on Team SiNister. In staff roles, meanwhile, we also see Uyen "uyen" Pham managing the FURY ANZ Pro League team and Laurie "Lyloun" Lagier coaching Team Vitality in Europe's Pro League.