All predictions and opinions in this article are my own and not necessarily representative of the rest of SiegeGG's staff.
Next week sees the 3rd major in Siege history take place in the form of the Paris Major, the biggest R6 tournament ever held outside of Montreal, Canada, with $350k on offer. Understandably the favourites to win the tournament are most likely PENTA Sports, the current World Champions, Team Liquid, the current Seasonal Champions and Evil Geniuses, Siege's very first World Champion from back in Year 1, with very little attention being given to the newest region to enter the Pro league scene - APAC.
The Asia-Pacific region has had a rough history so far since their introduction into Pro League during Season 6, this is because they have achieved just 3 wins in 3 international events, however these wins, all of which came during the 2018 Six Invitationals, marked a break for APAC that showed they can, in fact, push the very top teams. This was shown off again by Nora-Rengo's performance at Atlantic City and now, as their next international LAN approaches with 3 APAC teams present this time, they have an even better chance to show the world just how far they've come.
While less known than their counterparts APAC's main hopes will most likely be held by the Japanese side of Nora-Rengo:
Nora-Rengo
Roster: JJ, Wokka, Merirux, CrazyPapiyoN, ShiN, and kizoku (their manager)
Nora-Rengo is the #1 team in Japan coming to the Six Major after successfully making it to the Season 7 LAN Finals in Atlantic City. Here they had a matchup against the #1 North American seed, Rogue, in what many people considered to be the easiest game in the whole tournament as Nora-Rengo was unknown, untested and inexperienced compared to Rogue. What actually happened, however, was looking likely to be the biggest upset of the year as Nora-Rengo beat Rogue 5-1 on Coastline and went to overtime on both Consulate and Bank before eventually losing the match in an incredibly tense 2-1 final score. This not only showed their ability to compete with the very best teams in the world but also introduced the world to two of the best players APAC has to offer - Wokka and Merieux.
These two not only fragged out of their mind but did so consistently across the three maps with Wokka achieving an ace on just the second round of the game which went on to both win him an Esport Award for Play of the Month for June 2018 and was chosen as the second best play of Season 7 by SiegeGG.
So this was a solid debut by the Japanese team, of whom no one expected anything of, but why do I think they'll do even better this time around? Because this time they have substituted out the lowest rated player from that Rogue match, Cloud, with Shinji "ShiN" Funai, one of Japan's finest players.
ShiN previously captained eiNs at the 2018 Six Invitational in which his team not only took down the American team of eRa Eternity (now known as Obey Alliance) but also took the first map off the reigning seasonal champions of ENCE eSports before eventually falling 2-1 on maps. This gained ShiN acclaim for both his plays as an individual and as a team leader and IGL and is seen as a major pickup for Nora-Rengo going forward.
And now, since joining Nora-Rengo, it can be seen that he is fitting in with the rest of the team's playstyle really well which allows the whole team to achieve some really outstanding statistics so far:
So how far can Nora-Rengo conceivably get? Well, their opening game is against Obey Alliance, the team currently dead last in North American Pro League and whose only victory of yet comes against a Noble esports side experimenting with a new player lineup. Obey did impress during their 9 back-to-back map long run in the Paris Qualifiers however but, considering Nora-Rengo's past record of drawing in rounds (13 each) against the current #2 team in NA Pro League just a few months ago, the APAC side must be seen as the favourite in this matchup.
After this, they'll likely be playing the home side of Team Vitality in the decider match, a hugely popular team who have been struggling of late. Vitality currently sits down in 6th position in Pro League just outside of the relegation spots as their unique "measure twice - cut once" playstyle seems to be ill-equipped to tackle recent updates to the game; the buff to Echo and barbed wire, as well as the introduction of Maestro, all directly hurts Vitality's way of playing as can be seen recently. As well as in Pro League Vitality, just last weekend, lost against Chaos in the Siege Summer Series in what cannot be seen as a promising lead up to the Major even considering their likely "strat-saving".
So, assuming Nora-Rengo does perform as well as expected, this gives Nora-Rengo a fair chance of making it out of the group stage, which would already be an improvement on Japan's performance at the last Major. This would, as the second-placed team in group A, give them a matchup against the winner of Group D; Rogue, Team Secret, FaZe Clan or OrgLess and considering Nora-Rengo's previous record against Rogue there's a chance, albeit a small one, that they advance even further.
Ultimately Nora-Rengo will enter this tournament as outsiders, as they have yet to win a single international game, but the team does have the ability to go far; the roster changes on top of an already promising lineup promises a good series of matchups in group A which should leave people surprised and impressed by the Japanese side's performance.
Fnatic
Roster: Acez, Magnet, Lusty, RizRaz, NeophyteR, and Dizzle (their coach)
Fnatic is a much more familiar name to R6 viewers partly due to their appearance at the last two international LANs at Montreal and Atlantic City and partly due to the massive organisation they represent. Previously known as Mindfreak at the Six Invitational this roster defeated both RoomFactory, the Russian majority team now known as Edenity, and Team Liquid, the team which since beat PENTA Sports to become the seasonal champions. This was an amazing achievement at the time and marked the real entrance of the APAC region onto the scene as it showed clearly that you can't take them for granted - they are a serious team.
Since then the team has also made some changes with their lowest rated player of Kngz, who achieved a 1/10 opening kill/opening death spread at the Invitationals, leaving and being replaced by Neophyter, a player who has shown his worth as a Buck/Bandit main averaging a rating of 1.2 so far this Pro League season. This change which occurred at the beginning of Pro League Season 7 led to the team achieving a 3 month long unbeaten streak before they eventually fell during a rematch against Team Liquid at the Season 7 quarterfinals in Atlantic City, a result in line with what is expected considering Liquid later went on to win the whole tournament.
So the question is, once again, how far can they get? Well, Fnatic drew a mixed group of PENTA Sports, Mock-it Esports and Ninjas in Pyjamas and so, while PENTA is the obvious favourites to take the group the second playoff spot is pretty much up for grabs. I say this as, while their opening match on Monday will be a rematch against the team that knocked them out of the last Major, NiP (then known as Black Dragons) the LATAM team has not seemed like their old self over the last few months. Despite almost making the LAN Finals last season NiP currently stands in 7th position in Season 8 of Pro League with just 1 win to their name. In fact, their only strong showing since Season 7 came during the Dreamhack Valencia event in which they won against Team Secret (then known as i don't know), this, however, was Team Secrets very first LAN game as a team. NiP also did well against Mock-it Esports, taking them to 3 maps before falling to ENCE eSports.
Speaking of Mock-it they have also been suffering a "mixed" season as they began the season by subbing in Alive to the main roster only to then lose 3 Pro League games in a row before mounting a comeback to end the half-season in 5th position. Outside of Pro league Mock-it was crowned French champions after winning the Coup de France but then only managed to win 3 maps across both DreamHack Austin and Valencia - a very mixed record indeed - which could be, in part, due to what looks like a reliance on Alive to frag. It can be pretty consistently seen that games in which Alive is one of the top 2 rated players in his team Mock-it wins while games in which Alive is trailing behind his teammates rating wise Mock-it loses - put simply if Alive doesn't perform, they lose. Usually, for a renowned Ash main such as Alive, this wouldn't be a problem but with an overall Pro League KD of 0.74 this does become an issue and explains the huge fluctuations in Mock-it's results.
This would all give Fnatic a huge sigh of relief as it shows a viable way through for the team to the knockout stages however there they would, unfortunately, meet the winner of Group C; either Millenium, Evil Geniuses, Immortals or the final APAC team in attendance, Element Mystic. The favourites to win this group are the North American giants of Evil Geniuses or the home favourites of Millenium - both of which would very likely once again mark the end of ANZ's major run in the quarter-finals.
Element Mystic
Roster: OniChan, EnvyTaylor, Neilyo, Sweetblack, h3dy, and SummerRain (their coach)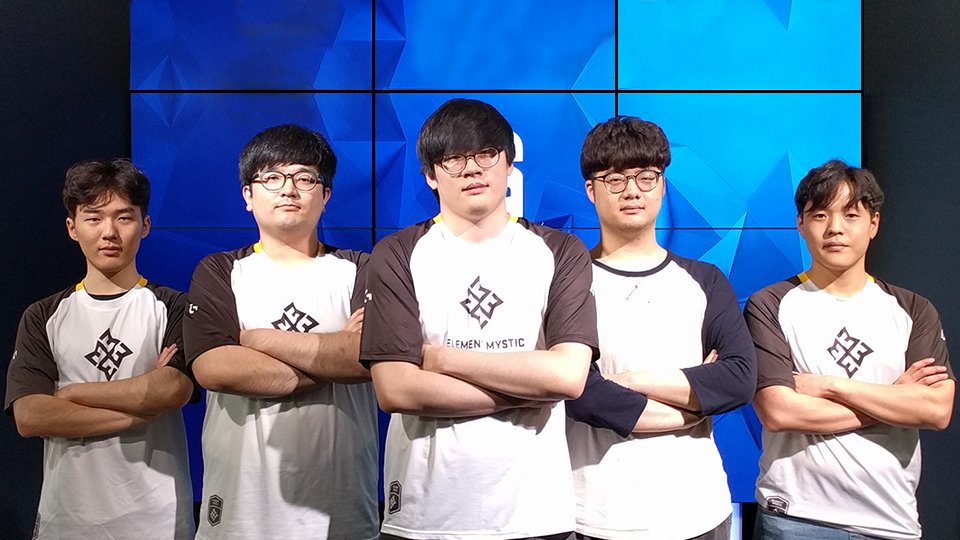 By far the least known team out of all 16 present will be the South Korean side of Element Mystic, however, this is not the first time you are likely to have seen them; the core of this roster competed under the name of "mantis FPS" during the Season 6 LAN Finals in São Paulo, Brazil. Here they were quickly dispatched 5-1, 5-1 by PENTA Sports just as most people expected, as this was APAC's first appearance at a Pro League LAN Final and they were playing against a PENTA side who were undefeated for the last 8 months running (a record that was about to be broken in PENTA's following matchup against Black Dragons).
In fact, Element Mystic's success is a relatively new development as they qualified for the Paris Major following 2 shock upset defeats against the clear favourites going into the tournament, Aerowolf. Previously known as Tyde, Team Cryptik and Envy. This Indonesian team was the very first one to represent APAC on the international stage back in the Year 1 Six Invitationals in which they took the eventual runners-up, eRa Eternity, to 3 maps. Since then the SEA region has seen no representation at the LAN Finals despite Aerowolf consistently being one of the very top teams present at the APAC LANs.
In Season 6 Cryptik lost in an incredibly close 3 map matchup, 2 of which went to the 11th round, against the eventual APAC LAN winners, eiNs and in both the Six Invitational and Season 7 APAC LANs Cryptik lost in 3 of the tensest games APAC has ever had to offer against Fnatic. Now, what's the relevance of this? Well at the most recent APAC LAN Element Mystic not only beat Aerowolf but done so in an unprecedented 4-1 map scoreline (across 2 games) which indicates Element Mystic to possibly be a new serious contender in the APAC scene.
However, while this does signify a promising future for the Element Mystic roster the team will definitely struggle at Paris due to a particularly difficult group. EM are placed in Group C with Evil Geniuses, Millenium and Immortals - three regional favourites - all of which they will struggle to take any maps off even with their impressive roam game.
Nevertheless, the recent changes in Millenium's roster of Joghurtzz being replaced by Falko and a noticeable falloff in Evil Geniuses' Pro League performance will give them some hope to at least show the world that the Korean sub-region is able to hold their own against giants in the Siege scene.
Ultimately it took NA 3 attempts and LATAM 6 attempts to clinch their first title and while here, on APAC's attempt number 5, no one is predicting them to win the event it's an excellent opportunity to prove to everyone exactly how strong the Asia-Pacific region has become with them hopefully taking down a few big names along the way.
You can watch the Paris Major when it kicks off on Monday at around 10AM CEST across both the usual rainbow6 and the new rainbow6bravo Twitch accounts with the knockouts beginning on Friday.