Syred previously played in a few amatuer teams, most notably PENTA Academy, before he joined Secretly, REDGROOVE, sno0ken, Renuilz and Kripps to form Chaos (previously known as Digital Chaos and The Swedes) last February. Since then the team has found marginal success in Pro League, finishing in joint 5th in Europe during Season 7, as well as reaching the playoffs at DreamHack Austin in which they lost to the eventual champions, Millenium.
Tonight Chaos plays in what is one of their biggest games so far as they play PENTA Sports in the OGA Pit EU Finals; we spoke with Syred to discuss this matchup as well as other recent successes:
Firstly, what is your role in the Chaos' roster?
In Chaos, I'm a coach, I fix scrims, watch Vods on the opponents that we are gonna be against, come up with new strats and just be a mentally support for the team.
Previously you played as a player for PENTA Academy; what was it like transitioning from a player to a coach?
Certainly there is a big difference between being a player and a coach. You have the game knowledge but when you're a coach, there are a few other things to keep in mind, but it's just something you have to Practice.
Chaos won their very first Pro League game 2-1 against Vitality before losing to them 2-0 three weeks later. What led to such a change in results?
The comeback we did against Vitality on the last map "Kafé Dostoyevsky was one of the best things we ever did. From 0-4 to 4-4. Down again 4-5 and manage to Win it 6-5.

The second time we played Vitality they had some other stuff to show and did some surprise we weren't prepared on.
A similar thing happened at DreamHack Austin in which, after losing to Obey Alliance 2-1, your team came back the next day to beat them 2-1 and qualify for the playoffs. What adaptations did you make between games to get the victory?
We should have won the first game against Obey, So we went in with the same mindset and manage to take the win against them. We swapped some small stuff but nothing big.
You ended your DreamHack Austin campaign in 5-8th position; were you happy with this result?
We lost to the Champions of DreamHack Austin. The game we played against Millenium was very close so we are happy that we at least lost to the Champions.
Going into Season 8 of Pro League your first game was against i don't know which was built up as a long-awaited "grudge match" due to many of the players being ex-teammates. Did this add any extra pressure to your players?
No, I didn't feel any pressure from any of the players. If anything it just made us more hyped to win. We didn't manage to win but we made a very close and entertaining game for the viewers as the end score was 6-4 to IDK.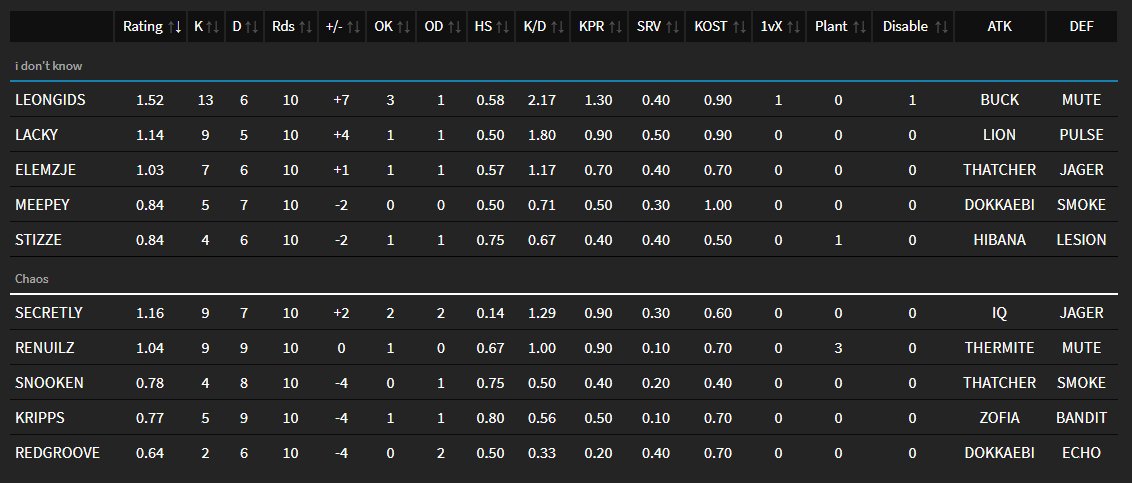 So far in Season 8 Chaos has yet to win a game after a series of close results. What changes do you think needs to be made to become victorious in your upcoming matches against PENTA and Supremacy?
The next Pro League game will be against Penta on Thursday 19th. We will face Penta in a BO3 tomorrow (in the OGA Pit WB Final) so we gonna learn some stuff how they play. But against one of the best teams in the world, they can enormously adapt how we play and counter us. But we have some stuff to show so this is gonna be a good game.

Supremacy hasn't won or tied a single game so far so we are a bit more "confident" to face this team. But anything can happen. We will play our game and always do the best to win!
Before these matches is the conclusion of the EU OGA tournament on Monday with Chaos in the Winner's Bracket Final; how do you think this will go?
We will face the World Champions Penta in the winner bracket in a BO3, so anything could happen. All of the players have the mindsets to win. It will be a tough game but I think we can win it.
Finally you will be participating in the DreamHack Valencia tournament next week in Millenium and Cloud9's Group. What are your expectations going into this tournament?
Our first match is against Cloud9. We have never played against them so it will be an exciting match. Millenium is also in our group and we play them mostly every week in scrims so anyone could win that game if we play against each other.

We have gone in with the mindset to win Dreamhack Valencia and take the last place that will take us to the Paris Major.
You can watch Chaos' next game against PENTA Sports on the ogarainbow6pit Twitch channel tonight at 4PM CEST as they compete to take the first European OGA title with the best-of-5 Grand Final scheduled for 8PM.