Stage 1 of 2021's European League season ended with BDS and Na'Vi leading the pack ahead of a tight mid-table.
Now, as we go into Stage 2, the rosters of G2 Esports, TrainHard eSport, Team Secret, and Virtus.pro have all made changes. They will be hoping to jump up the table, while Na'Vi will be hoping to retain their Stage 1 league-topping form after missing out on SI21.
Here's a full rundown on the upcoming R6 action in Europe, including the EUL teams and format, as well as the upcoming Challenger League season.
Jump to:
Teams & Changes
All 10 organisations from Stage 1 return, with relatively few changes coming out from the rosters for Stage 2.
Natus Vincere -- Saves, Doki, Blurr, Nathan, Secretly, jahk (Coach), and DraZ (Assistant Coach)
BDS Esport -- Shaiiko, Renshiro, RaFaLe, Elemzje, BriD, and eaglemees (Analyst)
Cowana Gaming -- Anarchic, Grizzly, GorgoNa, Sloth, Kendrew, Mrofficer88 (Coach), Rideoo (Strategic Coach), and davil (Analyst)
Rogue -- AceeZ, Korey, Ripz, LeonGids, cryn, meepeY (Head Coach), Rcuth (Strategic Coach), and Bernie (Performance Coach)
G2 Esports -- CTZN, Virtue, Kayak, Hungry, Jonka, and Shas (Coach)
Virtus.pro -- Rask, p4sh4, m1loN, karzheka, Andreezy, and wTg (Coach)
Team Vitality -- BiBoo, risze, P4, Shiinka, Kaktus, Lyloun (Head Coach), and Helbee (Assistant Coach)
TrainHard eSport -- BlaZ, NoerA, Chaoxys, Dirza, Voy, spokeN (Coach), and MrBox (Analyst)
Team Empire -- ShepparD, JoyStiCK, Scyther, Dan, Always, and RayzerGM (Coach)
Team Secret -- Hife, SlebbeN, Gomfi, Keenan, pacbull, Titan (Coach), and Sleepy (analyst)
The big news was, of course, G2 Esports' decision to drop the last remnants of their glory days in the Finnish duo of Juhani "Kantoraketti" Toivonen and Aleksi "UUNO" Työppönen.
Replacing them come two Germans; Team Vitality's Lucas "Hungry" Reich and MnM Gaming's Jonas "Jonka" Kaczmarzyk, who previously played alongside Na'Vi's Nathan in the Challenger League.
With this, none of the SI-winning G2 players remain, with just Shas holding that banner going forward. Furthermore, only Ben "CTZN" McMillan remains as a title-winning player on the roster, but he had won his Pro League title in Season 10 with Na'Vi.
Also making two changes was Team Secret, somewhat surprisingly opting to drop two of its original players of Fynn "Drvn" Lorenzen and Kevin "Prano" Pranowitz.
Replacing them come Peter "pacbull" Bull, who returns to the team after three months on Chaos, and Keenan "Keenan" Dunne, the ex-CL player for MACKO and the first professional Irish player in R6 history.
This means that Team Secret is no longer a German majority team, with five separate nations represented -- Germany, the UK, Ireland, Finland, and Belgium.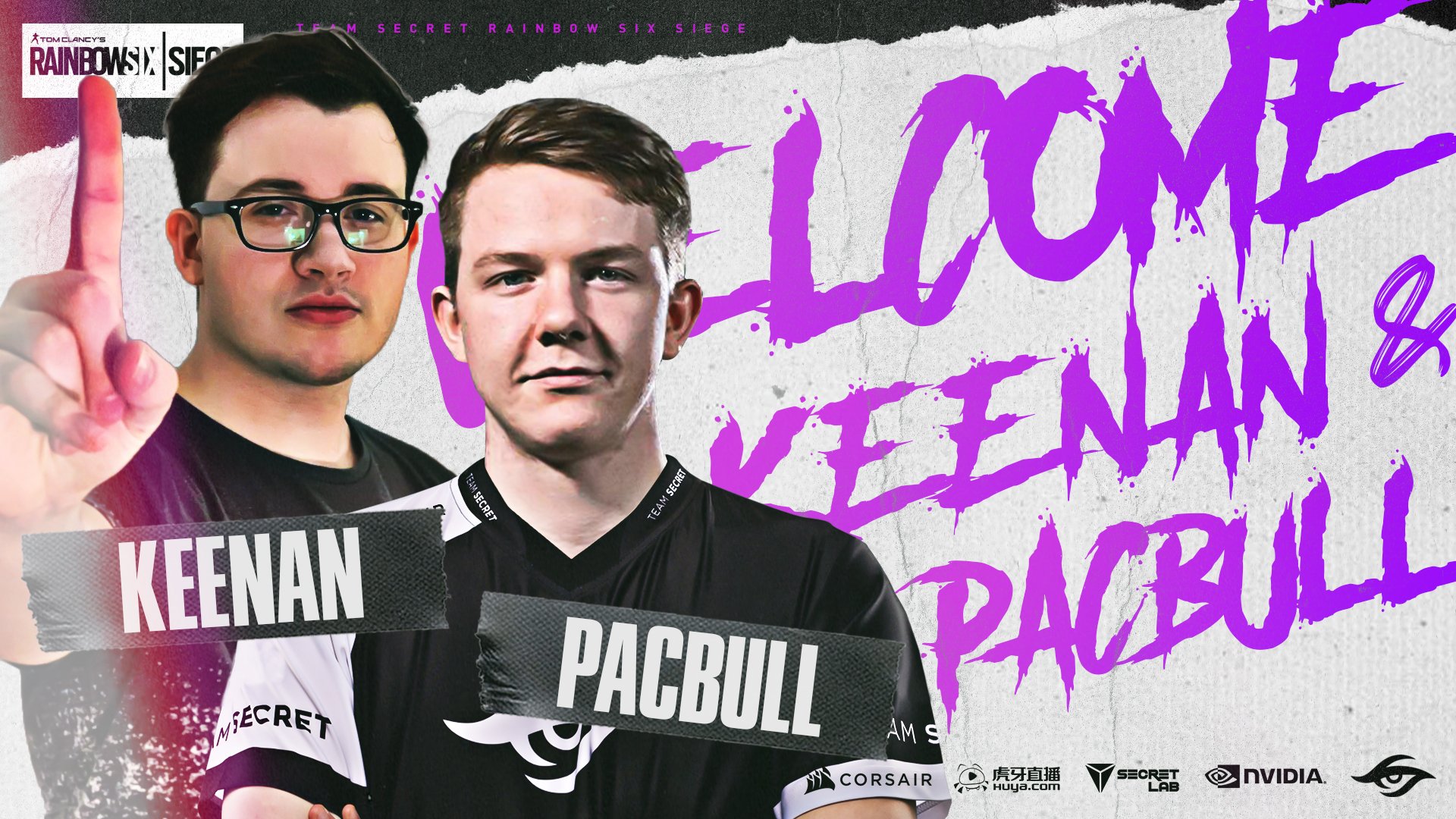 Next up is Virtus.pro, who swapped the roles of its analyst of Andrey "Andreezy" Baviyan and player of Artyom "wTg" Morozov after the former turned 18 years-old. The team's manager stated the following about the change:
Kirill "YaGo" Zolotov: [wTg] is an incredibly experienced player who has a deep understanding of team's chemistry. It will help him to come up with a fresh approach to the training sessions.

Andreezy, on the other hand, is an excellent shooter who has been working with our team as an analyst for quite some time. As he turned 18 he became eligible for playing in the pro-scene.

This roster change can be of great benefit for everyone and we will be looking closely at the results of this endeavor.
Finally, TrainHard replaced one of their worst players from Stage 1, Martin "Spark" Eberhard, with the ex-Mock-it and Tempra player of Valentin "Voy" Cheron.
Format and Schedule
The league will be a simple round-robin Best-of-One (Bo1) map tournament, in which every team plays each other once.
Just like Stage 1 and in every other region, there will be overtime, where an overtime win grants two points and an overtime defeat grants just one.
At the end of the league, the top four teams will progress onwards to the August Major and the following prizes will be awarded:
1st -- $15,000 and a Six Major spot
2nd -- $10,000 and a Six Major spot
3rd -- $7,500 and a Six Major spot
4th -- $6,000 and a Six Major spot
5th -- $4,000 and 225 SI Points
6th -- $3,000 and 180 SI Points
7th -- $2,500 and 140 SI Points
8th -- $2,000 and 115 SI Points
The schedule, meanwhile, will see play days every Monday, as well as additional Thursday games during Weeks 1, 3, and 5.
Challenger League
While the 2021 Season of the Challenger League will not take place until stage three, teams are currently competing in various qualifiers and national leagues to win their spot there.
So far, just three teams have qualified, with more likely to come following this weekend's second Open Qualifier and the finale of the PG Nationals next week:
Chaos Esports Club -- VITO, REDGROOVE, Hxsti, JTc, Hyperino (coach), and Liinux (analyst)
MnM Gaming -- Fonkers, Yuzus, neLo, Tyrant, Sparxo (coach), and Eden (analyst)
43rti -- SmashByAsh, flaers0, eXoduSS, rush, Amision, and ViKiNG (coach)
As well as these three confirmed teams, these are the favorites for the eight other National league CL spots:
Mkers -- Aqui, Gemini, Scatto, Sasha, and Lollo
WYLDE -- Strike, ShuaimengS, Nixon, Law, Milk, Omerta (coach), and Dulan (analyst)
Acend -- ENEMY, RevaN, Meloo, EiZ, Jeya, and BiOs (coach)
NOX Esports -- Ryba, Szagi, Foster, AueR, Royal, and Sways (analyst)
GAMMA GAMING -- Leonski, Deapek, Avaiche, ASTRO, Prano, Sternab (coach), and Phenomene (analyst)
Sissi State Punks -- Zenoxo, Gisela, Daya, Tooobi, BZ, Zeus (coach), and nOose (analyst)
High Coast Esports -- DogeFather, Flexy, Lurifax, Hedsut, W1oza, Mighty, and Yosh (two coaches)
Mav3ricks eSports -- chOi, JoT4, Javixu, aLex, Welshyy, and JU4MP4 (analyst)
Finally, five spots will come from the Open Qualifiers, of which the second will be played out this weekend.
Alongside the teams above, one of the key competitors for a CL spot was only formed yesterday as Fabian "Fabian" Hällsten reunited with Niklas "KS" Massierer, Daniel "Ferral" Rotheram, and Jack "Fresh" Thomas Allen to bring together prior members of championship-winning PENTA and G2 rosters.
In addition, former G2 Esports talisman Niclas "Pengu" Mouritzen will be standing in for this weekend's Challenger League qualifier making the lineup on paper the most successful one in the world.
You can read about this team named "Delta Project" right here.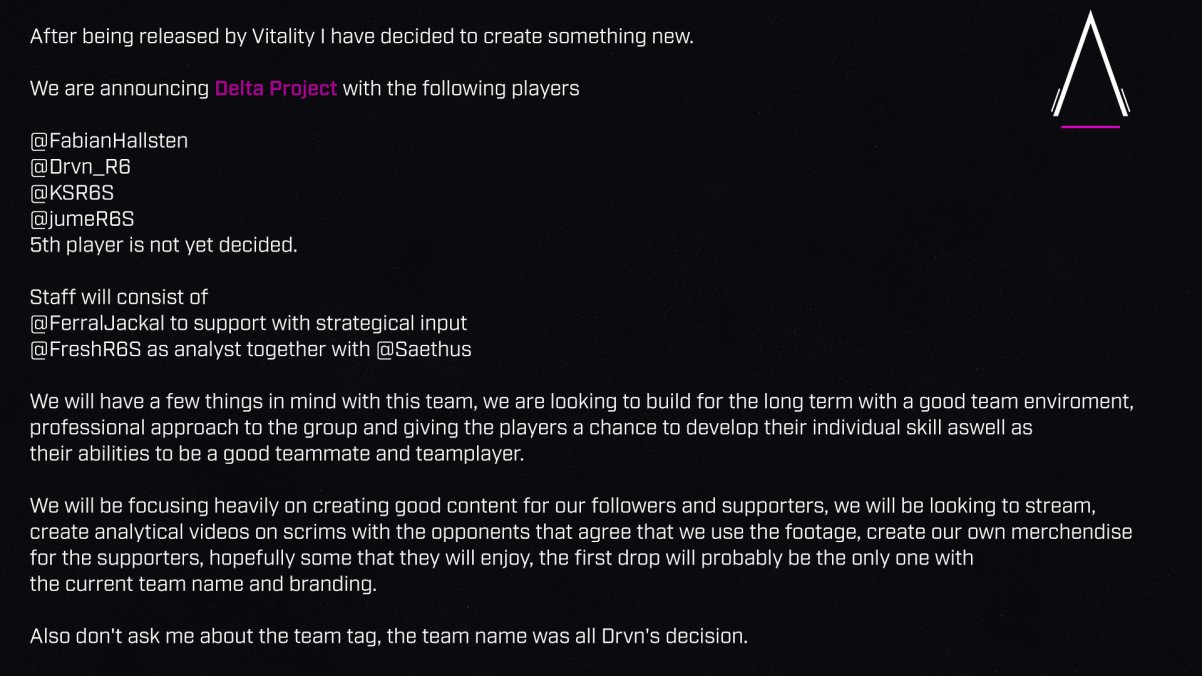 Should a team qualify for the Challenger League via both the National Leagues and Open Qualifiers, the next best qualifier roster will receive their second spot.
As such, although only five spots are available, it is likely that just finishing in the Top 10 will get you a CL spot. This means that every qualifier is key and we may get some surprise competitors playing in the EUCL 2021.
---
While the national leagues are ongoing and EUCL won't start till Stage 2, the European League can be seen in action this evening kicking off with Vitality vs Cowana.