Missed the action on Day Three of the Six Major Raleigh? Fret not, and read on for a brief summary of all the action seen on the final day of the group stages at the fifth-ever Rainbow Six Major, held at the Raleigh Convention Centre in North Carolina.
---
Yesterday saw the decider matches play out, meaning the losers went home while the winners progressed onwards to the playoffs this weekend where they joined Team Empire, G2 Esports, Spacestation Gaming and forZe. At this point, Asia Pacific had been completely knocked out of the tournament, while one Latin American team had been eliminated and the remaining two played off today. Finally, we had Europe and North America who both had the chance to see all five of their teams progress to the playoffs as Europe had already secured three first seed finishes.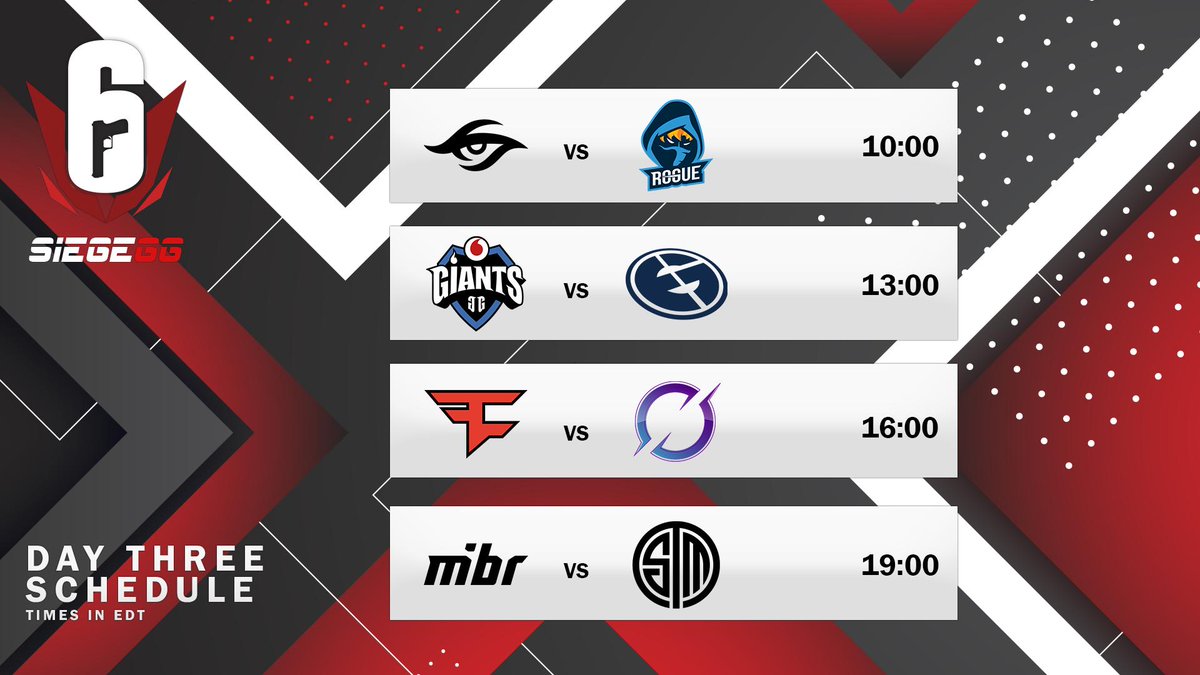 Team Secret 2-0 Rogue
Maps: Bank (7-3), Coastline (8-6) and Clubhouse (Not Played)

While Team Secret won their initial match on Monday, rematches in group stages such as this statistically are likely to go to the loser of the first game, and Secret was at a disadvantage. When the game began, though, it seemed that it would be very much one-sided. A quick double kill on round one gave Secret an initial lead which was followed up by a number of double kills by Ferral in particular putting them up 4-0 in not time at all.
A tactical timeout by Rogue helped reset things for the team as the following three rounds saw the team lose just four American lives to almost even it back up before a meepeY triple kill followed by a LeonGids triple put the team onto map point. The final round saw an almost flawless Year 2-style take of Bank's basement site by Secret as they burnt the utility of Rogue bit by bit using a Monty which ended with them taking the map, 7-3.
Despite being Secret's pick, Coastline was a much more even affair with a number of coordinated plays deciding the game in the end. MeepeY started off the game with a triple kill on round one, which was quickly responded with by multikills of Rogues own to end the half with an even 3-3 scoreline. Secret then pushed ahead and created a two round lead for themselves as they attempted to rush into the Hookah/Billiards site on round eight with one minute and forty seconds remaining, only to leave Ferral in a 1v2 situation versus VertcL and Easilyy which he went ahead and won.
Rogue were not fazed by this at all as they followed this up with a flawless round nine, a triple kill by Ecl9pse on round 10, and another by Shuttle on round 11, to put themselves up 6-5 and on map point. Secret pulled off another rush strategy onto the Kitchen site to push us into overtime as they ended the round with just under two minutes remaining in the round. Both the overtime rounds saw Rogue get an early opening kill, which both ultimately meant nothing as Team USA simply couldn't compete with the newly discovered fragging power of this British roster as they fell 8-6 on map two, giving the series and playoff spot to Team Secret.
Vodafone Giants 2-0 Evil Geniuses
Maps: Villa (7-2), Kafe Dostoyevsky (7-3) and Clubhouse (Not Played)

Evil Geniuses (EG) were the clear favourites to finish top of this group and so by extension were favourites in this matchup. However, Vodafone Giants were more than happy to throw out the script and get their own story going. In the very first round, the Giants cleared out their opposition flawlessly before a 3k by nvK was in vain in round two as Giants extended their lead. By the end of the first half on this traditionally defense sided map, the defenders of Giants had racked up a 5-1 lead -- particularly impressive despite their advantage.
As we went onto the second half, they showed that this wasn't just due to them picking the advantageous side as both teams took one round each to put the Giants to map point before Geo narrowly failed in a 1v4 clutch to fall on Villa in the very dominant result on 7-2.
Map two statistically favoured the Giants, which put EG in a massively unfavourable position. Evil Geniuses started the map just as Giants did map one, with a flawless defense of the Kitchen, but this only acted as a short bit of relief for the team and their fans as Giants quickly took the lead. Round two ended as Korey shut down an attempted 1v5 ace clutch with one of the cleanest flicks ever seen, with the eventual half falling 4-2 in favour of the mixed German, French and Belgian roster.
The second half began with yet another flawless round by Evil Geniuses and once again was followed up by a flurry of Giants rounds as they won three in a row to take the map 7-3. Not only were none of these second half rounds close, but they were pretty much decided following bad initial entries onto the site by EG as they simply were outgunned by Vodafone Giants who likely have had to drastically increase their gunskill due to their regular games against Team Empire within the Pro League.
This now means Vodafone Giants rounded out the full sweep for Europe as all five teams attending the event qualified for the playoffs -- a feat achieved just once before, at last year's Six Major, when North America successfully got all three of their teams into the playoffs.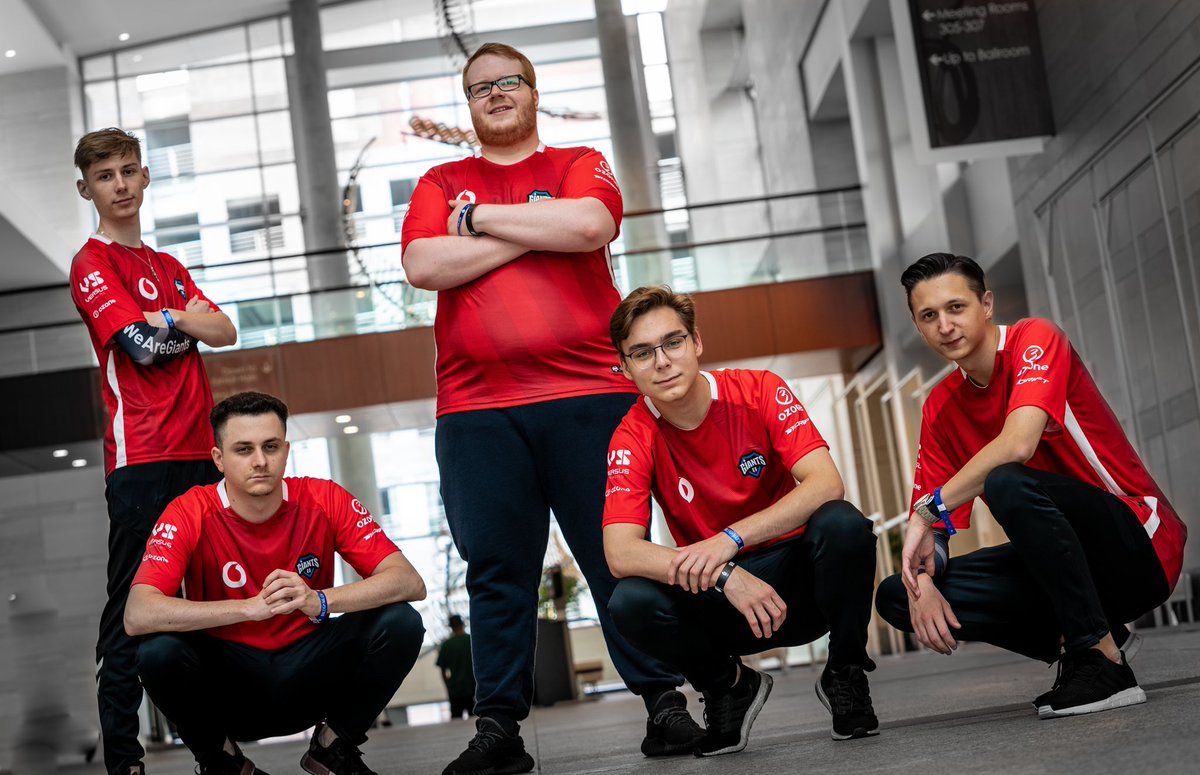 FaZe Clan 2-0 DarkZero Esports
Maps: Border (7-5), Coastline (7-5) and Kafe Dostoyevsky (Not Played)

At this point, Europe had completely made it through while Asia-Pacific had gone completely out, leaving two North America versus Latin America games with this one being particularly of note. Despite holding a core roster going all the way back to May 2017, this FaZe Clan team has never defeated a North American lineup since they first came together, with four losses in their record, making them the statistical underdogs despite being the regional favourites at the event. It initially looked as if this was to be true as DarkZero took a quick lead of 3-1 thanks to a number of standout plays including a quadruple kill from Hotancold. This wasn't to last, however, as DZ's fraggers luck with their heroic plays ran out and FaZe started holding their ground to push back and end the half at 3-3.
The rest of the map highlighted the game's dynamic pretty well -- FaZe came off as the better team unless an individual for DZ surprised them to get a round winning multikill. Despite a Hotancold 4k, three separate 3ks, and Hyper alone achieving 14 kills to just six deaths, it was still wasn't enough for DZ to take the map as their poor time management led to easy clean ups by FaZe in the late-game. In the end, the first map ended 7-5 in favour of the Brazilians with Coastline up next.
To illustrate what kind of map Coastline was, across the map's 12 rounds, a total of five ended in a 1v4 or 1v5 situation as one team had just been flattened in most engagements. The sole close round in the whole map was seen as camerm4n achieved what in effect was a 1v4 on Ash in one of the best played rounds by an individual player in this tournament so far.

While none of the rounds were close, FaZe simply seemed like the better team. They eventually won the contest in another 7-5 scoreline to take the game and quarter-final spot to assure that at least one Latin American team would be in the top eight as we've seen for the last two Majors running.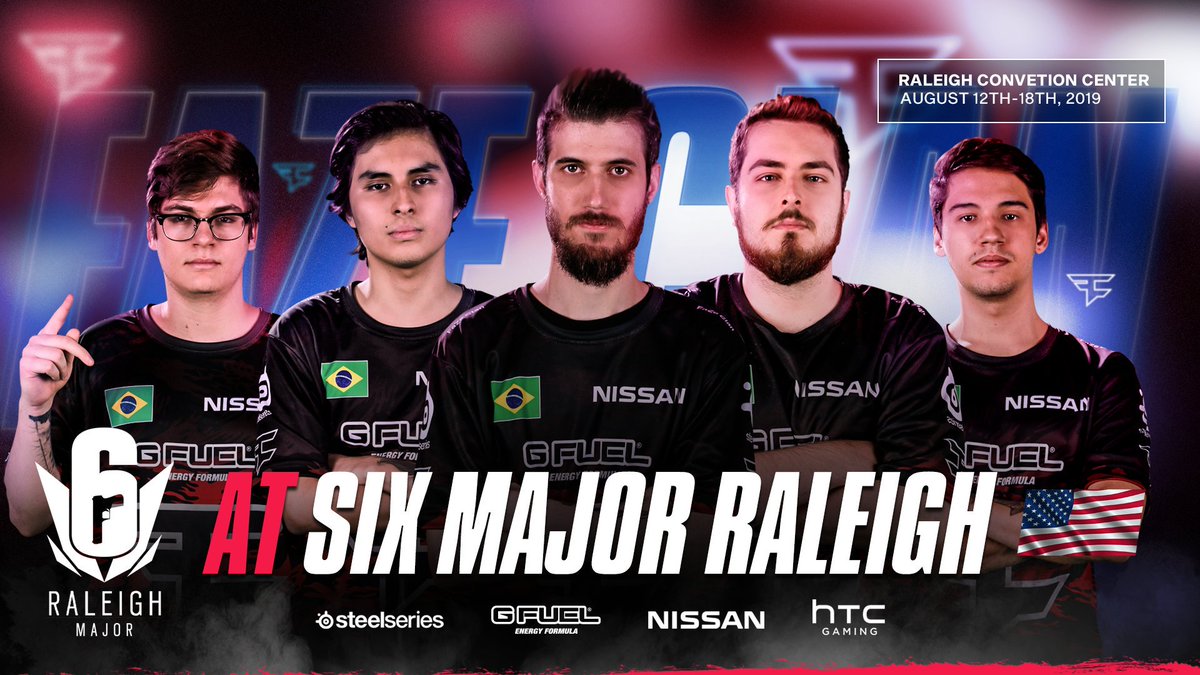 Team SoloMid 2-0 MIBR
Maps: Bank (7-5), Villa (7-3) and Clubhouse (Not Played)

Finally, we had MIBR vs TSM as both team's were their region's final chance to come out of the group stages with more than just one team advancing forward. Map one was the traditional Latin American homeland of Bank which basically devolved into BULLET and cyb3r trying to carry their team against what is likely the best coordinated team of fraggers in North America on a LAN environment. In the first two rounds, we saw two 1v2 victories by the players of Merc and b1ologics which was answered back by two strong rounds of MIBR's own, but made very clear who was setting the pace of this game.
Ultimately, the first half ended in a 3-3 before triple kills by both Achieved and Merc kicked off the side switch in what became frankly too much to handle for the Brazilians. While in both teams there were two standout fraggers (Achieved, Merc versus BULLET and cyb3r), and MIBR had statistically a better performance overall, the TSM attacks seemed much more coordinated and actually saw active participation by teammates through either plants or drones.
To keep up with them, BULLET was holding a 13-6 kill-death split while cyb3r was at 12-7 -- two impressive numbers but ones still not enough to win them the map, as once the fraggers died, the team died with them. The map ended 7-5 in the end as BULLET was the first one on the team to fall significantly dulling the brunt of the attack and giving the round to TSM.
Now that MIBR had lost their own map pick, it was easy pickings for TSM on Villa. The map opened up with another 1v2, this time by Pojoman, before they won three increasingly one-sided rounds to take the half up 4-2 as attackers on Villa. At this point, there wasn't much for MIBR to do. To their credit, they did manage to win one round as Merc died early on the roam, allowing the Brazilians to swarm the Kitchen objective before almost throwing a 3v1 situation against Achieved. However, there was no doubt in anyone's mind that TSM were going to win this as they did, 7-3, to take the series and book their place in the playoffs.
Playoff Seedings
Unlike previous Majors, there was no fixed format to seed the playoffs, with Ubisoft opting to just pick who will play who. While many were apprehensive with their ability to do so fairly, the outcome has likely created the best lineup of possible games for this weekend: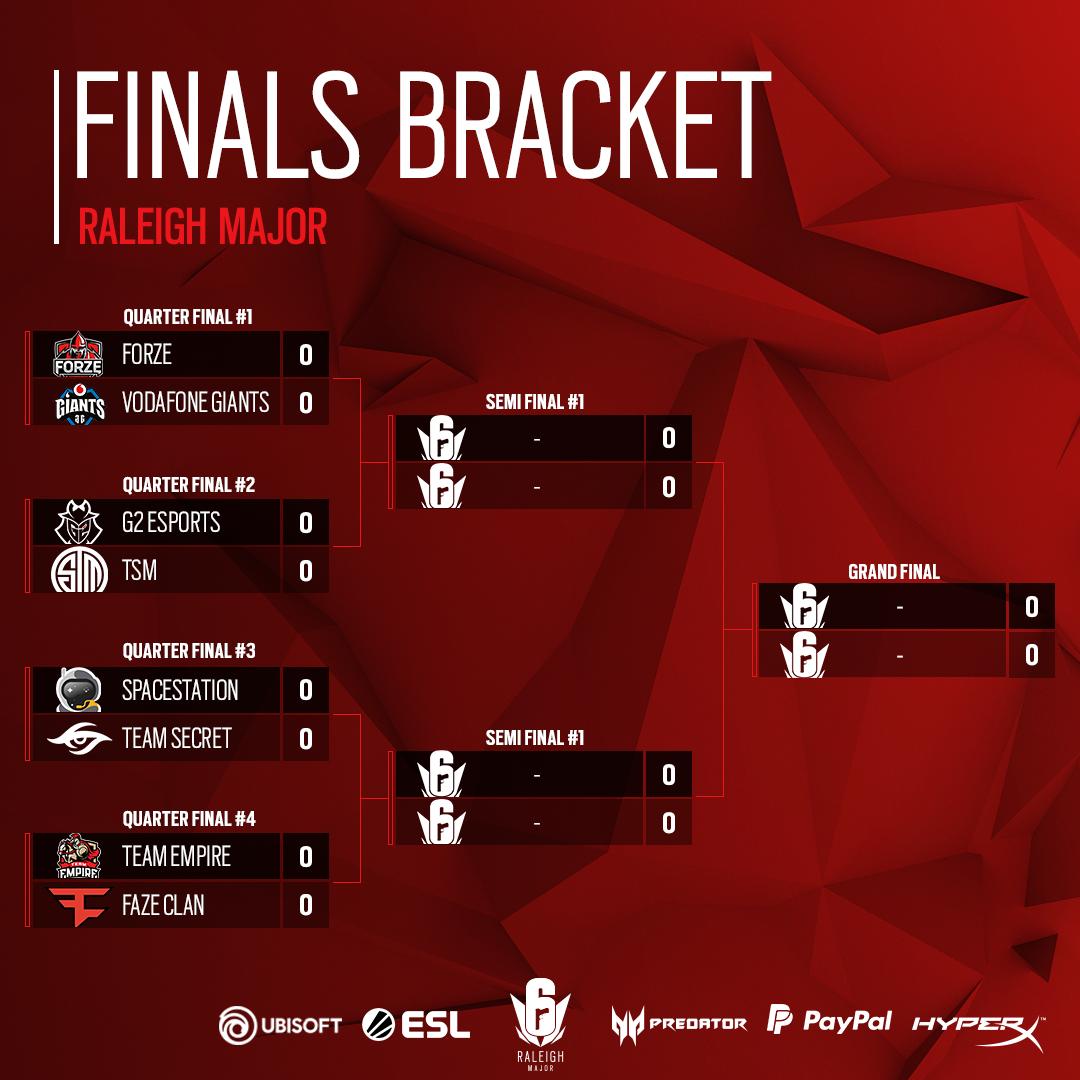 The quarter-finals all follow the following rules:
First seeds much play second seeds

No two teams from the same group can play

The two North American teams are separated so they don't need to eliminate each other

The two Russian teams are separated for the same reason

G2 and Empire are separated as the last Major's finalists
These games mean that after a day's break tomorrow, Friday will see the following schedule of games in EDT (UTC-4):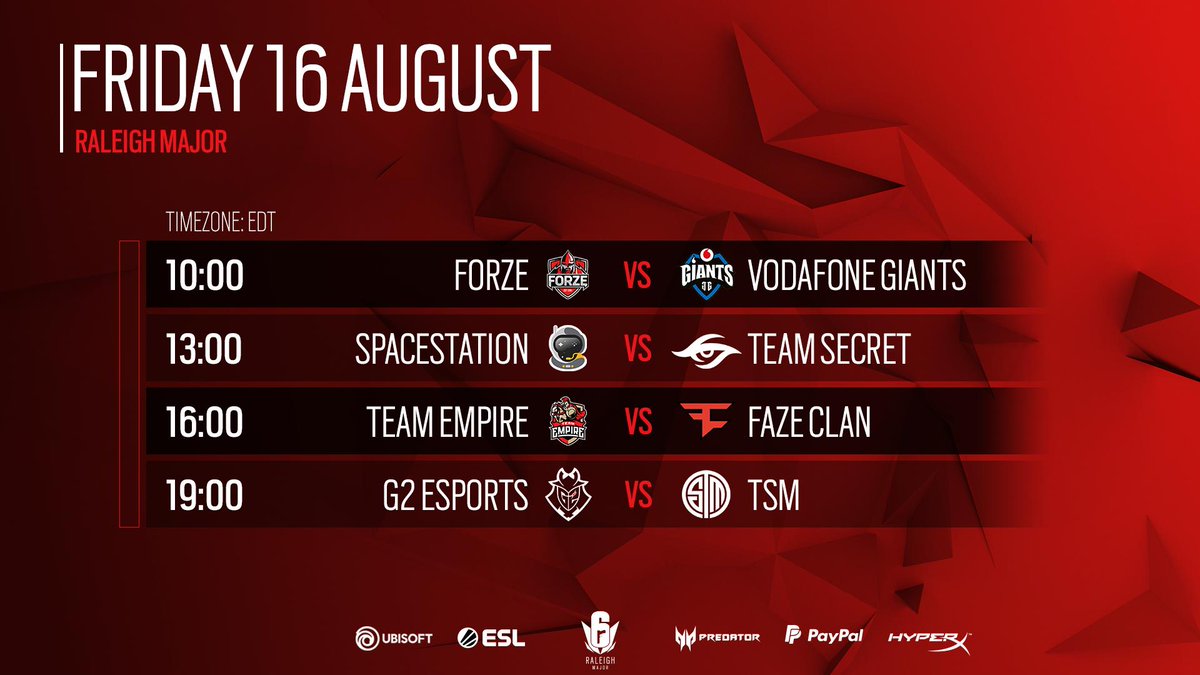 Furthermore, also announced was the first showmatch of the weekend taking place on Saturday as names such as Shroud, Macie Jay, Bnans, and Get_Flanked to name a few will play off in the Creators Cup prior to the semi-finals on Saturday: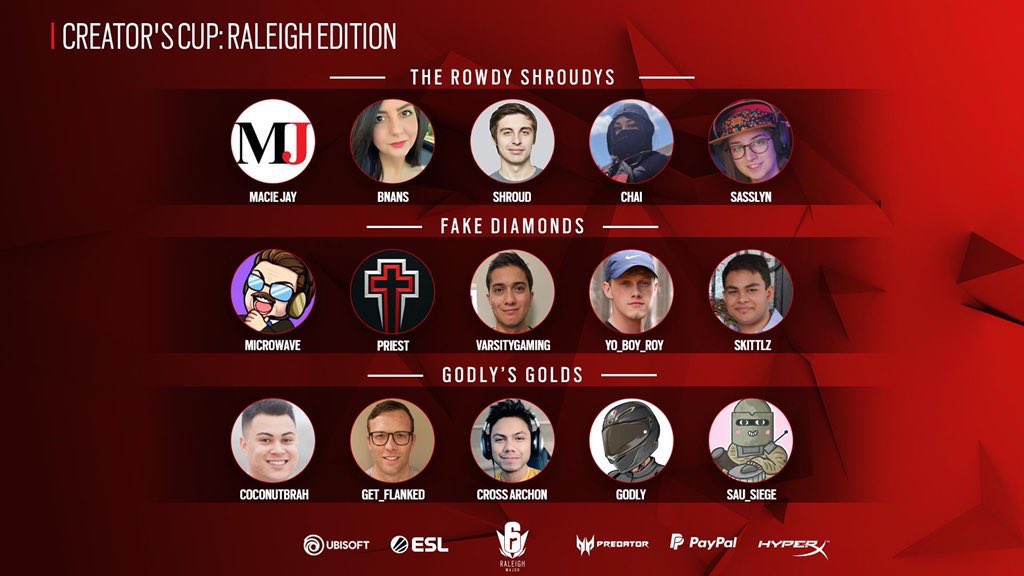 ---
Keep an eye out for more updates on all this action throughout this week here at SiegeGG!