Missed the action on Day One of the Six Major Raleigh? Fret not, and read on for a brief summary of all the action seen on the opening day of the fifth-ever Rainbow Six Major, held at the Raleigh Convention Centre.
---
Group A
Maps: Kafe (5-7), Clubhouse (7-4), Border (7-2)
Team Empire, the reigning Pro League champions, faced a true challenge in Team SoloMid who struggled in the first half of the Pro League season, sitting tied for last in NA.
Our first match of Group A saw reigning Pro League champions Team Empire face Team Solo Mid (TSM); a newly assembled roster using the core of ex-Excelerate Gaming. Team Empire won the series, but it is noteworthy that a relatively new composition like TSM was able to win a map against the current Pro League champions. Team Empire's Daniil "JoyStiCK" Gabov finished the series with 34 kills and 22 deaths, showing lethal marksmanship on Ash and Jager.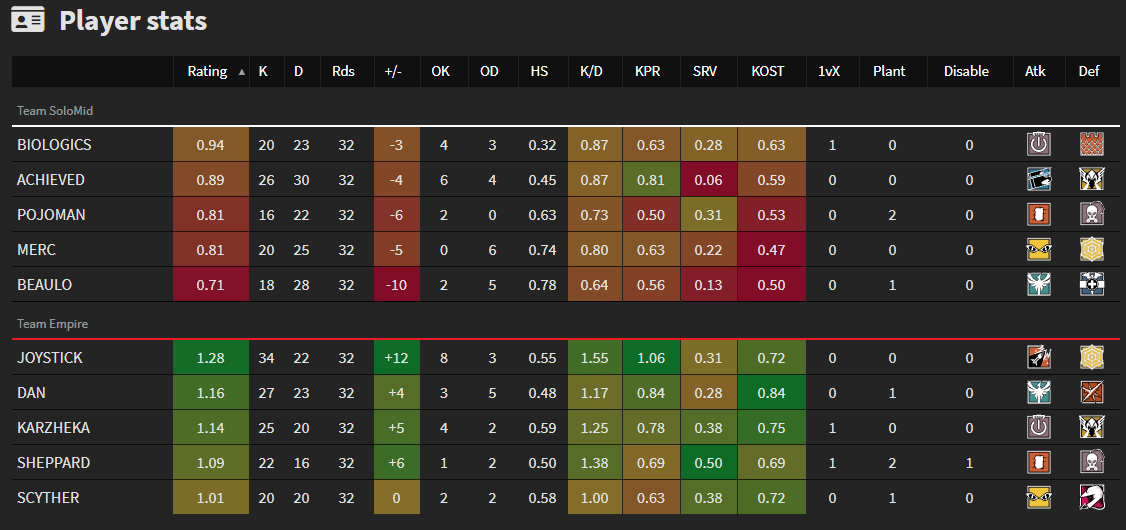 Maps: Bank (7-2), Consulate (5-7), Kafe (7-3)
The arguably most entertaining matchup of the day was between LATAM's MIBR (formerly Immortals) and NORA-Rengo (NR), with the former in seventh place and the latter in second place in their respective Pro League regions this season. With an unfortunate turn of events minutes before their opening Six Major Raleigh game NORA-Rengo, was rocked with the news that one of their best players, Tsukasa "Merieux" Asano, was been hospitalised due to an illness.
Lacking a substitute or a sixth player in Raleigh, the team was forced to draft in the crowd's favorite coach and owner, the "super relaxed" man Yasuhiro "kizoku" Nishi, who had no competitive Rainbow Six experience of his own. On the other hand, a rocky start to Season 10 cast doubts over the skill of the Brazilian roster, and thus kept NR's hopes alive.
It seemed that the hopes would be swiftly dashed, though, as MIBR seemed to effortlessly slice through the Japanese team's efforts on Bank as they were effectively playing 4v5. However, NORA-Rengo never let their heads drop and kept their spirits up to champion a highly unlikely win on the second map and push proceedings to the third and final map.
After losing the second map, MIBR seemed to be falling into the trap of a repeat of their Season 10 Pro League performance, but held on to their resolve. Turning the momentum around on Kafe after another bad start, MIBR pulled themselves together and showed the audience why they deserved to be in Raleigh by winning it 7-3.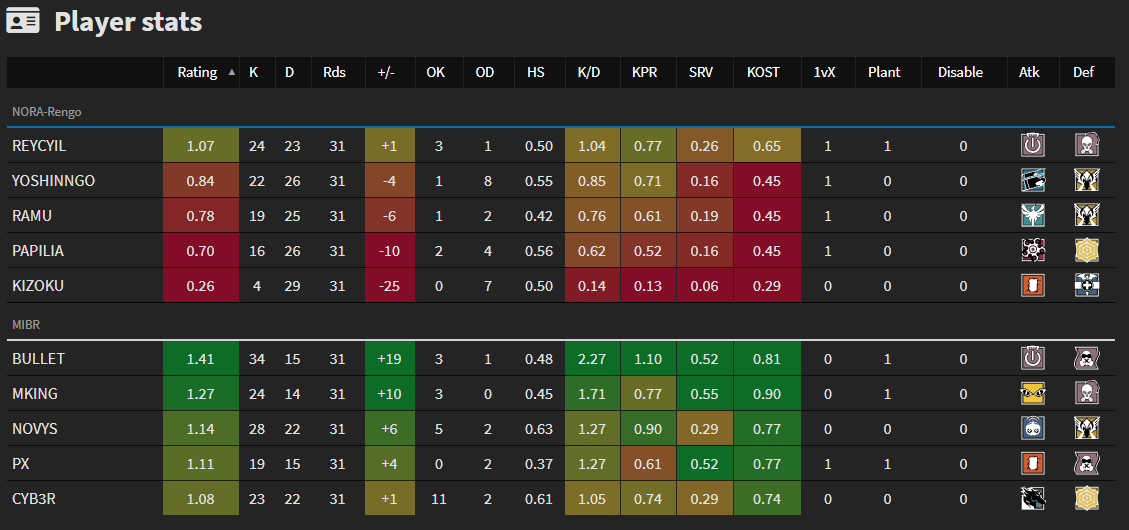 Group B
Maps: Villa (7-1), Kafe (7-3), Coastline (Not Played)
The most successful team in Rainbow Six history with three Major victories and three Pro League titles faced off against Cyclops Athlete Gaming (CAG), the top team in Japan with no experience outside of Asia-Pacific. So new were CAG to even the APAC scene that this game against world champions G2 was only their fourth-ever on LAN (including APAC LAN), and their first one internationally.
G2, however, were not in best shape coming into the Six Major either, having finished in third place in Season 9 -- being a fair ways away from second -- and have a current placement of fifth at the midway point in Season 10. In the matchup against CAG, though, G2 showed why they are the most successful team once again with a dominant performance to shut their Japanese opponents down with ease.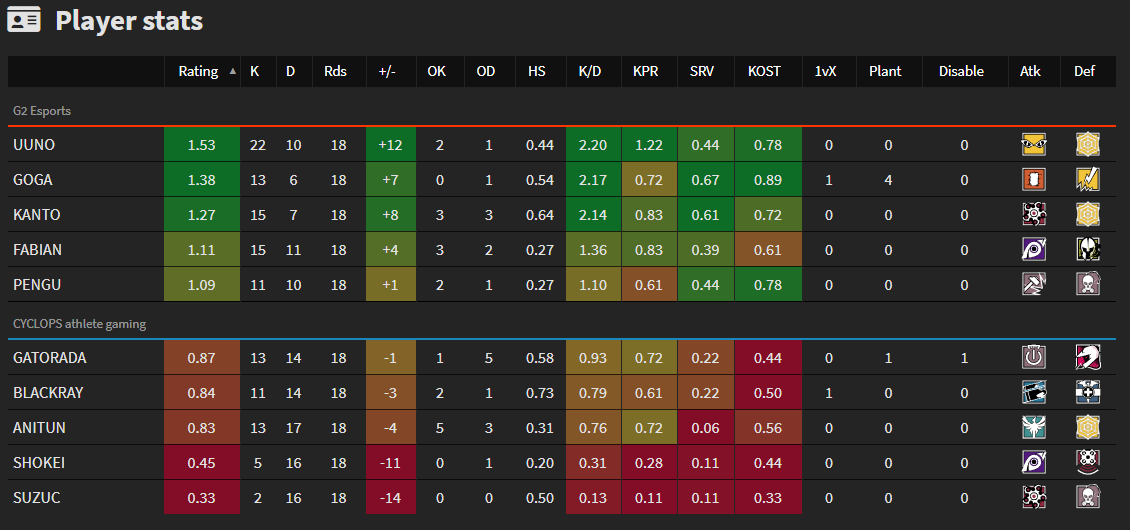 Maps: Clubhouse (7-4), Bank (6-8), Coastline (7-3)
Prior to yesterday's game, Rogue had met Team Secret twice -- the first time at DreamHack Valencia 2018, where Secret (then known as i don't know) made a comeback to win 2-1 before Rogue took their revenge and defeated Secret 2-0 in the group stage of the Six Major Paris.
Today, Team Secret looked to strike back and got things started on map one. The first half ended even, but when the sides switched, Team Secret hit a defensive groove that carried them to victory 7-4. Team Secret again looked to shut Rogue out on map two, but Rogue hit a groove of their own and brought themselves back from a 6-3 score mastermind a comeback to win the map 8-6.
It didn't last for long, however, as the map switch killed the momentum Rogue had accrued and allowed Team Secret to once again come out of the gate swinging, winning the map with an even more decisive 7-3 score.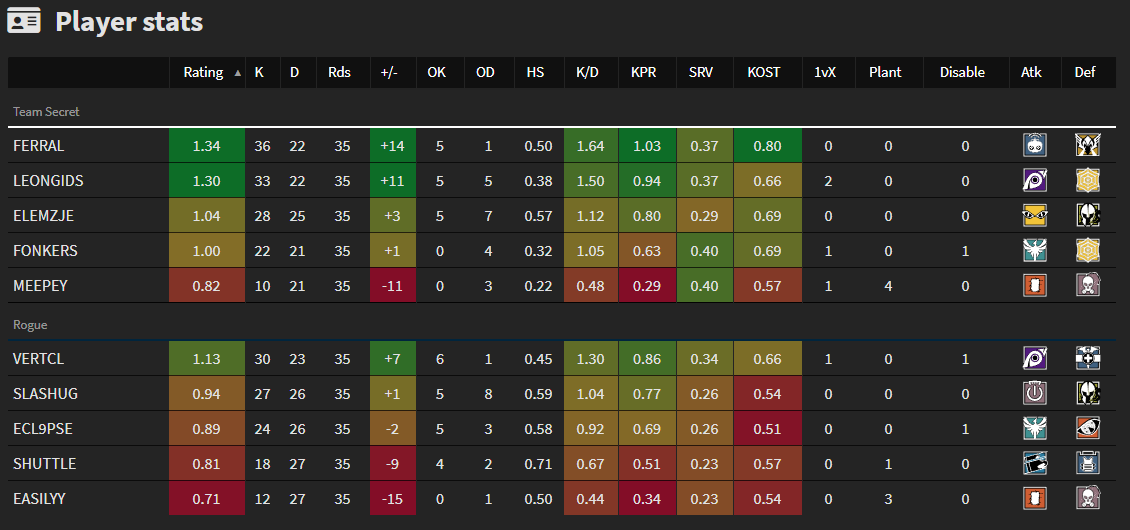 Group C
Maps: Villa (8-7), Consulate (8-6), Coastline (Not Played)
Evil Geniuses (EG), the North American crowd favourites, earned their place in Raleigh by making it to the Season 9 Finals, where they got second place. Only third in Season 10 of the North American Pro League so far, EG went into their match with Ninjas in Pajamas (NiP) with the goal of repeating their stellar offline performance, and not their online one.
Opposite them, Ninjas in Pajamas grinded their way through the LATAM qualifiers for this tournament, and currently sit undefeated in LATAM Pro League in Season 10. Although an exciting match provided by two adept teams, Evil Geniuses' offline flair reigned true and the North Americans prevailed in overtime on both maps played to keep their undefeated streak against LATAM teams alive.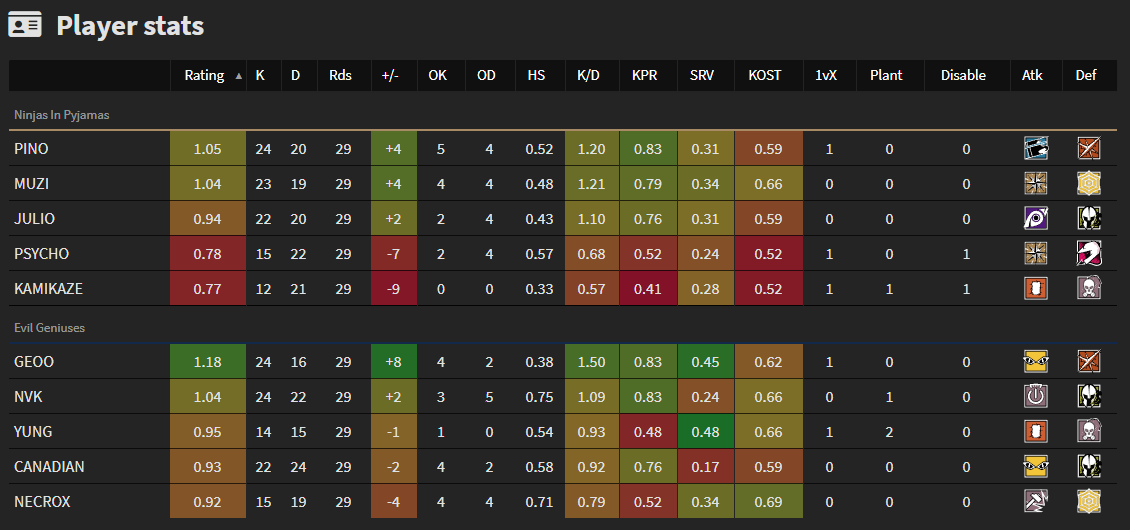 Maps: Border (7-4), Coastline (7-5), Coastline (Not Played)
The Giants, currently sitting second in the EU Pro League standings behind EU juggernauts Team Empire, faced off against the only team lucky enough to receive the "Host Country Invite", giving them access to the Raleigh Major Group Stages. Although only fifth in NA Pro League, Spacestation Gaming (SSG) made it to the final of the NA Open Qualifiers and have stellar offline skills that came into play today.
Despite their online record this season, the Vodafone Giants were unable to translate it into offline success, and lost both maps to SSG 7-4 and 7-5 respectively after two great offline runs at the Allied Esports Minor and DreamHack Valencie 2019. Now, they fight to avoid elimination on the second day as SSG move on with wind in their sails.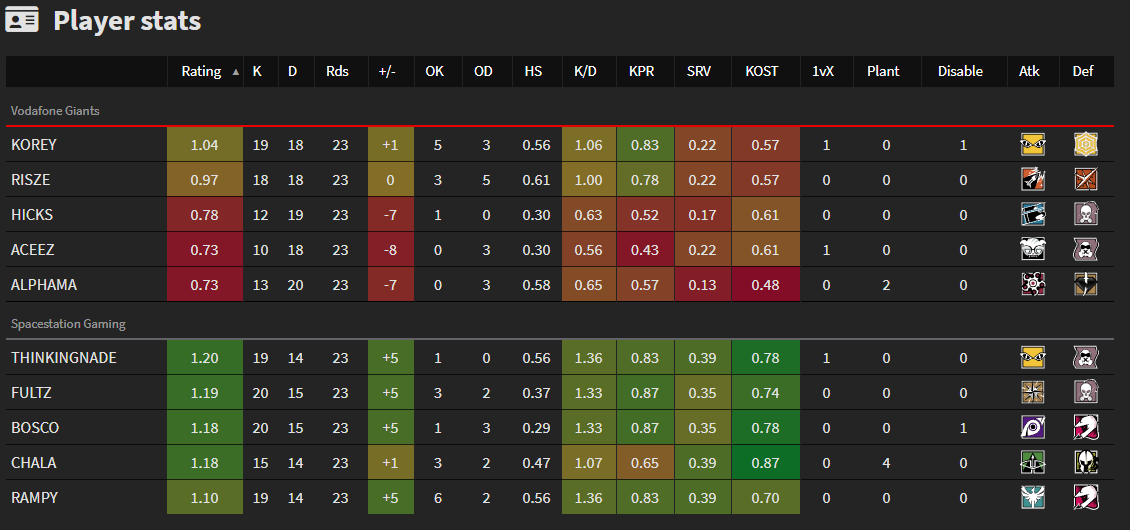 Group D
Maps: Bank (7-2), Consulate (7-3), Clubhouse (Not Played)
The top-seeded APAC team, Fnatic has finished in the top four worldwide in the last two Pro League seasons as well as in the top eight in the last two Invitational. Their opponents were current North American leaders DarkZero who, while strong, had been less than stellar offline to say the least. With the maps selected as they were, analysts may have thought Fnatic had the upper hand.
However, few could have expected the absolute ferocity with which the North Americans would turn up against a team dubbed as one of the 'top-four' in the world. DarkZero showed up today with confidence, coordination, and lethality, and outplayed Fnatic at every turn, winning both maps 7-2 and 7-3 respectively against the Australian team.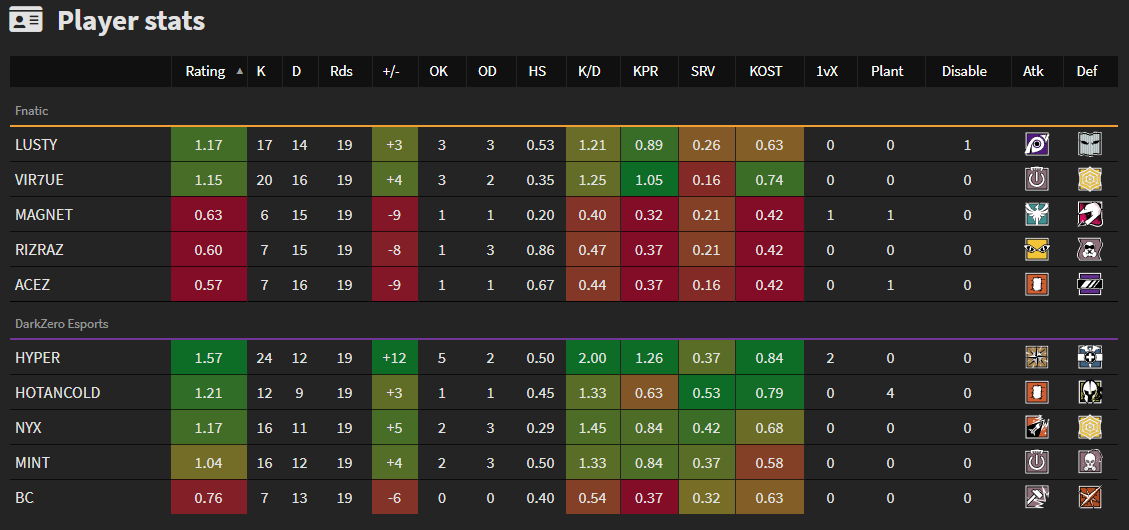 Maps: Clubhouse (7-1), Villa (5-7), Consulate (8-6)
When forZe, a Russian team qualified for Challenger League in EU, faced off against LATAM's current number two team, FaZe Clan, not many expected it to be a particularly close game. Fewer still expected forZe to win.
While not in the Pro League, forZe has demonstrated that they have the skill to compete within the premier league in Europe, having defeated the mid-tier Pro League sides of Team Vitality and Chaos Esports in the EU Qualifer. Following in the footsteps of fellow Russians and Pro League Champions Team Empire forZe is another example of Russian mechanical mastery.
FaZe Clan took round one of map one, but despite being known for their aggression, forZe outmaneuvered and outgunned FaZe and took the next seven rounds for a map one win. In map two, FaZe found their footing and their aggression brought them back from being down 5-2 to winning the map 7-5. Map three was hotly contested, with streaks made and broken unpredictably. FaZe managed to bring the game to overtime by closing the 6-4 gap, but forZe won both overtime rounds in a flurry of well-aimed shots and well-coordinated movement, beating a third Pro League team on their quest to the Raleigh Major Grand Final.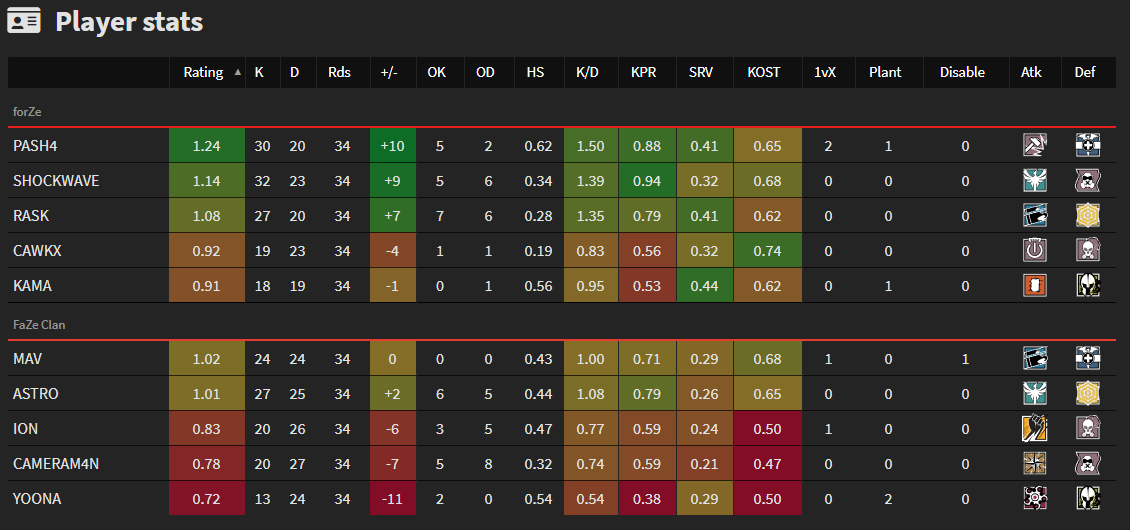 ---
---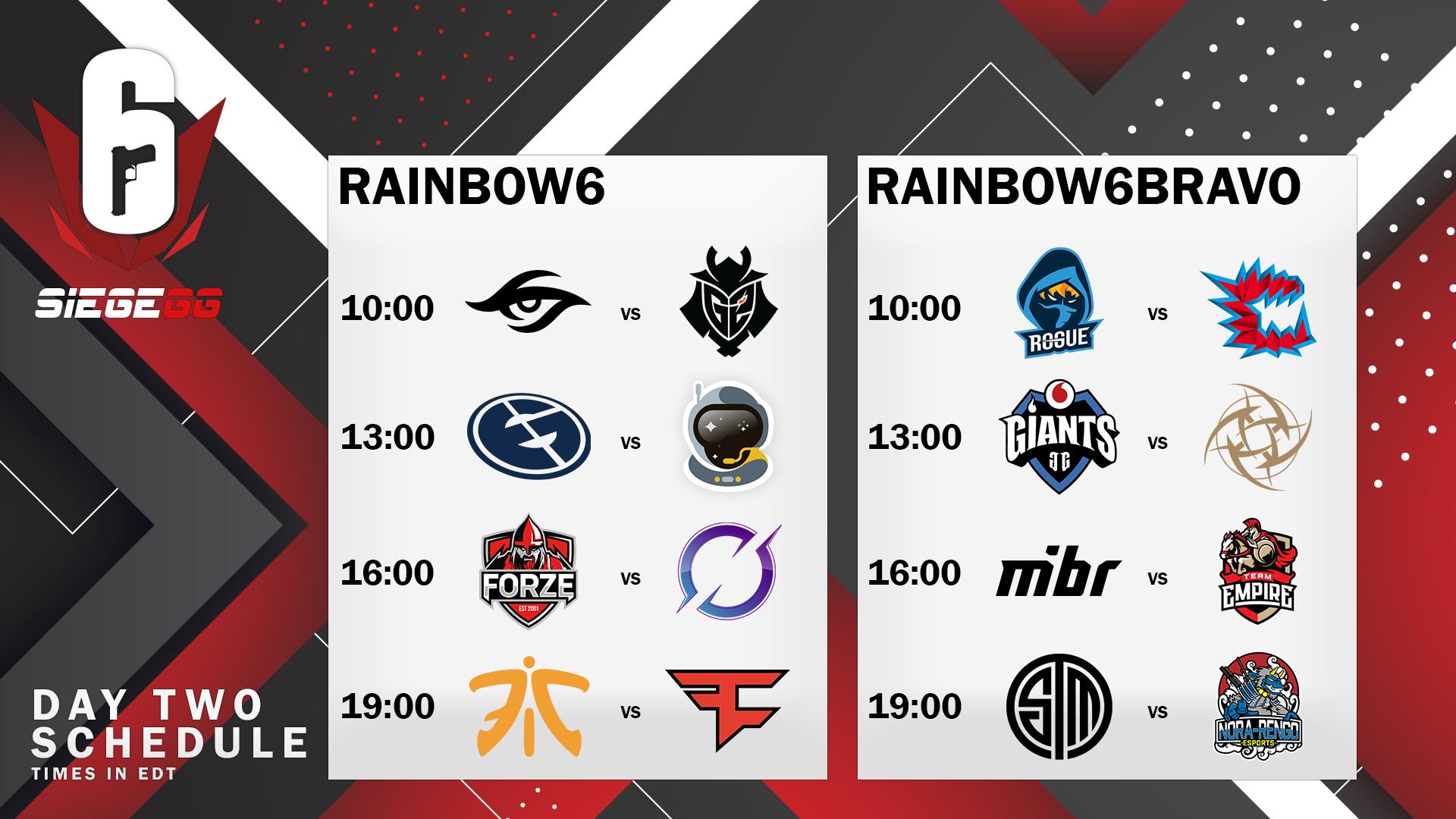 Catch all of day two's Six Major Raleigh action on the Rainbow6 and Rainbow6Bravo Twitch channels from 10 AM EDT onwards, with more exciting matches to come as teams fight for survival, with APAC being the region greatest at risk.