(Banner image: Talon Korea)
The final split in the Korean Open 2021 season came to a close this weekend, as six teams (including the four APAC North rosters of DWG, Talon, T1, and the newly acquired SANDBOX Gaming roster) faced off for the title.
For full details on the rosters, format, and schedule of the tournament, as well as all the action so far, check out our pre-event guide.
Jump to:
Quarter-Finals
The opening map of the playoffs saw T1 come back from an initial deficit to take Chalet in a strong 7-3 scoreline thanks in part to three clutches -- a 1v2 and 1v1 from Arukaze as well as a 1v1 from iLeven. Their opponents of Viper, meanwhile, only managed to secure three rounds total, which included a quadruple kill from "ZeroOne" and a triple kill from "KimJun".
Viper's map pick then went about the same for them, as they secured just a single kill in the opening two rounds. A quadruple kill from KimJun gave the team a single offensive round win before the halftime switch, which was quickly converted to another 7-3 win from T1 to push them into the semi-finals.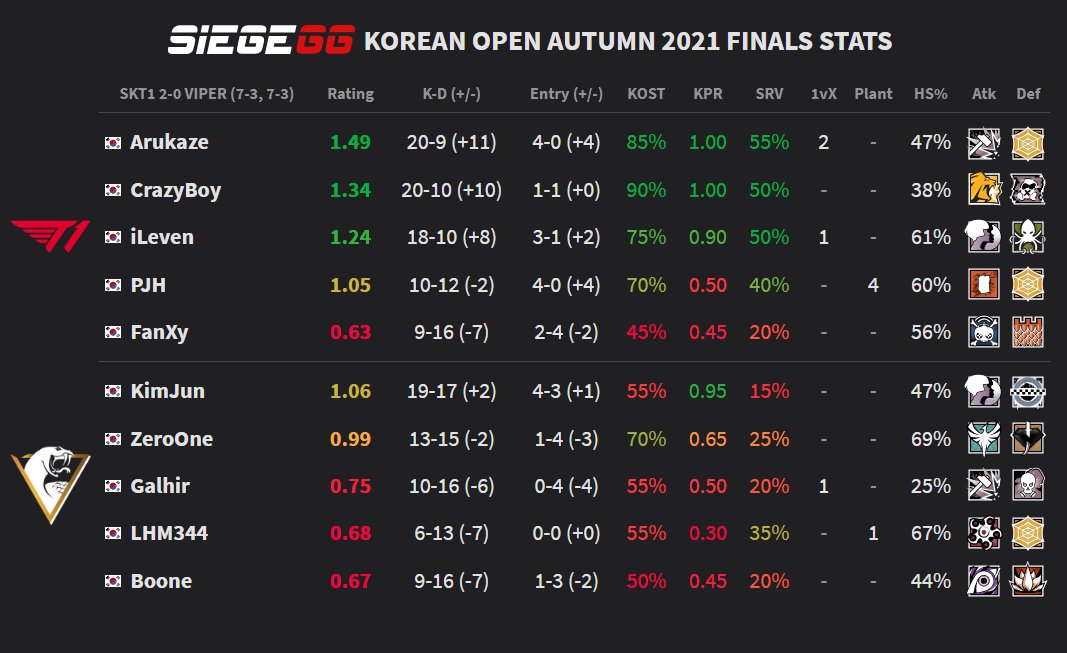 Following this on Friday, Talon faced another challenger, RECON, which ended similarly to the T1-Viper game.
Starting on RECON's pick of Oregon, Talon nearly managed to cleanly sweep the map, with RECON's lone round win coming off the back of a triple kill from Templat while attacking the Meeting Hall/Kitchen objective. Their last attempt had needed Talon's AzzyyyS to get a 1v2 clutch to secure the round, showing there was some weakness in Talon's defence, but they were still the better team.
The following map was only marginally better, with RECON briefly taking the lead with wins during rounds two and three, only for Talon to close out the map and series with six round wins running.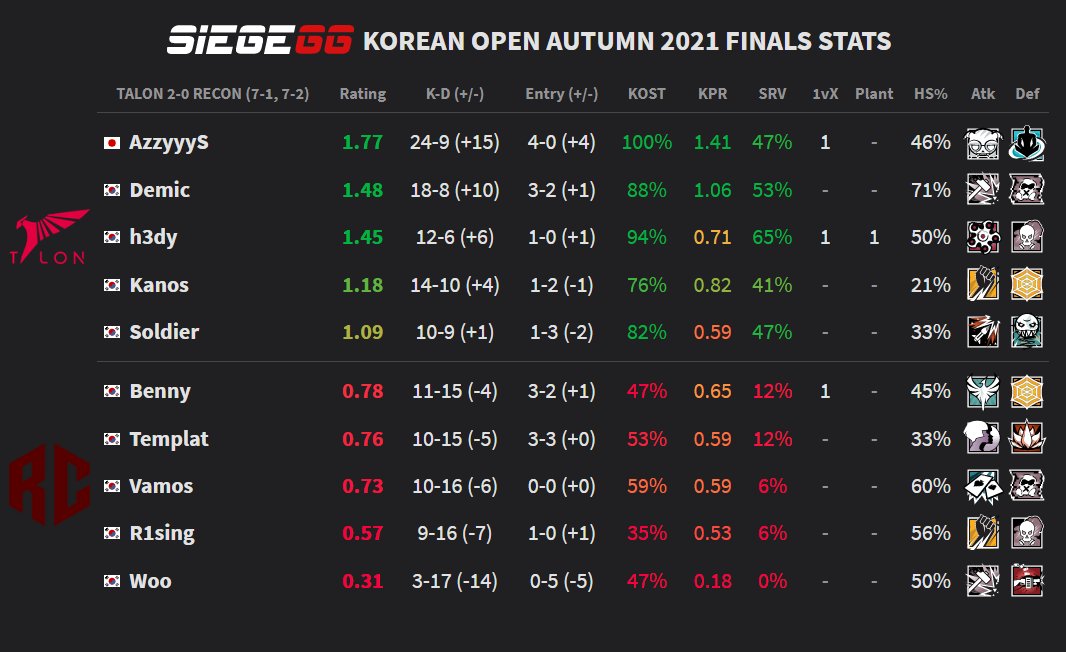 Semi-Finals
Onto Saturday, the top two teams from the regular stage joined the party, starting with the Major-qualified DWG KIA roster taking on T1. While T1 were massive underdogs in this match, they held their own very well, as they came back from a 2-4 deficit to bring map one of Clubhouse to overtime.
Zofia plays from RIN and iLeven pushed the game all the way to round 15, where T1 defended the Church/Arsenal objective flawlessly, and FanXy secured a triple kill in what otherwise had been a somewhat lacking map from the Capitao/Kaid-main.
T1 looked very comfortable on their own pick of Bank, as a 3-3 half then saw them win four out of five defensive rounds to take the map 7-4, and the series 2-0, in one of the biggest shocks of the 2021 Korean Open season.

The next game saw a similar shock, as Talon also went neck-and-neck with the ex-mantis FPS roster in the latter's first game under the SANDBOX Gaming organization.
Here, after an extremely close opening map where EnvyTaylor won a 1v2 on round 15, Talon then took control of the series, winning both Villa and Oregon.
On Villa, SANDBOX was only able to secure a single round while attacking the Aviator/Game Room site, while a much closer decider map saw Talon win three attack rounds running to win the series just before Oregon went to overtime.
This follows up a 7-5 win against SANDBOX in the Korean Open group stage, and a close 6-8 result in the APAC North league, showing that even though Talon has been unable to compete regionally or globally, they can definitely tussle with the best nationally.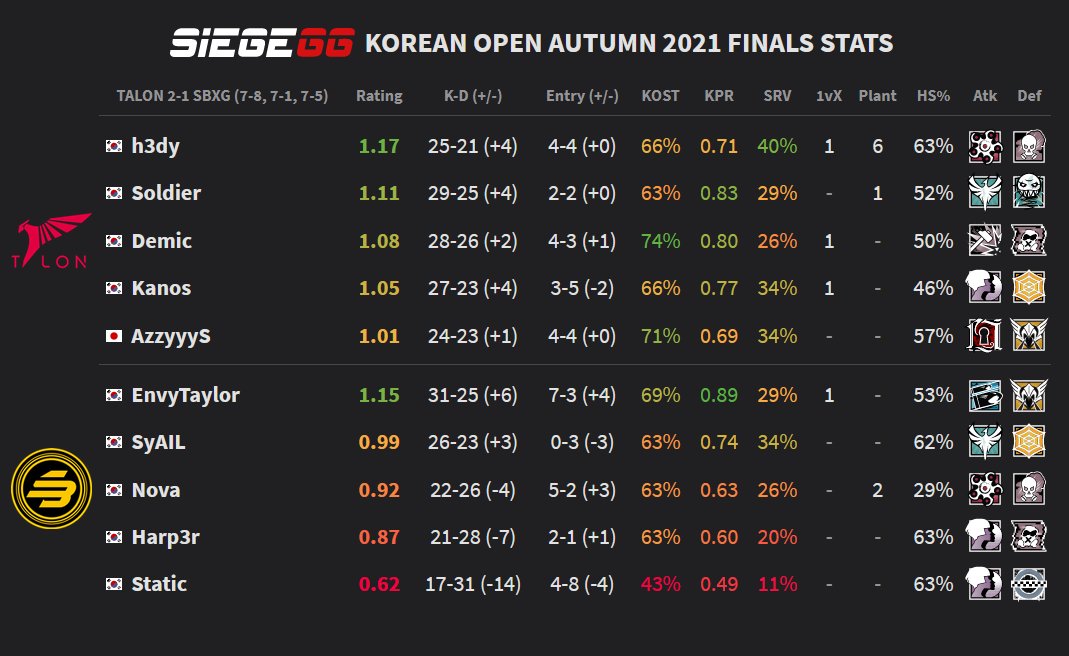 Grand Final
And so, we were left with a title match between Talon and T1; two rosters that were fighting to avoid relegation earlier this year in the APAC North Division.
After both teams had made it to this point from the quarter-finals, the best-of-five map grand-final was somewhat of a blowout.
T1's primary pick of Bank saw the two teams tied up to 4-4, before Talon finally broke the pattern with a successful defensive hold on the Lockers/CCTV objective.
The next map of Oregon saw Talon take a defensive lead, as two triple kills from Demic were followed by a Soldier triple, and then a h3dy 1v3 clutch to end the half up 4-2. Arukaze started the second half by getting a 1v3 of his own, but two more clutches from Talon saw them run away with the lead on their attacks.
Finally, the decider of Chalet saw Talon win five rounds running before T1 could find a reply. After a very short comeback attempt, Talon then ended it on round 10 to take the series in a straight 3-0 scoreline, with Demic securing a 2.0 kill-death ratio.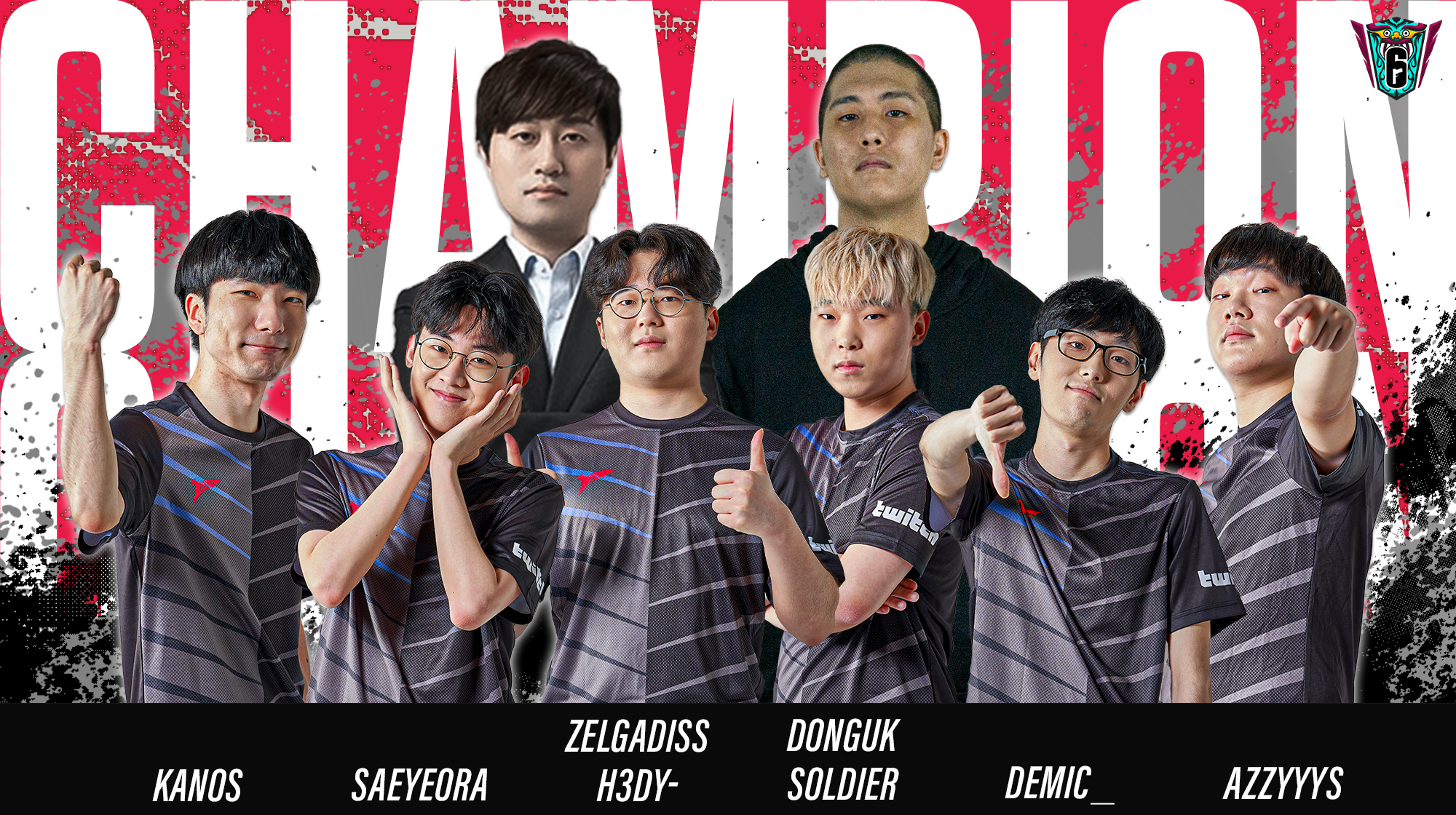 This result now means that the SANDBOX roster hasn't won a national title since the 2020 season after previously winning 17 notable national finals in a row.
SANDBOX Gaming and DWG KIA will next be seen at the Six Sweden Major in two weeks, while T1, RECON, and Viper will be playing in the APAC North relegations in December.
Talon, meanwhile, likely won't play again until the 2022 Six Invitational qualifiers in a few months.
Finally, the Korean Trial will likely take place at the beginning of next year, where D4RK Esports and GroovJam will fight to maintain their spot in the Korean national league.
Be sure to check back here at SiegeGG for coverage on these tournaments as they come.