The ongoing Autumn 2021 split of the Korean Open saw four of Korea's top names; DWG KIA, T1, Talon Esports, and the ex-Cloud9 roster mantisFPS continue competing with four of Korea's top upcoming teams for the ₩60,000,000 (US$51,000) prize pool.
Now, as we near its end with just the playoffs left to go, here's a rundown of this weekend's teams, schedule, format and more.
Jump to:
The Format and Schedule
Six teams have progressed onto the Korean Open Playoffs, with four playing in the initial quarter-final to meet the top two teams in the subsequent semi-finals.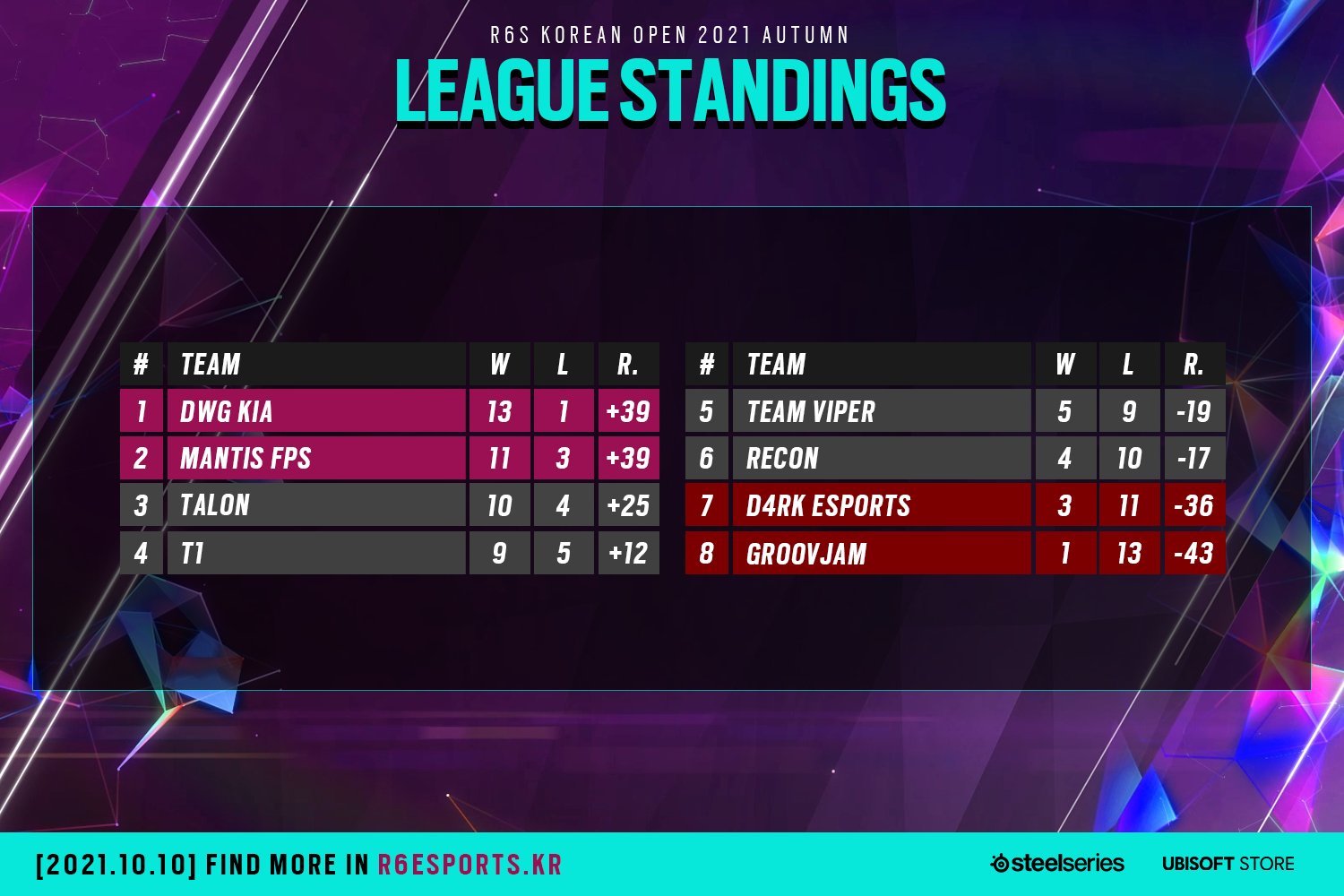 The playoffs, therefore, have been split into three stages, taking place over a three-day weekend as follows:
Friday

: Quarter-finals, two games, both best-of-three

Saturday

: Semi-finals, two games, both best-of-three

Sunday

: Grand-final, one game, best-of-five
Each day will start at 6 PM KST (UTC +9) and end at around 10 PM KST.
The Teams
While the bottom two rosters of ex-D4RK and GroovJam failed to progress, the remaining six teams have all made it to the playoffs. As the top two from the league stage, DWG KIA and mantisFPS will start in the semi-finals on Saturday, while the others kick off their campaign on Friday.
DWG KIA
--
CATsang, yass, Woogiman, coted, and RIN
As the reigning Korean Open champions from the Summer season and with an almost perfect 13-1 record this season, DWG will likely be the favorites to take home another domestic title.
mantisFPS
--
EnvyTaylor, Static, Nova, Harp3r, and SyAIL
DWG's main competitors for this spot will be the ex-Cloud9 players, who were the only ones to best them during the league season and beat them to top spot in APAC North. With the team having won 16/18 of the Korean national titles over the last four years, it'll be very eager to bring the title back to its regular home.
Talon Esports
-- AzzyyyS, Soldier, Kanos, h3dy, and Demic
Also from APAC North, Talon finished just a single point shy of mantis this Korean Open stage and finished in a four-way tie for the final APAC Playoff spot this APAC North stage.
While their performance has been notably behind mantis and DWG, they have managed to secure several upsets recently, including against mantis themselves, who they will likely meet in the semi-finals.
T1
-- iLeven, CrazyBoy, Arukaze, PJH, and Fanxy
After a truly dreadful first few stages, T1 suddenly came to life in mid-September and have managed to beat mantis, GUTS, Talon and DWG in the month since. While they are still very much the underdogs out of the APAC North lineups going into the finals, with mantis and DWG focused on the upcoming Six Sweden Major appearance, it is possible T1 could make one last surprise before relegations.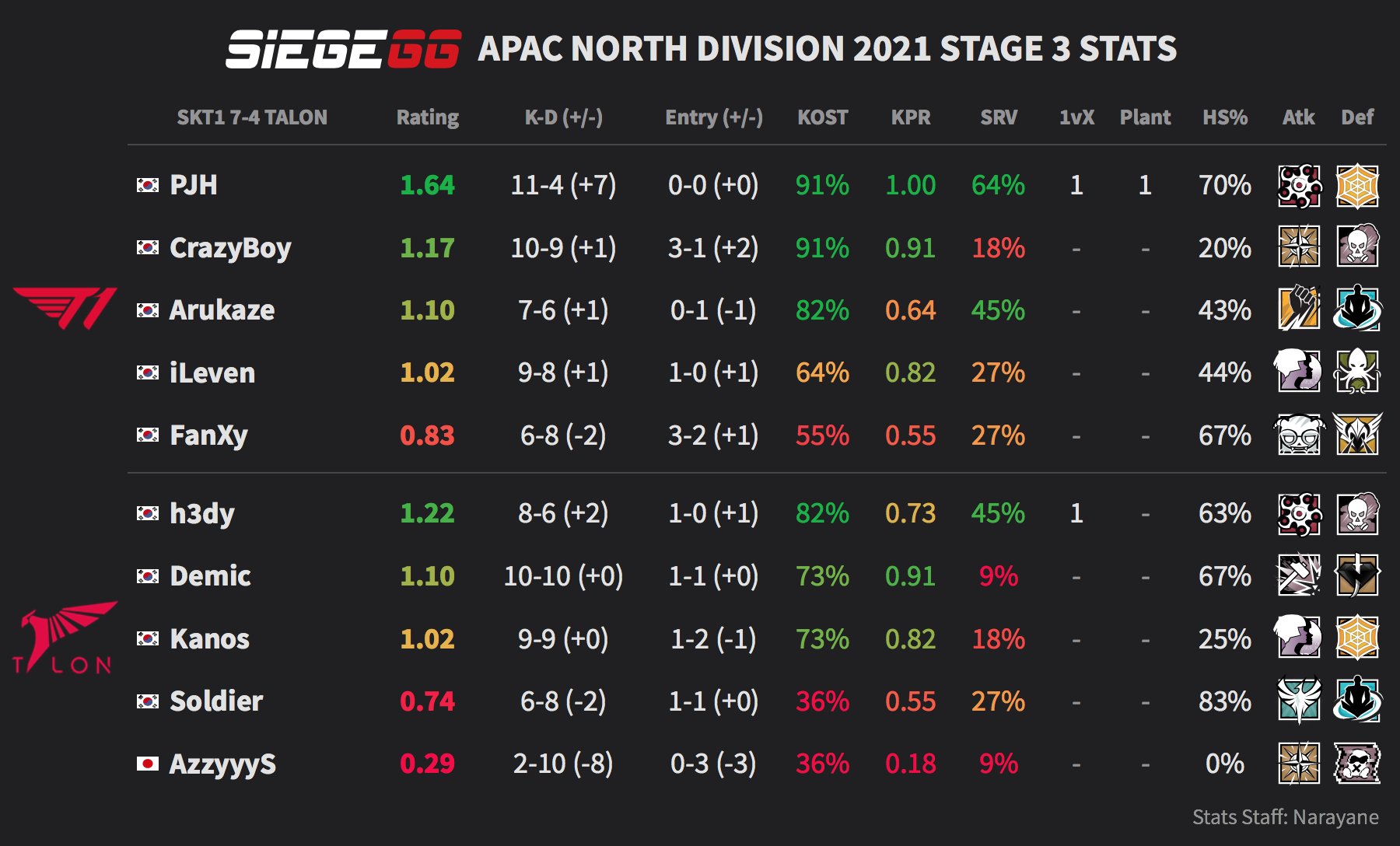 Team Viper
-- Galhir, KimJun, LHM344, Boone, and ZeroOne
The first of the challenging non-pro tier rosters is Viper, who came into this season via the open qualifiers and has since impressed many people after qualifying for the APAC North relegations.
RECON Esports
-- Templat, benny, Vamos, Woo, and R1sing
Just one point below Viper is RECON, which includes the ex-T1 player of Sangeun "Vamos" Kang and the ex-TRIPPY player of Yosep "Templat" Kim, who previously played with much of the DWG roster. While all four of their wins were against a bottom two team, they have the players to challenge some of the bigger rosters, something they hope to do this weekend.
What's to Play For and What's Next
As well as the Korean Open title, this weekend a massive ₩54m (~$46k) will be up for grabs in prize money:
1st place -- ₩20 million (~$17,000)

2nd place -- ₩10 million (~$8.5,000)

3-4th place -- ₩7 million (~$6,000) each

5-6th place -- ₩5 million (~$4,000) each
As well as this, both ex-D4RK Esports and GroovJam have won ₩3 million (~$2,500) each for finishing in seventh and eighth place.
Following these finals this week, DWG and mantis will be competing at the Six Sweden Major in November, while T1, Talon, RECON, and Viper will all be competing in the APAC North relegations come December.
Finally, the relegation battle to remain in the Korean Open will see ex-D4RK and GroovJam face two challengers, likely early next year.
---
All in all, this creates a thrilling few days in Korea. Catch all the action this Friday at 6 PM KST (UTC+9).