Image via Ubisoft/@Kirill_Vision
Here's a rundown on some of the biggest stories across all national and challenger tournaments over the last week:
Wichita Wolves crowned Challenger League champions after Arial Arise fall short
Coming into the final playday Arial Arise sat in the first place and needed to beat 10th placed Aqualix to guarantee a Stage One title. AA's two closest rivals, 1shot and Wichita Wolves, sat a point short of them and had to play each other meaning their path to victory looked very simple.
Starting with the Arial Arise game, a 2-4 offensive half on Border seemed good enough to at least reach overtime, however, at 5-4 back-to-back clutches from Ryce put Aqualix on match point which they immediately closed out.
Gaining zero points from this match meant that they were guaranteed to lose first to the victor of 1shot vs WW, which happened concurrently.
In this game, the attacker sided Oregon saw two 4-2 halves lead into overtime in which the Wichita Wolves started on the preferred side. A 1v1 from Silent over Kilo put them a round away before they successfully defended the Laundry objective in a 2v1 situation.
This meant that Wichita Wolves won the stage -- the organization's first Challenger League title after two surprisingly weak showings last year -- while 1shot fell three rounds short of overtaking Arial Arise on round difference.
The open qualifiers for NACL stage two will take place this weekend to find which team will play Outlast for a spot in the next stage's tournament.
Knights crowned Oceanic Nationals champions
The final playday of stage one in the OCN tournament took place on Friday as the Knights hoped to give the tournament a new champion. While all four OCN 2021 tournaments were won by Chiefs Esports Club, they sat down in fifth place while the OCN 2020 champions, Wildcard Gaming, sat in second and were the only team that could stop Knights' stage one victory.
For this to happen the Knights needed to get zero points from their match against seventh-placed Vertex Esports while Wildcard needed all three from Team Bliss in fourth. Neither of these possibilities happened.
In the second game of the playday, Knights beat Vertex in a surprisingly close 7-5 scoreline despite Vertex's Jakenaa securing 16 kills to nine deaths.
This meant Knights won the Stage One title.
Wildcard meanwhile lost their own match later that night leading both their opponents, Bliss, and the surprise of the stage, Odium, to overtake them into third and second respectively.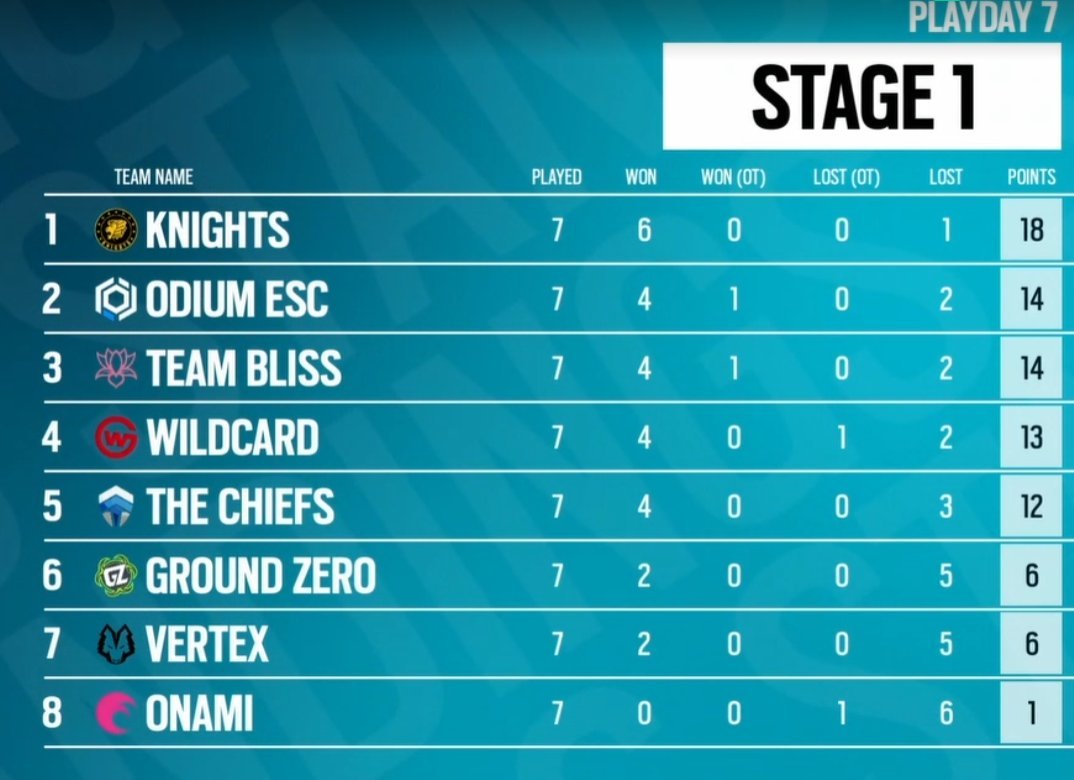 On Tuesday the Oceanic Challenger League also took place, however, Kraken Esports Club had already locked in first place the week prior. Kraken will now place Onami for a spot in stage two of the Oceanic Nationals in the coming weeks.
ex-Renatus, Elevate, and Dire Wolves claim national titles
All three of the Operation League national tournaments in South East Asia came to a close on Sunday with a total of around $50k in prize money on offer.
In Taiwan the only APAC League roster claimed the title as Dire Wolves beat Velocity9 in a 3-1 grand-final scoreline.
The Thailand nationals also had a fairly predictable outcome with the grand-final coming down to Elevate vs FURY which Elevate took 3-0. With Elevate attending the upcoming Six Charlotte Major and FURY failing to earn a single win in the APAC South League, any other result would have been quite a shock.
Finally, we had the MY/SG/PH/ID grand-final which is the combined national league for Malaysia, Singapore, the Philippines, and Indonesia. Once again the two APAC South team made it to the finals with iGi falling to the ex-Renatus roster now known as Roosters.
This result came after iGi beat Roosters 2-1 in the winners final which included an 8-7 map three result, only for the grand-final rematch then ended in a 3-2 result in Roosters favor. This game went to 12 rounds for four maps in a row -- 7-5, 5-7, 7-5, 5-7 -- only for Clubhouse to end in a 7-0 sweep to give the Indonesian side their third title in four seasons.
Finishing in third place was Madness Esports which includes both Jose "Jo" Iman and Adrian "Ysaera" Wui who were long-time members of the iGi lineup.
IGZIST and REJECT reaffirm their position as a top team in Japan
Last weekend the first stage of the Japan League Season 1 Playoffs took place. While the top six teams from the Japan League -- CAG, SCARZ, Donuts, Crest, FAV, and Fnatic -- all progressed straight to stage two of the tournament, last weekend the next best eight teams competed for the final two spots alongside the previously mentioned rosters.
This meant that the seventh to tenth-placed Japan League teams -- IGZIST, REJECT, PSG, and Sengoku -- as well as the top four rosters from the Japan Open Season 1 tournament -- NORTHEPTION, ENTER FORCE.36, Lag Gaming, and Quintette Shizuoka -- competed in two groups over two days.
In group a, a lot of attention was on Lag Gaming which included the core roster of the 2020 Nora Rengo lineup -- Toya "Papilia" Miyazawa, Tomohisa "Simotuki" Imoto, and Yoshifumi "YoshiNNGO" Yukimori. This team survived the APAC North relegation in 2020 only to be dropped by the organization which then lost its license a few months later.
Unfortunately for Nora fans, it was the two Japan League teams that bested them with Lag finishing in third, albeit just two points behind IGZIST in first.
In group b, meanwhile, there was a bit more of an upset, as while REJECT unsurprisingly won the group, PSG Esports finished last with a 1-0-2-3 record behind Quintette and Northeption.
IGZIST and REJECT will now join the top-six teams in a single-elimination playoff tournament starting on June 4th to crown the Japanese season one champion and award the ¥4,750,000 (~$36k) prize pool.
Viperio 86 upsets NAVI in the Northern Premier League
Finally, after losing to Heroic in the opening playday, on Wednesday Natus Vincere suffered their second defeat of the Northern Premier League season as Viperio took them down, 7-5.
This result pushes Viperio up to third place with just Heroic and Victus ahead of them while NAVI sits down in third place.
The top six teams will all progress to the playoff stage while seventh and eighth will play in the relegations meaning MNM Academy in seventh is in a precarious situation as it stands.
Games to Watch
With the 2022 Season now in full gear in all four regions, this next week will see a lot of action.
These are some of the must-watch tier-two matches over the next week (all times in CET):
Wednesday 7:15pm: Ambush vs NAVI -- Northern Premier League
Wednesday 7:15pm: Rebels vs Principality -- Spain Nationals
Wednesday 7:30pm: Team Enyx vs Esport BERG -- GSA League
Wednesday 10:30pm: 321 Sked vs DeathroW -- 6 French League
Thursday 2am: MIBR vs NiP -- Brazil Cup
Friday 10pm: Activit-E vs BruhJect -- Benelux League
Sunday 6pm: Brazil Cup grand-final
Sunday 7pm: LATAM South Supercup grand-final
Monday 0am: LATAM North Supercup grand-final
Tuesday 6pm: MACKO vs Hmble -- PG Nationals