Having kicked off on the 13th of March and running until the 18th of September, the Rainbow Six Japan League is the biggest domestic tournament across all of competitive Siege, with its ¥32 million (US$308,000) prize pool.
Not only is the prize pool be a sizeable amount in the Japan League, but each team will also have up to each of its six players and coaches (combined) be guaranteed up to ¥21 million (US$202,000) in salary for the competitive year.
Read on to find out what went down in the 11th week of play from the best in Japan.
Jump To:
Day 21
Still looking for its first win in eight attempts, and its first map win in seven, Team Northeption last week took on a GUTS Gaming that had been on somewhat of a hot streak.
But the match started off on Oregon in explosive fashion for Northeption, with Marol securing an opening-round 1v3 clutch on-course to a quad-kill.
Northeption then went up 4-2 in the half, off a Kohk1 and Wendyzera 1v2 clutch each, then took the map 7-4 after two of its three rounds saw SpeakEqsy secure seven kills in total.
Unsurprisingly, GUTS responded swiftly. Kafe, another defender-sided map, saw GUTS start on the defense and take a 4-2 lead. In the second half, Northeption then could only secure one round, as GUTS marched onwards to a 7-3 win.
Then on the decider map of Clubhouse, things started off exceedingly well for GUTS. A 5-1 lead on the defense had only been marred by a Kohk1 quad-kill and defuser plant, but Northeption refused to feel any fear. Immediately going down 1-6, the underdogs reeled off five rounds on the trot and suddently had forced overtime.
In overtime, it was then Northeption's turn to secure match point, but a first win in eight attempts was too much to ask, as Wendyzera and Yura combined for five kills in the final two rounds to help GUTS survive and take the series 2-1.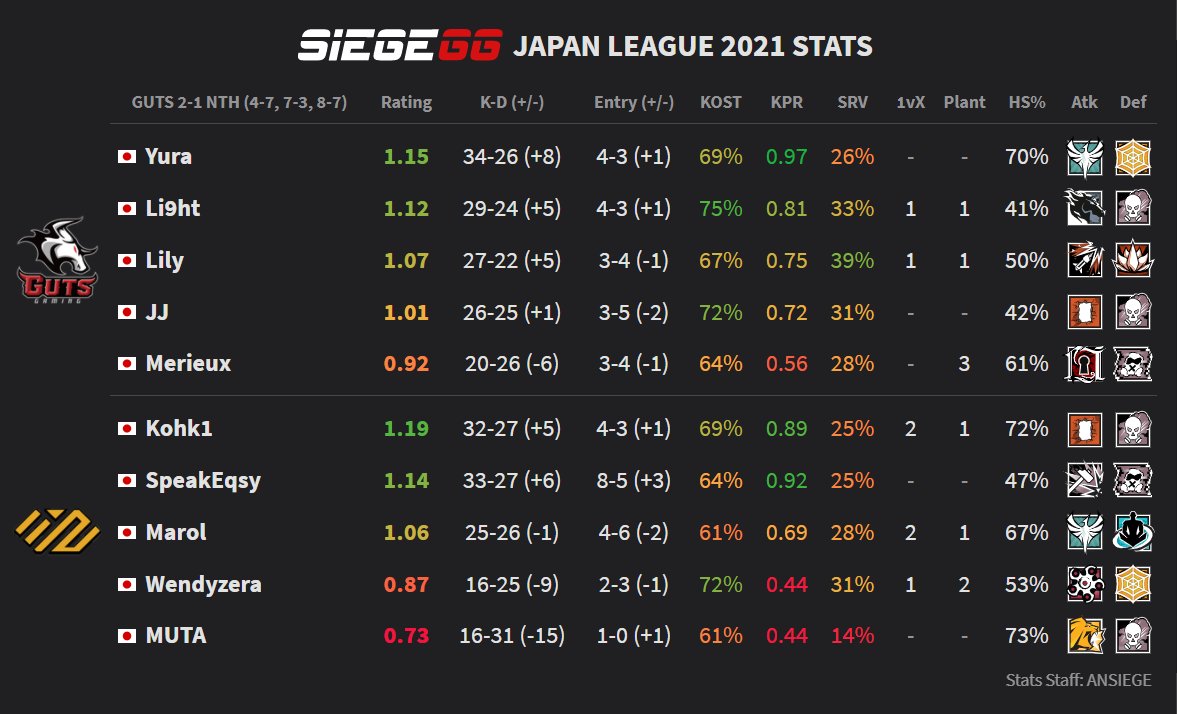 Much like GUTS Gaming last week, Sengoku Gaming would have come into this match with confidence, but walked away with perhaps more effort expended than expected.
Starting off on Kafe, though, Sengoku Gaming were flying high at the start after having gone 5-1 on the attack. But Crest Gaming got the comeback started from Round 9, managing to string three rounds together and threatening overtime before Sengoku shut them down 7-5.
Crest then started off well on the second map of Consulate, leading 2-0 before Sengoku pegged them back to 3-3 at the half. But a similar second half saw Crest leading 6-5, leaving Sengoku scrambling to recover and force overtime.
There, the second-placed team showcased its class, taking the win decisively in the minimum two rounds, helped along greatly by a Yahoon triple-kill and a ReyCyil quad-kill.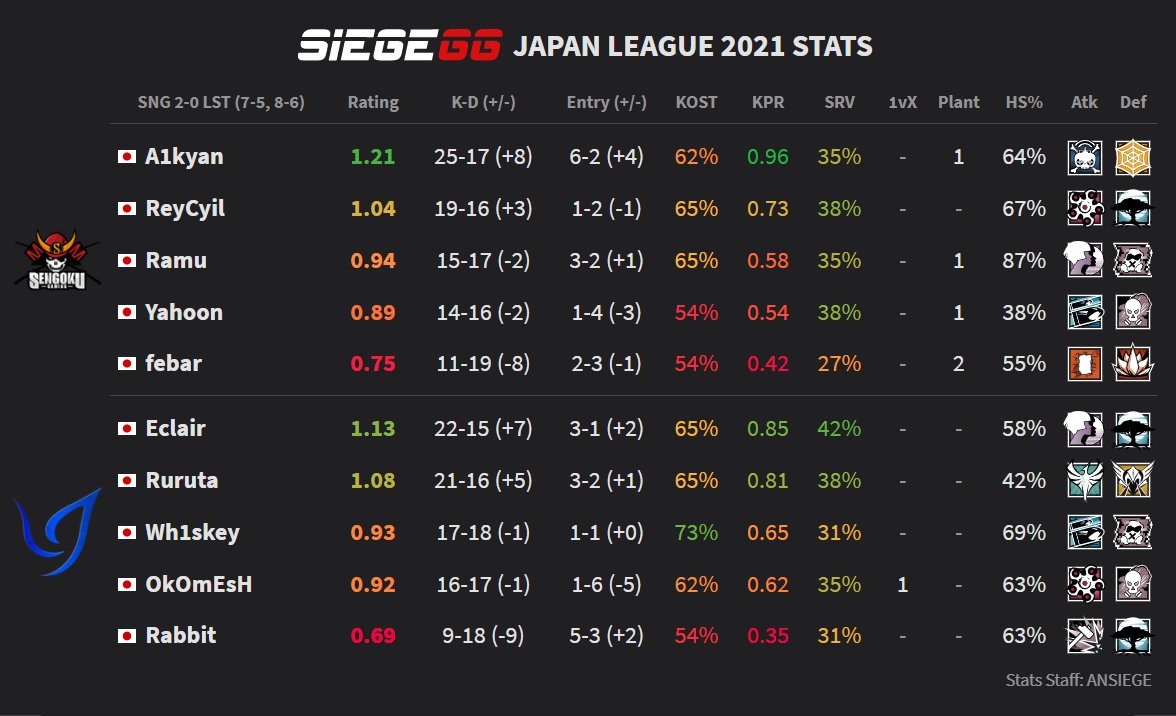 Day 22
The tough season for EVA:e continued, with the bottom-placed team set to take on the runaway league leaders Cyclops Athlete Gaming (CAG). The final score, however, belied a surprise that EVA:e had up its collective sleeve.
The game started off on Villa, but it was EVA:e that started off with two defensive victories. But that was all that CAG allowed, as the next four rounds on defense and the three on attack -- for a total of seven -- were taken without much difficulty for a 7-2 map.
One quick map up, CAG would have been feeling very confident heading into the second of Kafe. But, despite being on the disadvantageous attack, EVA:e took three rounds to give themselves a good platform for the second half.
CAG fought back, but could not complete the victory on their attack, despite having gone up 6-4. EVA:e successfully forced overtime, and though failed to get a round there, gave CAG a certain scare during the 8-6 second map.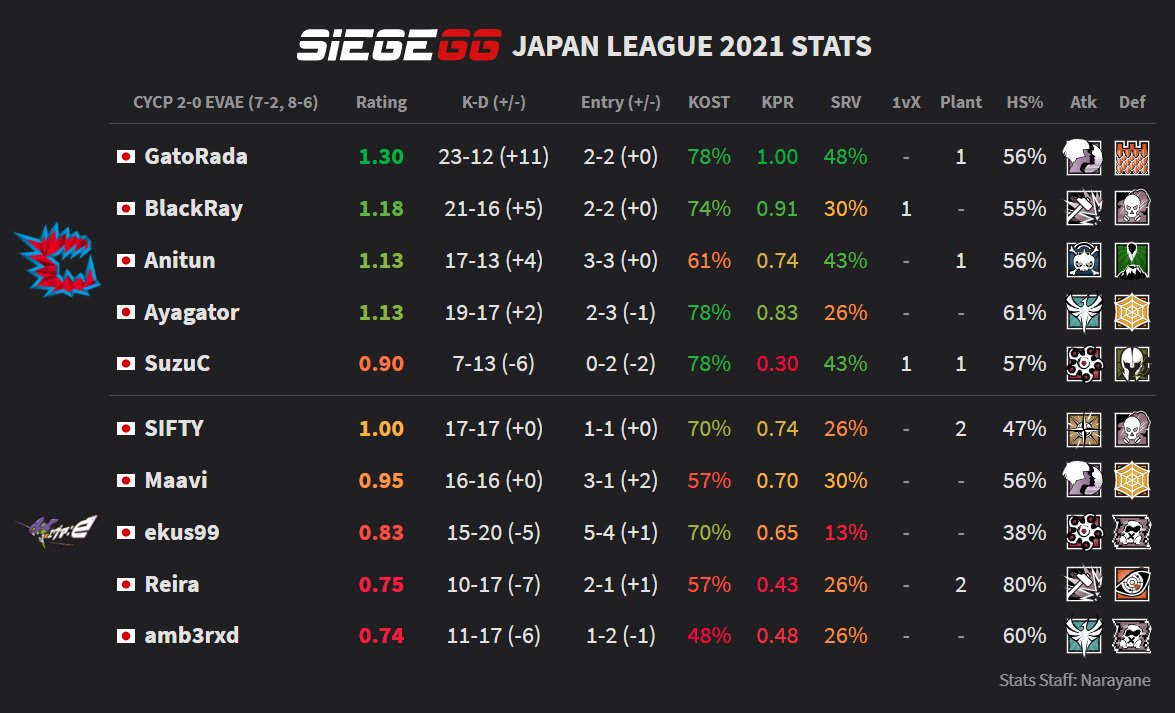 The final game of the weekend saw two teams level on points, FAV Gaming and REJECT take each other on in a vital game for both.
The game kicked off on Consulate, with FAV Gaming taking a 4-2 lead on the attack after three defuser plants. But REJECT proved their exact equal, also taking a 4-2 attacking half with another three defuser plants, successfully forcing overtime.
But experience shone through once more, as FAV Gaming managed to hang on in overtime, taking both rounds for the 8-6 win on the map.
The next map of Villa was almost exactly as close, despite an early 4-2 lead on the defense for FAV Gaming. But while a second-half back-and-forth saw REJECT draw close, it was not enough for the victory, as FAV secured the requisite three rounds in total, staving off overtime and taking the series 2-0.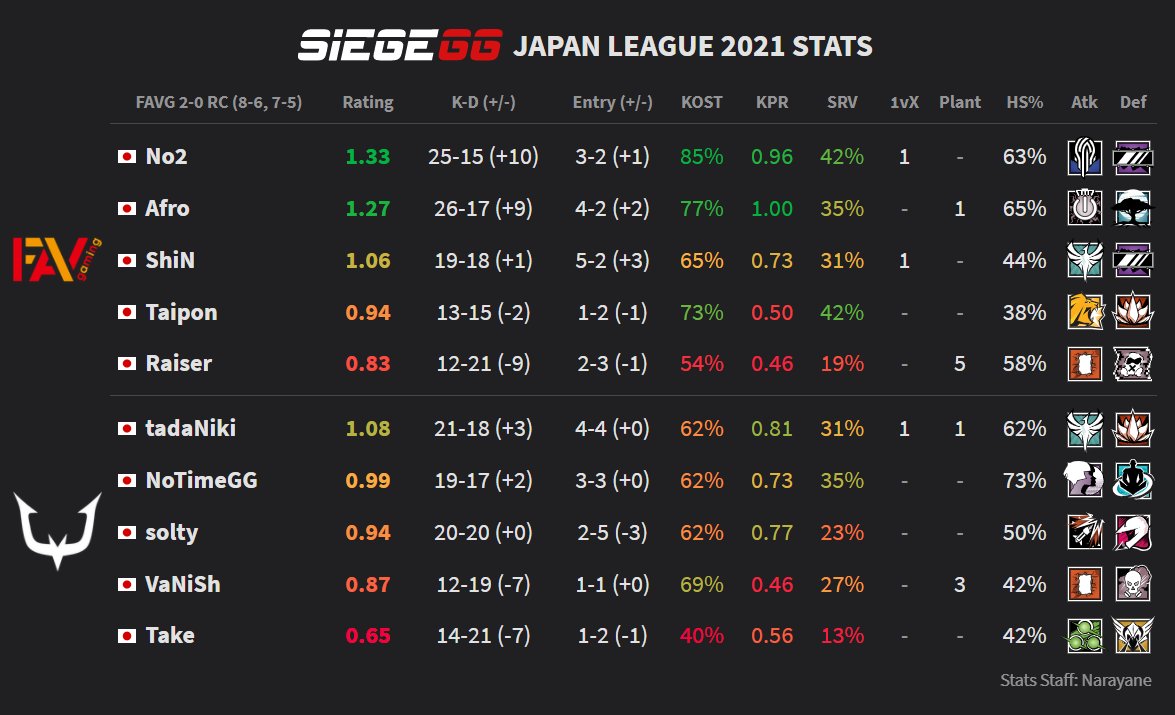 What's Next?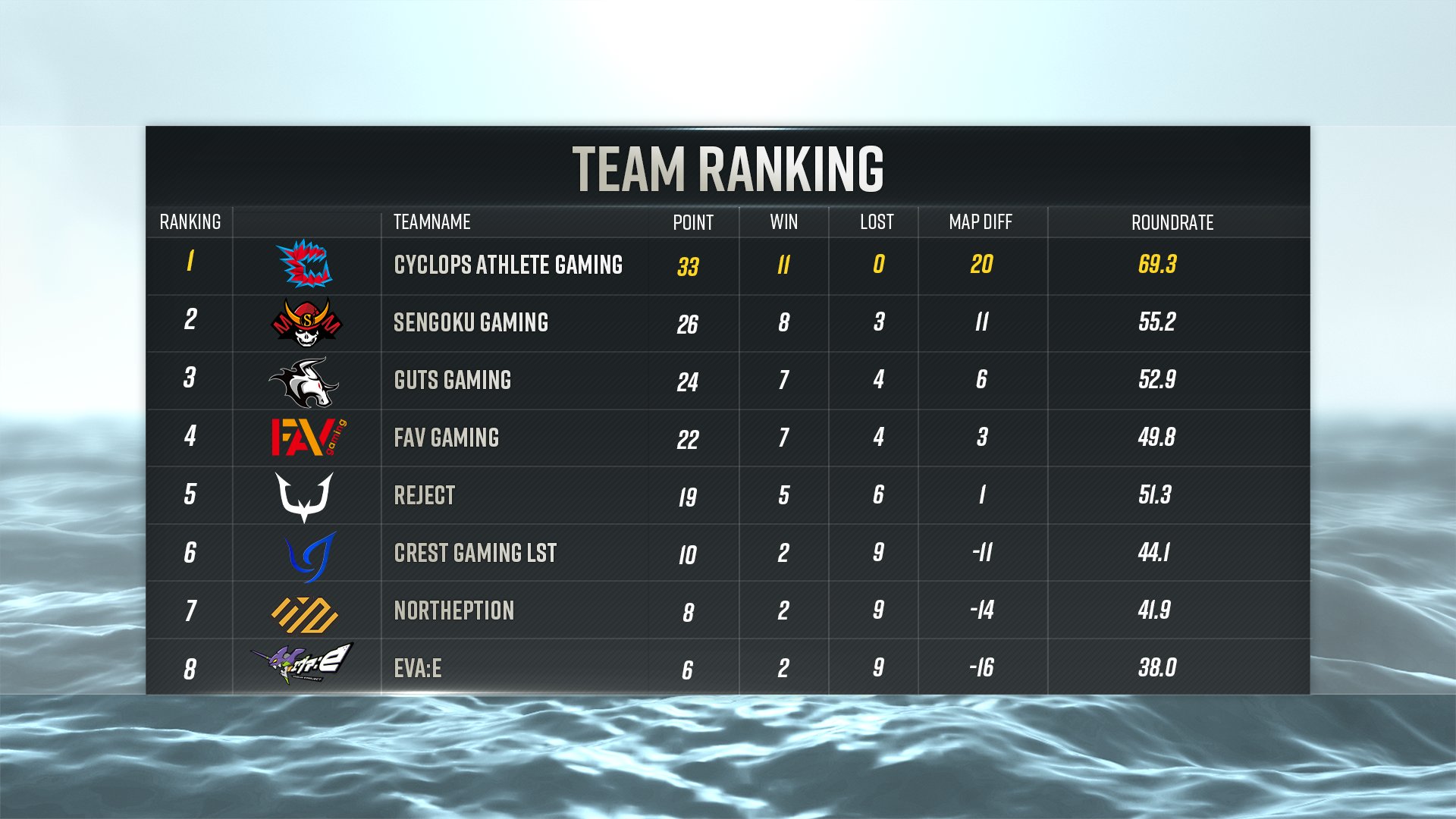 This week, keep your eyes peeled for the match between Team Northeption and Crest Gaming, with a possibility of a first win in nine attempts for the former, as well as an attempt from GUTS Gaming to jump over Sengoku Gaming into second place.
Game start at 2 PM JST (UTC+9) each day and can be viewed on the Rainbow6JP Twitch and YouTube channels.