The Pro League Finals held this weekend, the 18th and 19th of May from 12:30PM CET (GMT+2), are highly anticipated in more ways than one.
For one, G2 Esports has missed out on their first LAN event in two years, paving the way for another team to be certain to win the tournament. For North Americans, it's a highly exciting event too -- Evil Geniuses' bogey team (G2) is not present, and beloved DarkZero Esports have made it to their first Pro League Finals in five seasons.
The Europeans also have little reason to be too disappointed by G2 Esports not making it -- Team Empire, the Eastern Europeans who took the entire Pro League by storm are virtually teetering on the edge of their first Pro League title. Furthermore, LeStream Esport has played out a wonderfully strong online season and are looking good to finally break their streak of poor finishes offline.
Latin American fans will be excited too -- FaZe Clan showed immense fortitude to come from their weak first-half position and finish at the top of the table, while Immortals were consistent to stay in first for almost the entire season. Furthermore, if the two teams are able to beat their quarter-final opponents, it will guarantee a Latin American team in the Grand Final for a second season running, with no G2 Esports to stop them this time.
Asia-Pacific fans will be somewhat less enthused, however, with both Fnatic and NORA-Rengo having to face each other right away (thereby eliminating the chance of both advancing to the semi-finals or further like in Season 8). However, the one silver lining that can be taken away is that one APAC team will be guaranteed to progress to the semi-finals, and with both of them looking strong, it is very possible that this could be the season where APAC wins its inaugural title.
What's the format and schedule?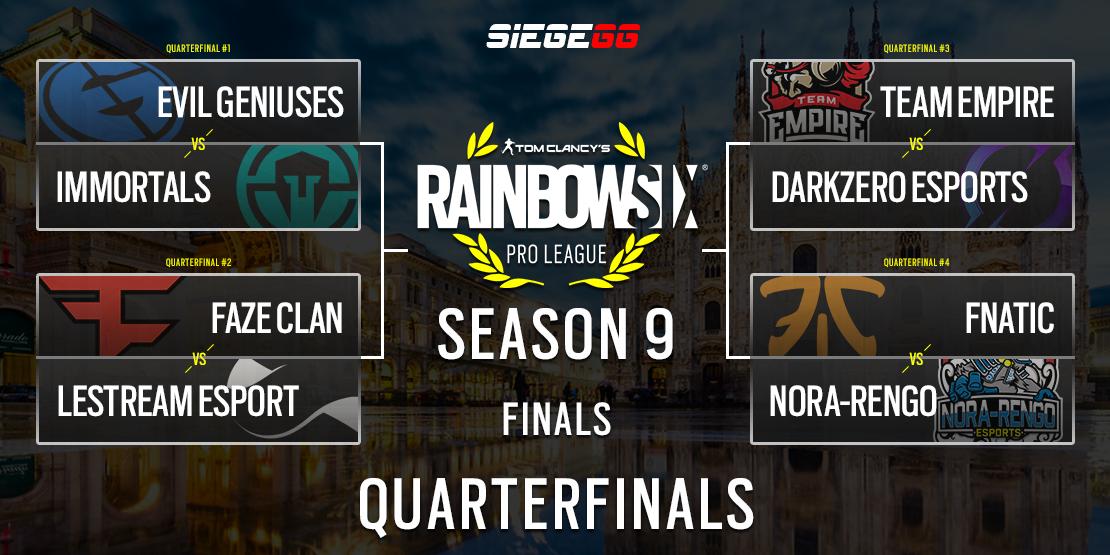 The tournament has the standard Pro League Finals format, running a single-elimination format with Best-of-Three games, including the Grand Final (Best-of-Five Grand Finals are only at the Six Invitational and Major events).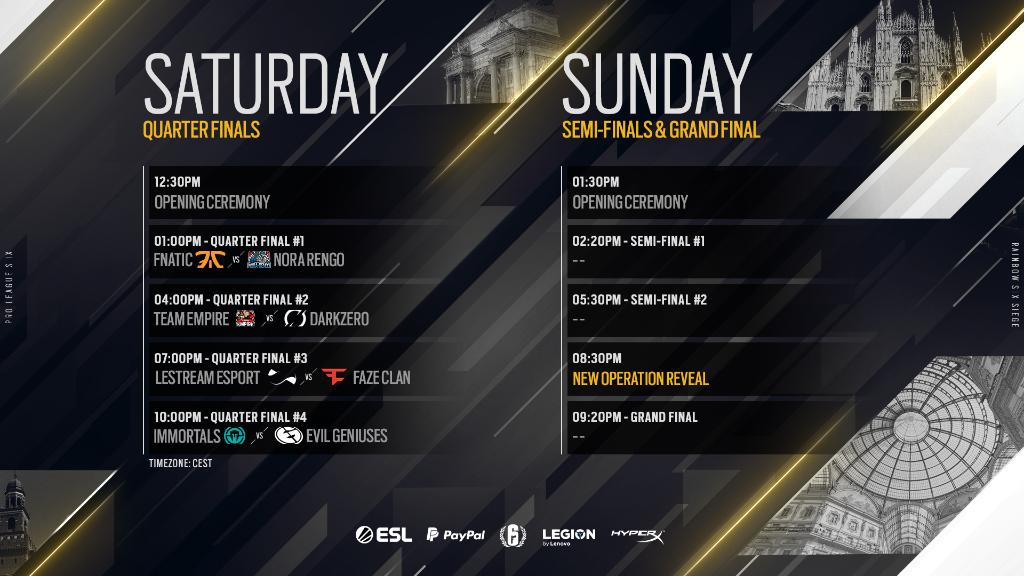 The games will be played on the 18th and 19th of May, starting at 12:30PM and 1:30PM respectively. They will be played in reverse order of the bracket on Saturday, starting with Fnatic vs NORA-Rengo first, and finishing with Evil Geniuses vs Immortals.
Bringing the action to everyone watching will be familiar faces in Matt Andrews as the stage host, Ghassan "Milosh" Finge as the desk host, Alex "z1ronic" Dalgaard-Hansen and James "Devmarta" Stewart as the analysts, and casters Michael "KiXSTAr" Stockley, Parker "Interro" Mackay, Samuel "Stoax" Stewart, and Rob "Flynn" Flynn.
What are the casters predicting?
In total, 27 casters (more than were able to be included on the featured graphic) were polled to gather their predictions for the event, and the results were somewhat predictable -- pun fully intended.
In the Evil Geniuses vs Immortals quarter-final, 23 of the casters predict a victory for the North Americans, with only Devmarta, Meli, Retalha, and Verdi favouring the Brazilians. As expected, most of the scores -- regardless of who won -- are a 2-1, with just six casters predicting a 2-0 win, all in favour of Evil Geniuses.
The results were more balanced for the FaZe Clan vs LeStream Esport game, with 11 casters picking the Latin Americans to win. However, LeStream are still the favourites, with the 16 others predicting a victory for the Europeans. As was with the first quarter-final, most of the predictions have a 2-1 final score.
For the DarkZero Esports vs Team Empire game, the margins are nowhere as close. Flynn was left alone with his faith in the North Americans, with every single of the 26 other casters expecting Team Empire to win. What's more, 16 of these 26 casters predict Team Empire to win without conceding a map, something that North American audiences will be desperately hoping to not happen.
The intra-APAC quarter-final was harder to predict, however, but only marginally so. Only seven casters predict a win for NORA-Rengo, with three of them -- Frieda, Okayama, and InfianEwok -- from the APAC region. Still, almost everyone expects this to be a close game, with 2-1 predictions almost uniform across the board.
When it comes to the semi-finals, the jury is almost evenly split on whether LeStream or Evil Geniuses will be progressing, with only Devmarta and STARBOY predicting wins for FaZe Clan, and Meli predicting a win for Immortals.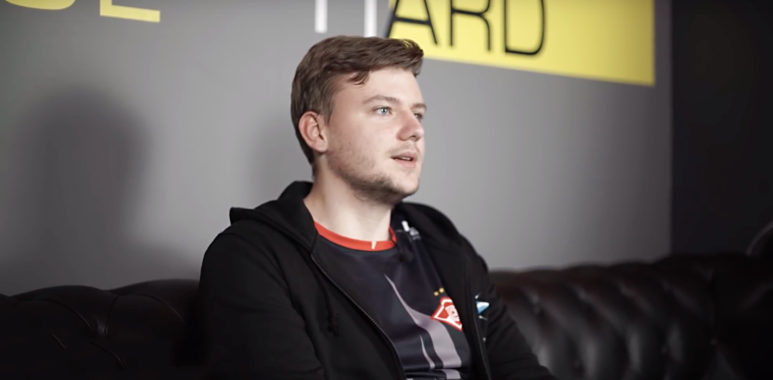 In the Grand Final, though, a majority of 15 casters are expecting Team Empire to take home their first-ever Pro League title, with only a handful expecting Evil Geniueses, LeStream, FaZe Clan, Immortals, or Fnatic to win it all. DarkZero and NORA-Rengo, on the other hand, have no one expecting them to win it all.
What are the individual SiegeGG staff predicting?
With the SiegeGG staff having had a great record with the online season and the APAC Finals, finishing in second place and joint-first respectively, it was definitely interesting to take an internal poll of all the individual SiegeGG staff and contrast them with the casters' predictions.
Interestingly enough, there is at least one staff member having faith in DarkZero Esports and NORA-Rengo within SiegeGG, though Team Empire is still the favourite to win. They aren't favourites by much, though, with Evil Geniuses having just one less staff member putting faith in them.
When it comes to the four definite quarter-final games, a slightly greater percentage of staff have faith in Immortals -- but only just. While 85.2% of the casters predict an Evil Geniuses win, "only" 79.4% SiegeGG staff predict the North Americans to be victorious. Similarly, but in the opposite direction, 64.7% of staff predict FaZe Clan to beat LeStream Esport, while 59.3% of casters do so.
The Team Empire game against DarkZero is where there is the biggest gap between casters and SiegeGG staff. While just 3.7% of casters (just Flynn, in fact) have faith in DarkZero, a far larger 32.4% of SiegeGG staff do. The story straightened itself for the Fnatic vs NORA-Rengo quarter-final, though, with 70.6% of staff predicting a win for Fnatic, while 74.1% of casters do so.
Where can I read more about the players and staff involved?
In the run-up to this season's Pro League Finals, SiegeGG ran the "Milan Madness" interview series where we talked to a player from each of the eight teams in attendance, as well as other key figures such as G2 Esports' Pengu and key behind-the-scenes Ubisoft and ESL staff.
The entire series is compiled below:
---
The Milan finals are taking place this weekend on the 18th and 19th of May, and they are sure to be absolutely electric. To keep up to date on Milan coverage during and after the event, be sure to check back here at SiegeGG, and to see whose predictions were hot, and whose were not.