G2 Esports. Pro League Season 4 champions, Season 5 champions, Season 8 champions. DreamHack Winter 2018 champions. Six Major Paris champions, and most importantly, two-times Six Invitational champions -- world champions -- in 2018 and 2019.
Niclas "Pengu" Mouritzen, all that, and also the Nordic Championship Season 2 champion and the Season 1 Pro League champion.
G2 Esports and Pengu. At home for the Season 9 Finals.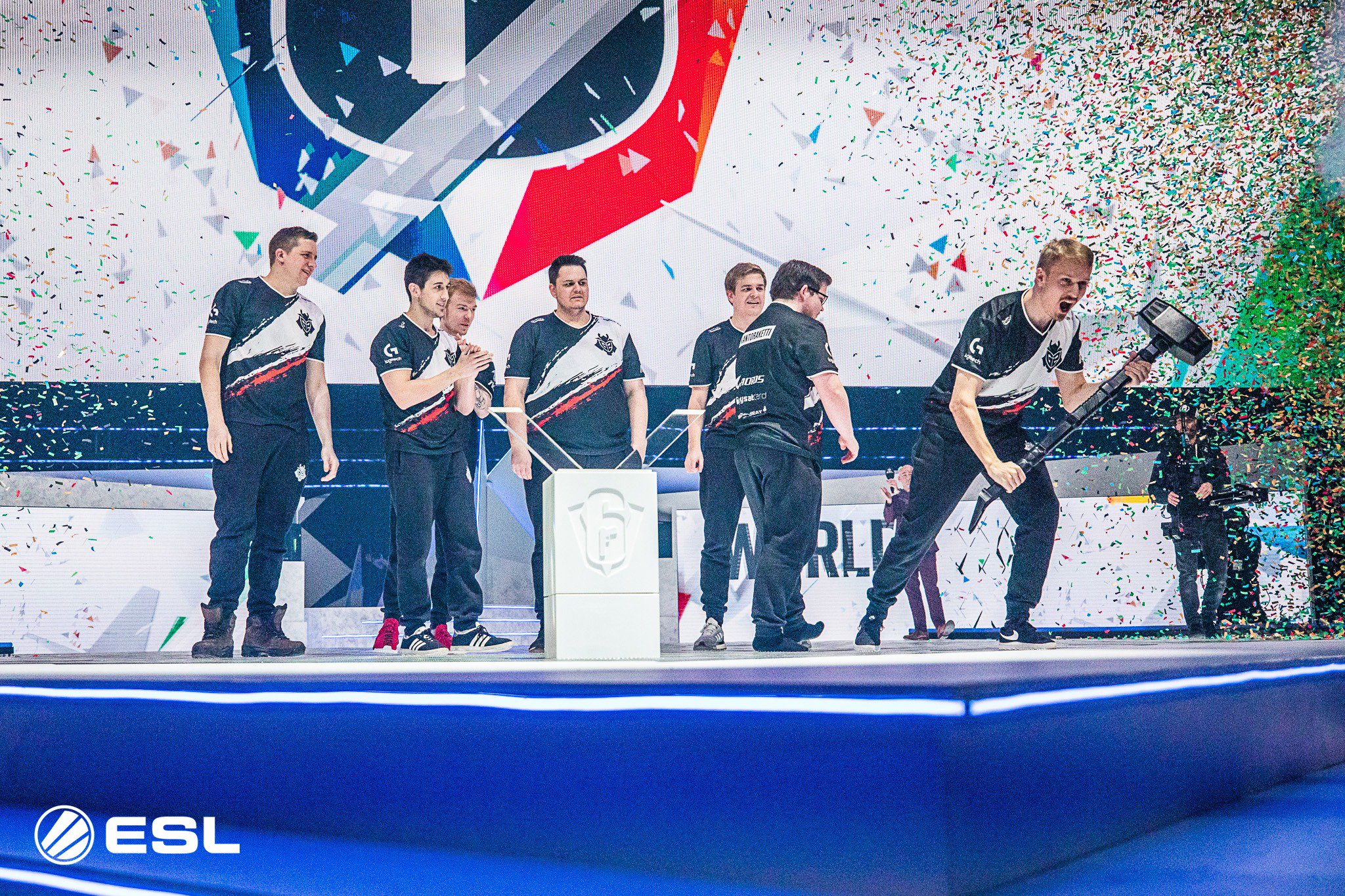 For the first time since this core roster was formed, the team missed out on a LAN event. For the first time since they started winning, the star-studded roster of Pengu, Fabian "Fabian" Hallsten, Joonas "jNSzki" Savolainen, Daniel "Goga" Mazorra Romero -- and now Juhani "Kantoraketti" Toivonen -- would not be at a Pro League Finals.
An unthinkable scenario at the start of Season 9, especially after their incredible dominance in 2017 and 2018, the warning signs began to show when G2 Esports' Season 9 Pro League title defence got off to a poor start. They were saving strats, said fans, and sure enough, they were, and once again won the Six Invitational. But the acceleration that many were expecting in the second half of the season never came, and Team Empire -- their Six Invitational Grand Final opponents -- and LeStream Esport went to the first European Pro League Finals in four seasons instead.
With the end of Season 9 just two weeks away, SiegeGG had a chat with Pengu to talk about his season and the Pro League Finals in Milan:
G2 Esports is undoubtedly the best team in Rainbow Six history, and is especially fearsome offline. What are the key differences from online to offline as a professional player?
Offline Siege is a whole different game. It's not very comparable except for the fact that it's the same game in terms of core mechanics. We've seen changes in recoil behavior on some patches on LAN with extended barrel being the best for less recoil, whereas on online that's never the case. Peeker's advantage and ping as well as sound propagation appear to work a lot better on LAN.
This is the first time ever the core of this roster has failed to make it to any LAN event. Was this really an intentional, much-needed break, a realization of certain weaknesses online as well, or both?
This season we failed to qualify. The first half of the season was due to saving strats for the Invitational, forcing Oregon as much as possible to hide maps and not show any progress for other teams to learn from, but for the second half of the season we have no excuse.
We still had every option to qualify, but we failed to with a few games not going our way, and therefore we missed out on the spot. I honestly think that if we did qualify, we'd be in the final vs Empire most likely. It's not hard for us to win LAN tournaments -- it's hard for us to qualify, whereas most teams seems to be stronger online, rather than offline.
At the Invitational you nearly lost a map to mantisFPS (now Cloud9) and then lost the same map and very nearly the series to Spacestation Gaming. Was that the rest of the scene catching up somewhat, or your team having what can be considered an "off-day"?
Other teams are certainly catching up, but I do think we underestimated mantisFPS a little bit and didn't put in 100% effort until we realized just how good they were, meaning a few sloppy rounds to start off (this was the last time we ever underestimated a team).

In addition, we also had two to three players sick during most of the Invitational. It was a constant struggle of painkillers and vomit between a few of the players. I don't wanna take away credit though, mantis played a great game, and so did Spacestation Gaming.
Given that the Season 9 Finals are in Europe, is your team still going to make the trip as spectators?
We were considering going as spectators, but it would take away the few days of break that we actually have by not qualifying, as well as the fact that nobody wants to go knowing you should have went as a player rather than a spectator.

I don't wanna say our egos are too big, but rather our competitive spirit is at play. It's not nice going somewhere and all you see is what you failed to accomplish and thinking you'd perform better than half the teams there due to the nature of the offline build vs online.
NORA-Rengo and Team Empire both go into the event with significant changes from the Invitational. What do you make of their prospects?
From what I've seen from Empire's roster change, they appear A LOT weaker currently. This could be strat saving/not showing how Dan is being utilized in the team, as well as Dan joining so recently that he simply hasn't had time to catch up yet. NORA-Rengo is harder for me to comment on as they aren't in my own region, their playstyle is far different, and they face arguably weaker opponents on average. I hope the best for them though!
Who is a team to watch out for at Milan?
I personally am excited for DarkZero and LeStream, as well as the trend of seeing if Evil Geniuses (EG) manages to fix their internal struggle. I always like watching EG play.
How much of a do-or-die is this event for Evil Geniuses, now that their biggest rival -- your team -- isn't there?
It's quite a big do-or-die in my opinion. They JUST got settled in Seattle into their new gamer facility and it would suck to watch them struggle to progress further. Now that we aren't going, perhaps they have a better chance.
What are your predictions for the event?
I am not a big fan of predictions -- everyone asks me about Game of Thrones and who I think will end up on the throne, but to be honest, I'd rather just sit back and watch as the beauty of the story develops in front of me. After all, I can't do anything but accept the outcome. The only thing I dislike is that we are seeing a double APAC quarterfinal between Fnatic/NORA-Rengo -- that's a big bummer.
---
The Milan finals will be held on the 18th and 19th of May, and while G2 Esports will not be attending, eight very capable teams will be there to strut their stuff. Catch our coverage in the run-up to Milan, and be sure to check back during the event for more Siege action right here at SiegeGG.