Image: Ubisoft/Joao Ferreria
In less than a month, 20 of the best Rainbow Six Siege teams will gather in Montreal, Canada, for a chance to be crowned world champions.
The current world champions TSM will not be present to defend their title after losing in the NA Closed Qualifier grand-final to Spacestation Gaming, who qualified instead. Both Spacestation and TSM won their Six Invitational titles after securing qualification through the 2020 and 2022 Closed Qualifier.
JUMP TO
The Teams
The following teams qualified for the Six Invitational 2023 after finishing among the top 16 in the Global Standings:
w7m esports — HerdsZ, Kheyze, Jv92, Julio, volpz, Abreu (Coach), igoorctg (Coach)
Team BDS — Shaiiko, Renshiro, Elemzje, LikEfac, BriD, Stooflex (Coach), eaglemess (Analyst)
Wolves Esports — BiBooAF, risze, Shiinka, P4, Mowwwgli, Lyloun (Head Coach), Helbee (Assistant Coach)
DarkZero Esports — Canadian, Panbazou, njr, Skys, Gaveni, Mint (Coach)
Team Liquid — Lagonis, Paluh, NESKWGA, AsK, resetz, hugzord (Coach), mcunha (Analyst)
Astralis — Shuttle, iconic, J90, Forrest, Spiff, Callout (Coach), Mango (Analyst), Waiffer (Assistant Coach)
KOI — LeonGids, Kantoraketti, cryn, Spoit, Deapek, meepeY (Head Coach), Saethus (Analyst)
M80 — Kyno, DiasLucas, GMZ, SpiriTz, Yoggah, Budega (Coach), Vivas (Coach), PFernandes (Analyst)
Oxygen Esports — FoxA, VertcL, Nuers, Dream, Sweater, HOP3Z (Coach), Redeemer (Coach)
G2 Esports — Alem4o, Virtue, Doki, Blurr, Benjamaster, Fabian (Coach), Titan (Analyst)
FaZe Clan — Astro, Bullet1, Cyber, soulz1, Vitaking, Ramalho (Head Coach)
Soniqs — Gryxr, Rexen, Gunnar, Geometrics, CTZN, Goddess (Head Coach), Jobro (Head Analyst)
Heroic — Grizzly, UUNO, jume, Sloth, nudl, Mrofficer88 (Coach), Anarchic (Strategic Coach), davil (Analyst)
MNM Gaming — neLo, Tyrant, Yuzus, Solotov, Nathan, Eden (Head Coach), ArcherOmix (Strategic Coach)
Elevate — DCH, sprOnigiri, Markshortboyz, Sapper, MrPuncH, nanoKidz (Analyst)
CYCLOPS athlete gaming — BlackRay, Anitun, SuzuC, Ayagator, Arcully, Fuji3 (Coach)
Four more teams were then added to complete the intended 20-teams list. Each roster comes from a different region.
Dire Wolves — JackyWu, Pikan, HARAM3E, Souffle, Ray, Odin (Coach)
LOS oNe — Maia, dash, Dotz, rhZ, L0BIN, Norris (Coach), N1LL (Analyst)
Spacestation Gaming — Rampy, Bosco, Fultz, Hotancold, Yeti, Lycan (Coach), Luke (Assistant Coach), Sov (Assistant Coach)
Team Secret — SlebbeN, Kendrew, Savage, ASTRO, Gruby, Twister (Coach), Thumperr (Analyst)
Out of all of these teams, only Team Liquid and FaZe Clan have competed in every Six Invitational since 2018.
This will also be KOI's first international appearance in Rainbow Six Siege following Ibai "Ibai" Llanos' partnership with Rogue. The Six Berlin Major winners are one of the favorites to lift the hammer despite missing out on the Six Charlotte Major and the Six Jönköping Major.
Team BDS can't be ignored as well, especially after the Frenchmen won the Six Jönköping Major. Their grand-final opponents in Sweden, Team Liquid, also are one of the main candidates to win the competition especially after their result in Sao Paulo, where they won the BR6 Finals against w7m esports.
Finally, w7m's consistency throughout the year has made them a strong contender to win the Six Invitational. Just a year ago, the roster had barely been successful in avoiding relegation from Brazil's top-flight. Now, they are the only team alongside Wolves Esports who attended all three Six Majors in 2022.
Group Stage
The Six Invitational 2023 groups were announced on Tuesday, Jan. 31 and were sorted in terms of seeding.
Group A includes the former world champions G2 Esports and Spacestation Gaming, the Six Berlin Major champions KOI, the BR6 2022 grand-finalists w7m esports, and Elevate.
In Group B, Soniqs will be followed closely by many as Ben "CTZN" McMillan will be making his debut for the Americans. Alongside them, Wolves Esports and Team Liquid are the favorites to top the group. MNM Gaming and Dire Wolves will try to upset the three Siege powerhouses.
Astralis and Oxygen Esports will meet in Group C after missing out on the Six Jönköping Major, as they share it with the tournament's champions Team BDS, the LATAM SI 2023 Closed Qualifier winners LOS + oNe, and CYCLOPS athlete gaming.
Last but not least, the Six Charlotte Major champions, DarkZero Esports, return to the international scene after missing out on Berlin and Jönköping. Heroic and Team Secret will be the European sides on the group, with FaZe Clan being the only BR6 roster. M80, former XSET, will make its international debut in Siege.
Schedule
The Six Invitational 2023 will begin with simultaneous matches on the Rainbow6 and Rainbow6Bravo streams on Twitch and YouTube, with w7m esports vs. Elevate on the former and KOI vs G2 Esports on the latter.
Format
Group Stage
Teams will play the group stage in a BO3 single round-robin system, where every team plays against every other team in their group once. The points will be doled out as follows:
4 points for a 2-0 win
3 points for a 2-1 win
1 point for a 1-2 loss
0 points for a 0-2 loss
Only one team will be eliminated from each group, with 16 teams then proceeding to the playoffs.
Playoffs
The playoffs will feature a double-elimination bracket that will be BO3 all the way until the BO5 grand-final, which will not have any map advantage.
The top team in each group will head straight to the second round in the upper bracket, while the second-placed teams will head to the first round of the upper bracket.
The second-placed teams will get to pick their opponents in that first upper bracket round, with those teams being the third-placed ones from the group stage.
Meanwhile, fourth placed teams will head to the first round in the lower bracket.
Talent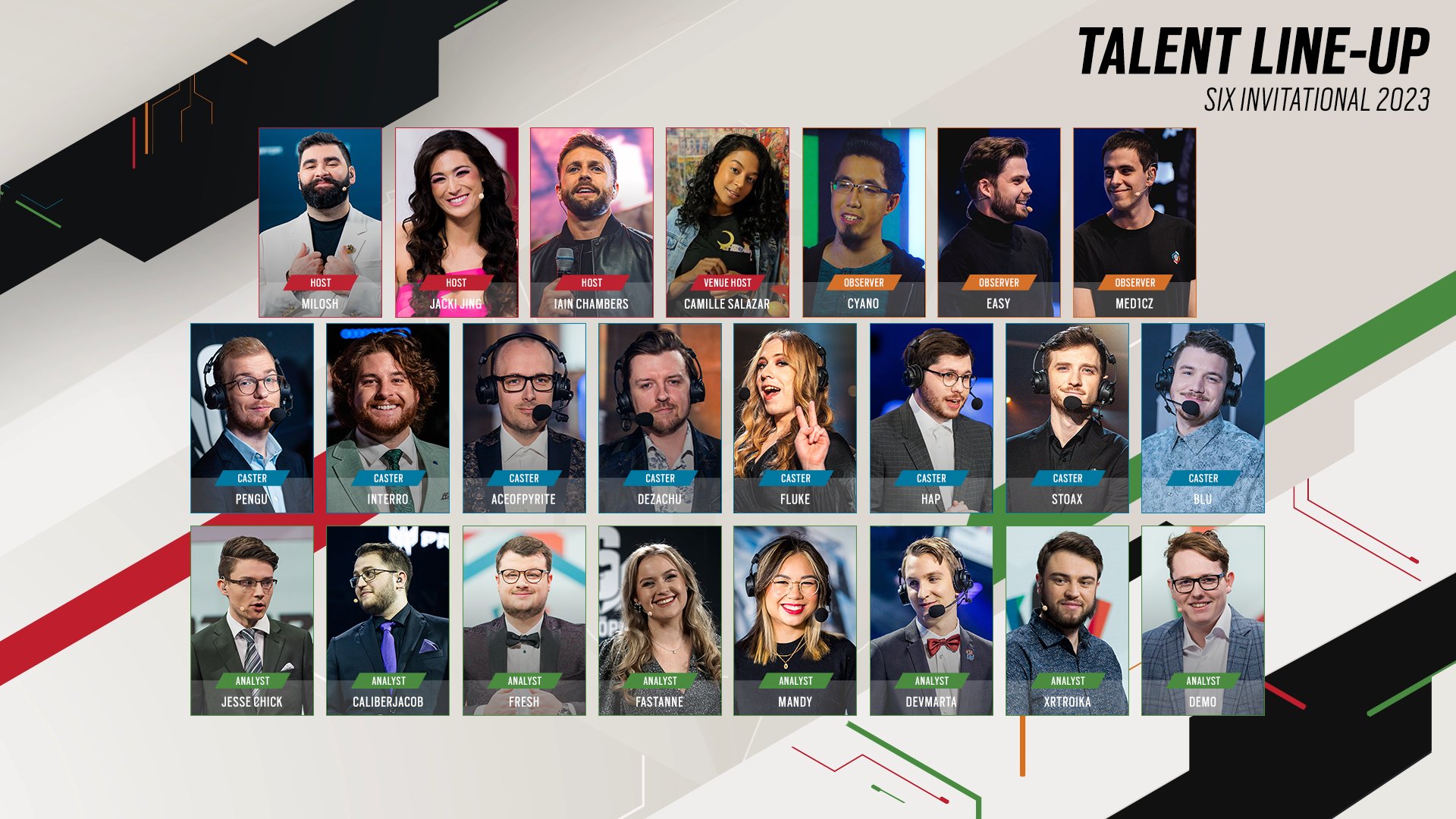 Bringing the Six Invitational 2023 to you in English will be the usual host of broadcast staff, ranging from APAC to EU and NA. They will feature on the Rainbow6 and Rainbow6Bravo streams on Twitch and YouTube.
Various other language streams will also be available throughout the event.
What Twitch drops can I get for watching?
Twitch drops will be enabled for the duration of the Six Invitational 2023 after having been turned off for the last-chance qualifiers. More information will be revealed soon.
Pro team bundles will also be available at a 40 percent discount from Feb. 7 to 19.
What merchandise can I buy?
There will be some merchandise available to purchase at the Six Invitational 2023 itself, as well as some available online, in celebration of the Invitational.
The following merchandise will be available in Montreal itself:
Meanwhile, the following will be also available online: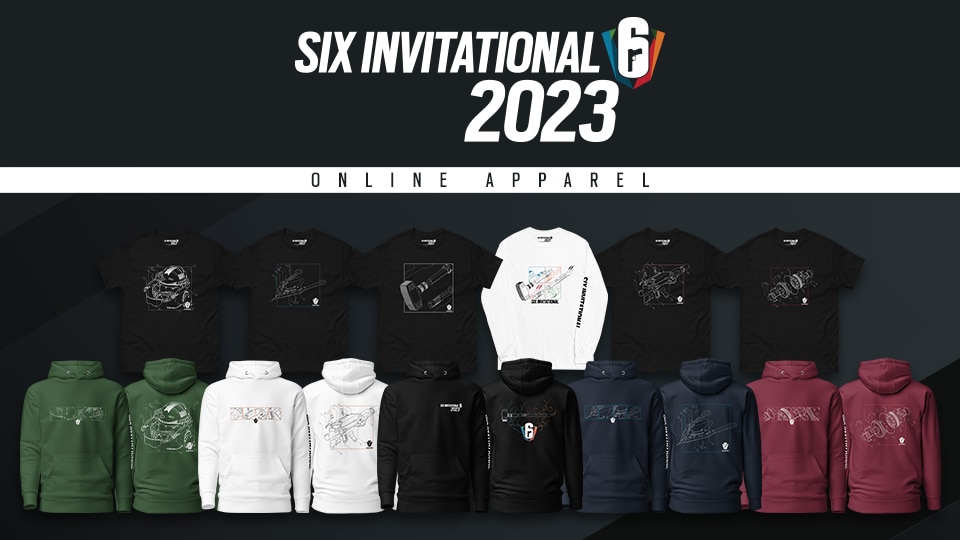 When will the Six Invitational 2023 be held?
So, when is the Six Invitational 2023?
The Six Invitational 2023 will be played from Feb. 7 to Feb. 19. It will be divided into three stages:
Group Stage: From Feb. 7 to Feb. 11
Playoffs Part 1: From Feb. 13 to Feb. 15
Playoffs Part 2: From Feb. 17 to Feb. 19
Only the second part of the playoffs will be open to the public, but you can still get your tickets for the Six Invitational 2023 here!
Read more: Six Invitational 2023 Dates: When is the Six Invitational starting?
Where will the Six Invitational 2023 be held?
After traveling to Paris, France, and to Stockholm, Sweden, the hammer is now traveling back to the game's home town in Montreal, Canada.
The historical Place Bell will be the home of the Six Invitational 2023. It was also the venue for the Six Invitationals in 2018, 2019, and 2020.