Banner image: Kirill Bashkirov
Soniqs flips Chalet, DarkZero rivalry script on its head in 7-4 victory
Three rounds into its matchup with DarkZero, Soniqs appeared dead in the water.
The team was down 0-3 on its Chalet attack half, and only a mere round was close. Joe "JoBro" Reyes took a timeout, needing a massive course correction to stay competitive with the team clad in black and purple.
There was certainly a turnaround. Soniqs only dropped one round after the timeout. Specifically, it shut down a potent Chalet attack from DarkZero and won the map 7-4.
Chalet is widely considered one of the most attacker-sided maps in the map pool, but the meta may be shifting. Additionally, the DarkZero-Soniqs head-to-head is fairly one-sided. DarkZero won the last eight meetings between the two organizations. That tally now stands at 1-8 with Soniqs' first victory over the rival organization.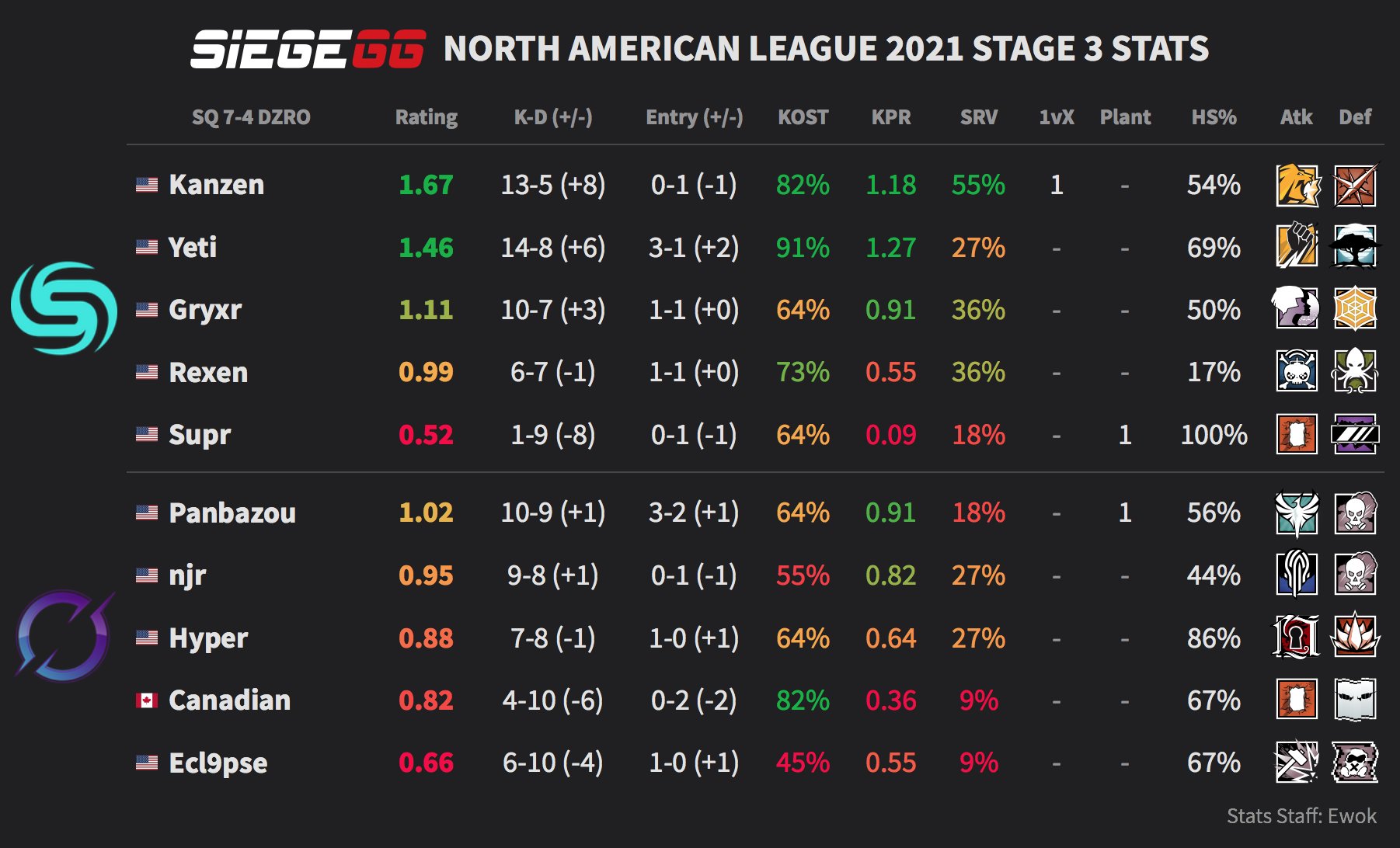 The win wouldn't have happened without some solid flank play from Soniqs' Alexander "Yeti" Lawson. Yeti tallied 14 kills and was 3-1 in opening duels during the map, leading the server in both categories.
The victory pushes Soniqs to 3-1 on the stage, another inch closer to the ultimate goal of Major and Six Invitational qualification. DarkZero drops to 2-1 with an overtime win, still good for top four and Major qualification if the season ended today, but its margin of error has become significantly thinner.
TSM survives furious Astralis comeback
The deck was stacked against Astralis on Kafe Dostoyevsky. It was playing TSM, a notoriously great Kafe team, and had not played the map in 10 months. Additionally, Astralis has had poor defenses this stage, and struggled early against a TSM squad that's still finding its stride in NAL play.
Astralis couldn't pull out the win, but there's light at the end of the tunnel. It has only lost to Spacestation, Oxygen, and now TSM -- three teams that are perennially at the top of the NAL. Should Astralis be peaking at the right time, towards more winnable games on its schedule, it'll be a big benefit in the long run. Who knows, with the right circumstances, Astralis could find itself in the Major.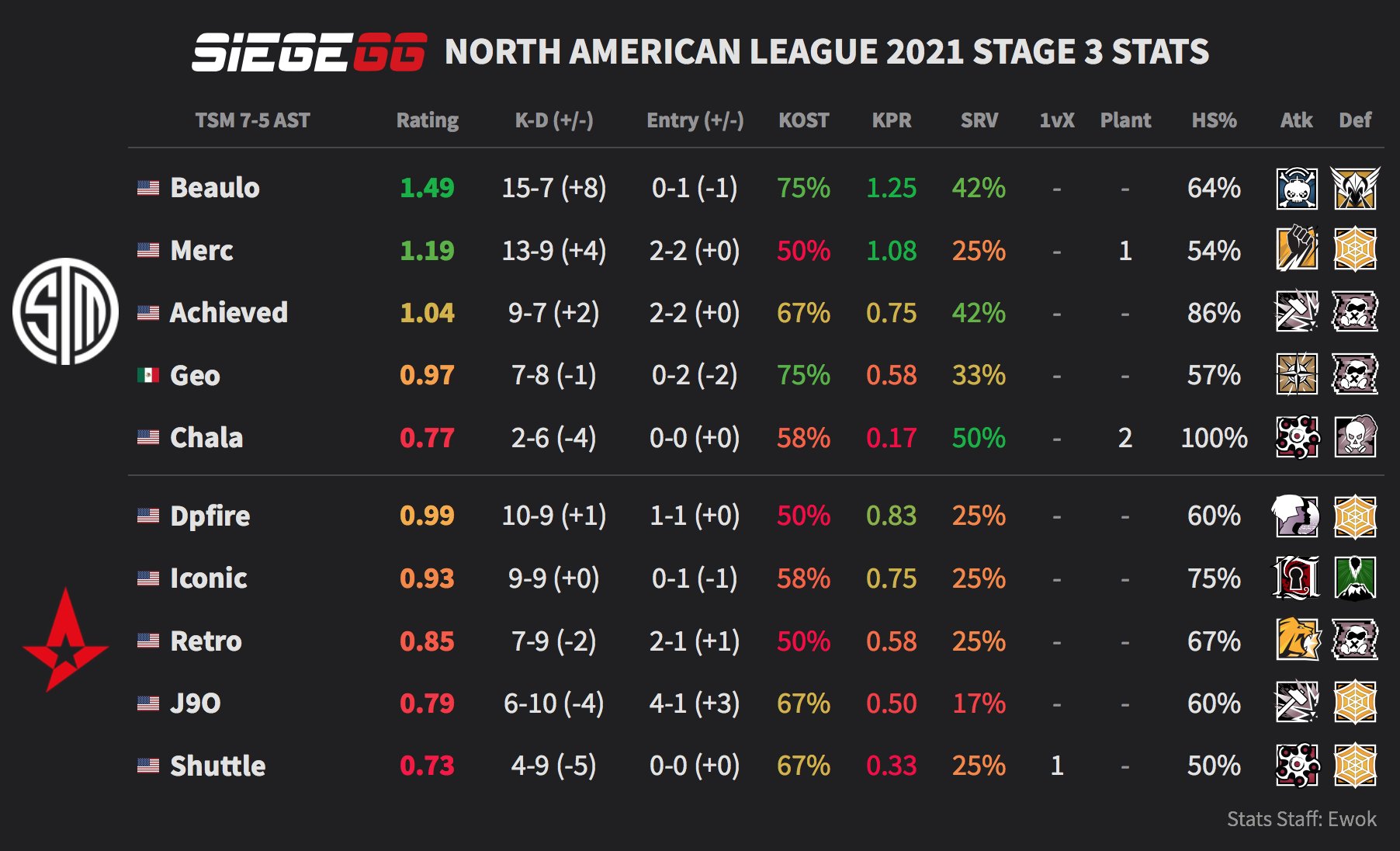 TSM, on the other hand, looked solid. It won the match despite going -3 overall on its combined team entry, a credit to its mid-round pivots and grit. Specifically, Jason "Beaulo" Doty was outstanding, notching a 1.49 SiegeGG Rating, best in the server.
TSM has had a rash of bad luck concerning personnel lately, and is looking to right the ship after a struggle at the Mexico Major. So far, outside of a loss to Oxygen, they seem to be mostly on the right path.
Spacestation defeats Oxygen in battle of top tier teams
In a best-of-one that might end up deciding who the best team in the NAL regular season is, Spacestation bested Oxygen and NA stat leader Frankie "VertcL" Cordero in a 7-5 affair.
At one point, Spacestation was making some small but visible errors that were leading to Oxygen round wins -- the first half ended in a 3-3 draw on Oxygen's attacking half -- normally a death sentence for the other team on Clubhouse, historically.
Spacestation rallied behind back-to-back quad-kills from Alec Fultz in rounds eight and nine en route to a 4-2 attacking half, ensuring a 7-5 victory.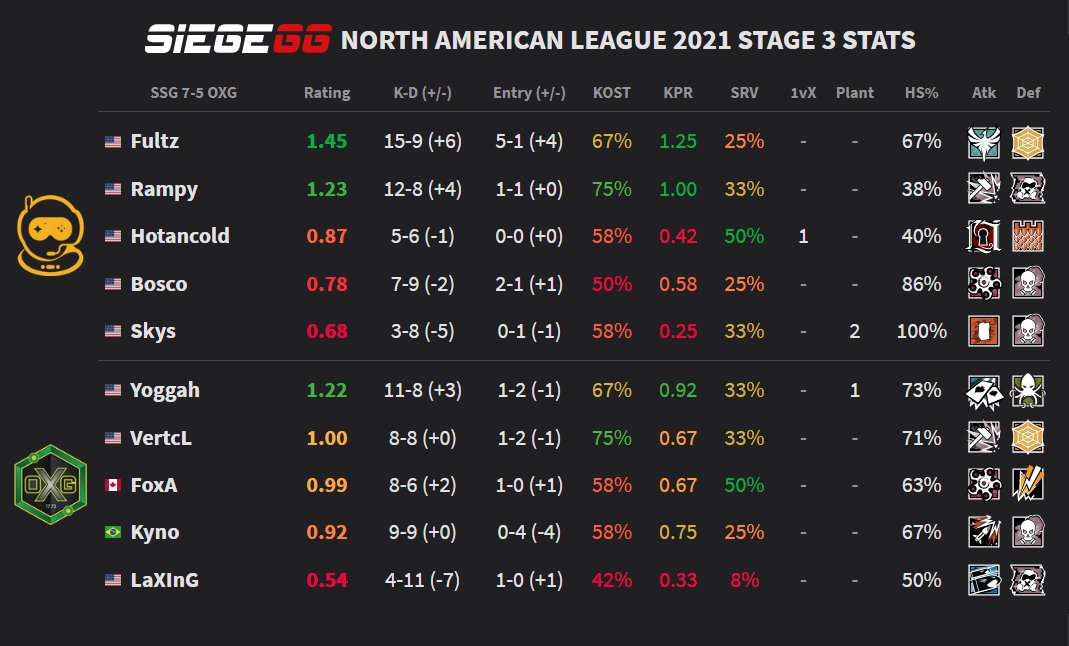 Because of the amount of games it has played, Oxygen retains its No. 1 spot in NAL. Spacestation rockets up the standings to No. 3, but only because it hasn't played the same amount of NAL matches. When everything is said and done, Oxygen and Spacestation might end up being NA's best teams, at least in regional play.
Oxygen's role swaps have the team playing like it's Stage 1 -- a stage Oxygen won -- all over again. Spacestation, meanwhile, looks excellent with the blockbuster addition of Alex "Skys" Magor on the hard breach role, and has only lost a 7-5 affair to Soniqs.
Beastcoast dismantles Mirage
Mirage's unfortunate descent continues in a significantly more impactful way after a 2-7 loss to beastcoast. Ever since placing in the top four during Stage 1, Mirage has regressed in the standings, and, with some poor luck, could find itself staring down the barrel of a relegation match after Stage 3 concludes.
Beastcoast is on an upward trajectory after the addition of "YungAlec", who has been one of NAL's best players since he was picked up during the most recent transfer window. The rookie boasts a +6 on entry kills through four maps, and sits at a 1.09 SiegeGG rating, the highest on his team, and sits at 13th statistically amongst all NAL players.
Time will tell whether the beastcoast core can gel, but at this point, it appears to have something brewing. Beastcoast can't truly compete with the top tier teams of the region yet (its 1-7 losses to TSM and Oxygen last week are proof of that), but victories over Mirage and XSET should at least guarantee that it won't be in relegation danger.