Having kicked off on the 13th of March and running until the 18th of September, the Rainbow Six Japan League is the biggest domestic tournament across all of competitive Siege, with its ¥32 million (US$308,000) prize pool.
Not only is the prize pool a sizable amount in the Japan League, but each team will also have up to each of its six players and coaches (combined) be guaranteed up to ¥21 million (US$202,000) in salary for the competitive year.
Read on to find out what went down in the 10th week of play from the best in Japan.
Jump To:
Day 25
To begin the weekend, CYCLOPS took on GUTS in a bid to keep its undefeated record. GUTS, meanwhile, was just seeking to leapfrog FAV in the standings to secure better seeding in the upcoming Japan Championship.
Starting on Oregon, the two teams were fairly close, with CAG needing a 1v1 from Ayagator to manage a 3-3 on the half. As the sides switched, BlackRay secured another clutch as his team started to push closer to a win, and a Caviera pick from GatoRada two rounds later helped close out the first map 7-4.
Next up was CAG's pick of Villa, where GUTS opted to start on the defense to try and capitalise on Villa's defensive nature. Unfortunately for GUTS, CAG had its number, winning a whopping five out of six attacks, including two clutches.
This was too much for GUTS to come back from, even though its players did manage to win a few attacks of their own, and CAG eventually won the map 7-4 to close out the series.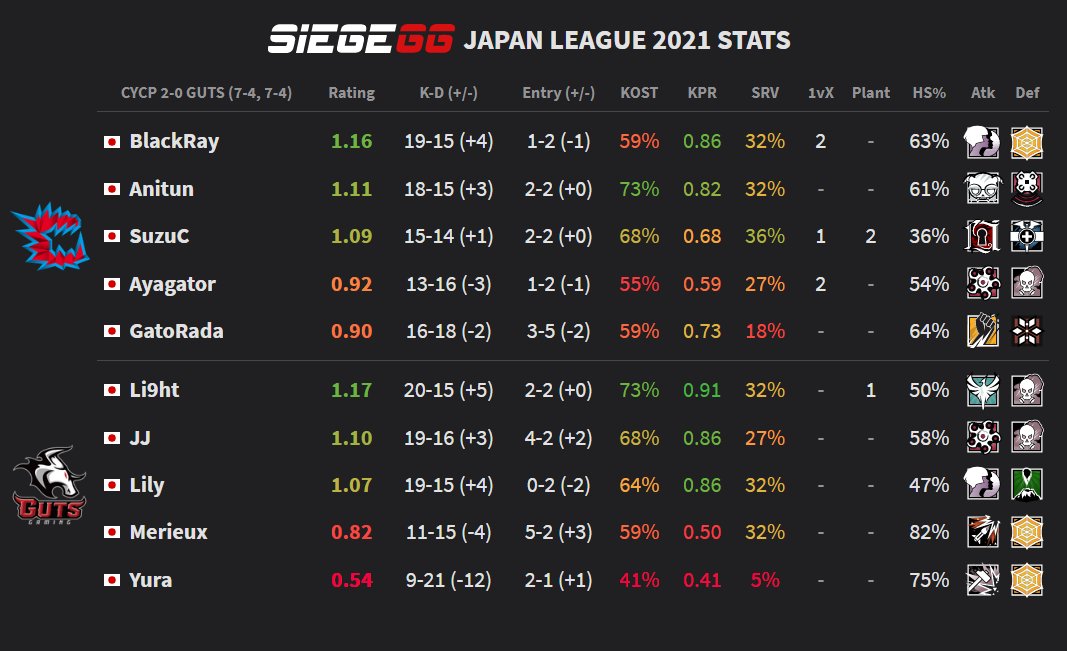 Next up, the top two non-APAC North rosters in the league faced off in a truly thrilling matchup. Not only did this game go to all three maps, we also saw a massive total of 41 out of 45 possible rounds played with REJECT's Take and Sengoku's febar engaging in a frag battle throughout.
In the end, the match was (in effect) decided by a 1v2 quadruple kill by Take on round 15 of map one. With Sengoku winning on Villa and REJECT taking Chalet, this single play on the deciding round on Kafe was all that separated the teams in the series.
With both of these teams already qualified for the APAC North relegations, there's a chance we'll see a repeat of this matchup next year in the pro-tier leagues, as they've both shown a serious amount of potential over the last 13 play days.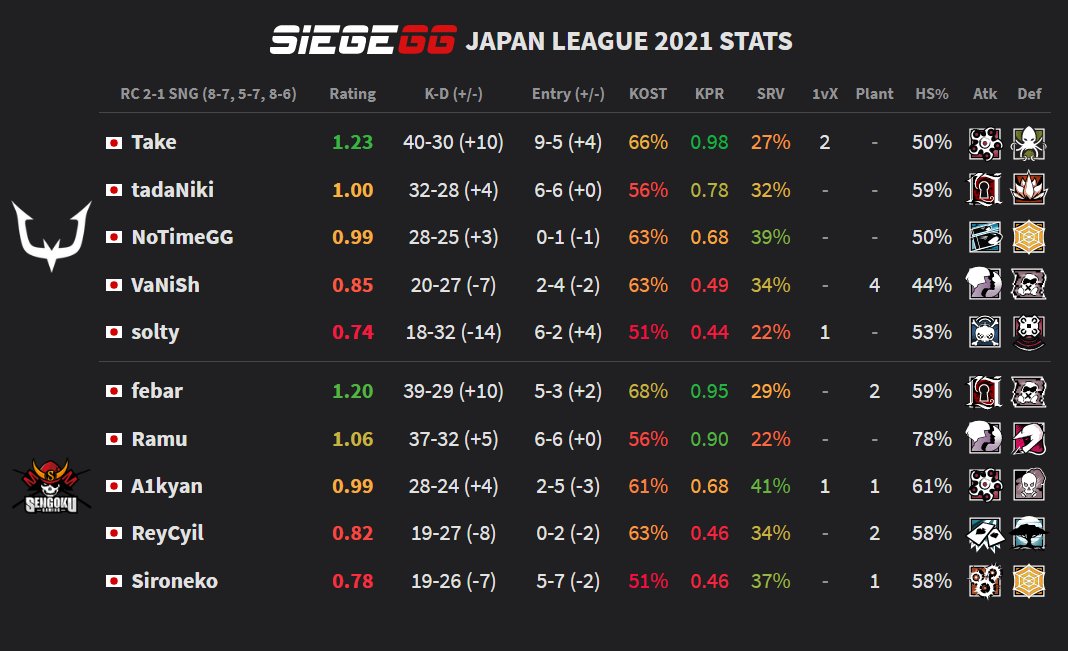 Day 26
On Sunday, we saw the biggest upset of the weekend between FAV and Crest.
The game began on FAV's pick of Bank, where the APAC North side managed to secure a tied half despite standout plays from Crest's Ruruta, who was glued to Caviera and Kapkan throughout the six rounds. This back-and-forth continued into round 12, where a triple kill from Luugator clutched a lead when it mattered to win the map, 7-5.
Crest began its pick of Clubhouse on the defense by taking a very strong 5-0 lead with relatively little pushback from FAV. As sides switched, FAV looked to emulate this, managing to win three rounds running before the map ended at 7-4 due to a 1v1 victory by OkOmEsH over Taipon.
The decider map of Kafe was nothing like the battle we saw in the game prio, though. After two early round wins for FAV, Crest just ran away with it to secure a 7-3 win and managed only its fourth win across the whole season.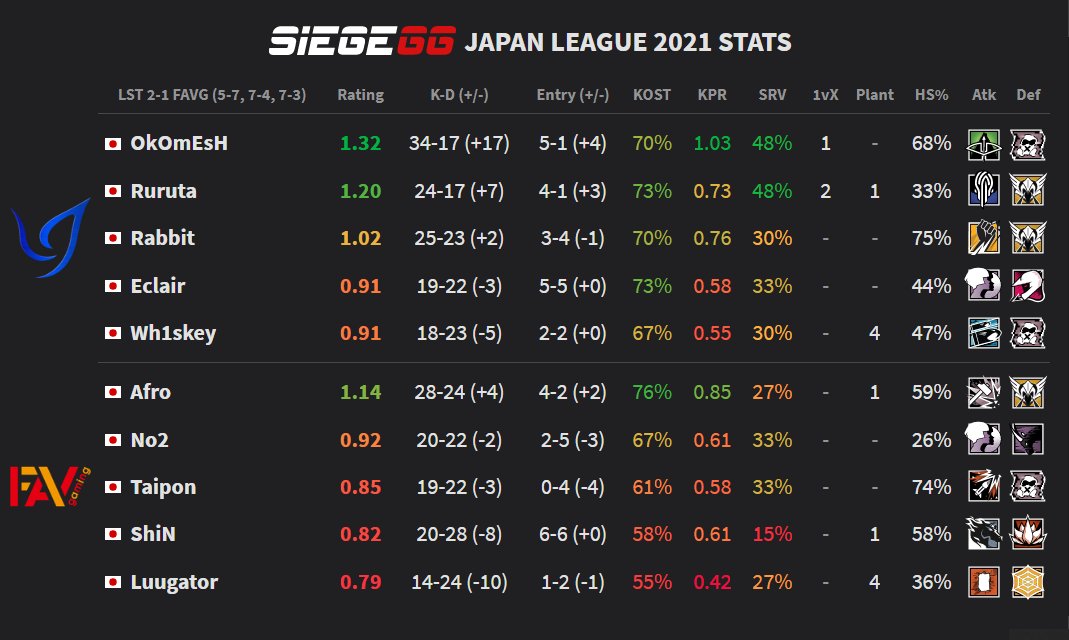 Finally, the weekend ended with a bottom-of-the-table clash that had three very one-sided maps.
While ekus99's Tachanka plays for EVA:e caught everyone's eye on Oregon, it was Northeption's Kohk1 who stole the show on Kafe, as both maps ended in 7-1 scorelines. The results sent the series to Coastline, which was debuting in the league for the first time since its rework.
Here, Northeption established control by going 4-1 up, before a triple kill post-plant by ekus99 finally guaranteed us more than eight rounds in a map. A third and final round was secured, as the sides switched, before another clutch from Kohk1 ended any real hope for an EVA:e win. The map went 7-3 to Northeption, and the series 2-1.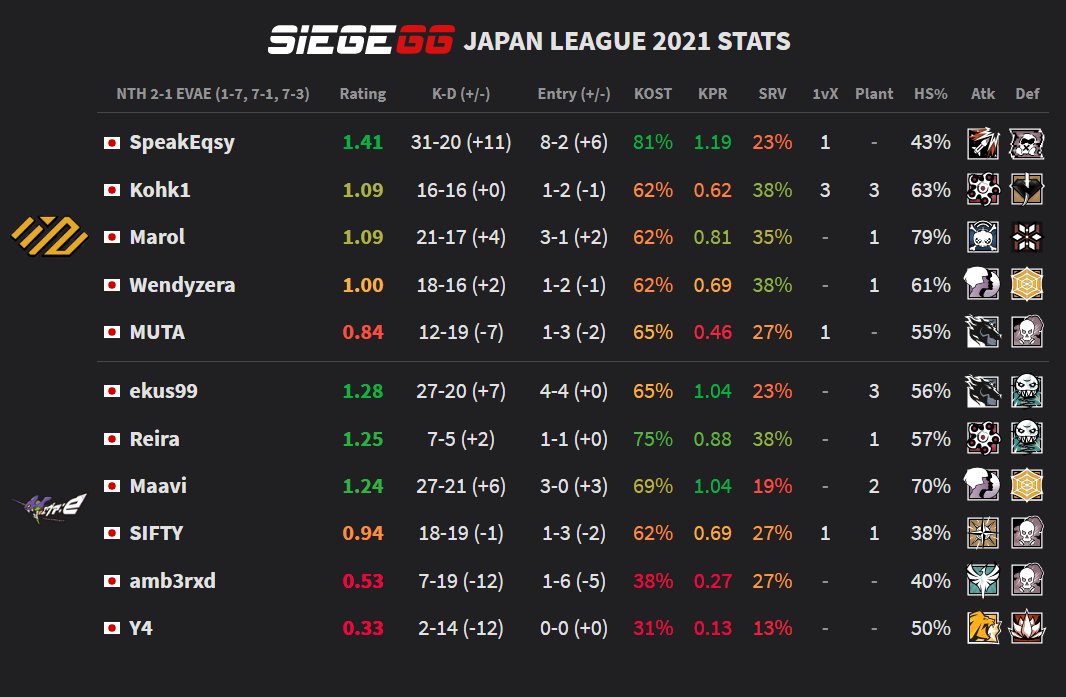 What's Next?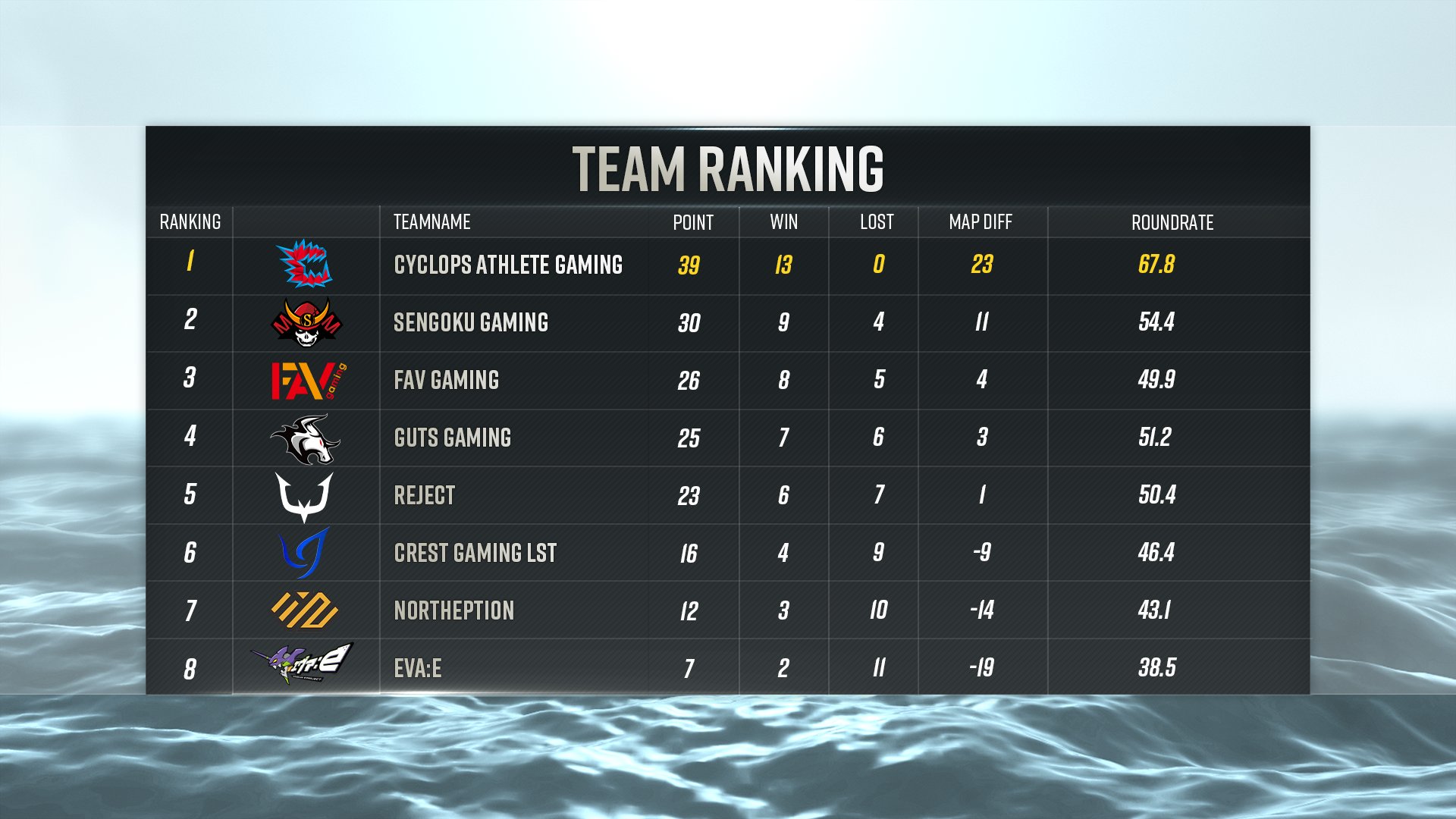 Sept. 25-26th will see the final play days of the Japan League season. While almost every position in the overall table has already been locked in, the matchup between CYCLOPS in first-place and Sengoku in second will be of interest, as CAG aims to end the season with a perfect 13-0 record.
The games start at 2 PM JST (UTC+9) each day and can be viewed on the Rainbow6JP Twitch and YouTube channels.