Having kicked off on the 13th of March and running until the 18th of September, the Rainbow Six Japan League is the biggest domestic tournament across all of competitive Siege, with its ¥32 million (US$308,000) prize pool.
Not only is the prize pool be a sizeable amount in the Japan League, but each team will also have up to each of its six players and coaches (combined) be guaranteed up to ¥21 million (US$202,000) in salary for the competitive year.
Read on to find out what went down in the 12th week of play from the best in Japan.
Jump To:
Day 23
The week opened up explosively, starting off with a Cyclops Athlete Gaming (CAG) match against REJECT that was expected to be largely pedestrian.
The match started off on Consulate, which CAG took in a strong 7-2 margin in what seems to be an inexorable march to the title.
But, on the second map, things would kick off. CAG took the map 7-4 and began celebrations, before being interrupted and informed that its victory would not stand and that a third map was in order.
The reason? Anitun's usage of the Fierce Alliance esports uniform for Twitch in two rounds, apparently a skin banned in the Japan League despite its whitelisting in the APAC North Division.
As such, the result on Villa was overridden and REJECT was given a 7-0 victory instead. The game was then pushed to a third map, Oregon, where REJECT managed to come out on top and ruin CAG's flawless record in the Japan League.
Or so we thought.
After a protest by CAG, who also pointed out REJECT's own use of a similar esports uniform on Smoke in another match, the Fierce Alliance and other esports sets were declared "inherently safe to use" almost a week later on the 30th of July.
The reason for the misunderstanding, stated the organisers, was due to the Japan League starting before the 2021 APAC North season. As a result, the Japan League's operator uniform whitelist had been out of date compared to the APAC North one.
However, the third map result was upheld and the series was ruled to be a 2-1 victory in favour of CAG, allowing REJECT to scrape away a point it otherwise would not have secured.
As a result, CAG secured its 12th win out of as many games, continuing its flawless record and also securing the Japan League 2021 title.
The second game then kicked off, with much to live upto after the drama of the first.
EVA:e, though, struggling at the bottom were not expected to offer much against the APAC North team of FAV Gaming. However, with FAV Gaming likely conserving some of its strength for the APAC Playoffs, there was a chance for EVA:e to perhaps scrape one point.
However, FAV started off with a strong 5-1 attacking half on Chalet, enough to ward off a comeback attempt by EVA:e and to take the map 7-4.
The second map of Consulate began similarly, though this time it was a 4-2 lead for FAV on the attack. EVA:e would draw level at 5-5 to briefly threaten a third map, but FAV would close out the game with two strong defences and complete a 2-0 victory.
Day 24
The next day, a Team Northeption fresh off winning its first point in seven weeks strode into a fight against Crest Gaming in a bid to leapfrog its opponent out of the relegation zone.
The match started off on Kafe, but Crest Gaming got the initial advantage by taking three attacking rounds on the defender-sided map. Switching sides, Crest turned on the style with a successful full three-site rotation, securing matchpoint at 6-3 and then closing things out at 7-4.
Villa would then start off poorly for Northeption, too, as Crest took a 4-2 lead on the defense, but Northeption proved too much to handle for Crest on the latter's attacks. 7-5 read the final scoreline -- in Team Northeption's favour -- and the seventh-placed team had at least one point more to its name.
But it seemed like the tank was empty for Northeption, with Crest starting Consulate with a 4-2 defensive half before closing things out without much difficulty at 7-3.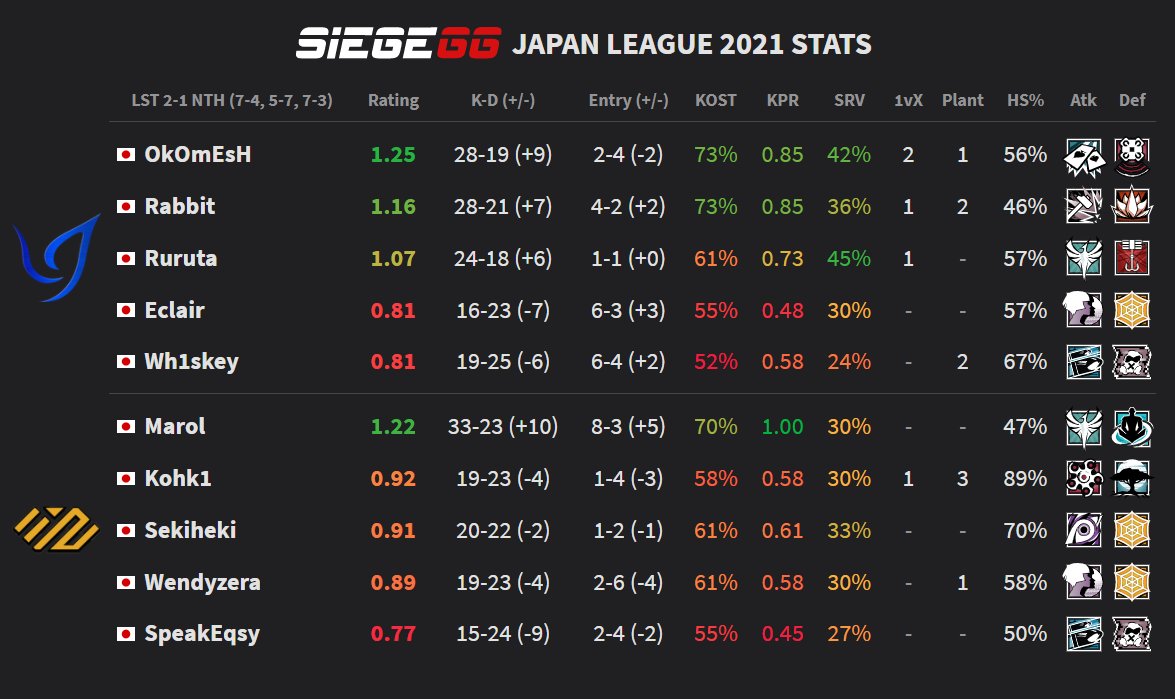 Coming into this matchup, GUTS Gaming would have been feeling good. The APAC North team had nothing more to play for in Stage 2 aside from the Japan League and had been on a six-game win streak domestically.
Not only that, a win against Sengoku would have at least seen GUTS draw level on points with the former.
Sengoku started off shakily on Oregon, only managing three rounds on the favoured defense. But it was in the second half that GUTS would be dealt the true surprise, as Sengoku took a 4-2 attack to surprise many with a 7-5 map win.
Under pressure, GUTS went into Clubhouse fighting tooth-and-nail, managing the ideal 4-2 half on the defense. But Sengoku proved its equal, leaving GUTS instead to force overtime on Round 12.
There, despite starting on the less-favoured attack, GUTS Gaming prevailed again, coming back from 7-6 to take the map 8-7.
Unfortunately for the APAC North side, Sengoku would stay out of reach despite an equal first half on Chalet. The defenses of Sengoku just proved too much for GUTS to handle, as 4-2 went the second half to give the former team a 7-5 map win.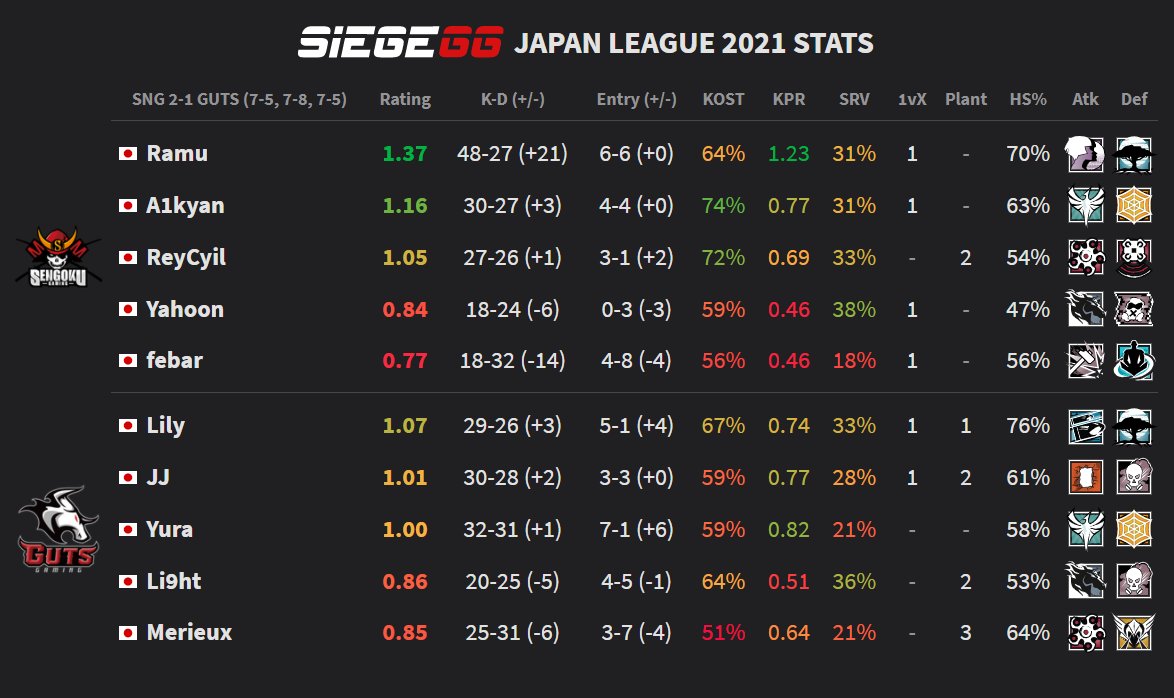 What's Next?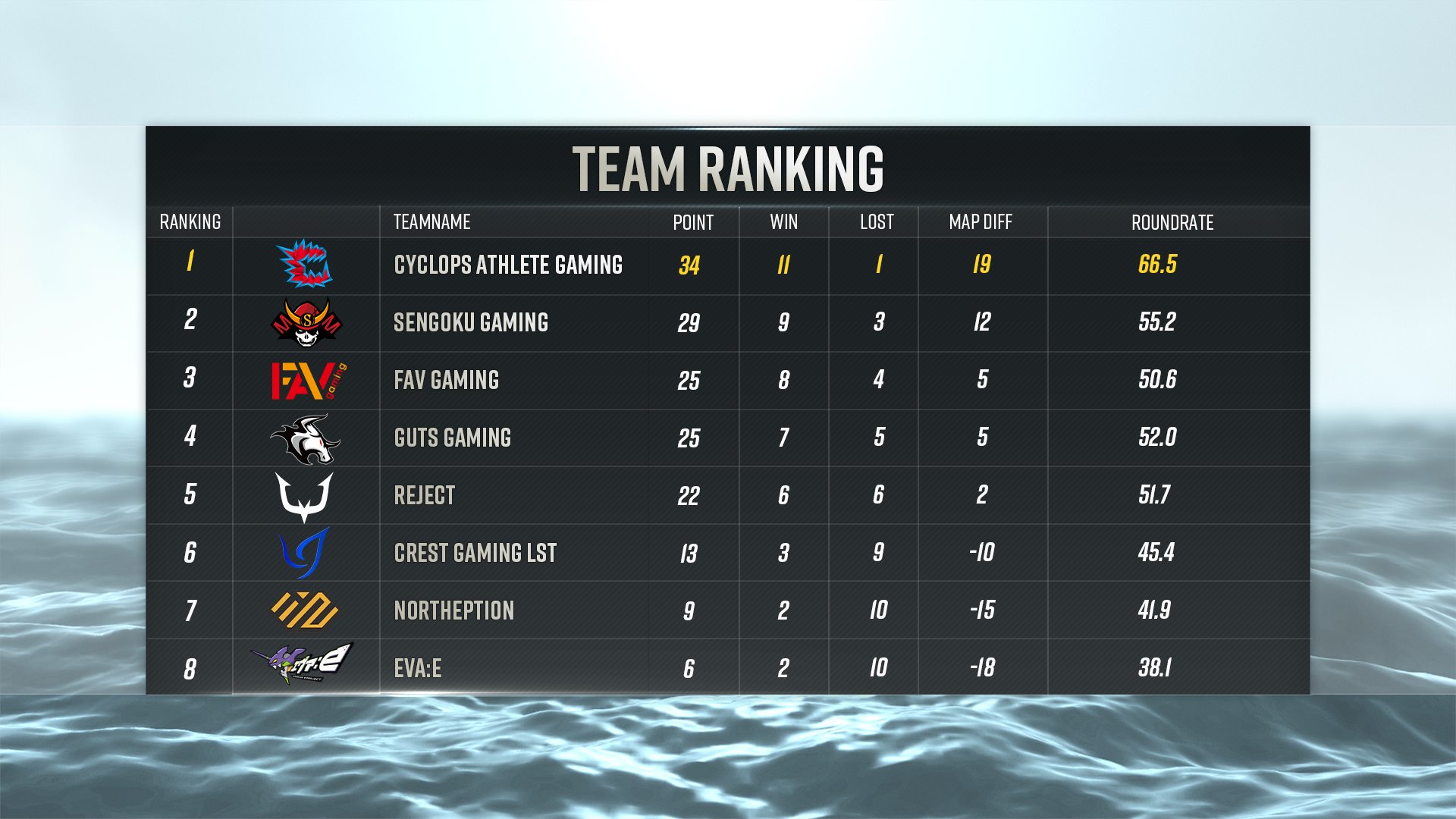 The Japan League will now be taking a hiatus ahead of its final two play days.
When it returns, keep your eyes peeled for the match between Mexico Major attendees and Japan League champions CAG against its fellow APAC North team GUTS Gaming.
In addition, don't miss the bottom-of-the table clash between Team Northeption and EVA:e, with both teams looking for their first win in weeks.