Having kicked off on the 13th of March and running until the 18th of September, the Rainbow Six Japan League is the biggest domestic tournament across all of competitive Siege, with its ¥32 million (US$308,000) prize pool.
Not only is the prize pool be a sizeable amount in the Japan League, but each team will also have up to each of its six players and coaches (combined) be guaranteed up to ¥21 million (US$202,000) in salary for the competitive year.
Read on to find out what went down in the 10th week of play from the best in Japan.
Jump To:
Day 19
The weekend kicked off with bottom-placed EVA:e taking on second-placed Sengoku Gaming in what was anticipated to be a one-sided affair.
EVA:e got things underway well on Consulate, though, forcing Sengoku to scramble to ensure a 3-3 first half on the defense before turning on the style in the second-half, taking three rounds in a row on-course to a 7-4 win.
The second map of Kafe was much closer, however, as EVA:e only managed a 3-3 defensive half. However, Sengoku could not open up a gap on its own defense, as EVA:e managed to force overtime after being down 4-6. Nevertheless, the fireworks were set to continue for a third map, as Sengoku took the 8-6 win in overtime.
But Coastline soon began to go wrong for Sengoku Gaming, as EVA:e managed a 4-2 defensive half. Sengoku Gaming fought back on its own defenses, keeping EVA:e honest, but the team coached by former Nora-Rengo and NiP coach Ar7hur took the map 7-5 and the win 2-1.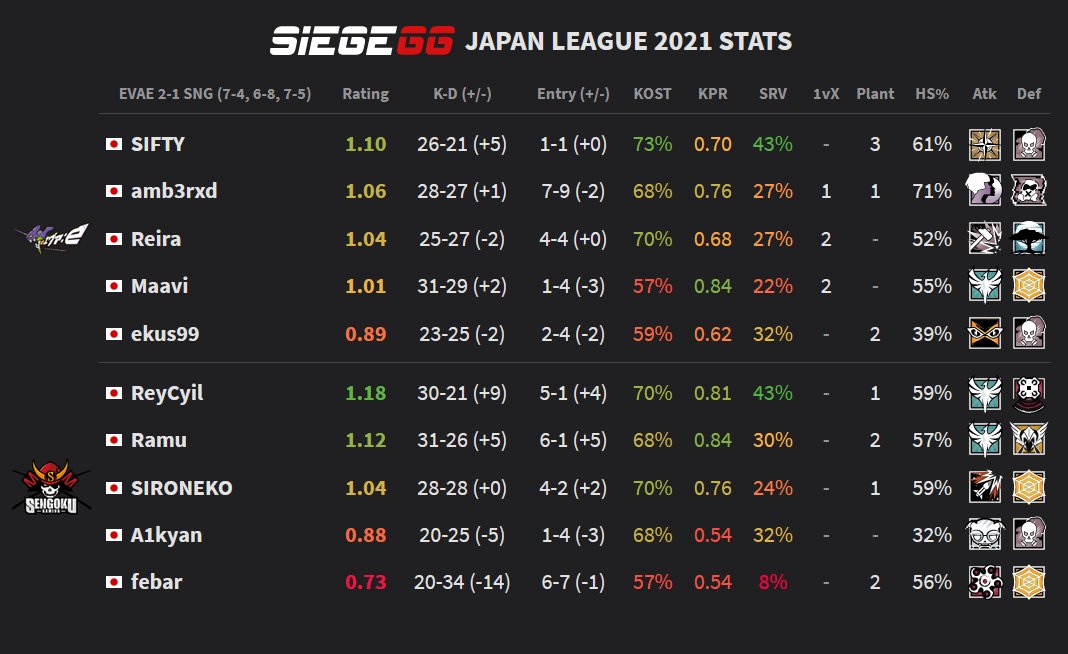 The next game, APAC North team GUTS Gaming took on a struggling Crest Gaming, but got a little more than bargained for on the first map.
Things started off with a 3-3 defensive half for GUTS Gaming on Consulate, but the APAC North team was unable to stop Crest Gaming hitting match point first and had to force overtime instead. Thankfully for them and their fans, though, both overtime rounds slipped away from Crest Gaming and gave GUTS an 8-6 win.
Happy after surviving the scare, GUTS Gaming then marched onto Oregon, cruising to a 4-2 half on the attack. Only one round then stopped them on their march to a second-map victory, as GUTS took Oregon 7-3 and the series 2-0.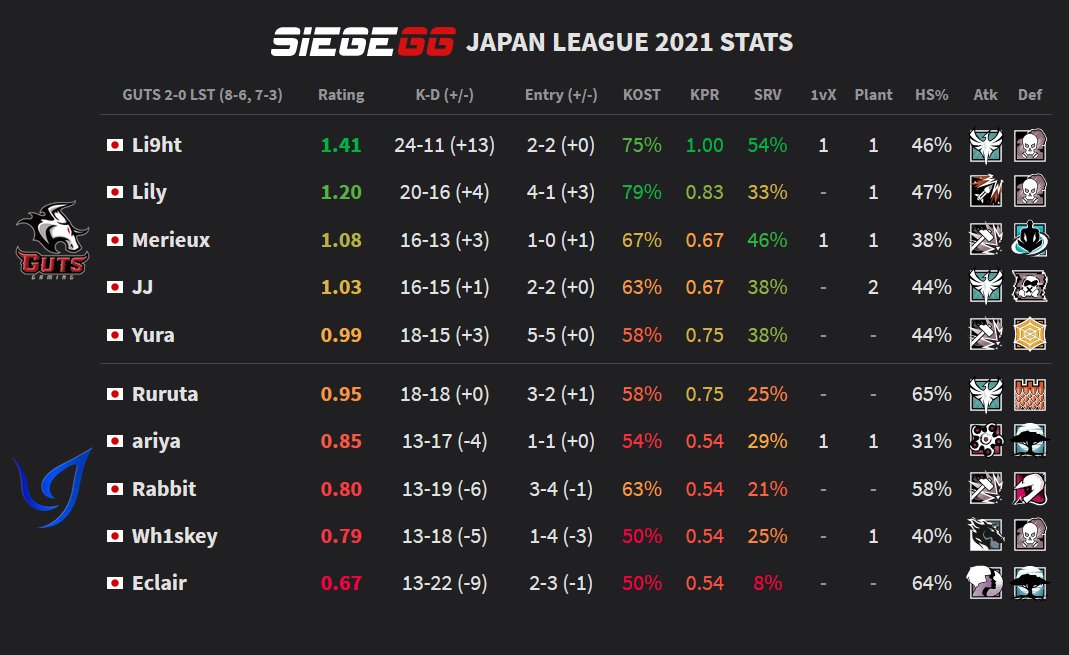 Day 20
The long-awaited APAC North clash between the runaway leaders Cyclops Athlete Gaming (CAG) and FAV Gaming finally came to a head on Day 20, after the first shootout between these two teams in Japan on Day 10.
The match started off promisingly for CAG on Chalet, where the APAC North leaders took a 4-2 lead on defense -- despite Chalet's perception as a balanced or attacker-sided map. FAV, however, fought back in the second half, forcing a 5-5 stalemate that was eventually broken by back-to-back 1v3 and 1v1 clutches by Anitun.
The second map of Consulate, however, was just short of a complete whitewash. A 5-1 defense from CAG set the tone, and though FAV had recovered from a 0-6 against Cloud9 in APAC North, two attack wins sealed the deal for CAG's 10th victory in as many weeks.
The next game saw Team Northeption take on REJECT in search for its first win in seven games. While not last in the league, few would have expected Northeption to even challenge the fifth-place REJECT, who had more than double the points.
Kicking off on Consulate, things began as expected as REJECT took a 3-0 lead on defense. However, Northeption pegged them back with three attacking wins of their own, tying the first half 3-3. Still, the gulf in quality was more than visible, as only one more round interrupted REJECT's charge towards the map win at 7-4.
Coastline, however, went rather differently. While REJECT took two early defense rounds, Northeption retorted with four attacking wins in a row to lead well at the half. Four of the next five rounds then went to the attackers of REJECT, giving them matchpoint at 6-5, but a Sekiheki triple-kill forced overtime.
It was all for naught, however, as a VaNiSh 1v2 defuser plant and clutch was followed by a 1v1 on time by the aptly-named NoTimeGG to give REJECT the map 8-6 and the series 2-0.
What's Next?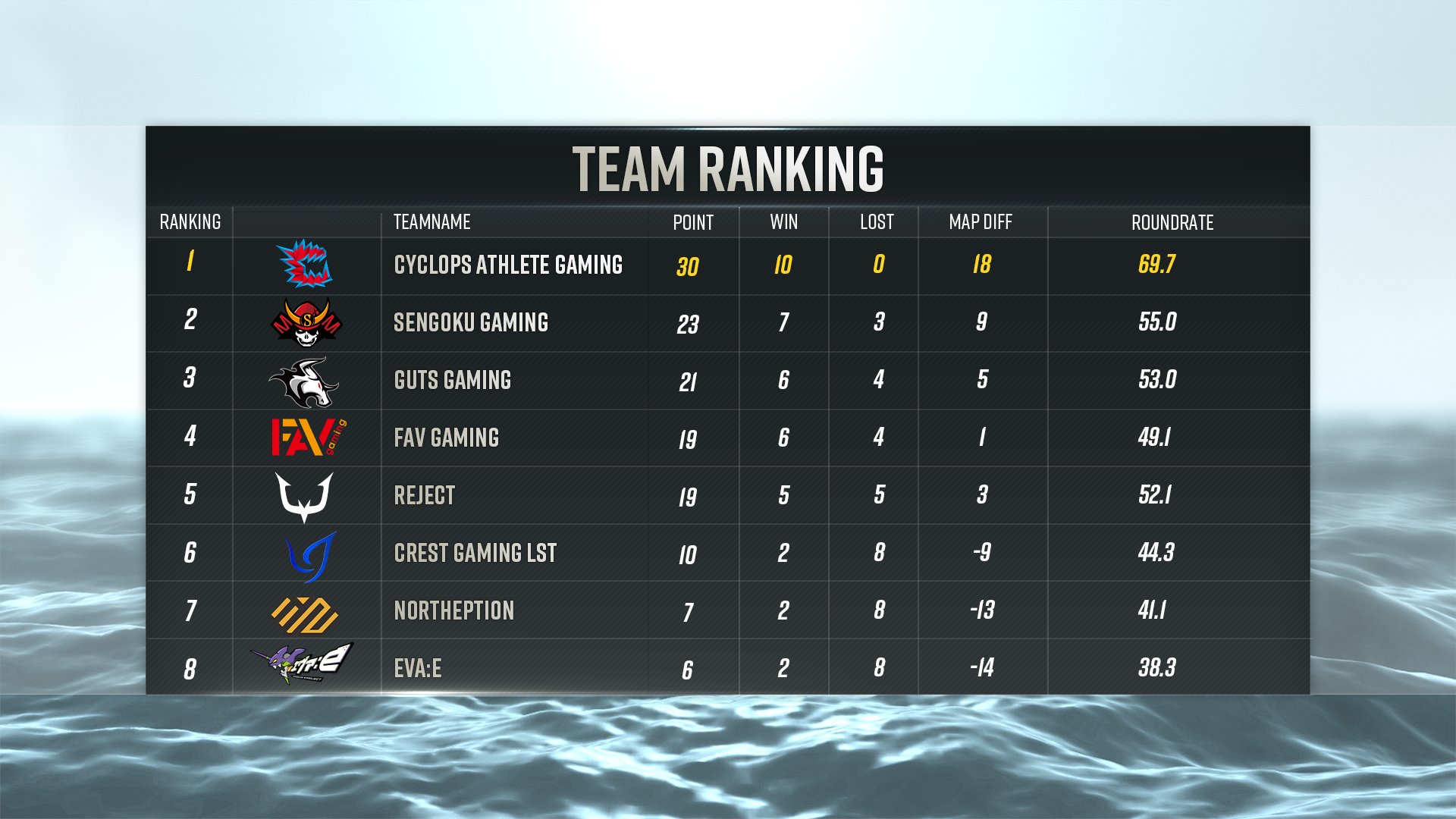 This week, keep your eyes peeled for the FAV Gaming match against REJECT, with the two teams tied on points seeking to build a gap from the other.
Game start at 2 PM JST (UTC+9) each day and can be viewed on the Rainbow6JP Twitch and YouTube channels.