While the last week had Week 4 of Stage 2 playout for the pro teams, various national and regional tournaments have been ongoing in Tiers 2 and 3 across the past few weeks.
This includes the Challenger League in North America, the Spanish, GSA, Benelux, Nordic, Polish, and French Leagues in Europe, the Liga Six in Latin America, and the Oceanic, Japanese, and Korean leagues in APAC.
Jump to:
North American Challenger League: Nokturns Takes First in Group B
Starting off in America, this week saw one major game as the top two teams in Group B -- Late Registration and Nokturns -- faced off as they both sat on six points in two games.
As well as top fragging and achieving the best KOST and entries in the game, Nokturn's Mohesse was also the only player to plant or secure a clutch as he won a post-plant 1v1 against Vivid on round eight clearly making him the matches' MVP as Nokturns managed to win three offensive rounds on Villa to take the win.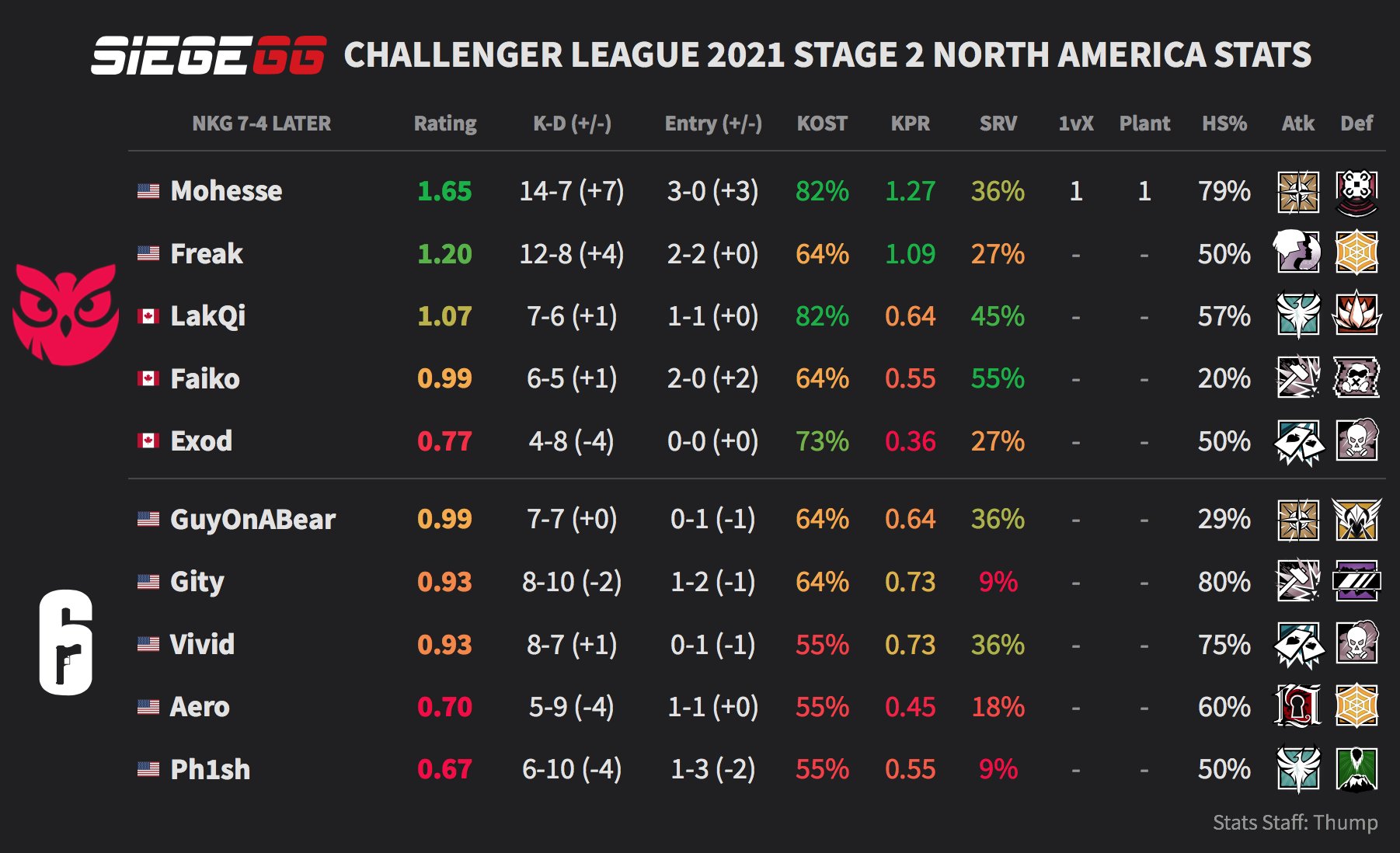 Elsewhere in Group B, KCP and Aqualix both won their games over LiViD and WaveRunners respectively putting them in the top four and, as the Pioneers' game ended 8-7, giving LiViD their first points of the season.
Group A, meanwhile, saw both of last Stage's top teams of Wichita Wolves and SH Esports continue to struggle with losses to Parabellum and LennyGG. This now puts these two teams in the bottom three in the group as we approach the mid-point of the Stage, well away from a playoff spot.
European Challenger League: Final Qualifier Date Revealed
The third and final European Challenger League Open Qualifier will take place on August 13-15th which will lock in a further five teams for Stage 3's Challenger League tournament.
Currently, Chaos, MnM, 43rti, and Mkers have all booked spaces in the tournament with the PGN and Spanish tournaments coming to an end on July 25th, Benelux on August 15th, the Nordic and UKIN tournaments on August 29th, the GSA League at an unspecified date in August, the Polish Masters on September 5th and, finally, the 6 French League in October.
Should a team qualify via both their national league and the open qualifier then the next-best open qualifier roster gets their "second" spot meaning simply being in the top 10 in the qualifiers may be enough to make it into the league.
6 French League: BeKind Takes Acend to the Edge
This week in the French national tournament, the three pro-tier lineups -- BDS, Vitality, and unKnights -- kept their winning streak against their non-pro counterparts intact with three-point wins over Maestria, Helios, and DeathroW respectively.
This left the fourth game between Acend -- a team almost guaranteed a Challenger League spot this year -- and BeKind who have zero points and just seven round wins across their three games.
This game on Villa was complicated even further as BeKind is still playing with their coach and substitute of Pink-Angel and OneShooter subbed in after the team kicked ToroQ and Aste from the team after playday two.
Despite this, BeKind played remarkably well with OneShooter's 1.33 Rating leading him to be named MVP of the match and in the official team of the week. As well as this, his fellow BeKind teammates of Xaniara won a 1v2, and Duckii secured a quadruple kill before Acend won took the map on round 15 due to a double kill and plant from EiZ with just two seconds remaining.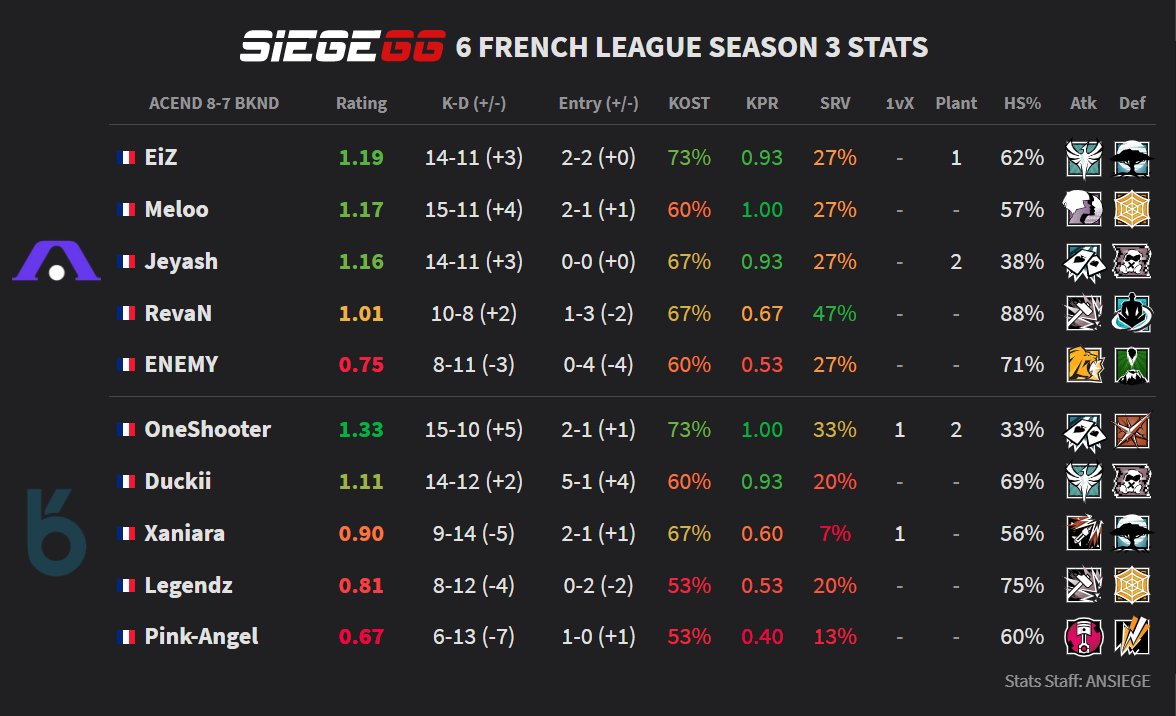 While OneShooter was the star of the show, this BeKind roster clearly has more to give than they had been showing meaning that as they now sit in seventh they could very easily move up the table in the coming weeks into a better playoff position.
Next week Acend faces their next challenge of Team BDS which, considering BDS' national and regional record, will be a momentous hill for them to climb.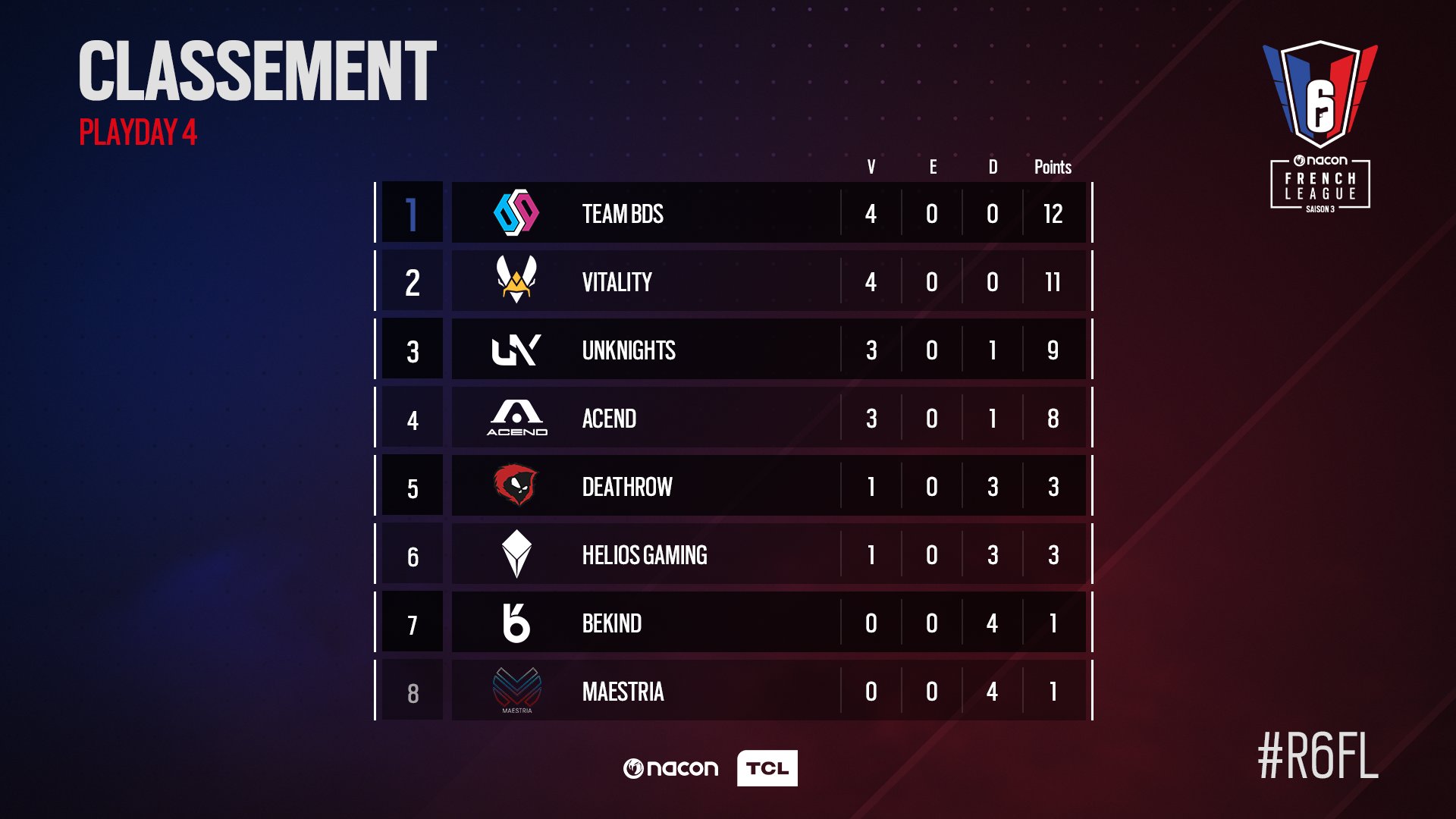 Brasileirão Liga Six: SNG Leads GG and Golden Kids into the Final Playday
Next week the Brazil Cup kicks off which will include the top tier-two lineups and the bottom-placed BR6 teams. To determine which tier-two lineups will play in this event, the last two months have seen the Liga Six tournament take place which is, in effect, a series of weekly open cups (GO4 replacements).
Later tonight will see the last of these open cups take place as teams fight for their final opportunity to qualify for what's likely only one of five chances to face professional teams in an official match all year.
As of right now here are the top teams in the standings:
350 Points -- VINCIT Gaming -- Buzuk4, pzd, Bmh, zFuzioNN, kheyze, Empttz, AdaMt, N1LL (two coaches), and L1NKIN (analyst)
250 Points -- Golden Kids -- AsK, Florio, Luixx, Wizard, Timao, dan (coach), and Yankkz (analyst)
225 Points -- PS4 Machines -- JDMM_, Flastry, Joao92Jv, NefaTheGod, and Vrossi
220 Points -- Guidance Gaming -- Ar7hr, Maia, NearZ, Sneepy, and yektz
200 Points -- SG e-sports -- Deivii, Fel1pe, hatez, fredQx, Bersa, Safetyy, and Waiffer (two coaches)
150 Points -- Team Singularity -- dustii, volpz, hugzord, pdr1n, and Kurtz
135 Points -- Red Wolf Esports -- sprayy7, Victor35, DEFFALT-, WanTeDZera-, Felpxs, and Maba (coaches)
115 Points -- Jaguares Esports -- arxyy, Mallorkz, Palxstrino, Sk1llera, and LuMyy
95 Points -- Amigos Shaiiko -- YURI16, Elias171, Curryfor3pt, Nooorkz1, and Sieghart
90 Points -- Santos Academy -- mitrix, stemp, Hashaky, dead, and ica1hz
These Liga Six qualifiers were split into two Stages -- Cup 2 which took place in June which VINCIT Gaming won with two victories in back-to-back weeks and the currently ongoing Cup 3 which took place over the last four weeks.
This ongoing Cup is currently led by Team Singularity which, after knocking INTZ out 2-0 to finish the last Brazil Cup as runners-up, opted to bring in three new pro-tier players -- pdr1n and Kurtz who were recently kicked from W7M Gaming last transfer season, the ex-BD and MIBR player of hugzord as their new IGL.
While all these changes did lead them to be deducted 20 points for breaking the 3/5 player rule between the two Liga Six Stages, they are certainly impressing as the race at the top seems to be heating up between them, VINCIT, and the newly acquired Guidance Gaming roster.
UK Ireland Nationals: Na'Vi Takes Down Cowana
While MnM won their first game of the season against Victus, 7-2, the big game was clearly the all-EUL matchup of Na'Vi vs Cowana.
Cowana went into this game slightly handicapped as their coach of Rideoo subbed in for Kendrew on Oregon, however, Saves performance of 16-2 would probably have been too much to overcome anyway as, after a 1v2 tied the game at 1-1 for Cowana, Na'Vi won their defenses 4-2 before winning the game 7-2.
Also of note was the matchup between second-placed Viperio 86 and fourth-placed Team JLE as they rose to be surprise early contenders for the CL spot. Unfortunately for JLE, this ended in the only 7-0 of the season so far as Mello ended on a 12K/D.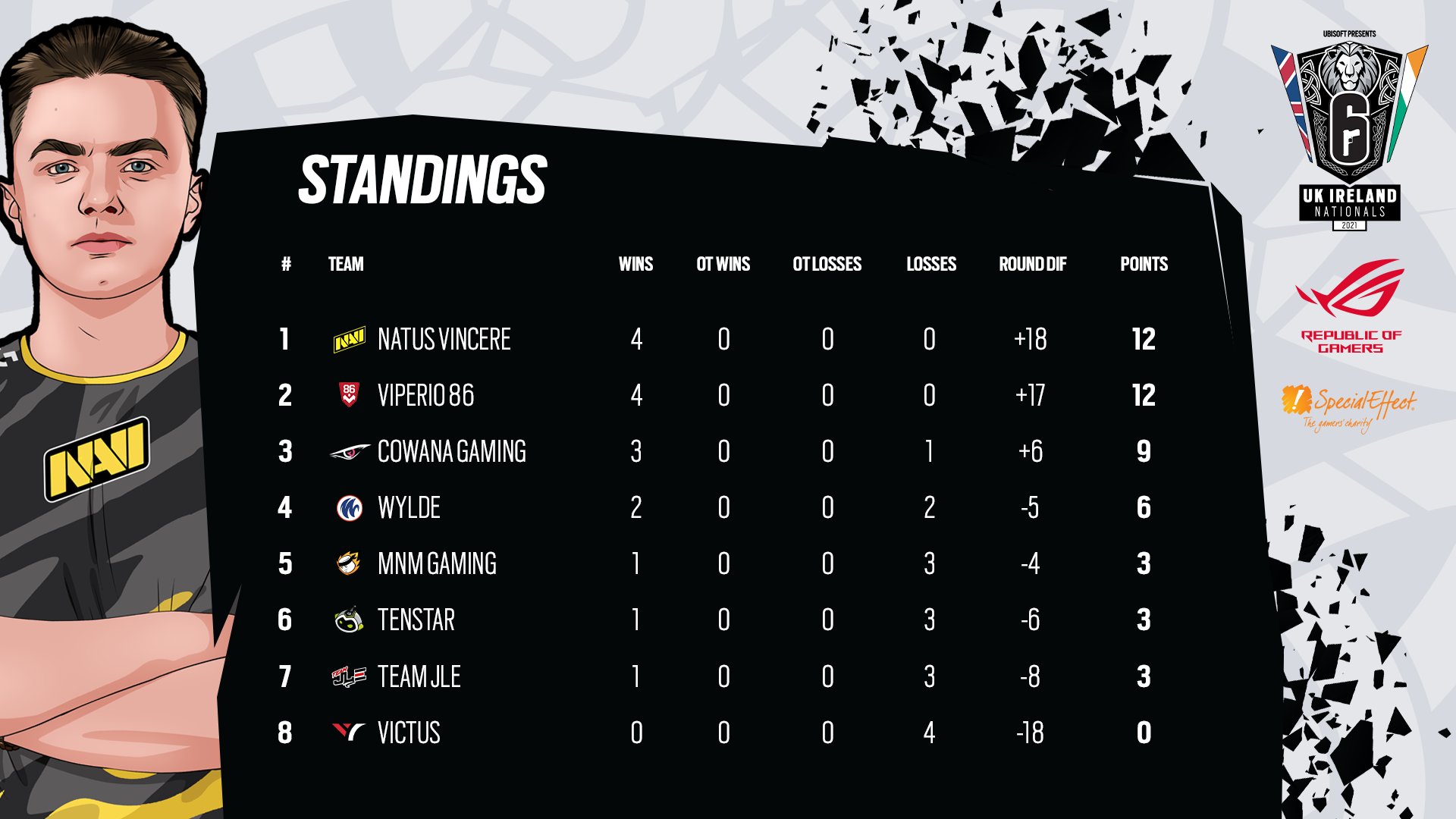 Oceanic Nationals: Bliss Beats ORDER, Chiefs Beat Wildcard in Two 8-7s
Over in Australia, Bliss continued their unbeatable run by taking down their third APAC South opponent of ORDER in an 8-7 scoreline on Oregon. This game was close throughout despite Jigsaw maintaining a 2+k/d throughout the game with Bliss managing to clinch the win due in part to a late flank double kill from Repix on the final round: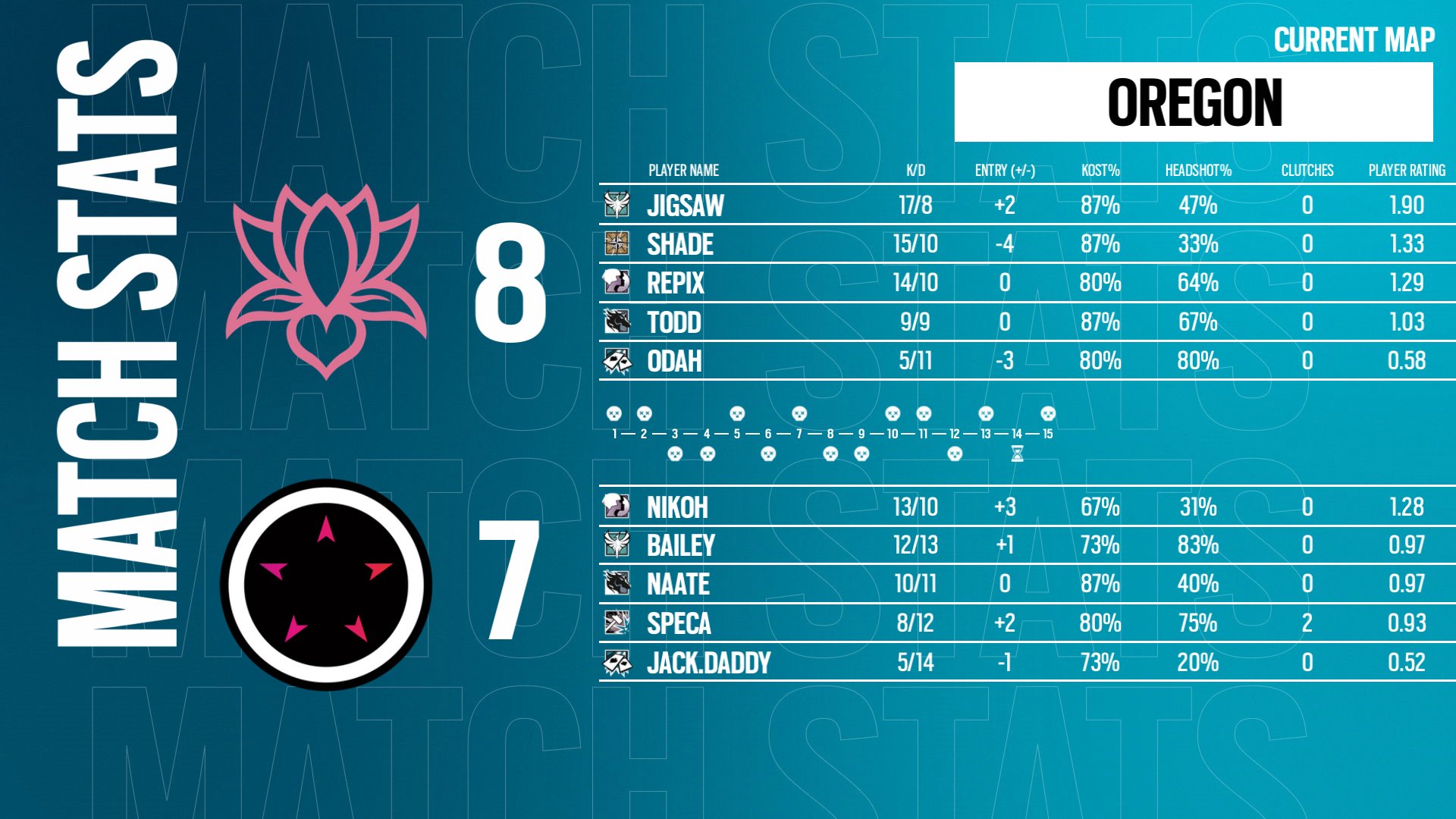 This win now means Bliss has beaten Knights, Wildcard, and ORDER -- teams that sit in fourth, fifth, and seventh in the APAC South League -- despite not being a pro roster themselves. The fourth and final challenger will be in the final playday in two weeks' time against the Chiefs.
In a somewhat similar result, another 8-7 came out between the two pro rosters of WC and Chiefs with Worthy this time being the standout fragger of the game as he secured 19 kills to nine deaths, including a crucial quadruple kill on round 15.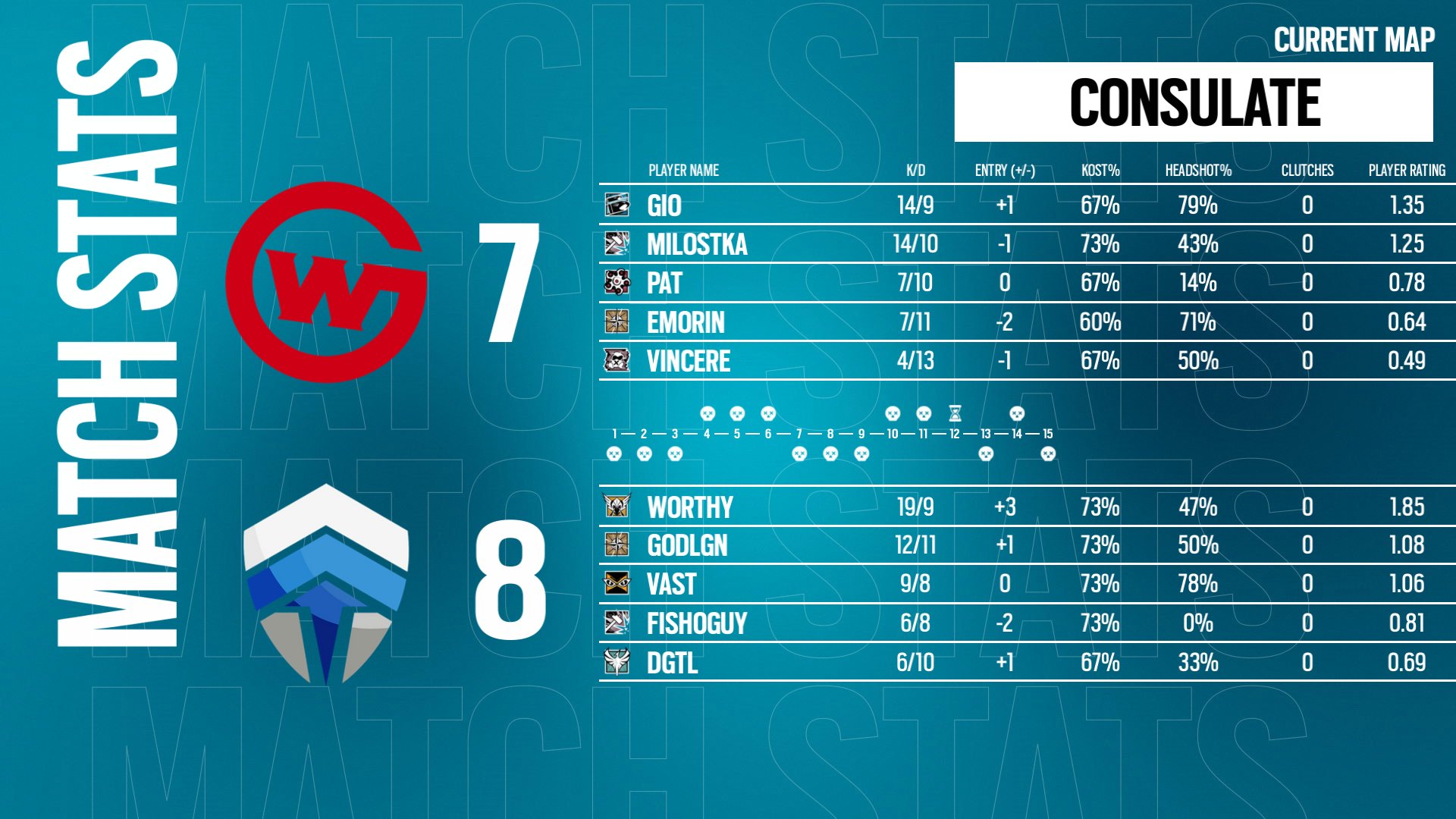 In reality, the only team that can stop Bliss now at the top of the Stage 2 table is the Chiefs as they hope to retain their Stage 1 title. There are currently just two weeks left in the Stage before the playoffs take place most likely at the beginning of August (however, this has yet to be confirmed).
Benelux League: KVM Beats GAMMA Once Again
While GAMMA has already secured a crucial top-two finish in the league, last week's matchup between GAMMA and the second-placed KV Mechelen Esports was still super interesting as GAMMA lost the second game of their season, both of which have been against KVM.
This meeting on Chalet saw GAMMA take an initial 4-1 lead on their attacks with two rounds coming from a Deapek ace and a 1v3 from Leonski. Flixow then got a 1v3 4k of his own to claw back a respectable 2-4 half before the side advantage then allowed KVM to rush back into the game in fewer individual-reliant round wins.
As the game went to overtime both sides won their initial defence -- which included KaneB shutting down Deapek in a 1v1 -- before round 15 saw Leonski left in a 1v2 as the timer ran out.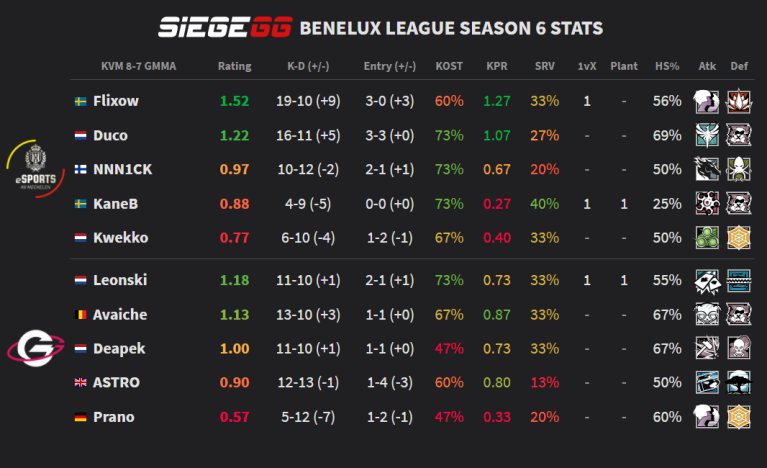 While GAMMA still sits in first place by four points with just two games remaining, this sets up what should be a great playoff stage as GAMMA seemingly finally has a challenger for the national-league title and Challenger League spot.
As well as this, GAMMA and KVM currently hold just 15 and 10 CL Qualifier Points respectively which, as the dates for the third and final qualifier clashes with the Benelux Playoff dates, means one of these teams will definitely not make it into the Challenger League. Should it be GAMMA that misses out, this will be the first time Avaiche, Deapek, and Leonski have missed out on the league since 2018.
---
And so that's it for our weekly roundup of all things Tier 2 in Siege. Check back here next week for a further rundown.