Banner image via Rainbow Six Brazil
In August, the second international Rainbow Six event in 18 months will take place to cap off Stage 2.
It will be the first time since the introduction of the new competitive format in May 2020 that a Six Major tournament will be held, with a total of 16 teams descending upon Mexico to crown the first Six Major champion since 2019.
As with the Six Invitational 2021 in Paris, health and safety will be paramount, with a negative PCR test required not more than 72 hours before each player and staff member boards their flight.
Jump to:
Teams
All 16 teams, four from each region, have been locked in as listed below:
North America:
Spacestation Gaming -- ThinkingNade, Rampy, Bosco, Fultz, Hotancold, Lycan (Head Coach), sov (Assistant Coach), and Luke (Analyst)
TSM FTX -- Achieved, Merc, Beaulo, Geometrics, Chala, Pojoman (Coach), and Daeda (Coach)
Susquehanna Soniqs -- super, Gryxr, Yeti, Rexen, kanzen, and jobro (Coach)
DarkZero Esports -- Hyper, Ecl9pse, njr, BC, Panbazou, Mint (coach), and Grant (analyst)
Europe:
Team Empire -- ShepparD, JoyStiCK, Scyther, Dan, Always, RayzerGM (Coach), and Zheka (Analyst)
G2 Esports -- CTZN, Virtue, Kayak, Hungry, Jonka, and Shas (Coach)
Natus Vincere -- Doki, Saves, Blurr, Secretly, Nathan, jahk (Coach), and DraZ (Coach)
BDS Esport -- Shaiiko, Renshiro, RaFaLe, Elemzje, BriD, and eaglemees (Analyst)
Latin America:
Ninjas in Pyjamas -- Kamikaze, Psycho, julio, Muzi, pino, and Mity (Coach)
Team oNe eSports -- Lagonis, KDS, Alem4o, Levy, Neskin, TchubZ (Coach), and RafadeLL (Analyst)
Team Liquid -- nesk, xS3xyCake, psk1, Paluh, HSnamuringa, and Silence (Coach)
FURIA Esports -- h1ghs, LENDA, Miracle, Fntzy, R4re, Twister (Head Coach), and Kizzi (Assistant Coach)
Asia Pacific:
CYCLOPS athlete gaming -- Anitun, SuzuC, Gatorada, Ayagator, BlackRay, Fuji3 (Coach), and Hybrid (Analyst)
Knights -- Dino, Jsh, Juicy, Sageon, Hayward, Pikniq (Coach), and Sketchy (Analyst)
DWG KIA -- CATsang, yass, Woogiman, coted, RIN, Gotti (Substitute), RoyBoy (Substitute), HoundBird (Coach)
Invictus Gaming -- Lunarmetal, HysteRiX, SpeakEasy, Jrdn, Jo, Ultima (Substitute), GiG (Coach)
Due to travel restrictions put in place by the Australian government, top APAC South seed Knights will not be attending the Six Mexico Major.
As a result, the event will proceed with 15 teams instead of the qualified 16. Knights will also receive prize money equivalent to finishing joint-13th at the tournament, as well as 50 SI Points.
Groups
The 15 teams in attendance will be split into four groups for the first stage of the Major, following which the Top 2 in each will progress onto the playoffs.
These groups include just one team per region, ensuring no early regional matchups, with the seedings spread out evenly.
For a deeper dive into the groups and the storylines, check out our article about them specifically.
Location and Schedule
Location
The Major will take place in Mexico City, the capital of Mexico.
Due to safety reasons, it will not be open to the public, similar to the Six Invitational 2021.
Schedule
As for the dates, the tournament will take place between the 16th and 22nd of August, making it a seven-day event.
The event will be split into three stages as follows:
Group Stage: August 16th to August 18th

Playoffs: August 20th to August 21st

Finals: August 22nd
It will start with four groups, with each team playing in a double round-robin, Best-of-One (Bo1) format.
The group stage points system will be identical to each top-flight league, with a regular-time win offering three points, overtime wins offering two points, and an overtime loss offering one point.
The subsequent playoffs stage will feature Best-of-Three (Bo3) games, with the single-elimination format offering no room for error.
This means that with no lower bracket, the Grand Final will have no map advantage to either side and will be a straight Best-of-Five (Bo5) game.
Prize Pool and SI Points Allocation
The net prize pool for this Major will also be in line with the prior Raleigh event at $500,000. Aside from this, Six Invitational (SI) Points will be on offer to all 16 teams.
The allocation of the prize money and SI Points will be as follows:
1st place -- $200,000 & 375 SI Points
2nd place -- $80,000 & 300 SI Points
3-4th place -- $40,000 & 230 SI Points
5-8th place -- $20,000 & 165 SI Points
9-12th place -- $10,000 & 105 SI Points
13-16th place -- $5,000 & 50 SI Points
Broadcast Talent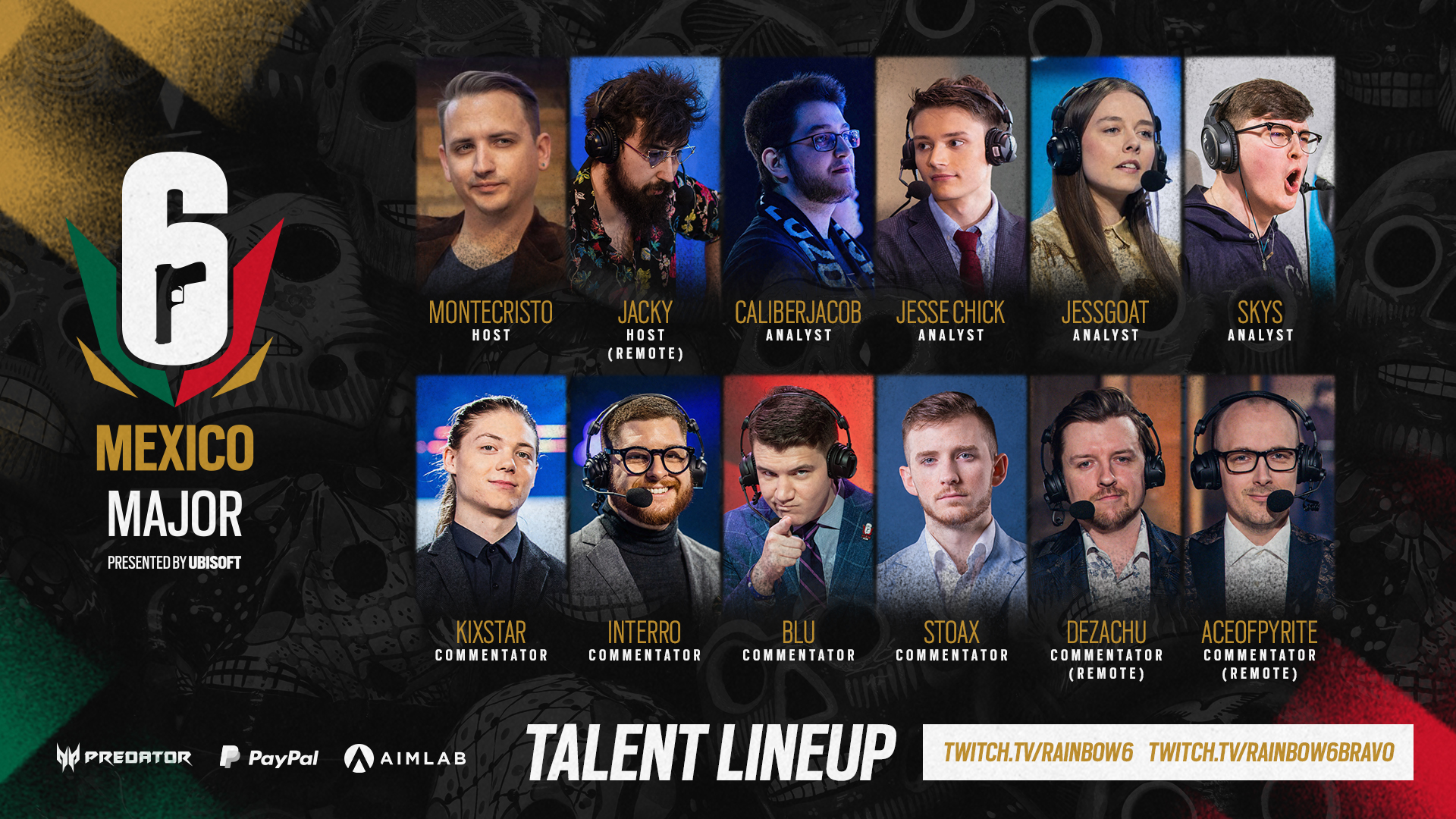 Both Christopher "MonteCristo" Mykles and former DarkZero Esports pro Alexander "Skys" Magor will feature on the desk, alongside Jesse J Chick, Jacob "CaliberJacob" Anderson, and Jessica "Jess" Bolden.
Casting the games from Mexico City will be Michael "KiXSTAr" Stockley, Parker "Interro" Mackay, John "BLU" Mullen, and Samuel "Stoax" Stewart. Joining them remotely on the Rainbow6Bravo stream will be Jack "Jacky" Peters and the SiegeGG Year 5 Casters of the Year, Tim "AceOfPyrite" Leaver and Derry "Dezachu" Holt.
MonteCristo had cast the League of Legends Champions Korea (LCK) from 2012 to 2016 and had then signed on with the Overwatch League (OWL) from its inception until the end of 2019.
From 2020 onwards, however, he became the commisioner for Counter-Strike: Global Offensive (CS: GO) league Flashpoint.
The event will also mark the debut of Skys as an analyst since his retirement from competitive play in May this year.
Twitch Drops
As was the case for the Six Invitational 2021, the Mexico Major will also feature in-game item drops for viewers of the various official Rainbow Six Twitch channels.
There are four sets that will be available across the event, with each item in that set dropping individually.
The sets are as follows:
Pro League Nomad Set
Gold Nomad Chibi
Halcyon Flux weapon skin
Sightseer headgear
Celestial Glory uniform
Pro League Castle Set
Gold Castle Chibi
Proton weapon skin
Flicker headgear
Quasar uniform
Esports Blitz Set
Beyond Terrific headgear
Beyond Terrific uniform
Blitz charm
High-Ranker weapon skin
Esports Alibi Set
Outstanding Performance headgear
Outstanding Performance uniform
Alibi charm
Unbeatable weapon skin
Fans can redeem the drops after linking their Twitch accounts to their Ubisoft accounts, after which they will have to claim the drops manually. One pack will be earned with every four hours of viewership, with a maximum of four packs in total.
---
Be sure to keep an eye out for further coverage of the event from SiegeGG and to check this article regularly for any updates as they come.