Having kicked off on the 13th of March and running until the 18th of September, the new Rainbow Six Japan League is the biggest domestic tournament across all of competitive Siege, with its ¥32 million (US$308,000) prize pool.
Not only is the prize pool be a sizeable amount in the Japan League, but each team will also have up to each of its six players and coaches (combined) be guaranteed up to ¥21 million (US$202,000) in salary for the competitive year.
Read on to find out what went down in the seventh and eighth weeks of play from the best in Japan.
Jump To:
Day 13
Results:
The Day 13 game to watch was undoubtedly that of Cyclops athlete gaming (CAG), who had returned home to play their first domestic match since their group-stage elimination at the Six Invitational 2021.
REJECT got things underway strongly, taking CAG to Coastline -- a map the APAC North team is viewed to be weak on. Sure enough, CAG struggled, only going 3-3 on the attack, before sliding to a 2-4 defensive half and a 5-7 loss on the opening map.
Then moving onto Clubhouse, it seemed that REJECT were going to be unstoppable. Despite being on attack, they swept to a 4-1 lead and it seemed like there was nothing CAG could do.
But the Mira and Melusi bans seemed to swing the pendulum heavily in the attackers' favour, as CAG smashed REJECT in the second half, winning all five attacks attempted to take the map 7-4.
It was all CAG from then on, as they claimed a 4-2 lead on attack in the first half and were soon on match point, 6-2. But REJECT were far from done, as they threatened overtime with three rounds on the trot. However, CAG stood tall, winning the final round needed and winning the map 7-5.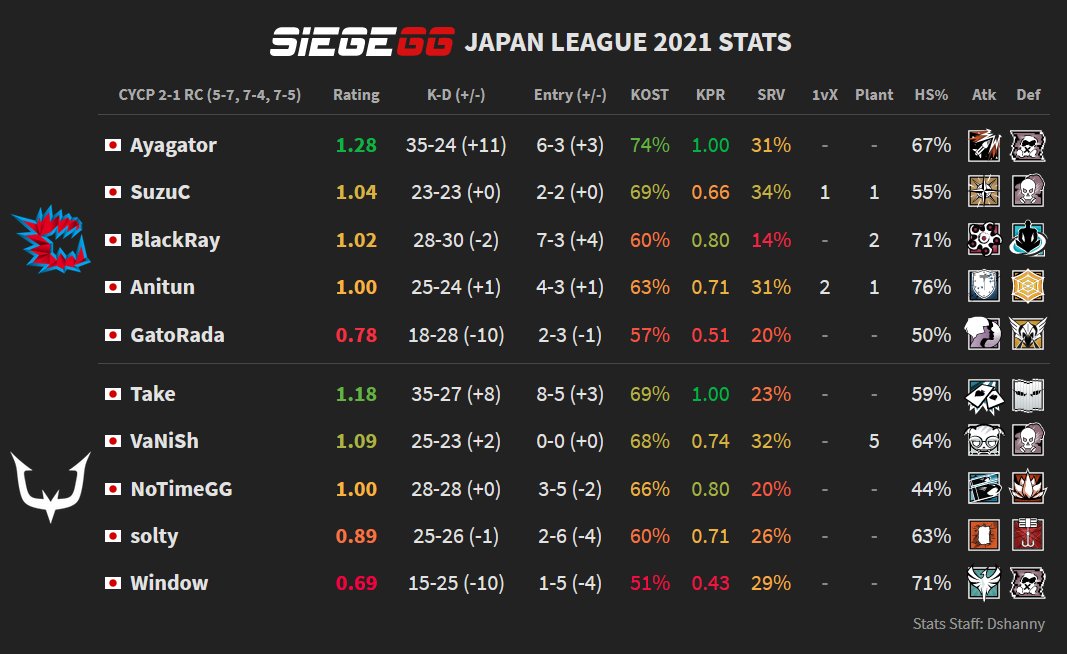 Day 14
Results:
The next day saw two 2-0 games, but the second of the two was far closer than the overall scoreline suggests.
Sengoku Gaming, sporting the former Nora-Rengo star duo Yuta "ReyCyil" Inoue and Ryuki "Ramu" Matsuoka, started the series brightly. On defense on Villa, they would secure a comfortable 4-0 lead before securing match point at 6-2 in the second half.
Crest Gaming would delay their win slightly, but it would only be for two rounds, as Sengoku took the map 7-4.
Coastline, though, was a completely different story. Crest Gaming would take the 4-2 lead on half, having started on the attack, leaving it to Sengoku Gaming to mount a comeback to ensure the 2-0 win.
Sure enough, Sengoku Gaming responded in turn, going 4-2 on their own attacking half, having had to force overtime after facing match point at 5-6. But the more experienced squad would shut its peer out, winning both its attack and defense in overtime, and taking the map 8-6.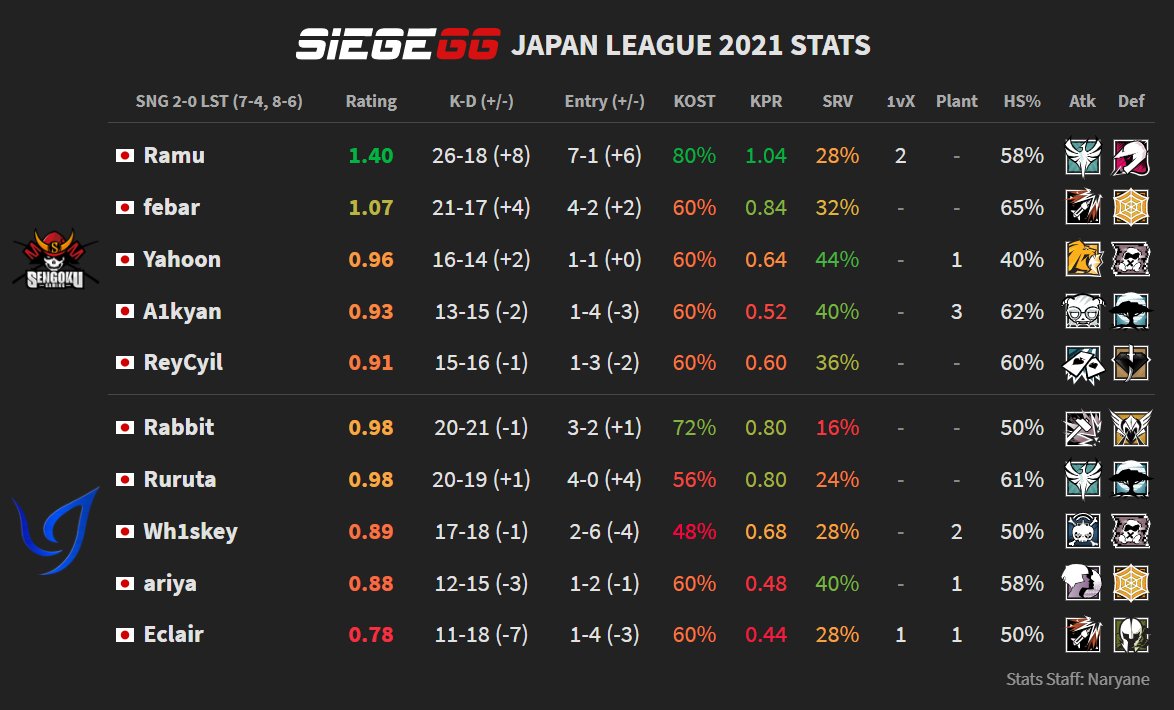 Day 15
Results:
Week 8 kicked off with another pair of 2-0 victories, with the first game being the closest.
Similar to the Day 14 closing game, the first map was only reasonably close as EVA:e failed to utilise their attacking start on Coastline to full effect. REJECT showed the 10-point difference in quality in the league table so far, going 4-2 on their defence, before closing out the map 7-4 after two hiccups on attack.
But while REJECT were in full control on the first map, their hold on Oregon was tenuous come the end of the map.
They started off brightly, finishing their defenses with a 4-2 half, but had to scramble through overtime through a rush-plant in Round 12 after EVA:e threatened the decider map.
In overtime then, Jun "NoTimeGG" Matsuura was the hero after EVA:e took the first round, pulling off a Round 14 quad-kill and then a Round 15 double-kill, alongside a VaNish 1v2 clutch in the final round, to ensure the game ended 2-0.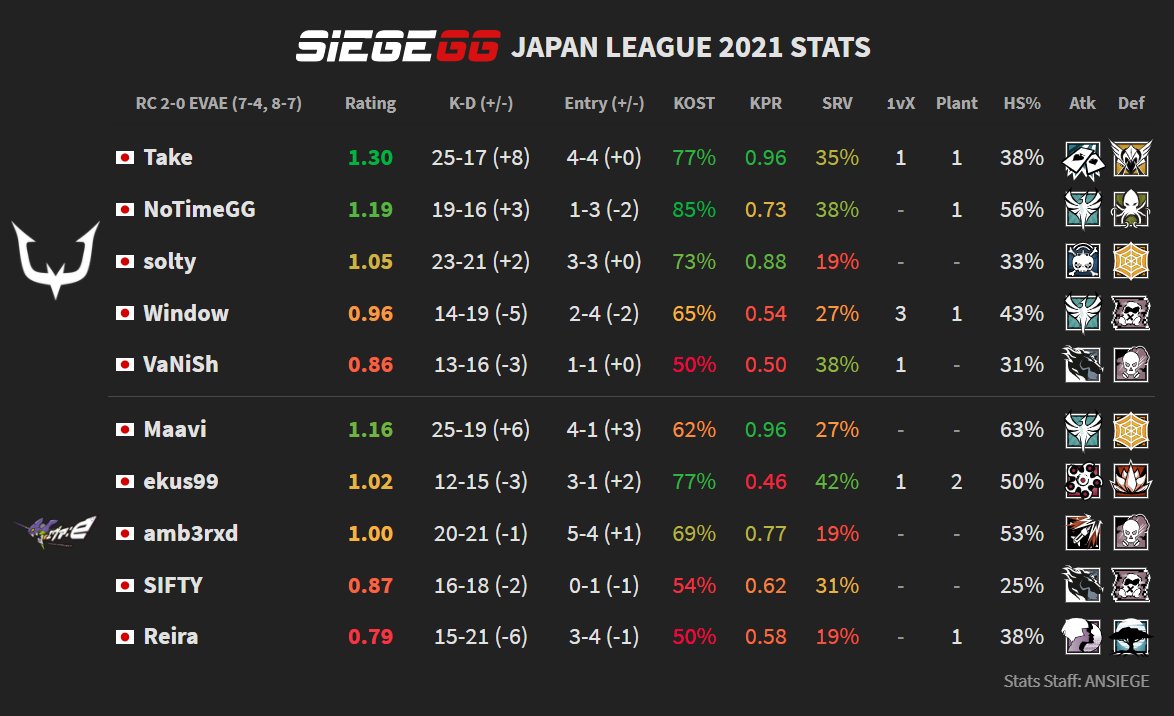 Day 16
Results:
The final game of Week 8 was the only the second since the restart to feature three maps; as expected, given both teams were in the APAC North Division.
But despite the 2-1 map score, none of the three maps were as close as expected.
Starting with Oregon, a 4-2 defensive lead was more than enough for GUTS to capitalise on, as they quickly found themselves up 6-2 after just two attacking rounds. While FAV would pull one back in Round 9 and then force Li9ht to clutch a 1v1 in the next, the map victory was an overall comfortable 7-3 for GUTS.
Consulate then followed, where the momentum firmly swung the other way, and FAV raced off to a 4-2 lead on the attack. And, unlike GUTS on Oregon, they needed little invitation to complete the win as they closed out the three defensive rounds without allowing so much as a defuser plant.
But, in a pendulum, the course reverse itself just as quickly as it initially switched. On the decider of Coastline, GUTS made good use of their attacking start, going 4-2 up at the half. FAV tried to fight back, trading rounds with GUTS to make it 6-4, threating overtime.
However, they could not ensure a Round 12 after both Naoki "Yura" Takamoto and former Nora-Rengo star player & competitive Siege returnee Tsukasa "Merieux" Asano both got double-kills in Round 11 and closed out the map 7-4.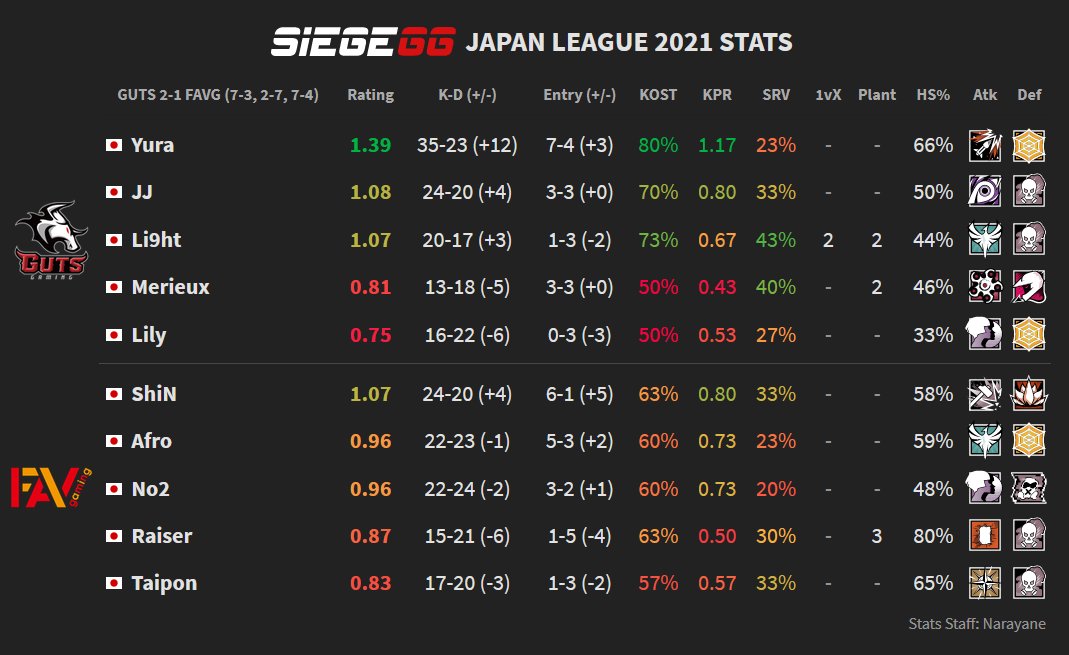 What's Next?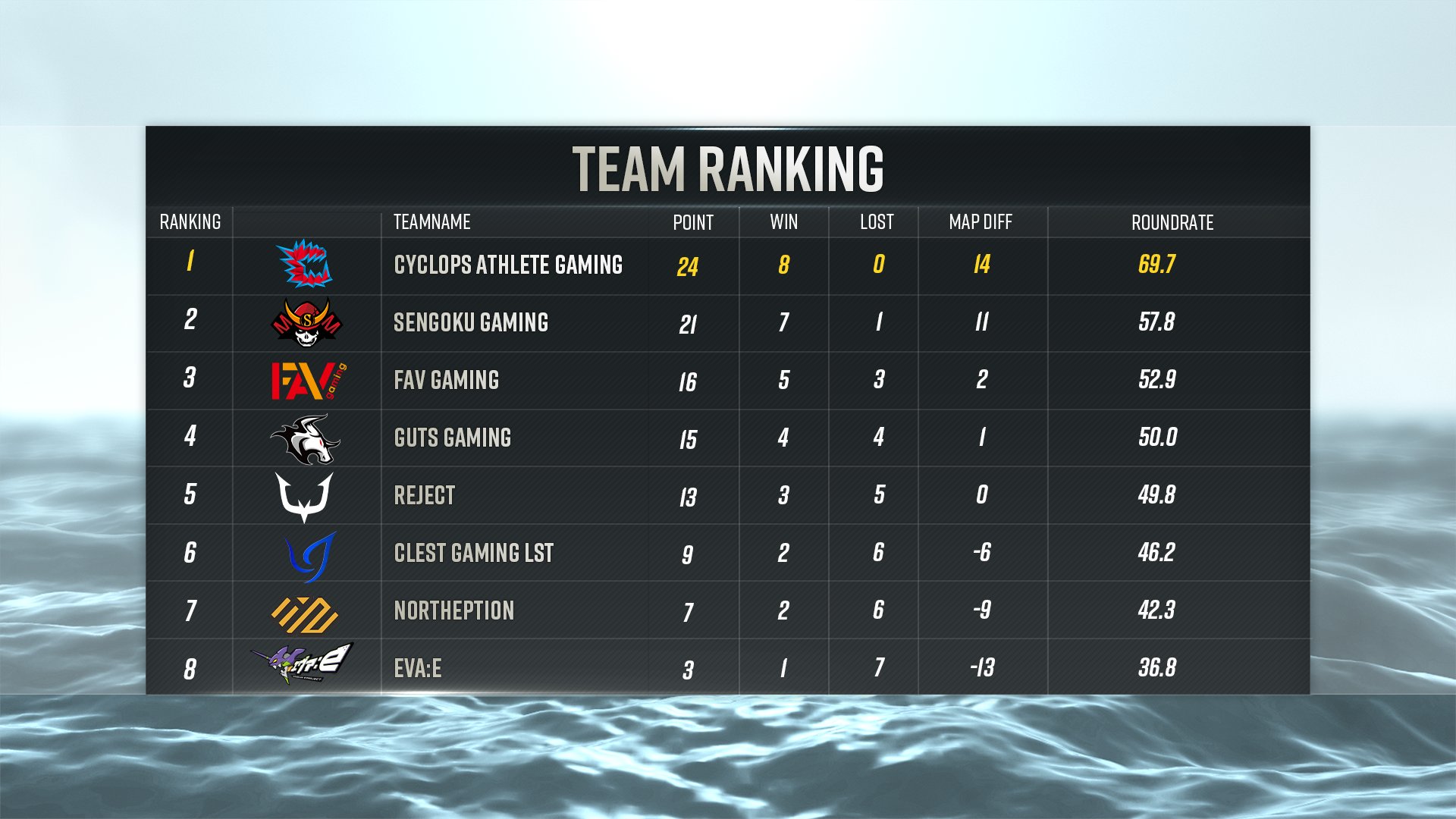 This week, keep your eyes peeled for the tantalising clash between second-placed Sengoku Gaming and third-placed FAV gaming, as well as the midfield battle between REJECT and Crest Gaming in fifth and sixth, respectively.