While traditionally the top teams have come from NA and EU, and the top organizations have had a significant interest in LATAM, the newly announced changes in the APAC scene show that this is where future growth in R6 Esports will come from.
Jump to:
New Leagues: Biggest Pro Ecosystem
As announced a few weeks ago, the APAC region has been reorganised from having a main North league and secondary Oceanic league to having two primary tournaments.
APAC North
Containing the Japanese and Korean based rosters, this will likely continue to be covered by the Paris-based casters, starting on Friday:
Cloud9 -- EnvyTaylor, Static, Nova, Harp3r, SyAIL, RechoTZ, and OniChan (two coaches)
CYCLOPS -- Anitun, SuzuC, gatorada, BlackRay, Ayagator, Fuji3 (coach), and Hybrid (analyst)
FAV gaming -- Taipon, Afro, ShiN, ChloroForM, No2, K-RAISER, OdeNMiso (coach), Tatsukin, and Nata (two analysts)
GUTS Gaming -- CrazyPapiyon, Lily, Li9ht, Yura, JJ, Cloud, Joghurt (coach), and OUDON (analyst)
Fnatic -- Mag, Lusty, Tex, MentalistC, Stigs, Alphama, Dizzle, and Crapelle (two coaches)
Talon Esports -- LabyRinth, AzzyyyS, Tomorrow, Soldier, Kanos, and Zelgadiss (coach)
T1 -- iLeven, r3plicA, Vamos, Yeti, Revi (player-coach), Howard, and VBM (two coaches)
DWG KIA -- Chanzo, CATsang, yass, Woogiman, coted, RIN, Gotti, and HoundBird (coach)
The league has seen the Fnatic organisation stick with its team during its messy relocation up North, with the roster expanding its international talent by flying Alphama all the way around the world from France.
Dizzle: ...we wait for the Japanese government to ease the state of emergency and allow entrance, as well as re-engagement with the Australian government to allow us to leave our country.
Crapelle: ...The ping certainly brought its challenges, but it also highlighted opportunities for some of our key areas of development, as well as other areas that could do with some improvement. Those are what prompted our interest in bringing a strong support player such as Alphama to bolster our lineup and its support structure, as well as bringing a young yet very experienced IGL to the team.
Now, with Fnatic counted as a Japanese team and Nora-Rengo replaced by the Korean roster of T1, the league sees an even 4-4 split between Korea and Japan, which should heat up some regional rivalries as stoked by last year's KR Friendly Match (which Korea won).
APAC South:
The APAC South region, meanwhile, sees the top Australian and SEA-based rosters join to make a brand new tournament to rival that of the North. The games have an identical format, prize pool, and Major offerings, likely covered by the Australian-based casting talent:
Giants Gaming -- Lunarmetal, Ysaera, HysteRiX, SpeakEasy, jrdn, Histoire (substitute), and GiG (coach)
Wildcard Gaming -- EmoRin, Diesel, Giovanni, Pat, Vincere, syliX, and Fluxx (two coaches)
Pittsburgh Knights -- Dino, Hayward, Sageon, Jsh, Juicy, and Pikniq (coach)
Xavier Esports -- Sapper, DCH, Nay_Pew, sprOnigiri, AnGryX, and Bestsiaer (coach)
ORDER -- JackDaddy, Cutie, ItBeStyle, JKR, Speca, Naate (substitute), Nikoh (coach)
QConfirm -- Lycolis, HealthcareOG, Producerboom, Hajime, Roldinii, Darkk, and CheckmATE (coach)
Elevate -- Dgtl, Vast, GodLeg1on, Worthy, Fishoguy, Milostka, WarTurtle, and Hell (two coaches)
7th Heaven -- ray-_-, Pikanzu, Ed, Souffle, S1no, and SPirited
The four SEA teams from last year's North tournament have moved down South to play the best Australia has to offer, with the main changes simply seeing Electrify leave their organisation to play as 7th Heaven, and both Elevate and Xavier picking up a player each.
With both Giants and Wildcard having qualified for May's Six Invitational to make up half of APAC's offerings, the region is arguably in equal standing to North, meaning APAC once again has more Tier-1 teams competing for Major spots than any other region.
International Events
These two leagues each will run weekly games in a Best-of-One (Bo1) round-robin format. At the end of the stage, the top team in each region qualifies for the Major, while the second to fourth placed teams, plus the top two from South Asia, play in an APAC LAN to find two more teams to go to the Major.
The change in formats amounts to APAC expanding to properly include Oceania once again. Two main leagues mean there'll be twice the number of top-tier APAC games compared to in EU or NA, with all 16 teams above receiving an R6 Share skin this year.
Oceania: Deepest National Scene
While the top four teams are joining the APAC South league, all eight teams which qualified for the 2021 Oceanic Nationals will take part in the OCN tournament which runs alongside the OCE Challenger League.
These tournaments are both year-long and split into three stages with weekly play days and a playoff for both tournaments each stage. This mimics the APAC North and South formats almost exactly.
Both leagues end the year with LAN Finals, with the OCN offering a massive AU$100,000 ($77,500) prize pool across the year:
As well as this there's planned to be future REKT tournaments, following the AU$5,000 OMEN Gauntlet earlier this month, the LPL Pro tournament returning for lower-tier play, and the XP Women's League tournament, which has been dominated by Elevate in recent seasons (all of which can be read about here).
This makes up the single deepest national scene seen outside of Brazil with four tiers of tournaments -- APAC South, OCN, OCL, and LPL -- in a region which effectively is just Australia.
This level of investment is unseen elsewhere and shows the effort Ubisoft is giving to the region after complaints from local players last year.
This means a player from Australia has more opportunities to compete in high money tournaments than practically anyone else in the world, with US players needing to be in a top team to have regular competitions and European nationals being at-most two tiers deep.
Japan: Biggest Domestic Tournament
While Japan has been somewhat deflated by losing the APAC League spot Nora-Rengo held to the Korean roster of T1, they certainly can't be too upset by the Japan League, which kicked off last weekend.
The tournament, which has three Pro League teams, boasts the largest prize pool of any domestic tournament ever by a factor of two at $300,000. For context, the USN 2018 and 2019 tournaments combined add up to $215,000, and the largest European tournament by prize pool totals "just" $48,000.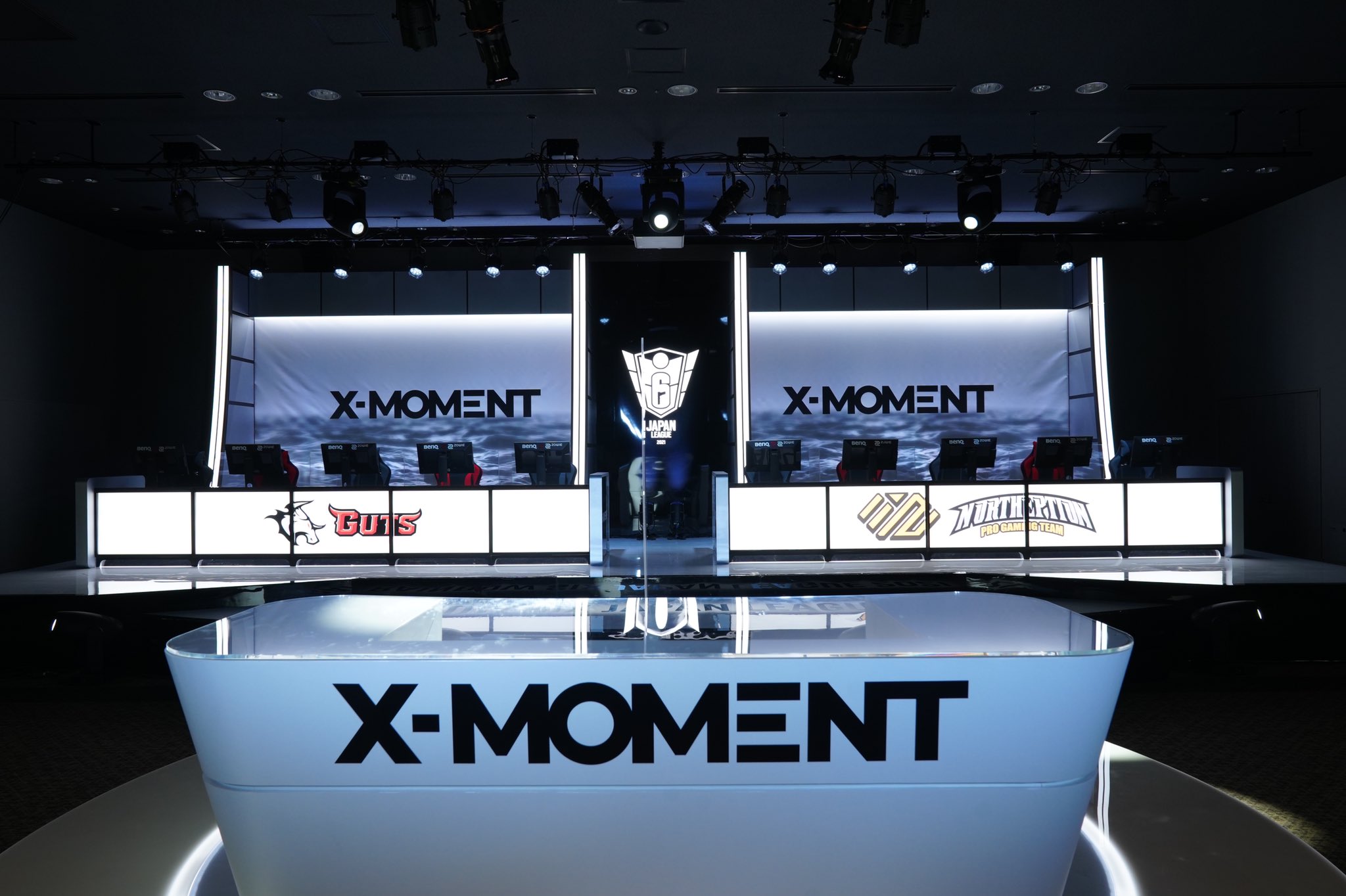 This massive total is thanks to a sponsorship by NTT DoCoMo, the biggest telecom operator in Japan. As well as the massive prize pool, the tournament was planned to be completed on a LAN environment (seen above), making it the second-ever Ubisoft ran national to have its whole season in person after the Brasileirão 2019 season.
As well as this, Japan also has a secondary tournament in the Japan Open and a combined tournament in the Japan Championship. Together this adds another $180,000 in money on offer, meaning Japan alone has almost half a million dollars to play for, dwarfing all other scenes worldwide.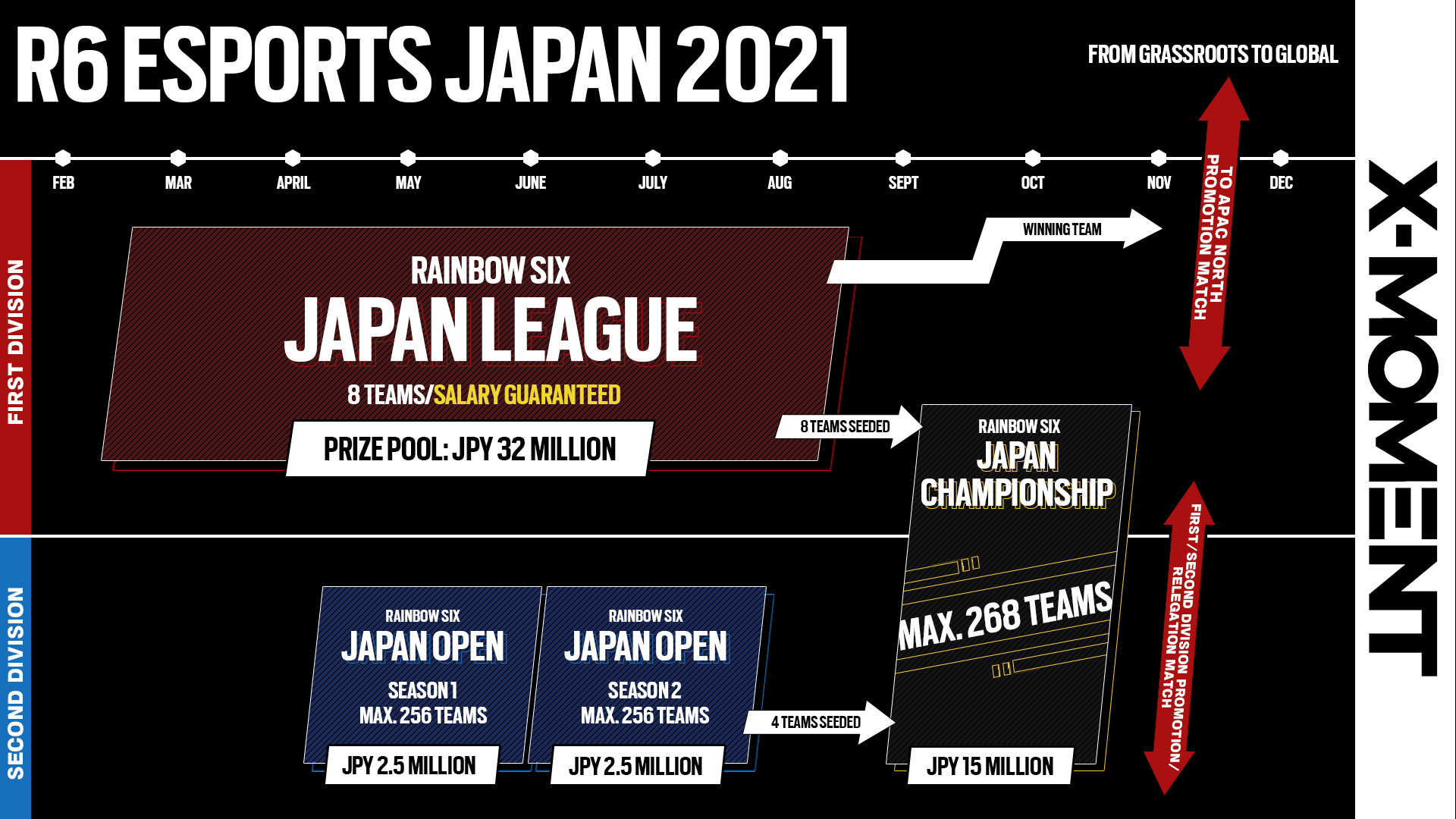 South Korea: Best Organisations
While OCE has brought a new depth to its scene and Japan is offering an unrivaled prize pool, South Korea's excelling in its new organisations.
As well as the two-year investment in Korea we've seen from Cloud9, this transfer season saw both DWG and T1 invest in Siege by picking up GC Busan Spear and SCARZ respectively. These two organisations are both League of Legends World Champions and have truly massive fanbases in Korea as leading teams in the LCK regional tournament.
It's hard to overstate how massive this is for local growth, with both orgs already having debuted in the Korean Open -- the national tournament worth $150,000 over the year -- last weekend.
As well as these three organisations, the transfer season also saw Nora-Rengo pick up (and then drop) a Korean roster and saw the end of a year-long investment into the scene by the second biggest City in Korea -- Busan.
Considering the exodus seen in NA, all these Tier 1 names entering Korean R6 is a stark contrast, as it seems like APAC is the only region able to attract names of this caliber.
With T1, DWG, C9, and Fnatic, APAC now has some of the best quality of organisations of any region and, unlike in LATAM (which also has major names involved), these are recent investments, showing how the region is ripe for growth.
It seems likely, as APAC continues to get more investment and viewership, more and more top-level organisations will flock towards APAC seeing the relatively lower team and housing costs and the increased opportunities.
China, India, and the Middle East
Finally, we have the upcoming regions in China, India, and the Middle-East, each of which has different levels of integration into the main pro-tier tournaments and each offers a lot to offer the competitive scene.
China
China isn't a part of the global ecosystem and the game hasn't even officially released in the country, yet the region is already bringing in big numbers in comparison to other major national scenes.
Last month's Community Invitational, which saw the top team in China face FAV gaming, clocked in at 5,654 peak viewers, which beat the UK Ireland National grand-final between Na'Vi and Cowana -- two EUL teams -- by over 500 viewers, despite the latter being cast on the main Rainbow6 channel.
Considering China is the biggest gaming market in the world, with revenue equal to that of the US and France combined (via newzoo) this isn't too surprising and definitely shows it has the ability to keep on rising.
Ubisoft clearly realizes this and, as well as inviting Chinese teams to a number of show matches and trying to release the game in China for years, recently partnered with the massive Chinese mobile game, Arknights, to release R6 operators in the game.
When R6 finally does release in the nation, it is likely to become a new regional nucleus drawing in investment and a whole new group of viewers, boosting APAC once again as we've seen in Japan over the past few years.
Middle East
While the Japan League broke records for its $300,000 prizepool, they in fact took this record away from not the USN or BR6, but from the Saudi eLeague, which was a $173,000 LAN League during the pandemic last year.
This came just a month after the end of the MENA (Middle East & North Africa) Ubi-run league which also had a bigger prize pool than almost all nationals Europe at $41,000.
While the Middle East is clearly closer to European teams than their Asian counterparts, the region is soon to get a server of its own, which should greatly increase the interest in the region and hopefully lead to them to finally being able to compete for spots at international events.
We would like to inform you that the servers of the MENA region for the game are still being tested and we will share with you the details of the launch when it is ready. You can help us by testing it via the test server on PC now.

We thank you for your patience as we ensure a smooth and quality experience for all players in the region.
India
Finally, the Indian sub-continent is already a part of APAC, as the third tournament alongside North and South. With no real coverage of the scene, very little international attention has been devoted to it with just the Regional Final and Majors being covered at all.
As more APAC LANs are played, it will mean more teams from the sub-region will be on the main stage every three months.
While the Indian esports focus is usually on mobile games due to their easier accessibility, the sub-continent is a huge growth area simply due to the lack of attention it's been given so far.
New tournaments and investment will at the very least help to bring consistency and bring new players in to create a proper national system, expanding APAC even further.
The Year to Come
As we begin the 2021 season, APAC has the most new tournament announcements, the biggest prize pools, and the most impressive new organisations and investors of anywhere around the world. As well as this, APAC has the biggest growth potential with China, the Indian sub-continent, and the Middle East all untapped and worth an increasingly large esports market.
For now, APAC North and South will kick off over the next two days, with the South Asia National qualifiers on Saturday. These teams from across all three tournaments will then meet on April 23-25th for the presumably-online APAC playoffs.
May will then see the Six Invitational where four APAC teams -- C9, CAG, WC, and Giants -- will compete at before international Majors in August and November, which were initially planned to be in North America and APAC.
Finally, the year will end with regional finals and relegations in December, along with the World Cup team selections to close things out.