Taking place a week ahead of the North American League (NAL) kick-off on March 24th will be the massive $50,000 Pro-Am tournament run by NSG and DarkZero Esports. This will be the first chance we'll have to see a number of NAL and NA Challenger League rosters, including the new rosters of the Susquehanna Soniqs, Mirage Esports, Oxygen Esports (OxG), and Disrupt Gaming.
Jump to:
Teams
Most notably, included in the 20 teams competing, are all nine NAL teams, with their new post-transfer season lineups:
DarkZero Esports -- Mint, Hyper, Skys, Ecl9pse, and Nick (aka njr)
TSM -- Achieved, Beaulo, Merc, Geometrics, and Chala
Spacestation Gaming -- Thinkingnade, Rampy, Bosco, Fultz, and Luke
Oxygen Esports -- FoxA, LaXInG, VertcL, Yoggah, and Kyno
Disrupt Gaming

--

Retro,

Shuttle,

J9O,

iconic, and MarkTheShark

Susquehanna Soniqs -- supr, Yeti, Gryxr, kanzen, and Rexen
beastcoast -- Phozzo, Sippin, Rooty, AnthonyMGS, and Ghxst
XSET -- Tomas, Butterzz, Creators, Filthy, and Drip
Mirage -- NotLoading, Nyx, Hotancold, Dream, and Benjimoola
Compared to the 2020 season, the biggest changes include two new players joining OxG, Disrupt, and XSET, Soniqs picking up four ex-eUnited players, Mirage forming a whole new lineup, and the hosts, DarkZero, replacing Hotancold with Nick (aka njr).
This tournament will also be the R6 debut for the XSET organisation and the first look at how all these rosters stack up before NAL kicks-off on March 24th.
The one difference compared to the official rosters we'll see in the NAL, however, is that SSG's analyst of Luke will be playing for Canadian for at least the first stage of the Pro-Am tournament, as Canadian will be in the process of flying out to Las Vegas for the NAL.
Joining them are 11 lower-tier teams that qualified mainly via previous NSG monthly tournaments: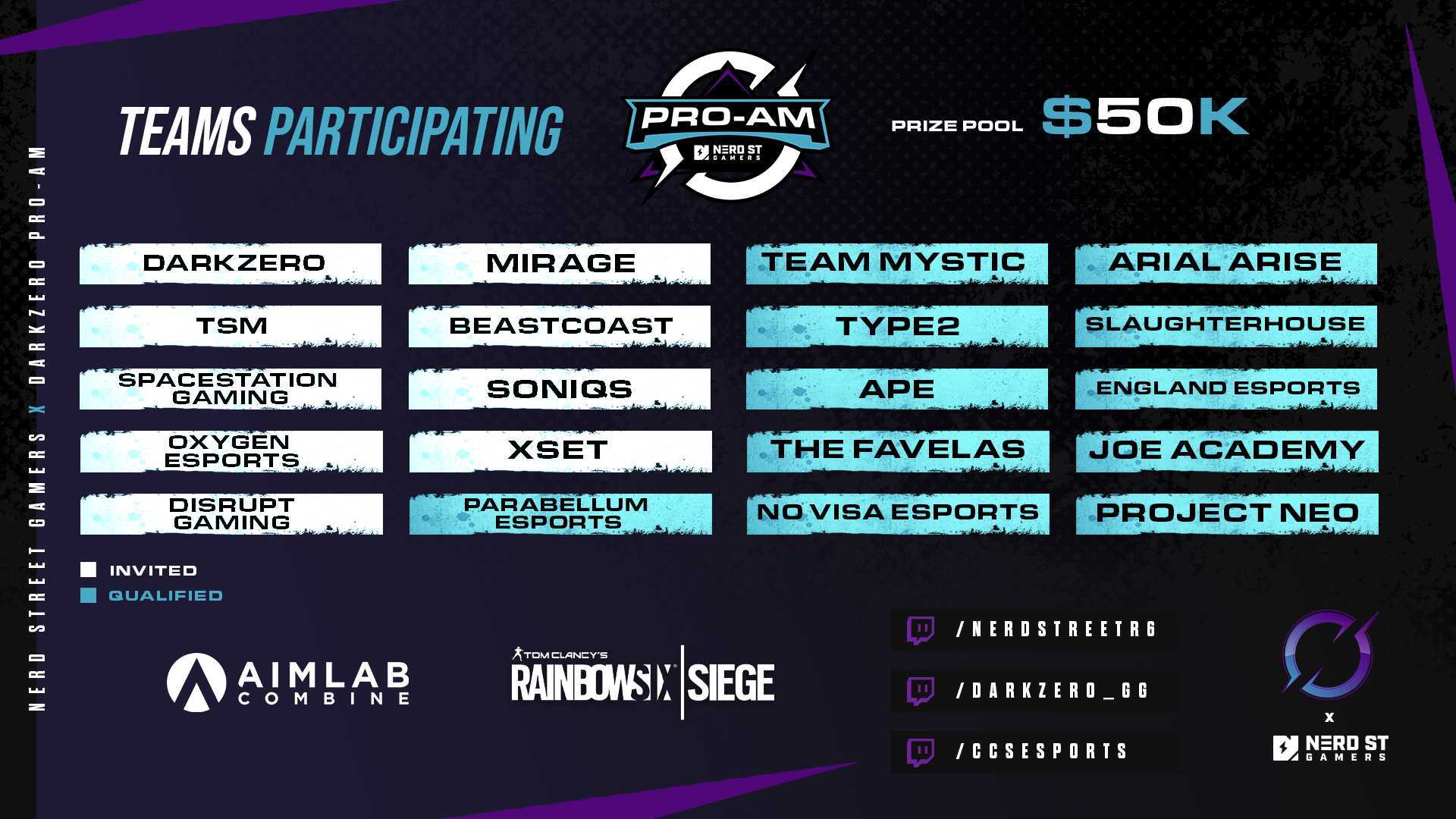 Most of note here by far is "No Visa Esports", which sees Yung, nvK, and Spades from the old Evil Geniuses roster return to R6, alongside Corrupt and the current Mirage player of quartz. This is also the first chance we have to see the new Parabellum lineup (formerly Altiora) ahead of their Six Invitational appearance in May.
As well as these two, we have the 2021 Challenger League teams of SlaughterHouse, Orgless, APE, and The Favelas, and the reigning CCS champions of Arial Arise.
All these teams will have a tough challenge in trying to take down one of the pro-tier teams, however, as this will be the first official matchup against teams of the highest caliber for most of the players here.
Schedule and Format
The tournament will take place this weekend from Thursday to Sunday, starting at 10 AM PT (UTC-8).
The format sees the 20 teams split into the following five GSL-style groups, with the top two in each progressing through to a double-elimination playoff bracket:
Group A: TSM, beastcoast, Team MystiC, and Project Neo
Group B: Spacestation Gaming, Parabellum, APE, and England Esports
Group C: DarkZero, XSET, Orgless, and Joe Academy
Group D: Oxygen, Mirage, The Favelas, and Slaughterhouse
Group E: Soniqs, Disrupt, No Visa Esports, and Arial Arise
This sees each group having two NAL teams, except for Group B, which has an SI-qualified roster of Parabellum instead.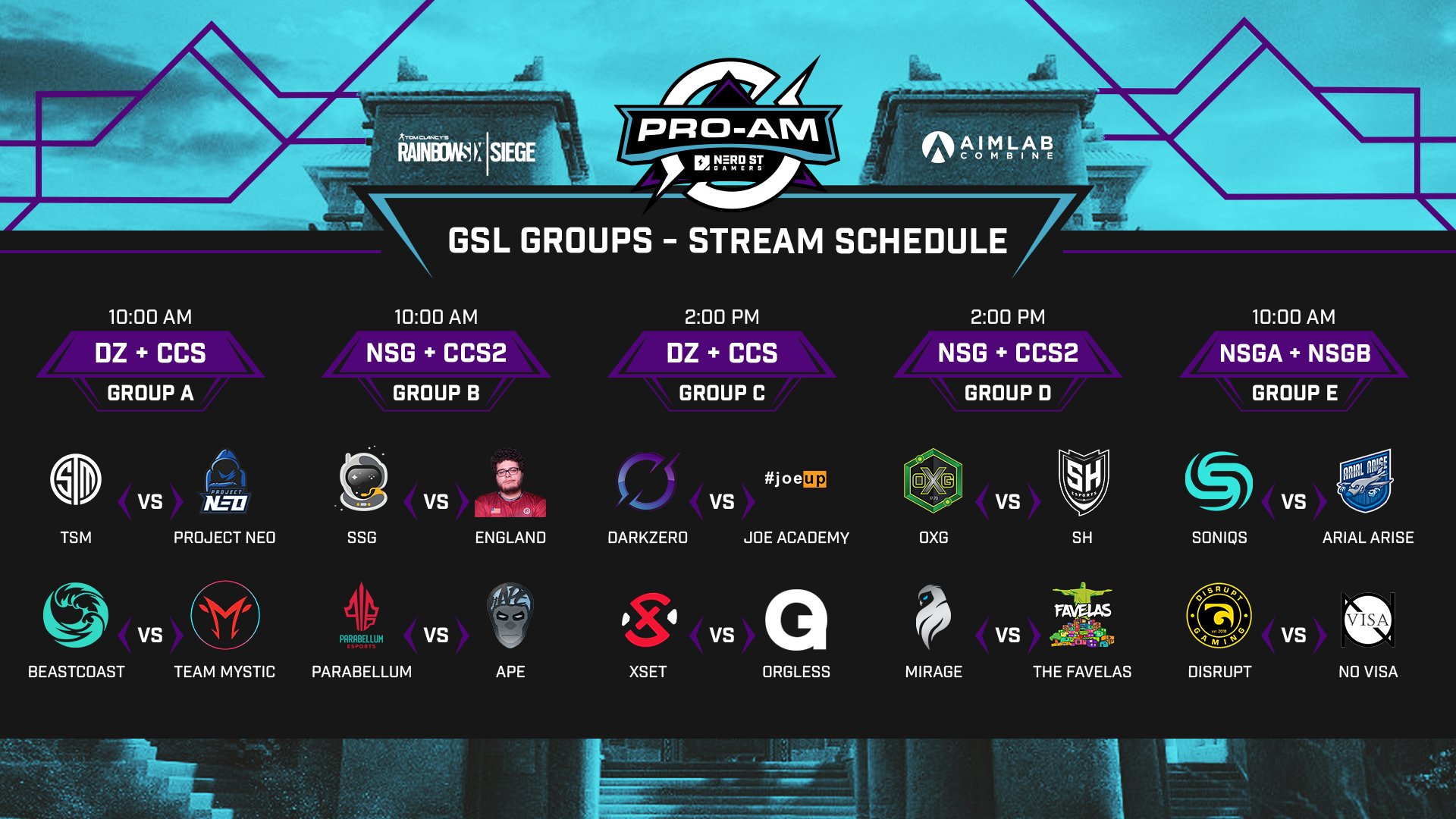 Most games will be Best-of-Three (Bo3), except for the playoffs' lower-bracket and the opening games of the GSL groups, which will be Best-of-One(Bo1), and the grand-final, which will be Best-of-Five (Bo5).
Broadcast
The games will be cast across the ccsesports, darkzero_gg, and nerdstreetr6 Twitch accounts, with the top talent in North America lending their voices to the games. The DZ and NSG accounts will see KiX, Interro, BLU, Jacki, Caliber Jacob, and Stoax from the NAL broadcast be joined by the Challenger League names of CookieZ, Crow, and BennyAu, and the EUL casters of Geo and Fluke.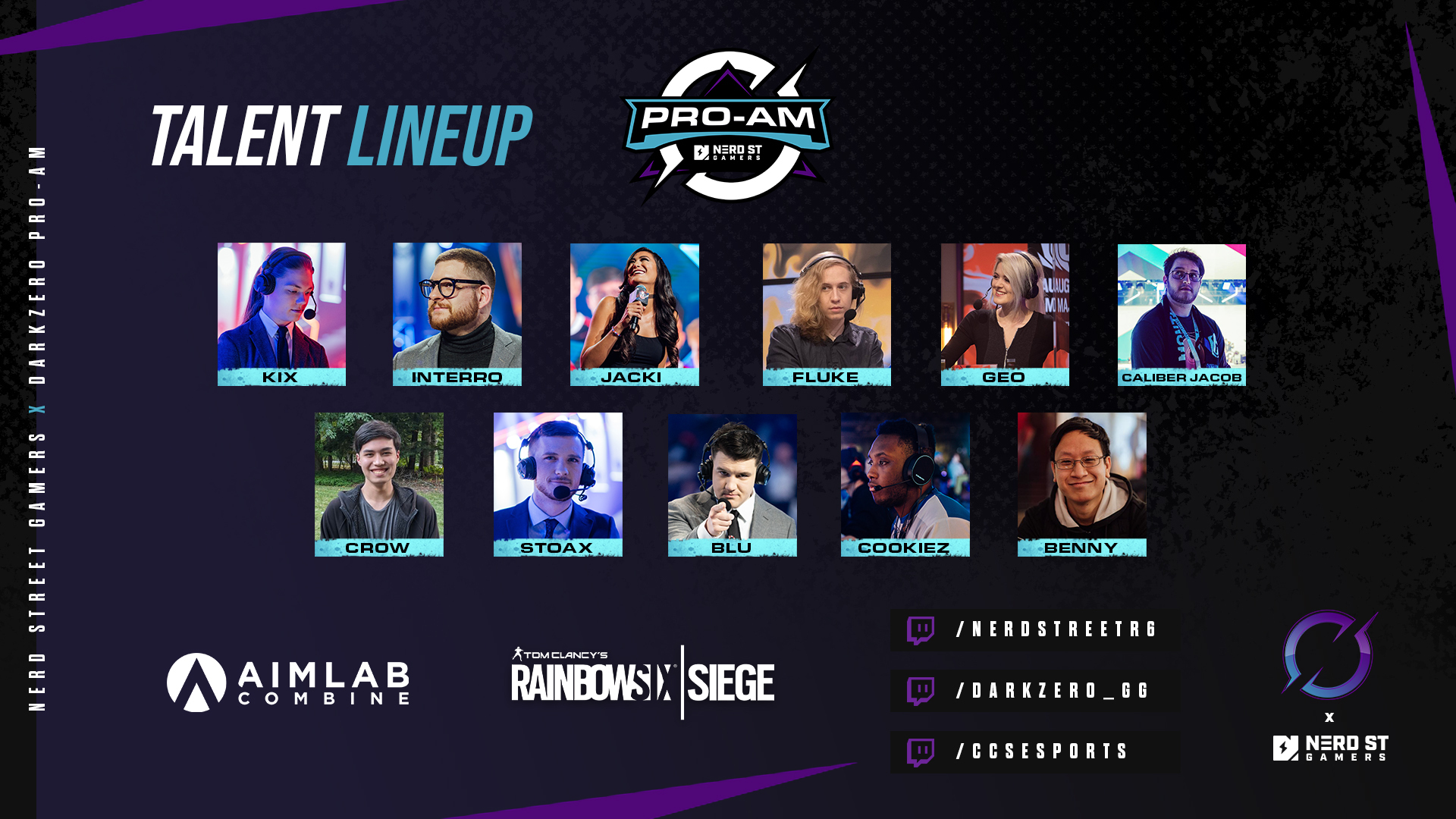 The main names missing here from the usual NA lineups are Jesse and Velly, the latter of whom will be casting this week's Valorant Major event instead.
The CCS broadcast, meanwhile, will provide its own lineup of talent, which stars the ex-Pro League caster of mzo: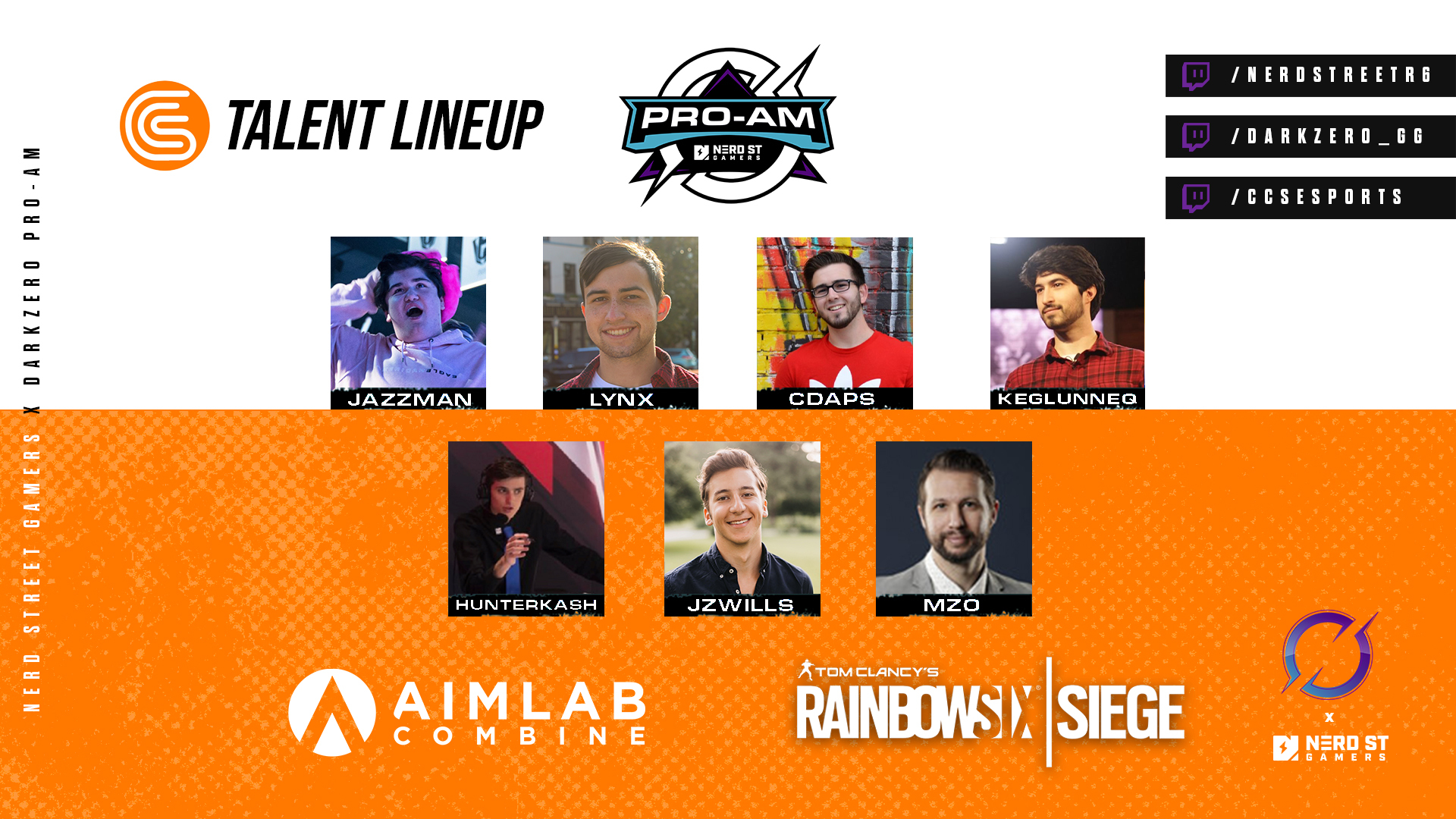 Added to this, DarkZero has also announced an official music partner for the event in The Music Elk.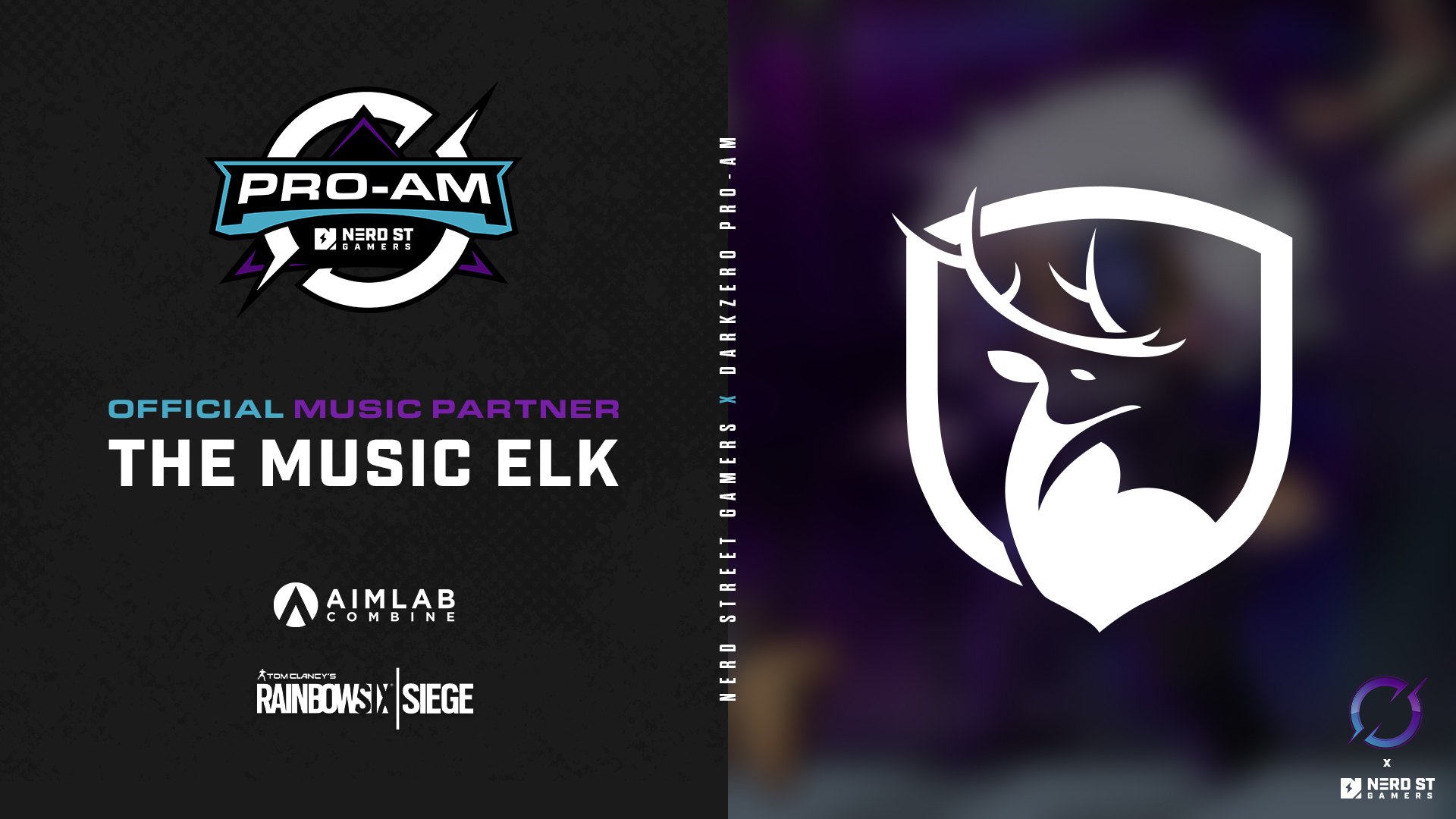 Nerd Street Gamers
While DarkZero is very well known within R6, Nerd Street Gamers has only run lower-tier tournaments prior, thus marking a big step for them.
Since last summer, NSG has run monthly tournaments, which have been won by teams such as POGchamp, beastcoast, and APE, before partnering with CCS in November.
The consistency and prize pools of these tournaments have made NSG one of the biggest organisers in North American Siege, with its partnership with CCS only having helped.
This $50,000 event is the biggest either of these companies have run in Siege before in what marks a very promising start to 2021 for lower-tier teams in the region.
Outside of R6, the relatively new tournament organiser has made a massive name for itself as it currently runs Valorant's Pro League-equivalent tournament for North America and, so far in 2021, has run $10,000 tournaments in Rocket League, Apex, and Starcraft 2.