Tomorrow the SEA Playoffs will determine the final team which will compete for a spot in the APAC North region for 2021 before the relegations take place from November 19-22. The format to get to here was one of the most confusing systems seen in R6 esports so let's take a look at it step by step:
Jump to:
Format
The APAC North relegations are unlike any of the other regions as the old divisions of Korea, Japan and South-East Asia have been maintained with the format ensuring that one team from each "sub-region" will always stay in the league while still relegating the bottom four teams.
The rulebook to explain the various outcomes was therefore riddled with inconsistencies and missed possibilities which generally can be summarised as:
If there are no teams from a sub-region in the bottom four the winner of the national competition is auto-promoted
If there is one team from a sub-region in the bottom four then that team plays the winner of their national competition
If there are two teams from a sub-region in the bottom four they both play the winner of their national competition for two APAC North spots
If there are three teams from a sub-region in the bottom four they all play the winner of their national competition for three APAC North spots
The national runner-up from the sub-region with the least number of teams in the top eight also competes in their relegation battle
This format presumably counts Fnatic as a Japanese team despite them not relocating to the nation so far.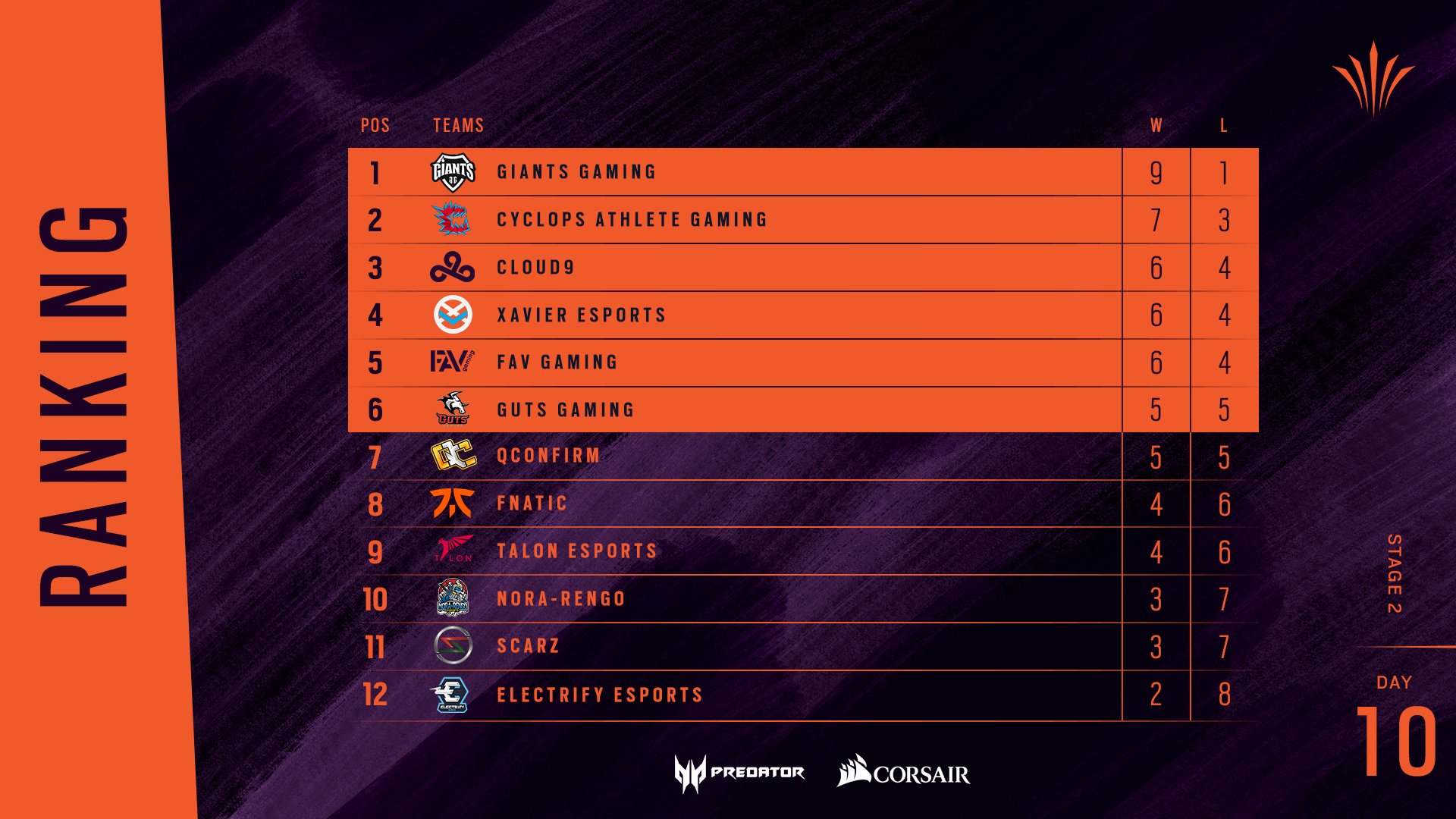 ---
So these rules mean that the Japan Championship winner, eva:a, the top two Korean Open teams, SGA and GC Busan Spear, and the SEA Playoff victor will be competing against the four worst teams across both stages one and two combined -- SCARZ, Electrify, Nora-Rengo and Talon -- across three different relegation battles.
Meanwhile, in APAC South, the Oceanic relegations will see the two worst teams from the Oceanic Nationals -- Rhythm and Ferox -- battle two teams from the relegation qualifier this weekend in a much simpler format. Finally, due to each stage in South Asia involving their own Open Qualifiers, there is no need for relegation there.
SEA Championship -- Winner vs Electrify Esports
The top three teams from the Operation League Taiwan and Thailand tournaments will compete in the 2020 Operation League 2020 Championships this weekend to find which team will battle Electrify for the 2021 APAC North spot.
This tournament was initially also going to invite the victors of the Malaysian, Singaporean, Philipinian and Indonesian national tournament. However, this online event was cancelled due to the coronavirus pandemic effectively robbing players from these nations a chance at qualifying for a whole year, a decision which led the Singaporean player for Giants Gaming of Adrian "Ysaera" Wui Hong Rui to state the following:
I admit I don't follow [the] SEA/local scene much apart from APAC North, but this is just sad, basically left in the dirt with no chance to compete.

At least another year of waiting for a chance at QUALIFYING for North. There'll be no one left to try then, very worrying honestly.

I don't think blaming the COVID situation to justify abandoning the Tier 2 scene for multiple countries puts a very good look on whoever is in charge of the esports scene here, single-handedly killing upcoming talent with this move. No one sane enough is gonna invest time into this.

Imagine if this happened to us back when we had no incentive other than to qualify for the big leagues back then... I'd be back to school for sure.
Nevertheless, the tournament will go ahead with just Taiwan and Thailand included and will see the following Taiwanese teams compete:
Electrify Esports -- Triplelift, ray, Ed, S1no, Pikaceu and BruceZz (coach)

Team Unknown -- Marcy, Akiinui, Xuan, Coco and POisMEO1

Velocity9 -- ShaZ5ibe, Pu22les, Chris, SongDi and HARAM3E
While the Thai teams are:
Xavier Esports -- redsun00, Scatman, DCH, Nay..Pew, sprOnigiri and Bestsiaer (coach)

QConfirm -- Lycolis, HealthcareOG, Producerboom, Hajime and Roldinii

Excelsior Onyx -- TD_TER, exlexcelsior555, RazOcean, markshortboyz and MrPuuuncH
As the current North Division teams of EFY, Xavier, and QConfirm cannot win a relegation spot the battle will be between Excelsior, Unknown and Velocity9. V9 has a pretty unfortunate first-round matchup against QConfirm, which will be a tough contest for them, likely meaning the winner of Unknown vs Excelsior in the very first matchup of the weekend will earn the relegation spot instead.
As well as a relegation spot, the tournament offers a $15,000 prize pool and will be streamed in both Thai and Mandarin on the official Thailand and Taiwan Twitch accounts.
---
Earning the relegation spot is only the first step, however, as they will then have to face the Taiwanese team of Electrify in the relegation matchup. While this team won just four out of 16 games across both APAC North stages -- against Talon, Xavier and SCARZ twice -- they did top the Taiwanese nationals showing they may be able to fend off the opposition.
Meet the Teams with InfianEwok
We spoke with the old SEA Pro League caster and Editor-in-Chief here at SiegeGG of Shikhar "InfianEwok" Gupta to get a deeper look into the teams and players to look out for in the SEA Playoffs:
Which team do you think will win the tournament?
I think the choice is obviously between the two Thai teams of Xavier Esports and Qconfirm, with the former being the favourites given their recent records and head-to-head performances. In APAC North, Xavier most notably broke the Giants' unbeaten Stage 1 streak and then nearly beat them in the August Major too and they also have had the number of Qconfirm in the most recent Thai Operation League tournament as well as the APAC North Thai qualifier that preceded the start of the APAC North season.

However, it's important to note that Qconfirm went 4-1 in Phase 2 of Stage 2 in APAC North, possibly indicating that they are coming back to their former Southeast Asia-topping best, so they may be able to surprise us even though the favourites will be Xavier.
---
Who do you think will win the relegation spot and how will they fair against EFY in the relegation battle?
To actually answer the question, I have to favour Excelsior here. They're a Thai team and the Thai domestic circuit is actually really robust, plays extremely balls-to-the-wall, and is extremely hard to fight against. I don't know much about them or Unknown (as per their name, it seems), but I would certainly favour the Thai. And as far as the eventual Relegations game against Electrify goes, I think I will favour Excelsior (slightly) as well. Unfortunately, Velocity9 are largely out of the question thanks to the bracket being somewhat lopsided here.

As you can see, three of the teams in attendance are already in APAC North. Xavier Esports and Electrify join in at the semi-finals stage, with Electrify's games here having no bearing on the APAC North Relegations. However, the issue is that QConfirm joins in at the quarter-finals stage, which in itself this isn't really a problem. It only becomes a problem when you realise that the Lower Bracket is discontinuous -- the losers of the quarter-final matchups can go no higher than fifth place, while the winner of the quarter-finals will be fourth at worst.

As such, Velocity9 is greatly disadvantaged as they have to beat a full-fledged APAC North team, while Excelsior or Unknown only need to beat a team at their own level. V9 and the loser of Excelsior vs Unknown thus basically have no second chance at securing promotion to APAC North for the 2021 season. What this means is that the match to secure a spot in Relegations is just the first quarter-final between Excelsior and Unknown.

There is an easy fix for this — add the 3 games required to make it a proper double-elimination, but as per in the EU Challenger League, Ubisoft is reluctant to do so.
Which players are the ones to look out for outside of the APAC North teams?
Having just finished casting the WeC 2020, which Velocity9 won, I think ShaZ5ibe is certainly one of those players to look out for. He's incredibly mechanically skilled and is absolutely fearless in every scenario. He is, of course, rough around the edges but can certainly be moulded into a top-tier APAC North player. If Electrify survive Relegations, they may do well to secure his services.
How would you judge the SEA team's performance during the 2020 season?
Overall, it's been a mixed bag. At the top you have Giants, who dominated both stages and finished top. They also finished 2nd in the Major, and while they may not be totally dominating like they were a year ago, they are certainly playing the best Siege they ever had. On the other hand, though, Electrify were rather disappointing, but with little top-flight experience they couldn't have been expected to do much more.

Qconfirm, unfortunately, were the biggest disappointments between the four SEA teams. From dominating the SEA Pro League in every season they had played, from Seasons 8 to 11, the four-times back-to-back SEA champions were abject in Stage 1 and Phase 1 of Stage 2. However, their recent form was great and I think they may do well in the SEA Championship.

Xavier, on the other hand, were amazing. They really troubled Giants and went from top-four in SEA to top-four in all of Asia. I cannot wait to see how much higher they go.
---
Japan -- EVA:e vs Nora-Rengo
The Japanese challengers were determined three weeks ago during the Japan Championship Finals -- the first LAN event in six months -- as, while first to third was locked out by CAG, FAV and GUTS, the relatively new team of eva:e squeezed in into fourth to win the relegation spot.
Eva:e achieved this as victories against both Nora Rengo and Northeption (the Japan Nationals victor) during the qualifiers gave them by far the easiest quarter-final matchup and made them the lone non-APAC North team to win a game at the event.
eva:e -- Maavi, Reira, ekus99, Tonz1ru, morun, DAI (coach), SPIN and Jinowa (two analysts)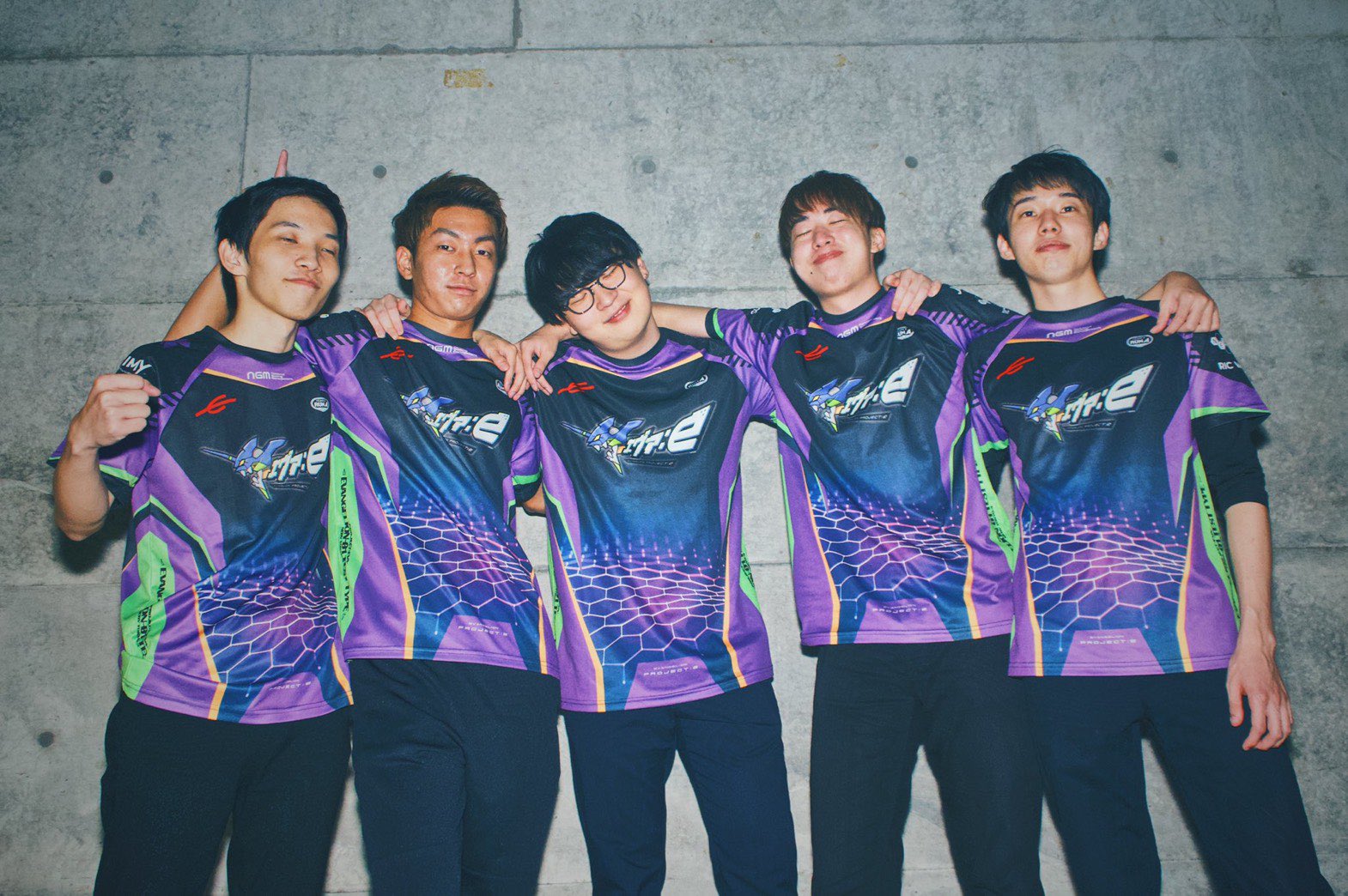 ---
The roster itself consists of a number of regionally known names including the ex-Nora Rengo player of Riku "Maavi" Kaizo who competed at both the Season 10 APAC LAN and OGA Pit Minor, and the three players of "ekus99", "Reira" and "Tonz1ru" who competed in the Pro League for DetonatioN Gaming in either Seasons 10 or 11.
To take the last step and make it into the APAC North league, they will now have to defeat the famed Nora Rengo organisation -- a team which they already beat 7-4, 1-7, 7-4 last month -- in a relegation matchup next month. While Nora Rengo are well known for their international successes, the last year hasn't been very kind to them with a short summary of their woes below:
As well as these internal issues, the team has also struggled in-game as the team won seven out of 20 APAC North games against EFY three times, SZ twice and both GUTS and Xavier once each to finish the year in 10th place. Nationally, the team lost against tier-two teams in the qualifiers of both the Japan Nationals and the Japan Championship events, failing to make it to the Finals in both cases.
This all signals what could be a pretty sad end to the roster which had an unprecedented range of international fans and acted as the face of the APAC region just a few years ago. With just Papilia remaining from the SI19 roster which made it to the semi-finals, either way, this isn't the Nora many recognise with it somewhat apt that Maavie -- a player who was reportedly unpaid during his time on Nora Rengo -- could be the player to relegate the team.
---
South Korea -- SGA vs GBS vs Talon vs SCARZ
Two teams from the APAC North League -- Talon Esports and SCARZ -- and two teams from the Korean Open Championship -- SGA eSPORTS and GC Busan Spear -- will fight it out for two North spots in a double-elimination bracket.
Starting with the challengers, GBS and SGA come in after finishing as top-four teams across the 2020 Korean Open Championship with GBS achieving a second and third-place finish and SGA finishing in fifth and second in the Summer and Autumn seasons.
The season being split up into two competitions, each offering points for the final standings is somewhat similar to the system to determine the teams which will attend the APAC North and EUL Finals. As well as this, this format has been adopted by both the PG Italian Nationals and the Russian Major League to determine which teams will represent the nations in the 2021 EU Challenger League season across their Winter and Spring seasons.
GC Busan Spear -- Jaekdow, h3dy, CATsang, Templat, Chanzo, Fanxy and DongUk (two coaches)
SGA eSPORTS -- Wheatling, Nero, JungGoon, Kira-Miki, CircLe, WATB, Arms and KNET (three coaches)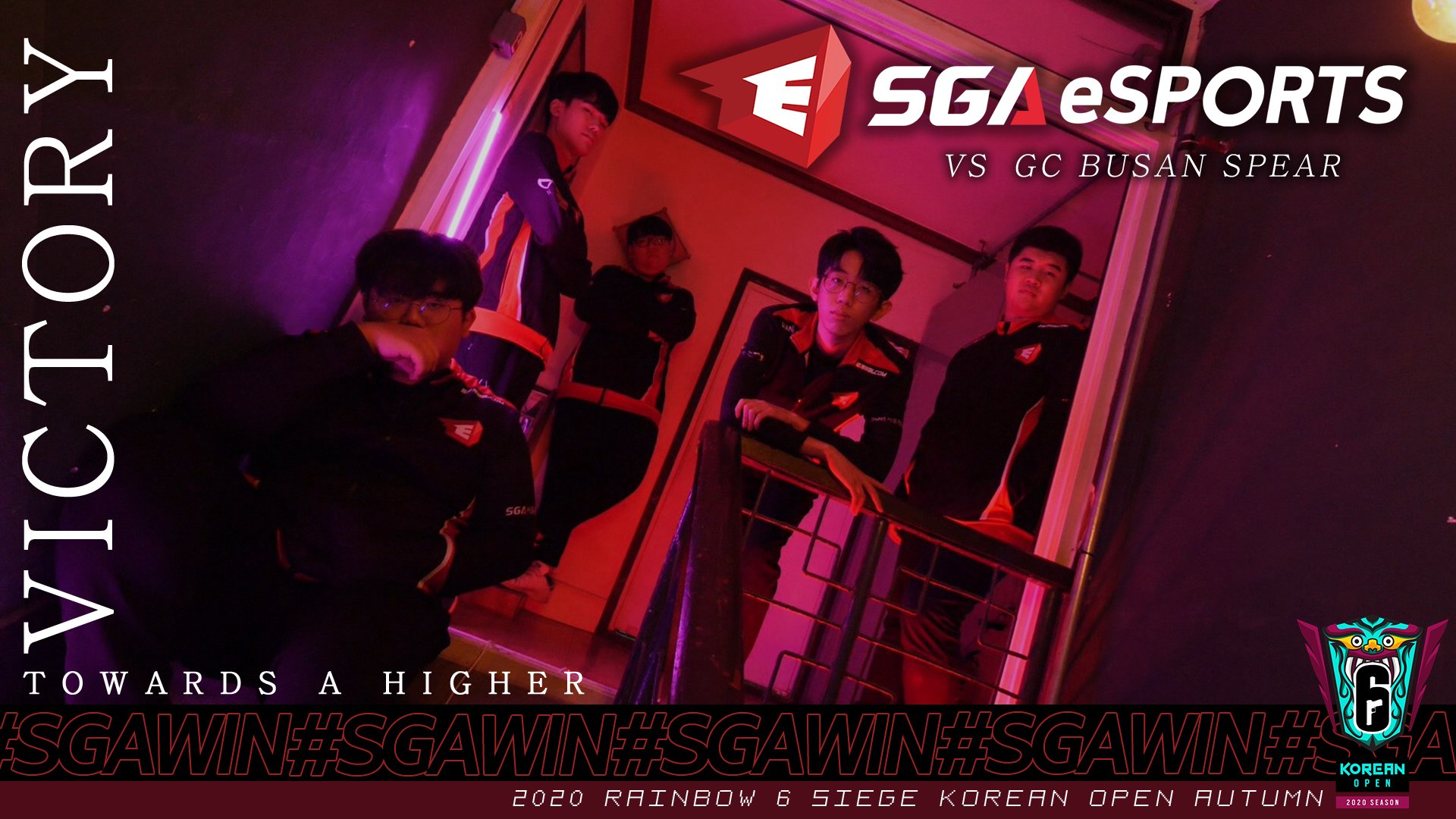 ---
The GC Busan Spear lineup is by far the best known with it including four members from the ex-Pro League teams of Axiomatic and TRIPPY, three of which attended the Season 10 Finals. The big names, however, are the two ex-Cloud9 players of Sewoong "CATsang" Heo and Yugeun "h3dy" Kwon who are both multi-time Korean champions with h3dy also having attended the 2018 Paris Major, the 2019 Six Invitational and the 2019 DreamHack Valencia Minor.
This level of talent has already led them to defeat Talon and SCARZ in straight maps all three times they have met. While Cloud9 were able to stump GBS, the lone map they lost during the Summer Korean Open season was against them showing Spear can compete with the best teams in APAC.
SGA, meanwhile, also has a few ex-Pro League members -- Nero played for Axiomatic, JungGoon played for SCARZ and WATB played for TRIPPY -- with this experience leading them to a notable 2-1 victory over GBS in the Autumn semi-finals. They have never even taken a map off of any APAC North teams, however, a fact while will likely haunt them going into these Relegation games.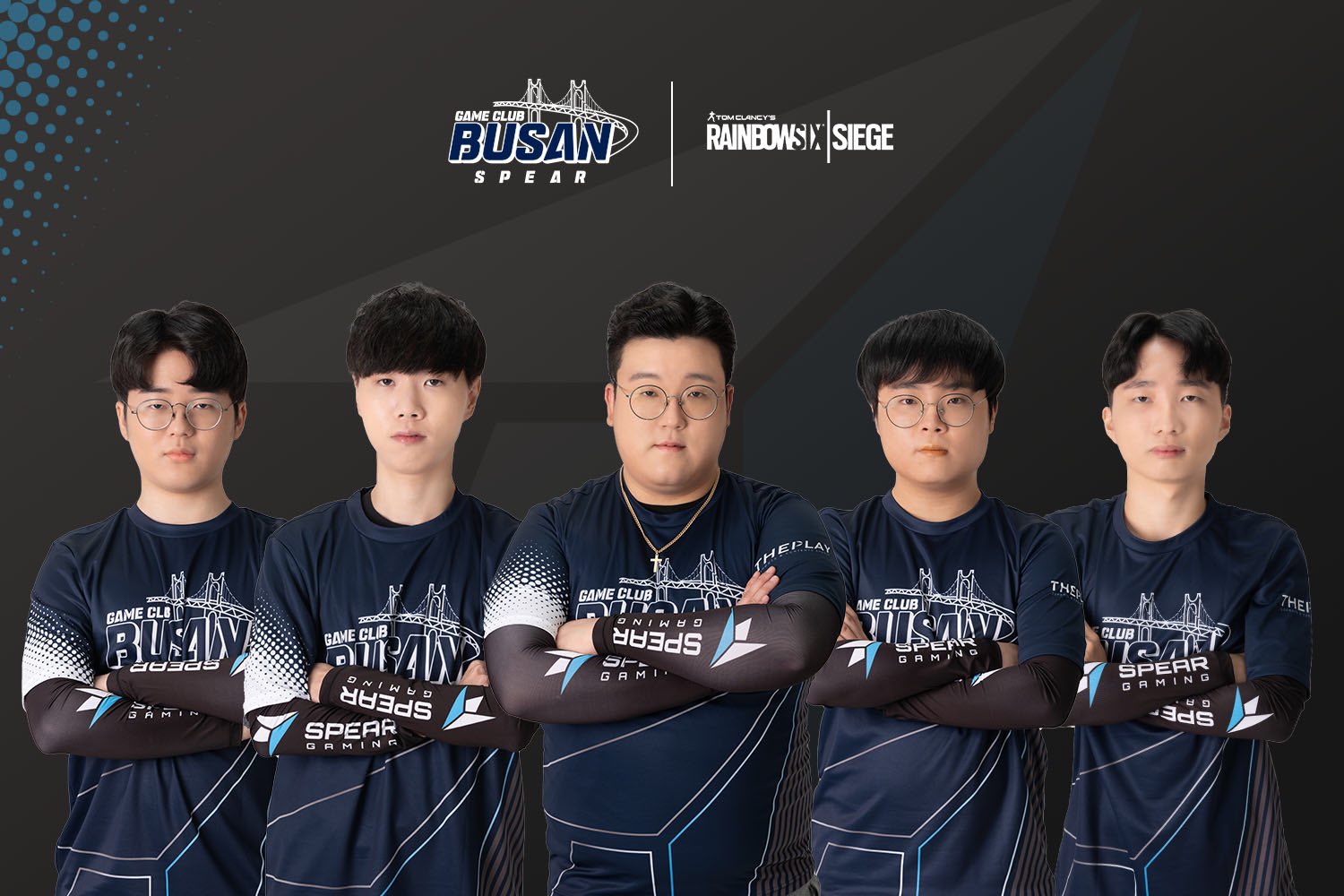 ---
The two teams they will be facing will be SCARZ -- who finishes the North league in last with five wins in 20 games -- and Talon Esports -- who finished in ninth place with eight wins total. While both teams are in the relegation zone, Talon is in a much more comfortable position as they did beat a large range of teams and took teams such as CAG and Qc to overtime. SZ meanwhile struggled in their own national tournament with their biggest win this year coming 8-7 against Fnatic.
The double-elimination bracket means that SGA and SZ will need to pull off two upsets should they wish to make it to the 2021 season, a possibility which while still possible would need drastic improvements from both teams over the next month.
Oceania
Finally, we have OCE which sees the bottom two teams from the Oceanic Nationals fall into the relegation zone with this being Team Ferox and Rhythm.
Starting with Rythm (previously known as Kanga Esports), the team has had a truly awful year with them winning just three maps out of the 35 played across Season 11, the Six Masters and this Oceanic season, with one win in each. After this performance, a relegation win would be fairly unlikely as they have one last chance to salvage their year.
Ferox on the other hand are not in such a bad position. After a sixth-place finish during the Six Masters a surprise victory against Ōkami meant they ended the Oceanic season in joint sixth alongside LFO with their 5-7 head-to-head loss pushing them down into seventh. While not ideal they were crowned victors of the tier-two LPL Pro tournament showing they have a good chance at defeating the challengers they face.
Team Ferox -- Shade, Todd, Sushi, Odah and Nazgul
Rhythm -- Lebb, bouncinballz, Campo, Boats, Novaix and Yoshie (coach)
Meeting these two teams will be the victors of this weekend's open qualifiers which will replace the planned Oceanic Challengers tournament. There are a number of teams to watch out for in this qualifier including ROLFCOPTER GG, PC419, Skyfire and Exsto Gaming with the latter having defeated Ferox 2-0 three weeks ago in the LPL tournament.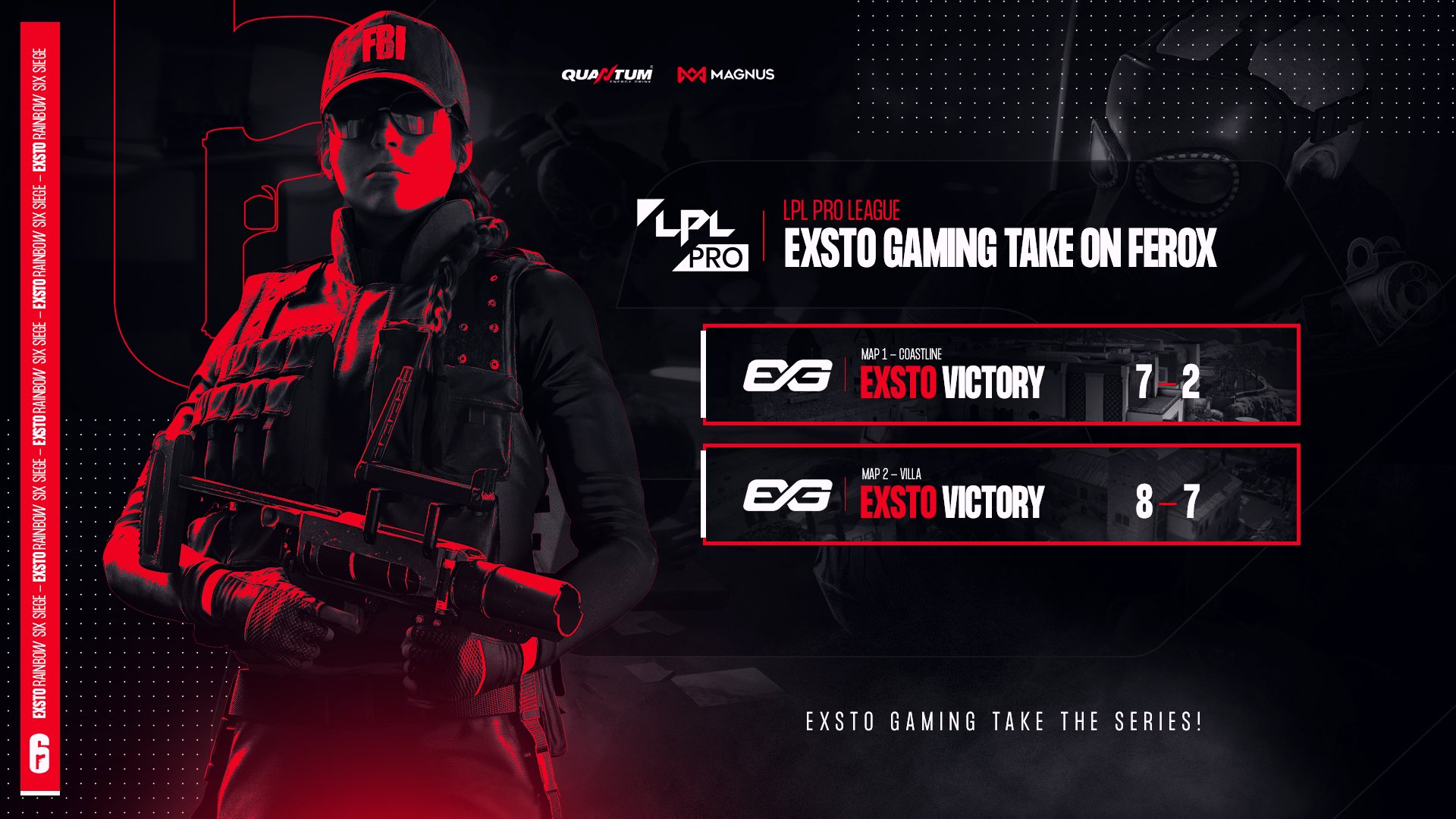 ---
The winners of this qualifier will compete in a double-elimination bracket with Rythm and Ferox for two OCE 2021 spots. You can catch the qualifier this weekend followed by the relegation game itself in two weeks time.
---
Check back here for news on all these tournaments as the four different APAC relegation battles come to a close!
SiegeGG is supported by its audience. When you purchase through links on our site, we may earn an affiliate commission. Learn more