There's been a lot to talk about since now and the Season 10 Pro League Finals.
With the world competitive landscape changing drastically as part of new teams and old lineups changing, the Rainbow Six esports scene doesn't cease to shock or impress anybody. Many tales paved the way for teams to head here, tales of redemption or proving doubters wrong.
While it would be my pleasure to break down every team's tale respectively, here are the tales behind the tape that you must not miss before watching the Raleigh Major.
G2 Go All In For Four-In-A-Row
After being with the team since August of 2016, when they were formerly PENTA Sports, Joonas 'jNSzki' Savolainen was replaced on May 27th of this year after the team wasn't able to make it to the Pro League Season 9 Finals. His replacement came in the form of yet another 'graduate' of ENCE eSports -- former LeStream Esport player Aleksi 'UUNO' Työppönen.
It's hard to say that jNSzki's performances since 2018's Six Major Paris were stellar, consistently placing in the bottom out of his teammates up to Pro League Season 9, where he had a 0.81 Rating. The shifts in play style we saw G2 use, a sort-of 'experimenting' during Pro League matchups where players would accept roles we don't normally see may have some part of explanation to this, but jNSzki regardless had not been performing up to par of what G2's other players arguably could have been.
Since the acquisition of UUNO, G2's on-season play in Season 10 has looked substandard as compared to their usual dominant performances, even taking Season 9 into consideration. Many fans have questioned their record to be a result of picking up the young Finn, doubting their ability to perform at the Raleigh Major.
With a fourth consecutive major title on the line for names like Fabian, Pengu, Goga, and coach Shas[O]Udas, UUNO's acquisition has to shine brighter than it ever has to assure the multinational European champions their throne will not be disturbed.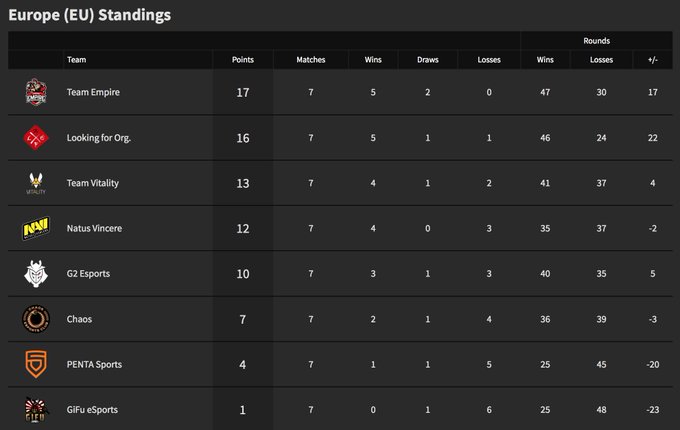 The Red Menace(s)
Team Empire has impressed us all, and let me place emphasis on impressed. Empire plowed through LATAM's last bastion in Team Liquid and crowd favorites NORA-Rengo at the Six Invitational 2019 to face off against G2 in the Grand Final, having only graduated to Pro League in November of 2018. Before the final play days of Season 9, the release of Artyom 'Shockwave' Simakov brought on Danila 'Dan' Dontsov -- a player who had zero experience in either Challenger League or Pro League to play his first-ever global LAN tournament.
Oh, by the way, Dan was by far the stand-out player for Team Empire in Milan and thus voted the SiegeGG MVP of the Season 9 Finals.
Empire have graduated from the juggernauts of Europe to the global juggernauts they are, crushing opponents left and right (and even reverse-sweeping Evil Geniuses in a Grand Final). With a Pro League trophy now to join the rest of the brass in their cabinet, the Russian Machine will press on with all they have to redeem their 0-3 loss at this year's Six Invitational and solidify themselves as one of the best teams to have ever graced Rainbow Six. With the world caliber of talent able to step up and perform above and beyond the regional standard, Empire's challenge might just be greater this time around.
On the other side of the coin, the rise of Russia's B-team has been a storyline to watch since Team Empire dropped Artyom 'Shockwave' Simakov just before the Milan finals. Shockwave's new home would find himself trading places with Dan, now residing amongst Russia's second-place team -- forZe Esports. Always seen as Russia's second-best, forZe first turned heads in the closed qualifier bracket for the Six Invitational this year, knocking out fan favorites Team Secret with a 2-0 victory.
ForZe would then stop the hearts of the Team Empire fanbase as they defeated the Pro League Season 9 champions in the upper bracket of the Russian Major League's Season 2 finals, only to fall to the Empire with a 1-2 loss in the Grand Final. It's been a long time coming for Russia's second best, but their performance amongst the international scene will be a proving ground of their experience thus far.
New Ninjas On The Block
Latin America's Ninjas in Pyjamas were famously known for their success under organization Black Dragons, where they had deep tournament runs against international teams. Yet, since being picked up by the famed Swedish CS:GO-based organization the lineup has yet to get back to their former glory as Black Dragons.
Season 9 saw a new change of pace, with the first core member of this dominant lineup, Pedro 'pzdd' Dutra, departing for the introduction of Gabriel 'pino' Fernandes. Pino's acquisition was beneficial to NiP, however something still felt very off about the team. In the middle of Season 9's second half, Wagner 'wag' Alfaro would depart from the team for Murilo 'muzi' Moscatelli.
Muzi saw very limited play in the early days of the Latin American Pro League, but his reintroduction as part of this lineup was surely an experiment to attempt to grow a rose out from concrete, a gamble for NiP's future in Rainbow Six. As the possibility of LAN dissipated more and more, NiP would hold their ground for a fourth place finish and look forward to the Allied Esports Minor.
The Ninjas' run in Vegas surely seemed like a change of pace for the lineup as they took wins against DarkZero Esports, Chaos Esports Club, and LeStream Esport for the advancement through the Swiss Stage. However, NiP would be thwarted by an insurmountable Chaos Esports Club in the quarter-finals.
With Season 10's first half now behind us, NiP stand undefeated with six wins and one draw- one of two teams internationally to not have faced a single loss in Season 10 so far. Their storyline would only be advanced with the closure of the Six Major Raleigh's Latin American qualifiers, shutting away the powerhouses of Team oNe, Black Dragons, and even Team Liquid from attending.
The Ninjas in Pyjamas are reborn.
The additions of pino and muzi seem to have propelled them thus far, but now they face a new challenge. A new wave of international playstyles await them, looking to rectify their abysmal performance at this year's Six Invitational and write a new chapter of dominance coming from Latin America. NiP stand as one of the most interesting teams in Latin America right now, and will surely turn heads away from FaZe Clan at the major.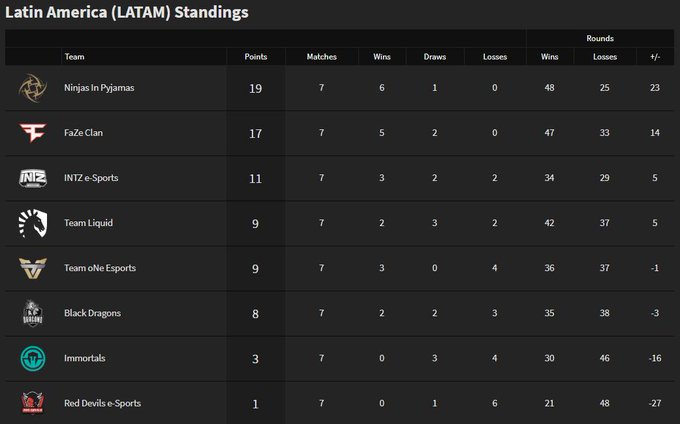 The New Blood of Europe
Since the Milan Finals, we've seen an absolute surge of talent in Europe coming from the sides of ex-LeStream roster Looking For Org and the reformed Team Secret.
With a lackluster performance coming from the side of LFO when they were formerly known as LeStream Esport, it would be Aleksi 'UUNO' Työppönen's departure to G2 Esports that brought on their second German fragger in Lukas 'Korey' Zwingmann. Since picking up Korey, the roster achieved two second-place finishes at both the Allied Esports Minor and DreamHack Valencia and went undefeated for a good portion of the first half of Season 10. LFO will be one of the teams to watch, as they could make the journey to the title a living hell for anyone.
On the other end, Team Secret suffered a heartbreaking start to the year after being relegated to Challenger League. With hearts full and courage high, Secret vowed to return stronger than before. As David 'sTiZze' de Castro set his eyes on retirement to focus on schoolwork, Team Secret brought on a familiar face -- ex-coach Daniel 'Ferral' Rotheram.
Just one month later, Team Secret thrashed through the Allied Esports Minor to earn the invite to Raleigh, smashing through powerhouses such as Ninjas in Pyjamas, Team Liquid, and even LeStream Esport (now LFO) to send a harsh reminder that they were not going anywhere. Ferral's performance was easily a standout, as he finished with a +40 Kill-Death differential in the minor -- just three kills under the #1 spot owned by Maurice 'AceeZ' Erkelenz.
All of these European representatives have everything to show, and nothing to lose. With G2's plateauing and Empire's rise, the skill that teams like LFO or even Team Secret have yet to mature in. This 'new blood' will be must-watch real estate for the global competitive scene, as the major will bring out some of their true competitive spirit.
Turning the Page in North America
The final scenes in Milan showed Evil Geniuses suffering yet another choked grand finals loss, inches away from securing their third international title, only to be shut down by Team Empire. North America still continues to be long-accepted as a farce of the competitive scene, not having won as many competitive titles as Europe despite being within the top tier of the competitive scene. Since then, though, Season 10 and recent events such as DreamHack Valencia tell a very different story.
With DarkZero's acquisition of Paul 'Hyper' Kontopanagiotis, the statistically best North American player of Season 9, in favor of longtime Flipsid3 core member Samuel 'Jarvis' Jarvis, DZ had struggled to put up results very early on. Yet, as of now, Hyper's integration within the lineup seems like it's slowly profiting as he's been transitioned to a flex role rather than his role as a fragger on his previous team, Rise Nation.
However, the shining beacon for North America almost definitely feels like Team USA themselves -- Rogue. Having won DreamHack Valencia to secure the first international victory for the team, the acquisition of ex-Mock-it analyst ReaperEN to join longstanding coach Tristan 'Ranger' Pehrson has seemed to benefit the lineup.
Rogue managed to be one of the two teams to advance 3-0 out of the Allied Esports Minor's Swiss stage, before losing to LeStream Esport 0-2. It was at DreamHack Valencia where two seperate meetups against the same LSE lineup (now under Looking For Org), were 2-0 victories in favor of the North American side.
The introduction of globally-renowned Tier 1 organization Team SoloMid was a sight to behold as they picked up the roster of ex-Excelerate Gaming who just nearly fell within Season 9's relegation matchup. The team had a massive facelift, dropping Brandon 'Shlongii' Escamilla after the late season departure of Tom 'Tomas' Kaka to '92 Dream Team (now Luminosity Gaming). In his place saw both the addition of Bryan 'Merc' Wrzek and famed content creator Jason 'Beaulo' Doty.
TSM saw a rough start in the first quarter of Season 10, achieving their first Pro League victory on Playday 7 to the Susquehanna Soniqs. However, their best-of-three record in between the Pro League matchups have taken out high-tiered North American teams on and offline.
After a shock run at DreamHack Valencia where they were seen taking victories over Team Reciprocity and Team oNe Esports, TSM made an unexpected dream run through the upper bracket of Six Major Raleigh's North American online qualifiers. They would repeat prior victories against Reciprocity and a 2-0 against both Luminosity Gaming and Spacestation Gaming- earning them the direct invite to the major.
These representatives look to make quite a dent on home soil, in order to bring North America their first critical international win since Continuum's victory at the Six Invitational 2017.
The Beasts From The East
In Rio de Janeiro, November 2018, fans were awed by the spectacle of a Etienne 'Magnet' Rousseau-less Fnatic lineup (with coach Jayden 'Dizzle' Saunders standing in) flushing away Evil Geniuses' hopes and dreams away with a 2-0 victory against the North Americans in the Quarter-Finals of the Pro League Season 8 Finals. People thought it was just a fluke, a win from 'ranked' playstyles, APAC would never step up to the plate like they did.
Since then, we've discovered that APAC teams are not to be messed with -- as Fnatic would advance out of their Six Invitational 2019 group first by winning against both FaZe Clan and Team Reciprocity. MantisFPS (now under Cloud9) would be one of two teams to take G2 Esports to overtime at the Invitational, while NORA-Rengo would win the hearts of Montreal over with their antics and victories against PENTA, Fnatic, and taking a map off of Team Empire in the Semi-Finals. At the Pro League Season 9 Finals, Fnatic managed to take one map off of Empire as well despite losing the series.
APAC has continually proven itself to be one of the stronger regions, with representatives such as Fnatic and NORA-Rengo holding that title high. However, the region has always seemed to fall to unlucky grounds as being continually seeded in intra-region playoffs matchups rather than against other regions. NR's usual dominance within the Japanese scene has recently been somewhat overshadowed by the upsurge of CYCLOPS Athlete Gaming, who happened to be the recipient of the APAC Qualifiers spot just earlier this month.
Barring the infamous coincidence of APAC teams happening to be seeded against one another, could the Six Major Raleigh be yet another turning point for APAC representation in the global competitive scene?
---
Keep up-to-date with the Six Major Raleigh by staying tuned right here at SiegeGG, as we will continue on with our coverage both before and during the Major to keep you informed.