For the fourth year running LAN tournaments will be run at the Parc de Expos in Paris this weekend. Here, hundreds of players will meet to compete in a purely LAN setting for a €7,500 prize pool and to be the latest team to win this prestigious title. While previous years have included an XBOX tournament as well as a PC one, this year will be the first to forgo the console event due to a lack of signups, with an Overwatch XBOX tournament replacing it.
Previous Champions
2016:
PC: Team Nitrado - Liven, risze, xAeee-, Stooflx and RazieL
XBOX: Team Vitality - FuriouSG, BiOs, KRiiSKO, AnThraX and Squall
2017:
PC - Millenium - Sixquatre, Joghurtzz, sTiZze, Liven and Renshiro
XBOX - iGamerz - ProYo, Eaqz, Quadzy, XKS and M4C
2018:
PC - Team Vitality - ZephiR, BiBoo, RaFaLe, Spark and BriD
XBOX - WanteD OpFox - NeYoX, Rwxnn, Smrtyu657, JoKeRsS and Escobar
This Year's Teams
While we can't list all 46 teams, there are a number of notable names attending this event hoping to take the title:
LeStream Esport: UUNO, Hicks, risze, Alphama, AceeZ and Crapelle (their coach)
The only French organisation in the Pro League will be the favourites to take the title, with Valentin "risze" Liradelfo hoping to win back the title after his 2016 Gamers' Assembly victory. While the team will clearly not be giving anything away as the online season of the Pro League nears its end, the pure fragging power of risze, Aleksi "UUNO" Työppönen, and Maurice "AceeZ" Erkelenz makes them a true force in Europe nevertheless.
Team Vitality: BriD, Spark, BiBoo, sNKy, Quaal and Lyloun (their analyst)
The reigning PC champions will be hoping to retain their title after falling quite far from their heights at the last Gamers' Assembly event. Since that title victory, they found themselves demoted from the Pro League in Season 8. The drop followed by two major roster changes which saw both David "sNKy" Khalfa and Jordan "Quaal" Leroy join the team. They now sit undefeated in the Challenger League and are the clear favourites to make it back to the top league in competitive R6, and a victory here could perhaps show the rest of Europe that they are back up to the level we expect of this roster.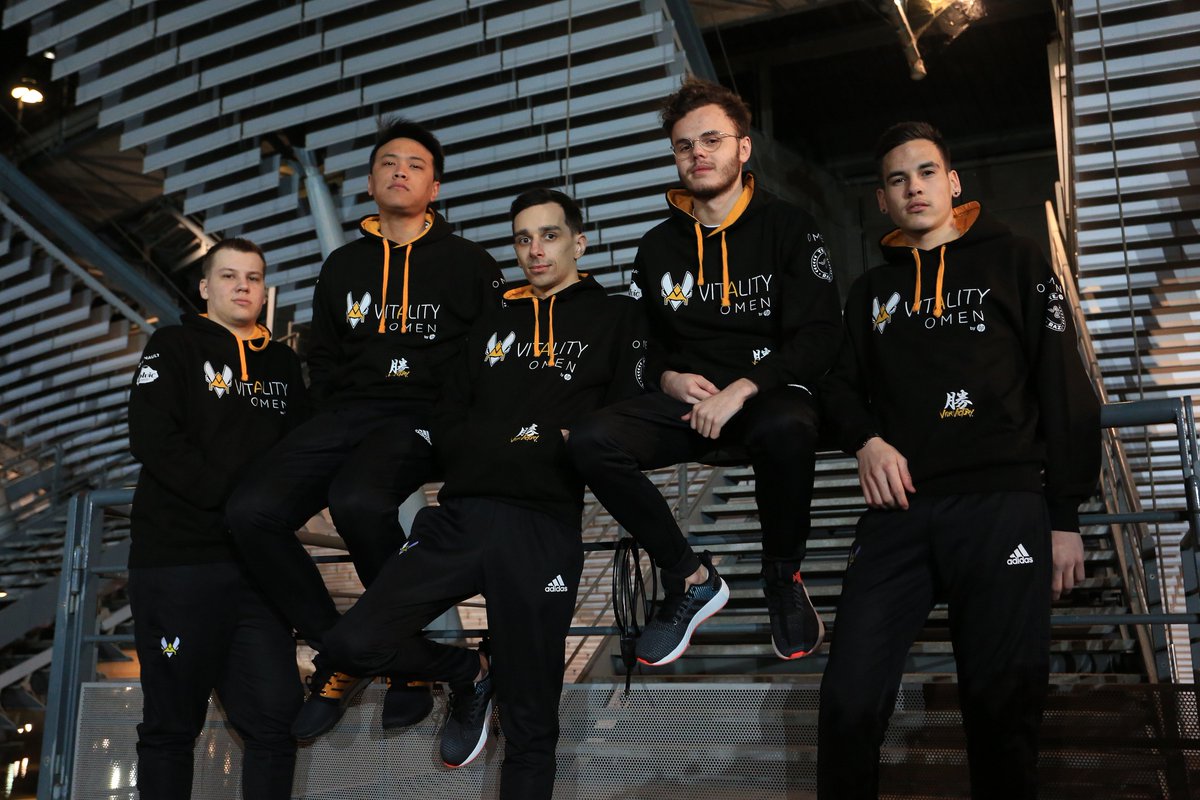 Supremacy: Alive, Djuz, KSiiX, Tactics, Poseidon and AlphaX (their analyst)
Similar to Team Vitality, Supremacy was also demoted from the Pro League last season and are currently battling against Trust Gaming, Team Vitality, and XTreme Video Esport to make it back to the Pro League for Season 10. The roster also saw some changes after the start of the season, with Alexandre "AnThraX" Ausesky being replaced by Grégory "Poseidon" Maisonneuve who rejoined the Supremacy organisation almost two years after leaving it to pursue a career as a professional PUBG player.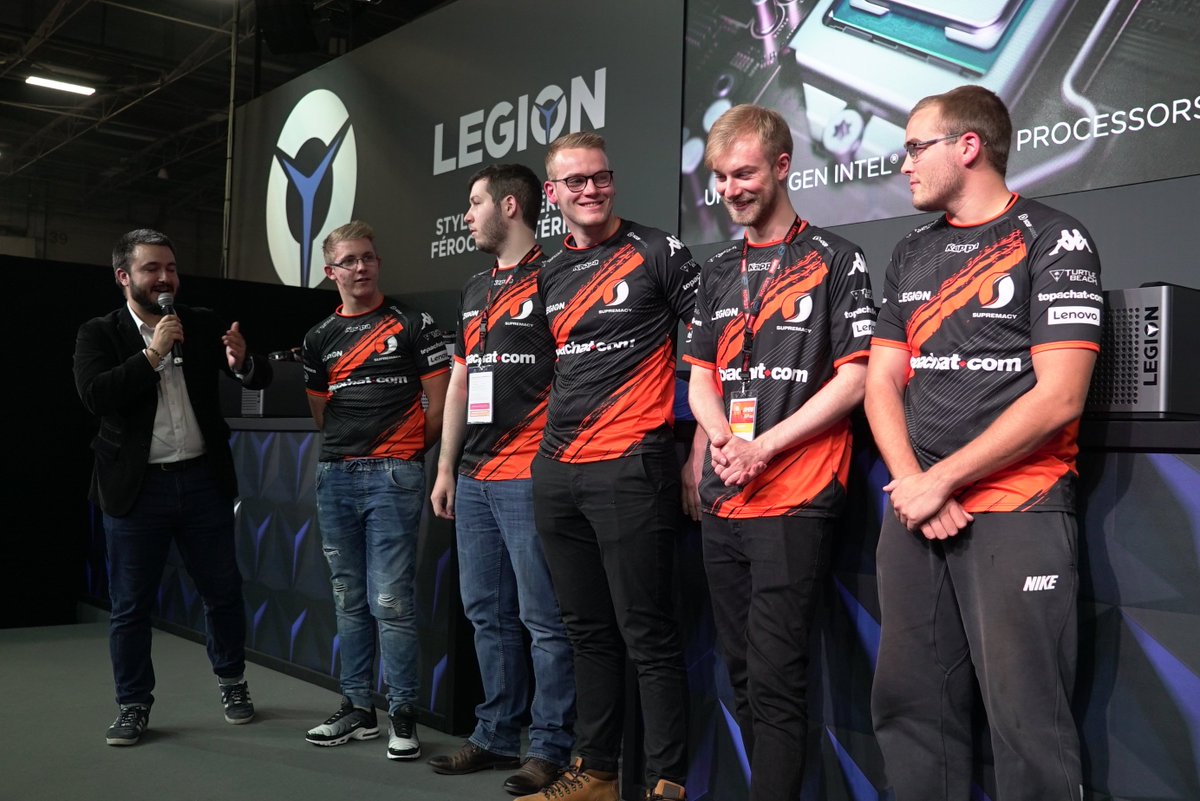 XTreme Video Esport: Lion, Joghurtzz, Liven, Renshiro, Voy, Falko and fiskeR (their coach)
Comprising the core of the Season 7 Millenium roster, as well as the only two times Gamers' Assembly champion in R6 history (Gaël "Liven" Gruyere), this team is one of the strongest in attendance on paper but has really struggled in practice. They currently sit in sixth place in the EU Challenger League with a 4-2-6 W-D-L record so far and will likely fail to make it to the playoffs. In order to remedy this, the roster has brought in the Season 3 XBOX Pro League Champion of Yacin "Lion" Benaziza to replace the Season 2 PC Pro League Champion of Vincent "Falko" Baucino with some very mixed results so far.
Nice caveira play: Aherys, NoerA, ENEMY, Elemzje and RevaN
Finally, we have the core of the ex-Vitality roster in "Nice caviera play" which sees two players from PENTA, Julian "ENEMY" Blin and Jean "RevaN" Prudenti, their ex-teammate and current Team Secret player, Bryan "Elemzje" Tebessi, the ex-Millenium player of Eric "Aherys" Rajot, and the reigning Benelux League champion of Noé "NoerA" H. come together to form a team specifically for this event. While they clearly wouldn't have practised together prior to the event, this is still a very highly skilled roster and will be a tough challenge for any unprepared teams that will come against them.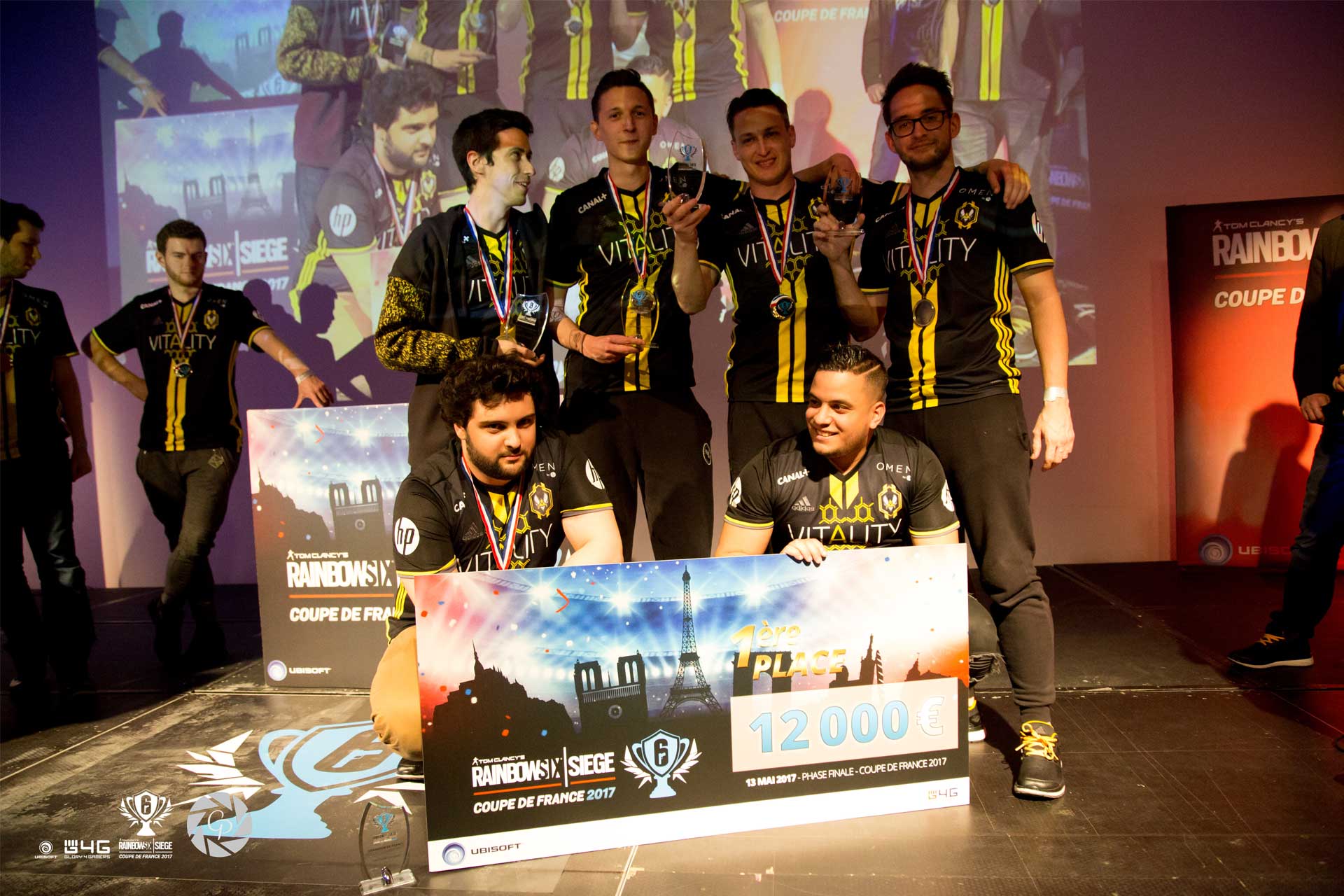 Trust Gaming: Meadzzz, Deapek, Avaiche, Leonski, Quadzy and Anthony (their coach)
The Dutch majority roster will be attending this event as the only team without a single French player as they hope to cause a major upset in Paris. They bring with them an ex-Gamers' Assembly champion in Zeb "Quadzy" Esser and a significant amount of experience against some of the favourites from their recent Challenger League games against Vitality, Supremacy, and XTreme making them a very likely contender for the title.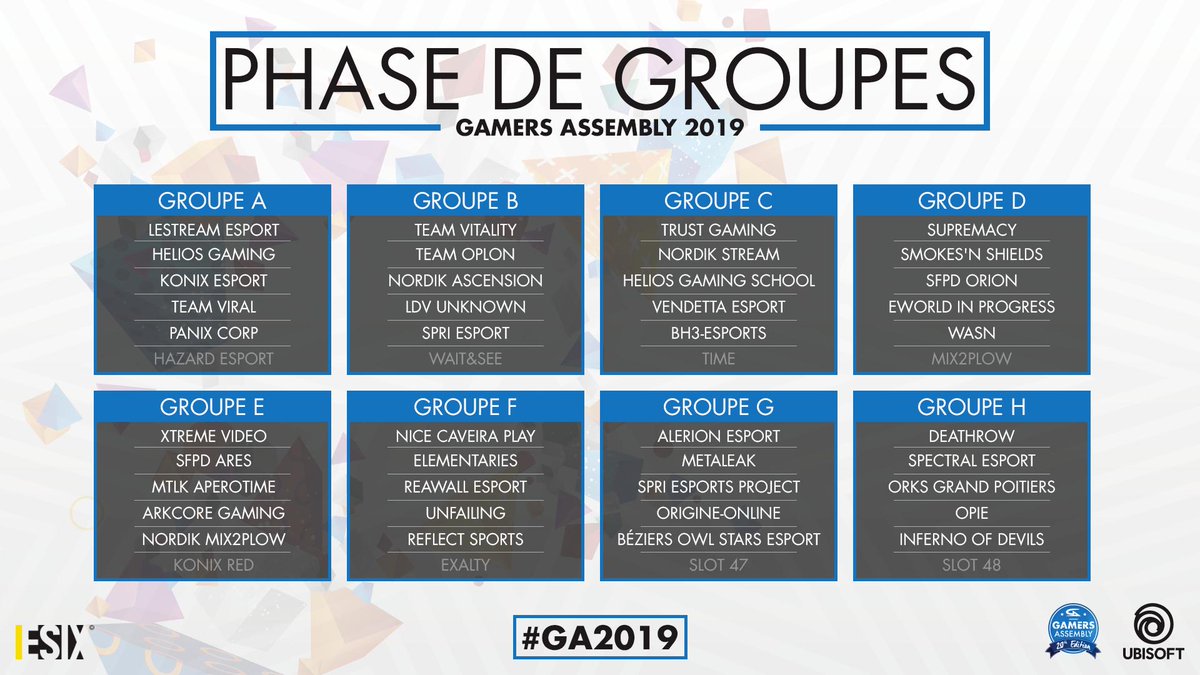 The Format
While previous year's competitions consisted of 18 and then 29 teams in the PC tournament, this year's lineup of 46 teams presents an unprecedented scale of the tournament we have yet to see in R6 before. The teams have been split into eight groups of six teams each (as shown above) who will play in a Best-of-Two maps round-robin format, with the top two teams in each qualifying to the playoff stage. The playoffs will then see a standard single elimination Best-of-? bracket to find the eventual champion of the Gamers' Assembly event.
This format is a similar one to previous GA R6 events, however, it lacks a losers' bracket, unlike the 2018 tournament. This fact has already been brought up by many people as an issue already including by the two-times ex-Gamers' Assembly Champion of Liven:
"The most disturbing point, in my opinion, is the lack of loser's bracket, which is extremely punishing on Sunday especially when you ask to play 10 maps in a row."
The Broadcast
The games will start at 10AM on Saturday and 9AM on Sunday on the ubisoftfr and esix_france Twitch accounts and will be cast by the French talent of Fio', Kivvi, Swish and Nespose.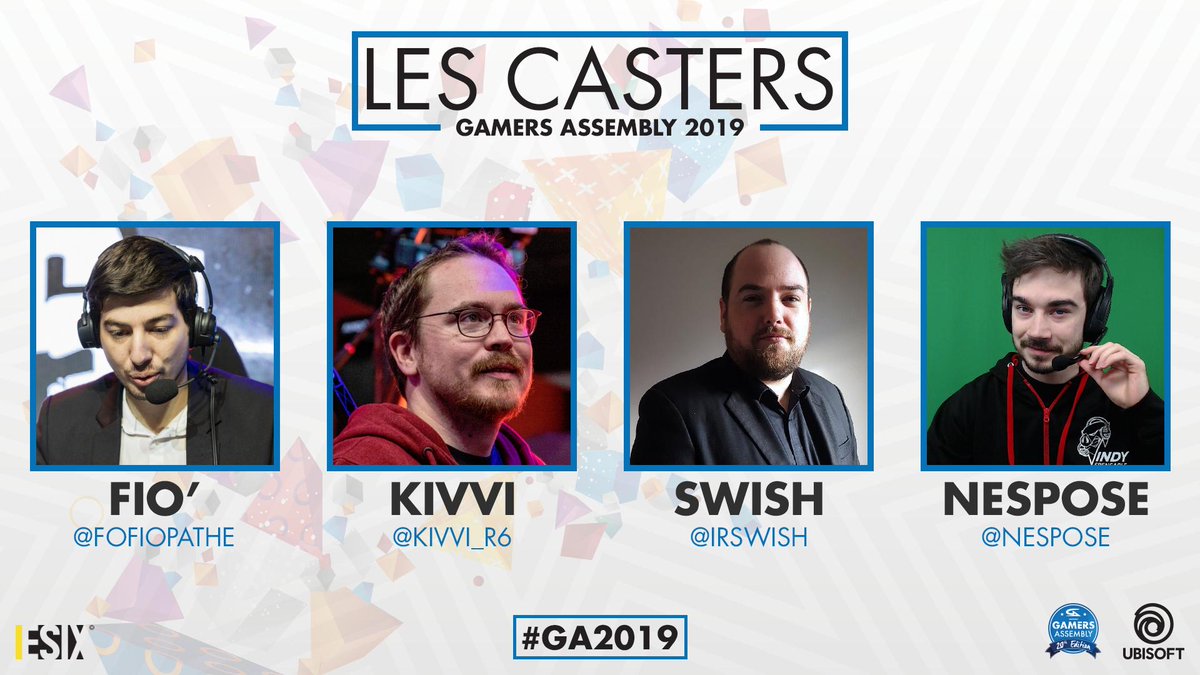 We spoke with Fiorenzo "Fio'" Elba, one of the star talents at the event and the analyst of XTreme Video Esport and the owner of the Team SFPD organisation, to ask him about his career within R6 and what we can expect from this tournament:
Firstly, can you introduce yourself and your various roles within R6?
Hello, I'm Fio', I'm 27 years old and I've been following the Rainbow Six Siege scene since the first Pro League season (Y1S1). Right now, I'm a caster for Ubisoft France, but also an analyst for the EU Challenger League team XTreme Video Esport and I present the R6 esport news for ESIX every Sunday.
This will be your third time casting a Gamers' Assembly event -- what is it like casting such a large event with hundreds of players involved?
It's always exciting because it's really THE meeting place for the French community every year. It's like an R6 family gathering. Every year, I get out of there tired, but it feels so good to see players, casters, coaches, and viewers again. In a word, it feels like home and it's my world. But this year, there will be more pressure. I'll cast for Ubisoft and I'll have the honour of casting the final on stage.
You also work as an analyst for XTreme Video Esports -- what can we expect from this roster at this event?
The team has good momentum and their progress has been impressive for the past few weeks. We expect them to be at their full potential and enjoy the event. Our goal is to prepare the upcoming season. We win together, we lose together!
"It is with great pleasure that we announce the arrival of our new analyst! Welcome home @fofiopathe!"
Over the last few weeks of the Challenger League, Lion has been playing in lieu of Falko on XTreme -- what led to this change and what does Lion bring to the team?
A change was needed for the collective well-being of the team. In addition, the arrival of Lion has allowed us to reshape the roles and change their playing style. Now, I'm curious to see what Lion will bring to a LAN environment.
In the past, we have seen some of the top French teams in R6 win this tournament -- who are the must-watch teams this year and which teams may cause a surprise?
I won't be very original, but LeStream and Vitality remain the favourite teams of the competition. But during a LAN game, you have to be wary of all teams. I particularly can't wait to see the Elemzje, RevaN, and ENEMY trio at work, which reminds me of the era of Aera Esport. Among the less known teams, watch the AlerioN eSport team very closely. They had a great performance at Lyon e-Sport and the arrival of SangraL in their team can push them even higher.
What advice do you have for casters who are trying to make it to this level?
Do it with passion. There is nothing more motivating than passion! Do not hesitate to cast Go4s, amateur tournaments, etc. I take as much pleasure to cast the Go4 France as I do for a DreamHack. I like this game and I do not see myself anywhere else! R6 is life.
Is there anything you'd like to say to you and your team's fans?
Thank you to all the people who supported us during the difficult times of this season. Your constant support allows us to keep fighting and thanks to you, we will make it through. A big thank you to everyone who encouraged me, you're the reason I got this far. A big thought for Scok and Furious who will not be present for this Gamers Assembly, I love you guys!

And finally, a big thank you to SiegeGG for the quality work!
The Event
With 46 teams scheduled to attend the event, this is easily the largest tournament ever by player numbers in R6 history, beating out last year's Gamers' Assembly numbers. As well as R6, the Gamers' Assembly event will include 21 other tournaments across five platforms including LoL, CS:GO, and Overwatch to name a few.
This will, therefore, bring in a gigantic total of 2,500 players to the event as well as an estimated 25,000 spectators over the three days, with the bill totalling at €800,000 after involving around 450 volunteers. If you wish to attend, spectator tickets cost €7 for one day and €15 for the entire three-day event.
---
The event will kick off at 10AM CEST on Saturday, the 20th of April, and will continue till late Sunday evening when the next champion of this historic French tournament will be crowned. Check back here at SiegeGG for more coverage of events such as this around the world.