Image: Ubisoft/Kirill Bashkirov
The Six Jönköping Major kicked off this week, with the quarter-finals taking place today, starting with w7m esports vs Black Dragons e-Sports.
The matchup where the teams selected Theme Park, Villa, and Clubhouse as the maps was expected to be a one-sided contest and w7m didn't disappoint. Their 2-0 win has sent them through to their second semi-final in a row, after FaZe Clan knocked them out at that stage at the Berlin Major.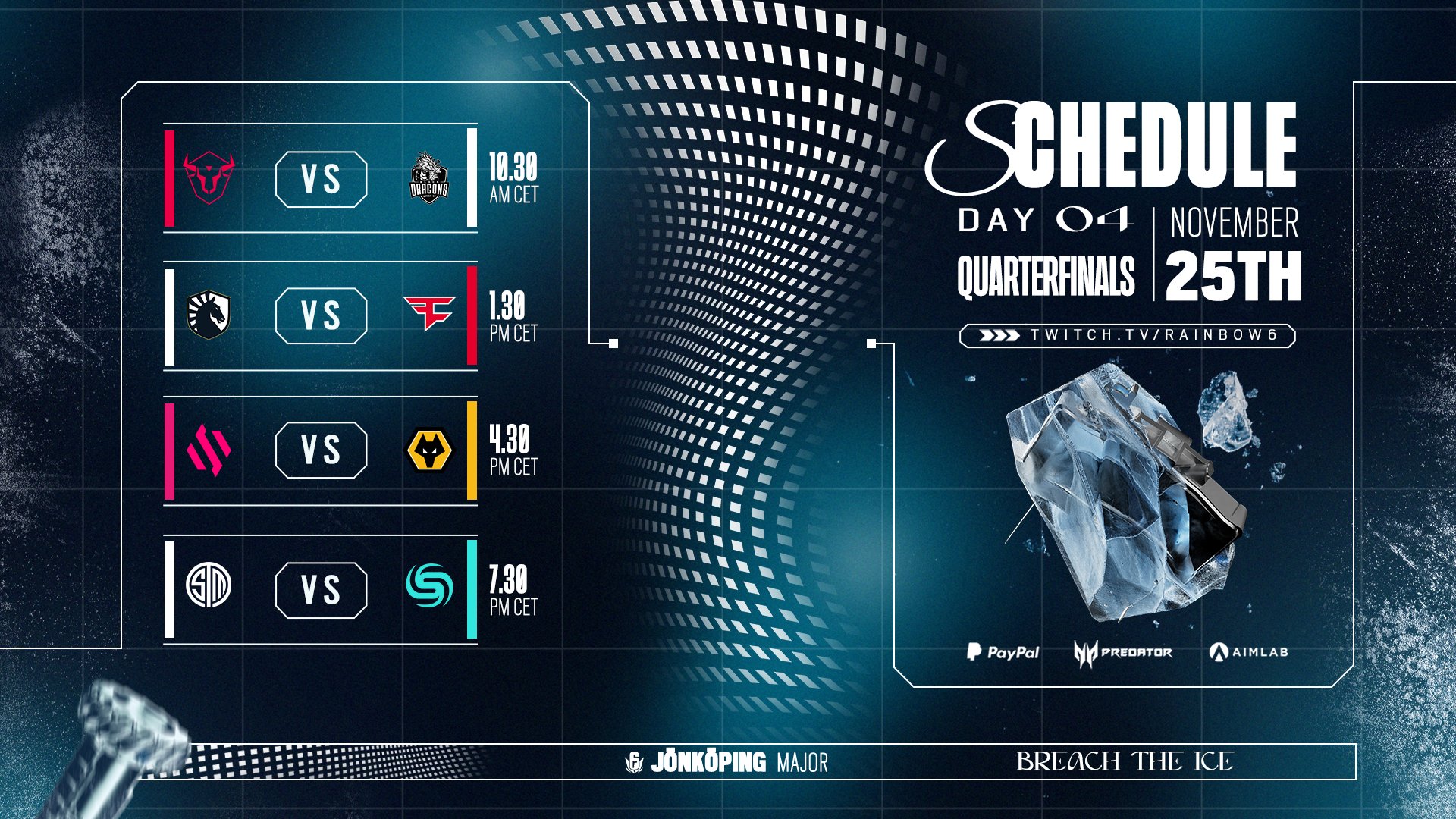 Here's how the first game of the day played out.
Theme Park
Theme Park had been a permanently-banned map for w7m esports all year, with the team unbeaten on the other two maps selected. As such, a win here was imperative for Black Dragons to keep their hopes alive. But Diego "Kheyze" Zanello began the playoffs where he had left off in the group stage with a triple kill on Oryx.
Black Dragons initially seemed to know what they were doing on the map, as they put together two attacks by catching Kheyze off-guard on the roam both times. But w7m were unfazed, as Gustavo "HerdsZ" Herdina won a 1v2 with a triple kill on round five to mark the first clutch of the playoffs:
From here, everything fell apart for Black Dragons. As they moved onto the defence, they were down 2-4 -- not a bad place to be after attacking Theme Park -- but Vinicius "Patoxy" Lima lost a 1v1 on time against João "Jv92" Vitor, nade was left on site in a 1v3 with 50 seconds to go, and Julio clutched against Vitor "peres" Peres, who was attempting a 1v3 of his own.
This ended the first map -- Black Dragons' own pick -- in a 7-2 result..
Villa
On Villa, Black Dragons started on the attack. Multiple jump outs set the tone of the map immediately, as peres was left in a 1v5 situation just halfway into the round and without a single player having even entered the building. This included HerdsZ on Frost getting a double kill while freely running around outside.
After this, they tried a fairly straightforward horizontal take and simply fell straight into the w7m roamers' clutches, losing almost every initial engagement
After an extended technical break, Black Dragons finally got on the board due to a quadruple kill clutch from nade. But w7m responded instantly, leaving Patoxy in a 1v4 on the Villa balcony on round four -- the same position we saw Black Dragons in round one.
A largely off-site hold added a second round to Villa's total -- once again a solid result while on the attack -- before w7m took round six from a 4v4 to a win in a matter of four seconds to lead 4-2.
Eventually, with just two deaths in the final two rounds, w7m took two more blowout attacks to take the map, 7-3.
This sent w7m esports through to the Six Major semi-finals once again, where they will either face Team Liquid in a Copa Elite Six grand-final rematch, or FaZe Clan in a Berlin Major semi-final rematch.
Statistics
During map one, peres was the best player with 14 kills to seven deaths. Most of w7m went negative, despite the very one-sided scoreline as the map was closer than the scoreline suggested.
HerdsZ, meanwhile, was the top fragger on Villa with 12 kills against six deaths.
Across both maps, the most remarkable figure saw Kheyze, the standout player during the groups, finish with the second-worst SiegeGG Rating in the match and with the joint-fewest kills in his team.
We also didn't see him put up figures such as those we saw in the groups during the BR6 or CES seasons, meaning it's possible he just excels against non-BR opponents; an issue considering their semi-final is against a Brazilian roster.
W7m lost just one out of their seven offensive rounds played. This improves their already excellent offensive win rate, pushing them ahead of Wolves Esports' total and only behind TSM in this metric.