Buy the Year 8 Pass on Xbox and get early access to new operators, premium battle passes, and discounts.
Available until March 20th.
Shop now
Image via Ubisoft/@itsmeerror
With at least six games now played in all four regions, here's a breakdown of some of the more impressive numbers behind last week's results.
Cryn overtakes Sloth as EUL's top player
Heroic's Jake "Sloth" Brown has been one of the most impressive players during this stage of the EU League with him previously topping the league statistically with a 1.46 SiegeGG Rating.
This week Sloth initially added to this with a 1.81 rating against Secret only to then be neutralized by BDS. While Heroic did manage to win 7-5, Sloth hit a 0.46 rating with two kills to nine deaths. Luckily for the team, Benjamin "Benjamaster" Dereli and Georgi "GorgoNa" Stoyanov more than made up for this with 26 kills between them.
This performance has led Sloth's EU League total rating to drop to 1.27, which puts him just ahead of BDS' Stéphane "Shaiiko" Lebleu on 1.24, G2's Ben "CTZN" McMillan on 1.23, and MNM's Josh "Yuzus" Pritchard on 1.22. Well ahead of everyone, meanwhile, is Rogue's Pascal "Cryn" Alouane on 1.44.
Cryn is currently leading the SiegeGG Rating, kill differential, KOST, kills per round, survival, and 1vX statistics in the European League. He is also one of only nine players with a defuse, is third by entry differential, and ninth by plants.
In contrast, during stage three cryn ended with a 1.03 rating which rose to 1.05 at the Sweden Major, and then down to 0.96 at the Six Invitational.
This rise in performance has been key in Rogue keeping a top position in the league after both Kevin "Prano" Pranowitz and Maurice "AceeZ" Erkelenz left during the February transfer window.
w7m breaks BR6 record with nine straight victories
w7m esports' remarkable 7-1-1-0 record in this stage's BR6 League gives them the longest win record in the tournament's history with eight. The record was previously held by FaZe Clan after they won seven games in a row through stage three of the 2021 Season. FaZe notably went on to win the subsequent Six Major.
W7m's 24 point count is also a record within the region beating out FaZe's 21 which they earnt during their seven-game streak. Globally they were also only one point behind BDS' record of 25 which they hit during the same stage. This doesn't take into account the change in formats over time or between regions.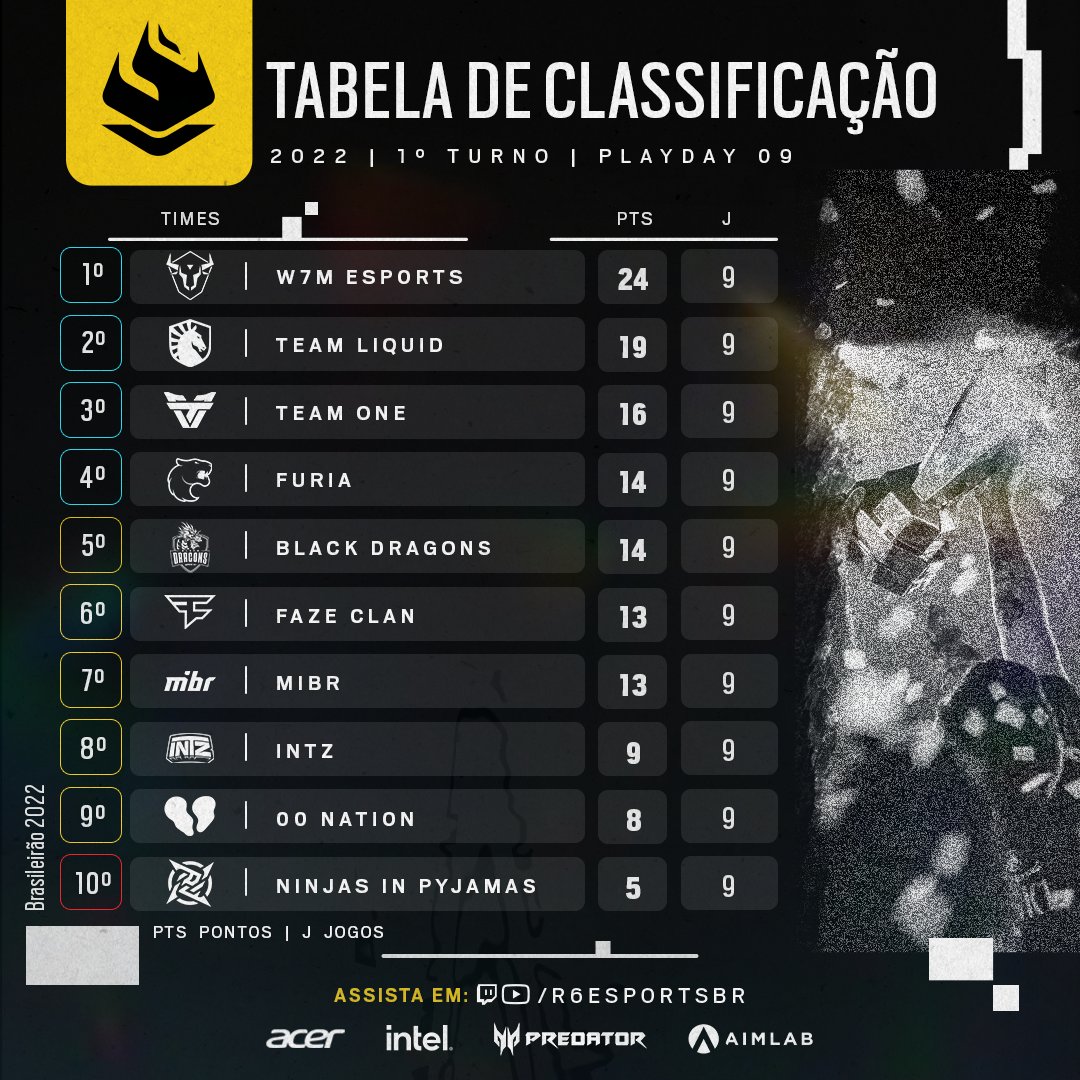 Oxygen's statistical dominance is challenged
In last week's stats of the week, we noted how for survival and KOST statistics Oxygen locked out the top four and three spots respectively. As well as this three of the top five kill differentials are from Oxygen players, and both Franklyn "VertcL" Cordero and Gabriel "LaXInG" Mirelez are first and second by rating.
Two games later, things have changed. While Oxygen is still the statistical leader leading five out of six highlighted statistics, they are now being challenged by a number of other players in all categories.
They dropped four points across these games following a 5-7 result off-stream against SSG followed by a close 8-6 win over Parabellum. While VertcL continued his excellent performances with a 1.31 and 1.42 rating respectively, each of his teammates struggled in at least one of these games.
The biggest improvement statistically over the last week was XSET, as the team broke into the top four with comfortable 7-3, 7-2 wins over beastcoast and Mirage. This has led three members of the team – Evan "Yoggah" Nelson, Lucas "DiasLucas" Dias, and Leonardo "Kyno" Figueiredo – to push into the top six players by SiegeGG rating. Along with SSG's Alexander "Skys" Magor this also means five out of the top six players have previously played with Davide "FoxA" Bucci and LaXInG.
Statistically, the absolute best performance of the week came from Astralis' newest pickup, Roman "Forrest" Breaux. A 2.70 SiegeGG Rating -- 18 kills to two deaths -- led his team to a 7-1 win over TSM which, short of a miracle, rules TSM out of a chance to qualify for the Charlotte Major.
Elevate overtakes SANDBOX to become the most consistent performer in APAC
Looking at the performance of all 16 APAC North and South rosters in their own sub-regional leagues since the start of the 2020 Season, Elevate has now taken the title as the most consistent team in the region has finished in the top four in all six stages so far.
Prior to this stage, Elevate and SANDBOX were tied on an average finish of 2.8th place, with SANDBOX's fourth-place finish in APAC North, pushing them down into second. Similarly, DWG jumped up three places up to fourth overall after topping the leaderboard in APAC North.
These results illustrate well how Elevate qualified for the 2022 Six Invitational without ever playing in a Six Major tournament, as they're incredibly consistent. The only time they ever topped their league was during Stage 1 2021, however, the subsequent Six Major was replaced by the delayed SI 2021 tournament.