Photo via Ubisoft/@Kirill_Vision
NA's statistical dominance
Oxygen's Ethan "Nuers" James topped the group stage by SiegeGG Rating, while Astralis' David "iconic" Ifidon had the best fragging record, and DarkZero's Tyler "Ecl9pse" McMullin had the most plants. Considering those three NA teams topped their respective groups, strong statistics are to be expected, but it's notable that no one NA team or player scooped all the stats. They're all doing good.
The most consistent team is…
Team Liquid's performance across their team is remarkable. Luccas "Paluh" Molina, Gabriel "AsK" Santos, André "nesk" Oliveira, and Pablo "resetz" Oliveira finished as the group stage's fifth, sixth, seventh, and eighth-best players by SiegeGG Rating despite sitting in a very competitive group.
The next highest rated pairs of players are Nuers in first and Davide "FoxA" Bucci in 14th, showing how ridiculous it is to get four players in the top eight. Liquid's fifth player is Paulo "psk1" Augusto, who may lack in rating but does at least have the tournament's highest survival and the joint-fourth most clutches of all playoff-qualified players.
A lack of reliance on Paluh or nesk arguably makes this the best looking Liquid roster ever.
EU's overtime failures
The Six Major saw eight out of 42 maps -- 19 percent -- go to overtime. This sits in the middle of the 14.5 percent seen during the Sweden Major groups, and the 27.9 percent at the Mexico Major groups.
Four of these eight overtime games involved DarkZero as they beat G2 twice and Heroic once but then lost to w7m.
Six out of eight overtimes also included European teams, all of which a European team lost. This does, however, include the BDS vs Wolves French derby. If European teams had won all these overtime games instead of losing them, BDS and G2 would have each topped their group showing how close the groups were.
Chiefs entry record
Despite failing to win a single point at the Charlotte Major, Australia's representatives, Chiefs Esports Club, had one of the very best entry records in the tournament.
14-3 from Ethan "Ethan" Picard and 11-4 by Trent "Worthy" Mitchell-Rose were the second and fourth-best opening engagements records with the only duo being close to them on this metric being Liquid's Paluh and AsK.
Unfortunately, it's a very impressive record that they could not capitalize upon.
Another notable performance from the Chiefs came from Worthy who somehow got three defuser disables despite not winning any clutches. The next best any entire team earnt was just two disables. This implies Chiefs excelled on retakes.
FURIA's bad on entry
In the exact opposite case of the Chiefs, FURIA Esports had the two worst entry players as Willian "Stk" Costa went 6-13 and Diogo "Fntzy" Lima went 7-14. These two were playing from Mexico City which likely was a major reason for the performance. It was also Stk's first global event having debuted in the BR6 League in March.
APAC at the bottom
While Chiefs didn't win a single point, it was CYCLOPS who had the worst individual numbers. The bottom six players by SiegeGG Rating include three CAG players, two from Dire Wolves, and one Chiefs member.
The closest rated player in the playoffs is Bryan "Elemzje" Tebessi on 0.85 followed by Kevin "Prano" Pranowitz at 0.87
Bank's bizarre win rates
Bank is the Charlotte Major's most played map so far and has a 47 percent defensive win rate making it the third most even in the nine-map pool.
This number, however, is very misleading as the Lockers objective in the basement has a 63 percent defense win rate, the fourth-highest of all sites with more than 10 rounds played. The Open Area and CEO objectives, meanwhile, have a 39 and 35 percent win rates hence the even overall count. These numbers makes CEO the most attack sided site of all those played more than 10 times.
The most skewed objective the other way is Oregon's Laundry objective with a 71 percent win rate.
Rematches galore
While the sheer number of LATAM and Korean teams at prior Six Majors meant that many of the playoff matches were brand new, the Charlotte Major looks pretty likely to see repeats of previous iconic meetings.
Firstly, we have G2 vs Liquid in the quarter-finals, which is technically a rematch of the Season 7 grand-finals, even if only Thomas "Shas" Lee remains from the European lineup.
In the semi-final, G2 may also face DarkZero, which is a flashback to Troy "Canadian" Jaroslawski's two losses against Shas' roster at SI 2018 and the Paris Major grand-finals. DZ themselves, meanwhile, will look at Ben "CTZN" McMillan and Jack "Doki" Robertson, who were parts of the NAVI roster that they met at the Season 10 Pro League Finals although Doki didn't play.
Finally, for G2, a semi-final meeting against oNe would be a battle between oNe's Lorenzo "Lagonis" Volpi and G2's Karl "Alem4o" Zarth to decide which Mexico Major teammate will fight for their second Six Major title.
The last time Liquid played Canadian was at the OGA Pit Minor grand-final, where Paluh claimed his first and only global title to this day, while Lagonis and Alem4o previously knocked DZ out of the Sweden and Mexico Majors.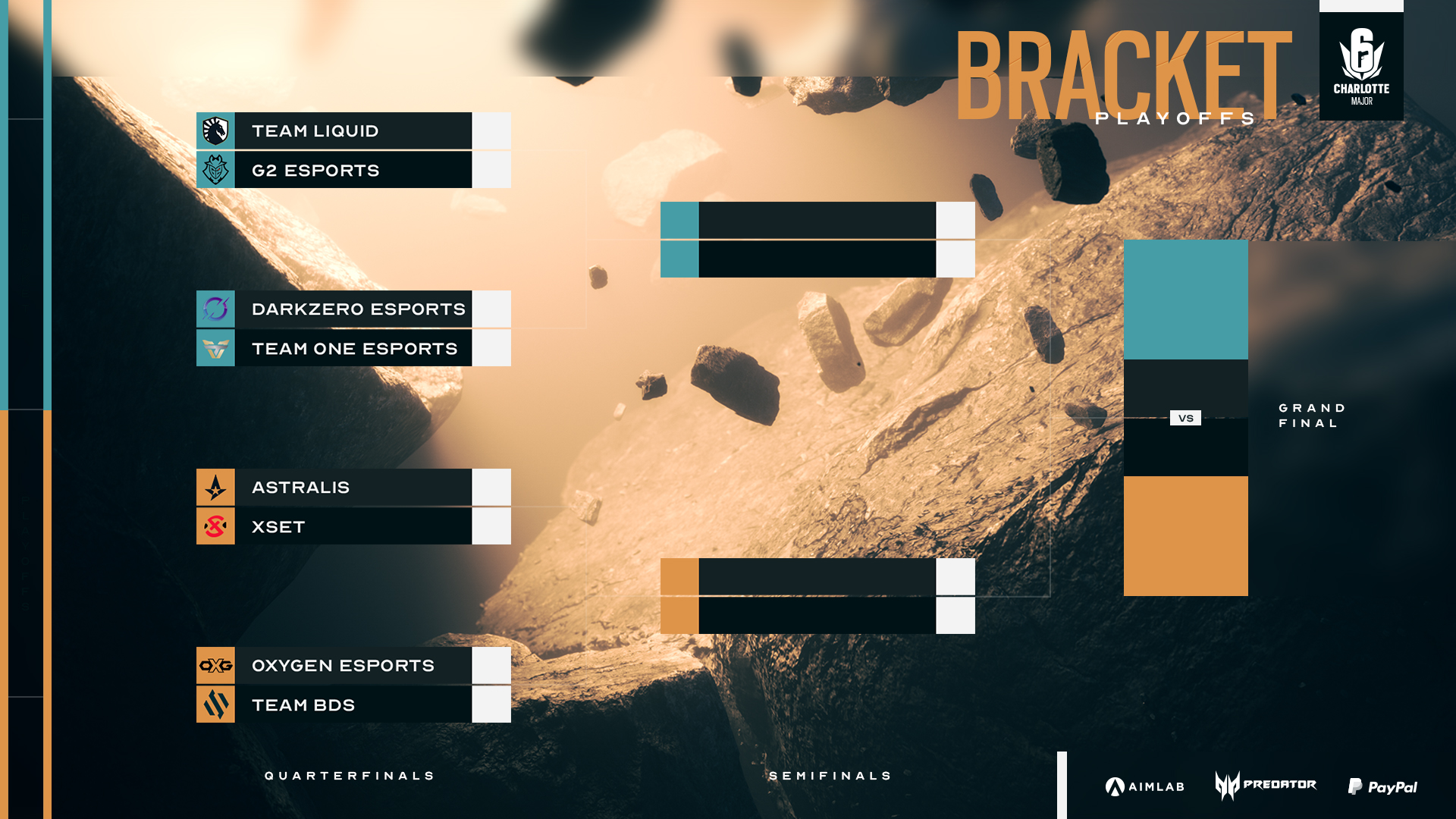 Obviously, Astralis, XSET, and Oxygen have met numerous times in the NA League, however, BDS did knock Oxygen out of the SI 2020 tournament, only for DarkZero to beat BDS in the following playoff game.
Oxygen themselves were knocked out by the old G2 roster at the SI 2019 semi-finals and by CTZN at the Season 10 Finals.
Finally, the way the playoff has worked out means that we could see a Stéphane "Shaiiko" Lebleu vs Paluh grand-final as two of the greatest fraggers in Siege history fight for their first tier-one title. Also possible is Aaron "Shuttle" Dugger vs Tyler "Ecl9pse" McMullin who were previously teammates on Rogue but have never made a grand final at a Major.