Image: Ubisoft/Joao Ferreira
The Six Jönköping Major kicked off this week, with the quarter-finals taking place today. North America's final two teams met in the final game of the day to determine who would face Team BDS on Saturday.
The matchup, which saw Villa, Theme Park, and Clubhouse selected, included a key grudge match. Soniqs' Geometrics aimed to eliminate his old teammates who he won a world championship with earlier this year and who kicked him from the team in August.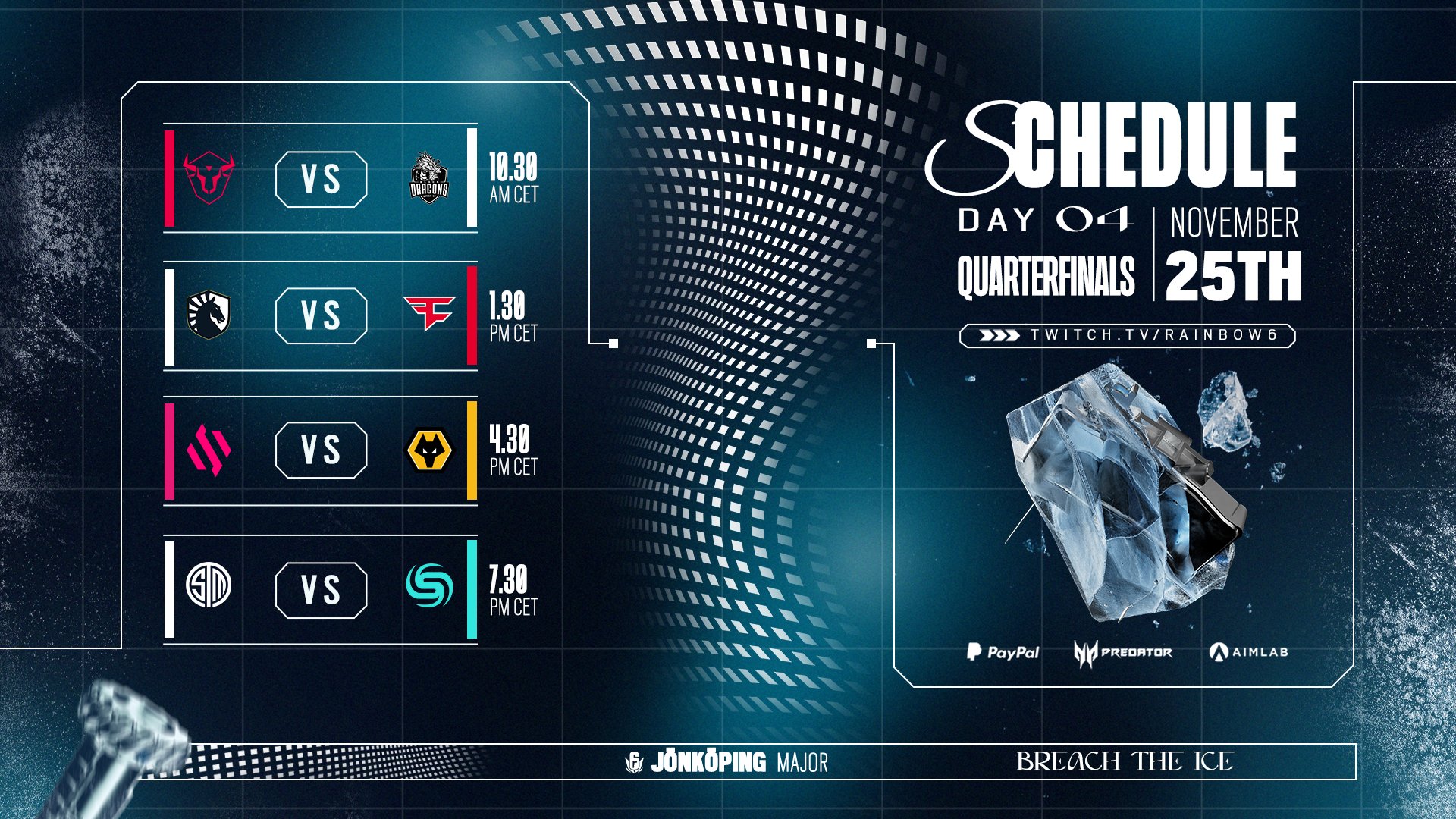 Here's how the biggest match in NA Siege in six months played out.
Villa
The very first round included a double kill from Beaulo before he got a bit too eager and ran into Gunner's Kapkan trap. Kanzen also managed two kills, including one against Gasher to win the round.
Beaulo simply upped it to a triple kill to win round two, before doing it again in round three. At this point, Beaulo had eight kills to just one death just three rounds into attacking on Villa.
Beaulo was taken out just one kill into round four due to Gunnar's Kapkan trap for the second time. Still, no one had actually shot Beaulo to death -- he had fallen only due to carelessness, and bad droning. But with him dead, Soniqs tied up the score once again.
Snake and Merc, who are meant to back up Beaulo in the kills department, had zero kills to seven deaths at this point ,which effectively neutralised Beaulo's 9-2 kill record.
The first half ended 3-3, as Soniqs' teamplay kept Beaulo's efforts nullified.
Two rounds later, Snake and Merc faltered once again as Kanzen beat both of them in a 1v2 -- the closest clutch of the stage so far:
Despite this, the defensive half was a good one for Snake, as he finally found his footing.
Hitting map point two rounds later, Beaulo was at 16-7, while only Soniqs' Gunnar out-fragged TSM's second-best player at that point, Achieved.
Round 11 saw Merc and Achieved get two early and easy kills on the roam game, before Soniqs fought back to a 3v3 and then 2v2. With 10 seconds left, Geometrics then managed to sneak into the site and planted the defuser before Snake killed him and Gryxr in a matter of seconds to win the map 7-4.
Theme Park
Round one ended with Geometrics hiding out on the roof in a 1v3 to run the clock out, while Gunner was on the roof in a 1v5 on round two.
Without the need of an early timeout, Soniqs then lost just three players in the next two rounds. Then, despite losing access to the defuser in the site, Kanzen's quadruple kill put Soniqs ahead and a final rush meant Soniqs ended their offensive half ahead,
While TSM obviously have more fraggers than just Beaulo, him having four kills to five deaths after six rounds was a far cry compared to his previous numbers -- and, to make matters worse, none of his teammates were making up the difference. This time it was Gasher and Achieved who combined for a 1-8 record.
Soniqs, meanwhile, were being led statistically by Kanzen with nine kills to three deaths.
The next two rounds did see some early resistance from TSM, but it looked like we were about to see the first three-map contest of the tournament.
Despite being down and facing map point, TSM opted to not use their timeout and managed to claw back two rounds before falling 7-4. This notably included Kanzen earning four kills in a 1v4, but being unable to defuse in time.
Clubhouse
Double kills by Geometrics in the first two rounds against his old team gave Soniqs their first real lead of the whole series.
TSM called a timeout at 3-0 down, but it was to no avail. While the round was closer, Beaulo was taken out in the first minute and Gasher was left in a 1v2.
Sides flipped in round five as Geometrics once again was in the spotlight. In a 1v3 of his own, he killed Beaulo and ran away with the clock ticking down before zapping Gasher to death with his Evil Eye.
A flawless defensive half from Soniqs made it look like TSM's nine wins in 11 meetings against Soniqs was a record that was not going to get extended.
Gunner and Kanzen began round seven with a dirt tunnel rush where they caught Snake off guard before immediately retreating. Later this round, Geometrics on Montagne re-took dirt tunnel, while the rest of the team opened up the Kitchen hatch. Achieved, who was below the hatch, stopped this push as he took down both Montagne and Gryxr who were trying to pinch him.
TSM attempted to mount somewhat of a comeback, though, as Gryxr ran out of time to pull off a 1v2 clutch. But that was TSM's final round win of the year before the SI qualifiers, as Soniqs' series win came in round nine as they successfully attacked the Bar objective.
Statistics
With TSM out, Soniqs will now play Team BDS after Team Liquid will play w7m esports. None of these teams except Liquid have won a tier one tournament before, while four rookies still remain; Gunnar, LikEfac, volpz, and Jv92.
This will be Geometrics' fifth global top-four appeaance, having lost at the Paris Major, SI 2020, and SI 2021, but having won at SI 2022 -- and the grand-final -- and the ESL Pro League Season 9 Finals, where he fell to Team Empire.
The only other Soniqs member with relatively similar experience is the team's coach, Goddess, who won the DreamHack Montreal 2018 title.
Soniqs have previously played BDS on four occasions, twice each during the Mexican and Sweden Major groups, losing to them each time.
Looking at this best-of-three, Merc and Snake both failed to hit their usual figures we saw during the NA League. In contrast, Beaulo was the best fragger in the server, while Kanzen had the highest SiegeGG Rating with a 1.45 kill-death ratio.
While Gunnar was the lowest-Rated player on Soniqs, he was also involved in 35 percent of opening engagements -- an impressive number.