TSM and Liquid both won all six points during day one. As such, both teams today were fighting for the top spot in Group B as they met on Border.
The head-to-head was particularly important for North American fans, as TSM were the most impressive of their teams during day one, while Liquid tied with w7m for the best overall record.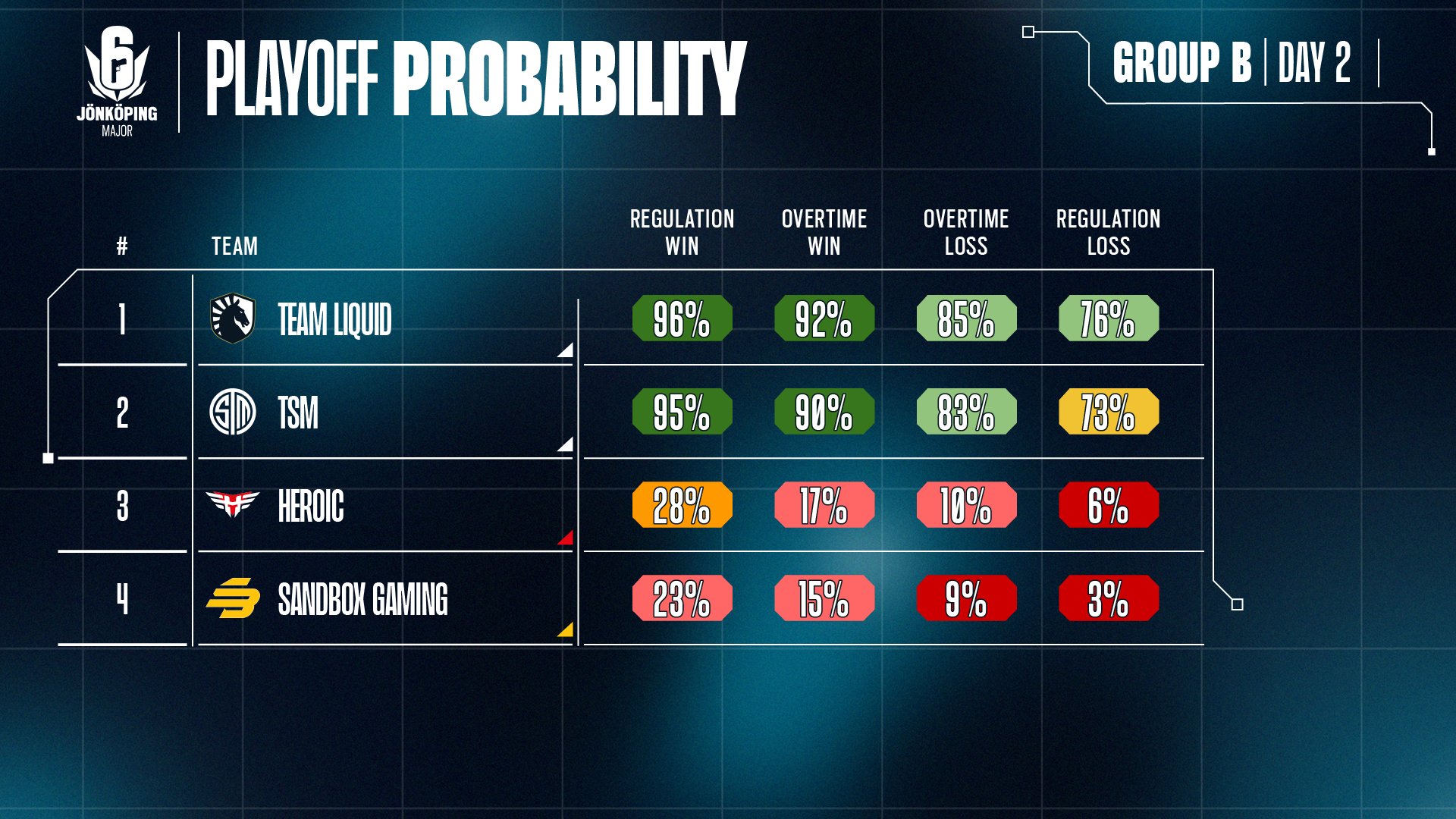 Team Liquid's attacks
While defending, TSM first got and then kept the lead throughout. A double kill from Snake gave them a man-count lead at 4v3 that, after several trades, was finally converted with kills from Beaulo and Merc.
On round two, Liquid got the early kills, allowing Lagonis to get the plant down. In a 2v2 situation, Paluh was left holding the post-plant versus the two rookies, Snake and Gasher, who he cut down without much effort.
Gasher got revenge the following round, though, as he won a 1v1 against resetz, who had a triple kill himself.
Subsequently, a triple kill by Snake was followed by a triple by Nesk, before Liquid tied the half up at 3-3 with yet another triple kill -- this time by Paluh.
TSM's attacks
The Snake and Beaulo duo had both secured seven kills across the first six rounds and continued their show of gunfighting ability into the second half.
After confidently winning round seven, Beaulo managed to stick the defuser down on site, but had no support. He died leaving Lagonis able to counter-defuse, with Achieved too far away to stop him.
This situation then repeated itself. Liquid won flawlessly in round nine before TSM struggled in the post-plant on round 10. Here, resetz managed an impressive triple kill as TSM rushed back onto the site, which included an Entry Denial Device kill onto Achieved.
Liquid were now on match point, putting TSM on the edge.
TSM denied a retake clutch attempt from Lagonis, giving Liquid a single round to try and win all three points. As such, Liquid called a timeout before TSM began their attack onto the upstairs armoury objective.
The timeout paid off, as Liquid decimated TSM in this final round, only losing AsK in the process after he secured a double kill on entry.
Statistics
This result, combined with Heroic's 7-1 win over SANDBOX, means that the standings are unchanged from the beginning of the day -- Liquid lead ahead of TSM, Heroic, and then SBXG -- but the positions are more well-defined.
Three points now separate every team, making the TSM vs Heroic game later today particularly important as a fight for second place.
The game itself was a true team performance from Liquid, with the 7-5 scoreline not portraying how dominant Liquid were in many rounds. Nesk, resetz, Paluh, and AsK all ended with between 10 and 12 kills and every Liquid player had a SiegeGG Rating of 1.08 or more.