The Challenger League is underway in North America and Brazil. Here's a rundown on the action so far:
Jump to:
Relegation Cancelled
The relegation and promotion matches have been officially cancelled in all four regions. This means the Challenger Leagues (or equivalent leagues) are no longer fighting for places in the EUL, NAL, BR6, and APACL tournaments, but is for prize money and for greater chances at attending global events next year:
Starting in 2023, our focus will shift from the mechanic of promotion/relegation matches as a gateway to regional leagues, towards creating more opportunities for teams to participate in international events. As such, and in line with recent announcements in LATAM, there will be no promotion/relegation matches between Season 2022 and Season 2023. Instead, teams that would have been eligible for promotions, or promotion matches, across EU, NA, LATAM and APAC*, will see their performance rewarded by a substantial advantage in the qualification path leading to our international events next year.
This implies that next year Challenger League-tier rosters will be able to attend Major events. It's also notable that the announcement was that relegations have been cancelled for this year, not that they are permanently gone, meaning the 2023 season may still end with a relegation fight.
You can read about this in more details, here.
North America
"Gaveni" continued his amazing performance with 16-5 kill-death figures over Vipers eSports and a 15-12 performance against 1shotLFO. In this latter game, though, RTV dropped their first points as they were taken to overtime when Gaveni wasn't the top player on his team. Packer, on Nokk, was the MVP of this game as he won a 1v1, 1v2, and a 1v3 in the final round of the game.
Below Reality TV on 14 points are Luminosity Gaming and Arial Arise on 12 and 10 points, as they both won their games without issue this week. Arial Arise have played one fewer game than the teams ahead of them, meaning they're theoretically right on the heels of RTV.
This is particularly of interest, as AA and LG are set to face off next Sunday, which should be the fight for second place in the league.
Further down the table, the battle to escape last place was won by Unemployment as they beat Keagen "P3NGU1N" Smith's Aqualix roster, 7-2.
Finally, the current fourth and fifth-placed rosters -- The Favelas and Investigation File -- faced off in a game that was ultimately decided by Ph1sh's performance.
Brazil
Three days into the BR6b season, there is currently a four-way tie for first on six points between Electrify Steel Gaming, SuperNova Team, LaQuimica Esports, and Team oNe's academy roster, which is called Golden Kids.
The only matchup we've seen between any of these teams so far ended with Golden Kids beating LaQuimica 7-5 on Tuesday, which included three clutches from GK's legacy; a 1v2 on round eight, a 1v1 triple kill on round 11, and a 1v1 on round 12 to recover from a 2-5 deficit.
The best individual player this week was fredQx -- an ex-FURIA and BD Academy player -- on a 2.02 SiegeGG Rating as he got 11 kills to just two deaths, as well as the game's only plant, and one of two clutches in SuperNova's 7-0 win over Rise Gaming.
Admittedly, Rise Gaming are having a really bad stage having won zero points in three games so far and having their best player on a 0.87 SiegeGG Rating. The three losses came against three of the four teams on six points, with Golden Kids being the only team who has yet to play Rise, giving them on paper an advantage over their three rivals.
On Tuesday, Golden Kids play SuperNova and LaQuimica play Electrify Steel, as the top four should finally be broken up.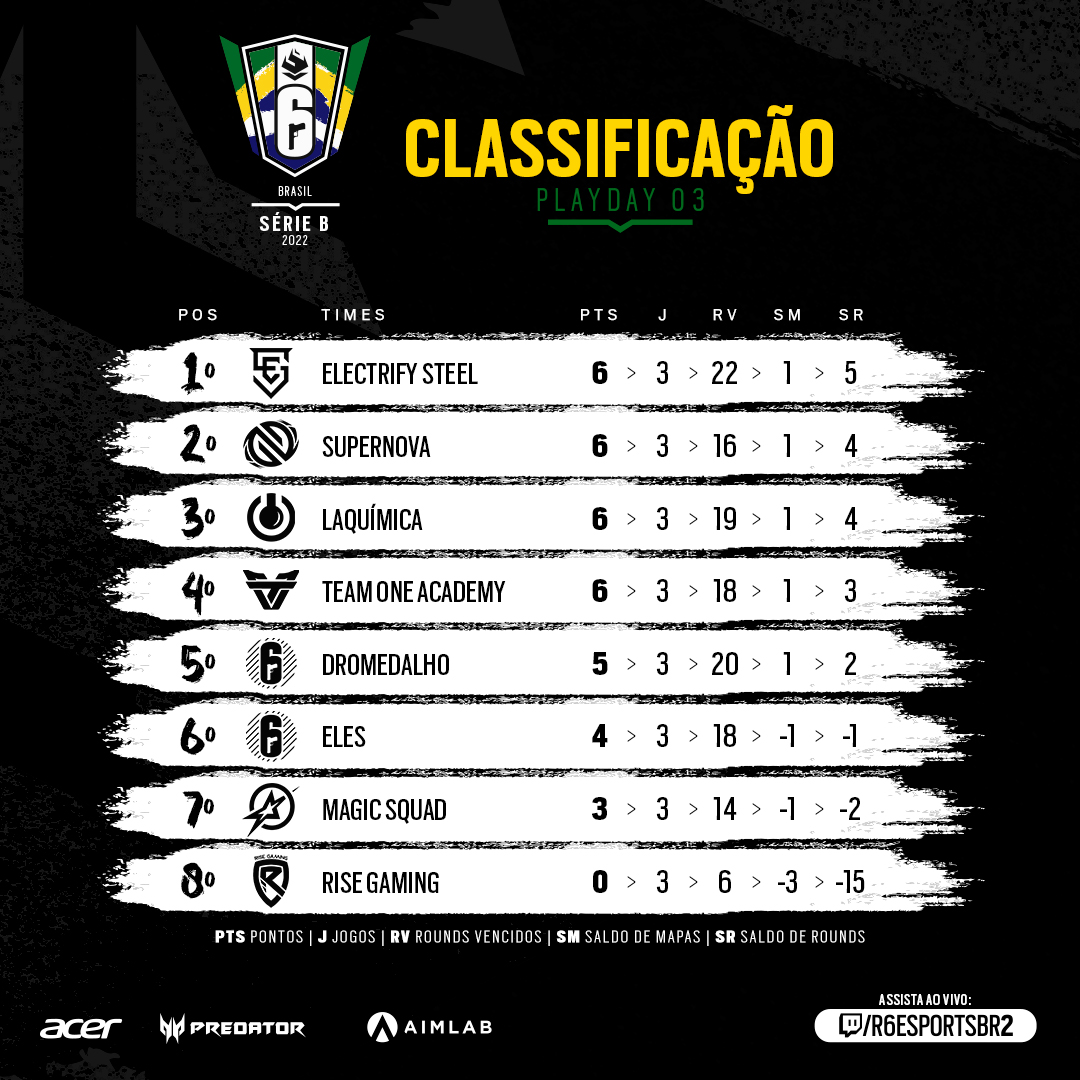 Europe
Last weekend, Victus qualified for the EU Challenger League after finishing third in the Northern Premier League.
Victus finished fourth in the main league and then beat Viperio 86 in the losers' bracket of the playoffs to guarantee a EUCL spot. The other four teams in the playoff were Heroic, who are already in the EUL, Viperio, and TENSTAR, who already qualified via the open qualifiers.
Also of note was a significant organization and roster change with 321 Sked Esports' roster.
The four remaining players following LikEfac's move to BDS have now left 321 to join Acend, after the organization failed to qualify for EUCL. Acend had dropped all members of its prior roster except for ENEMY and RevaN, who have joined the new team to make a six-man roster.
While 321 were among the top favourites to win EUCL, it is unclear how they stand without LikEfac and with ENEMY and RevaN.
Finally, the NecroRaisers' roster was picked up by Lan Party Hotel. This creates the following lineup of qualified teams:
ex-Heroic -- Relegated last year
HellRaisers -- EUCL runners-up last year
TENSTAR -- Northern Premier League representative
Victus -- Northern Premier League representative
WYLDE -- GSA representatives
Acend -- French representatives
Mkers -- Italian representatives
Rebels Gaming -- Iberian representatives
Lan Party Hotel -- V4 representatives
Activit-E Esports -- Benelux representatives
Viperio 86 -- Open qualifier team
Finally, the five remaining EUCL teams will be determined in the third EUCL open qualifier, which starts tonight. The winner of the qualifier will win 100 points, the runner-up gets 75, and then for every round back a team finishes, they get 50, 25, 15, or 10 points, respectively.
Here are the top competitors so far for the final five spots by current point count across the first two qualifiers:
85 -- MNM Gaming Academy
65 -- Vyalie Pitoni
50 -- Coalesce, DeathroW, EDS, and JLingz Esports
25 -- Esports BERG and WiLD MultiGaming
20 -- Ovation eSports, Shinobi, and SixSense
With 75 and 100 points available to this week's finalists, a brand new team could still win a top spot should they win the qualifier, so all is still to play for.
Webidoo Gaming, the top-ranked Italian squad which won 25 points in the second qualifier after beating Viperio 86 and TENSTAR, was also caught playing with an underaged player under a teammate's account, leading it to be banned and disqualified from all tournaments.