Stage 2 of the 2022 APAC North League ended after seven weeks of play, with Elevate and Gaimin Gladiators finishing in the Six Berlin Major qualification spots.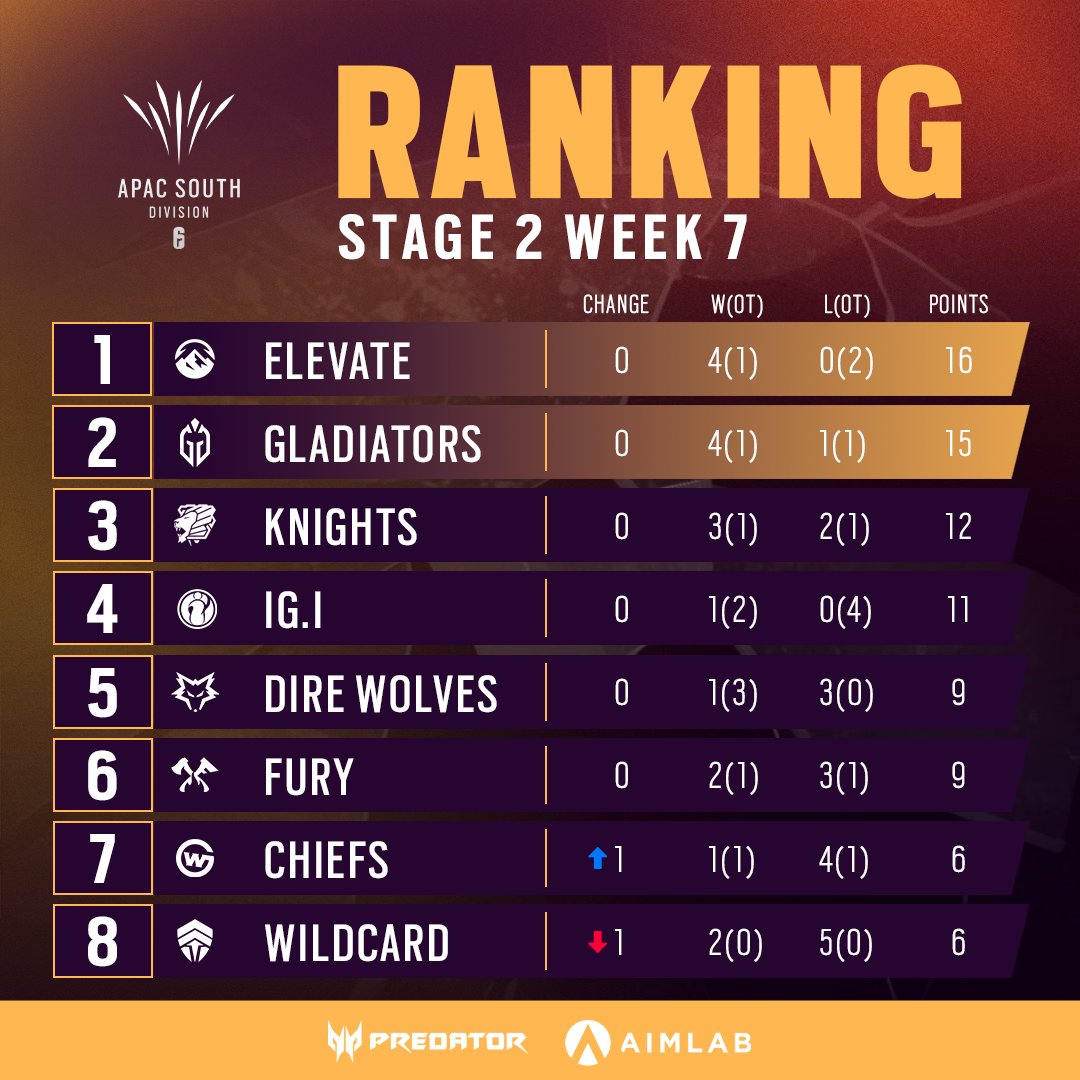 Here's a quick look back at the stage, including some of the standout players, teams, and changes from Stage 1.
Top Performers
The top five players in APAC South each come from five different rosters. But, unlike in APAC North, they are all primary fraggers.
Elevate's Atibordee "Sapper" Noichan leads the way, as he earned the best kill differential, the highest kills-per-round figure, the joint-best opening differential, and the best KOST figure. Considering Elevate also won the league to qualify for their third event in a row, this makes Sapper the best player in the league for this stage.
While the team struggled during this stage, finishing in fourth place, Invictus' players did stand out statistically. Jack "Jigsaw" Gillies tied Sapper's opening differential record and had more opening kills than him, while Matin "SpeakEasy" Yunos was the highest-rated non-primary fragger in the league as he played on Ace. These two, alongside Patrick "MentalistC" Fan, were each in the top-five by KOST percentage.
It's also worth noting that out of the 15 Australian players in the APAC South League, only five had more kills than deaths. For comparison, Thailand (the only other nation with multiple teams worth of players) have six out of 10.
Biggest Improvement
The most improved by Rating was Sapper, once again. This comes after he had a really bad Stage 1, where he finished as the lowest-rated player on his team. The big change between stages was that he got off of Ash and onto Zofia, while on defence he became the team's top fragger on Smoke.
The Chiefs, meanwhile, had a notable fall in results as they dropped from third to seventh place this year. This was Ethan "Ethan" Picard's Rating riding drastically from 0.84 to 1.17 as he excelled on his new entry role. Unfortunately for the team, this improvement was cancelled out by drops in the rest of the team.
As for the teams themselves, FURY were by far the most improved by average SiegeGG Rating. This probably wasn't too hard to achieve after they won zero points during Stage 1 compared to nine during this stage.
Below them were Gaimin, which is also unsurprising considering their surprise qualification to the Berlin Major.
Biggest Drop
Coming back to the Chiefs, all four other players in their team feature prominently, with Kelton "Bouncinballz" Mclachlan and Trent "Worthy" Mitchell-Rose dropping to 0.89 Ratings from 1.22 and 1.15, hurting the team.
Invictus, however, came out worst. During Stage 1, SpeakEasy ended with the best overall performance in the league with a 1.42 Rating, well ahead of Nathaniel "Naate" Williams in second place on 1.27. Achieving numbers this high meant there was a lot of room to fall, which they certainly did.
Not everything's bad, however, as, despite this, iG did rise in the standings from fifth to fourth, earning the same number of points in both stages.
Best New Player
Stage 2 only saw three new additions in APAC South. Jose "Jo" Iman joined Gaimin to replace benched Farhan "Hermosa" Adinepa as the ex-Elevate duo, Sumate "i9" Srimabut (previously knon as Nay…Pew) and Sirasit "BGMan" Ariyasirisopon, joined FURY after their disastrous Stage 1.
While qualifying for Berlin clearly shows that Jo was the best addition, this can also be seen statistically. Even though it was only a minor difference for GG statistically, Jo proved to be a bigger improvement than either FURY players.
APAC South Play of the Stage
The play of the stage was a 1v4 from FURY's Sillapakorn "Lycolis" Dokmaikhaw against Invictus:
As a result, Invictus eventually ended up conceding overtime and dropped a vital point that eliminated them from Berlin Major contention the moment that happened. Furthermore, this play from Lycolis mirrored Nathaniel "Naate" Williams doing the exact same to FURY in Stage 1, down to the operator, man-count, bomb site, and player location.
The stage also saw what is almost certainly the simplest ace seen in professional play in a while, as Milostka knocked down all five FURY players with ease:
Maps
Theme Park went from absolutely no team touching the map in Stage 1 to the third-most played during Stage 2. Due to its lack of play, and it likely not being a map teams have practised on for too long, it had a remarkably high defensive win rate of 69 percent. As such, it was the most one-sided in APAC South.
Opposite to this was Chalet which had both the highest offensive win rate at 66 percent, and had the biggest fall-off in picks from 58 rounds played in Stage 1 to 15 rounds played in Stage 2.
Finally, the most played map in the sub-region changed, as Bank was overtaken by Oregon after the latter more than doubled its pick rate.
The total league bias ended at a 52.88 percent defensive win rate compared to 46.87 percent in APAC North and 51.80 percent in APAC South.