Image: Liiv SANDBOX
Update (21/4):
The APAC Playoffs bracket has been updated due to an earlier "placement error", where the positions of SANDBOX Gaming and Knights were incorrectly swapped in the Lower Bracket.
As such, with the update, Chiefs ESC will play SANDBOX Gaming on Apr. 27, while Elevate will play Knights afterwards on the same day.
Original:
The first APAC Playoffs for 2022 are here to decide the four teams for the first Major of the year, held in Charlotte, North Carolina, and the first event since SI 2020 to feature a live crowd.
There have been a fair few changes with the teams and the format from 2021, so read on for all you need to know about the APAC Playoffs for Stage 1 of the 2022 season.
Jump To:
Teams
DWG KIA - Woogiman, RIN, coted, CATsang, yass, HoundBird (Coach), EroSA (Assistant Coach)
Talon Esports - AzzyyyS, Soldier, Kanos, Demic, h3dy, saeyeora (Substitute) zelgadiss (Coach), DongUk (Coach)
CYCLOPS athlete gaming - Anitun, SuzuC, Gatorada, Ayagator, BlackRay, Fuji3 (Coach), Hybrid (Analyst)
SANDBOX Gaming - EnvyTaylor, Static, SyAIL, Harp3rXD, GoodBoy, Nova (Coach)
Dire Wolves - JackyWu, Pikan, Ed, Souffle, HARAM3E, Odin (Coach)
Elevate - Onigiri, Sapper, DCH, MrPuncH, markshortboyz, DrBestsiaer (Coach)
Chiefs ESC - Dgtl, Worthy, Ethan, Boydy, bouncinballz, Todd (Coach), Hell (Analyst)
Knights - Jsh, Juicy, Sageon, Stigs, Quiz, Pikniq (Coach), Sketchy (Analyst)
Notable omissions from the list of teams include the new-look Invictus Gaming, who finished a disappointing fifth in APAC South. Also missing are Fnatic, who dropped their Australian team for the former GUTS Gaming roster in Japan but finished a disappointing seventh in APAC North.
Also missing are the South Asian teams, who no longer have as straight a path to a Major like in 2021. Instead, they are required to secure promotion to the APAC South Division as a whole in the APAC Relegations and will then contest for APAC Playoff and Major positions as full-fledged APAC South teams.
Format and Schedule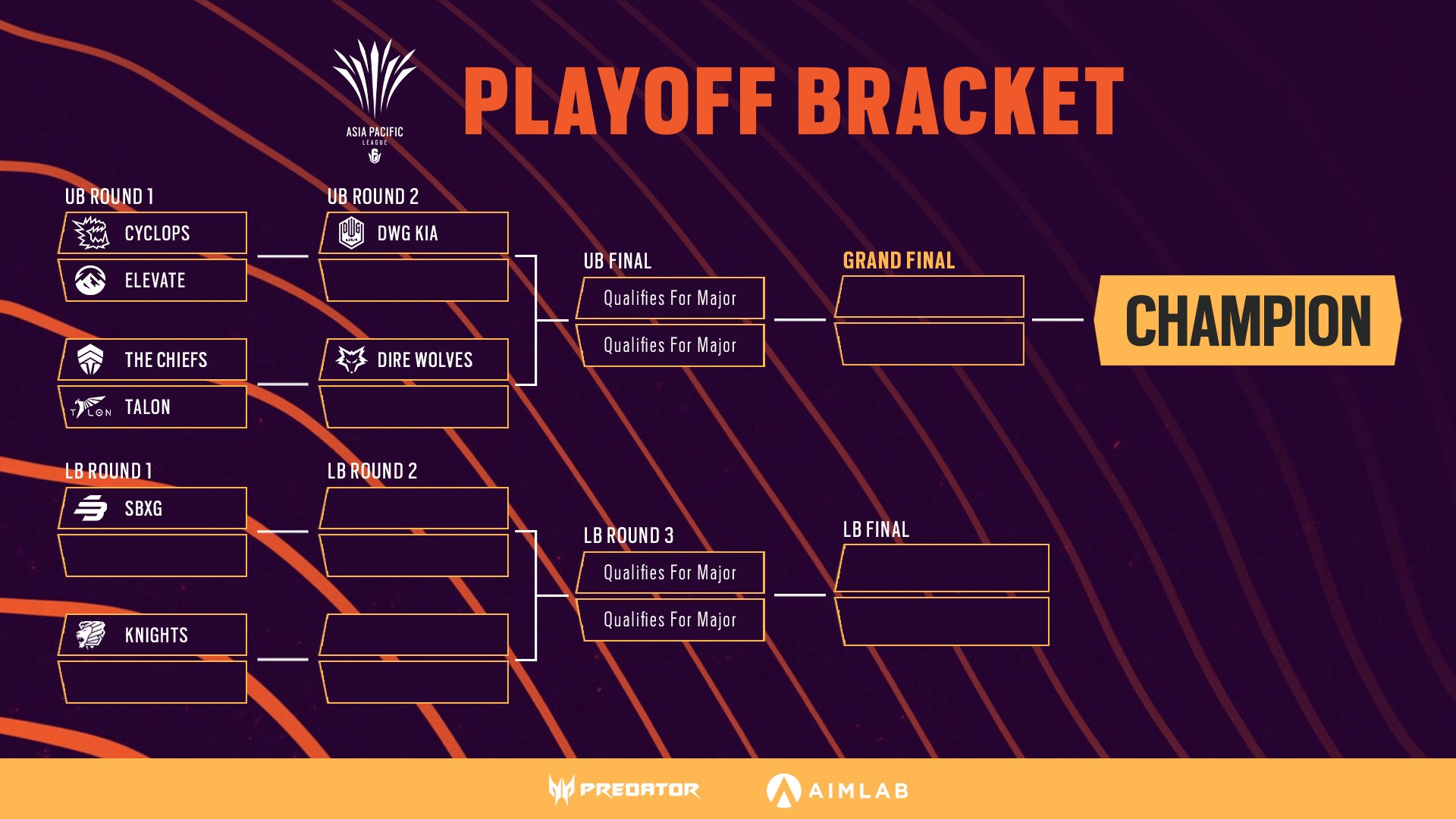 The 2022 format for APAC Playoffs, an all-BO3 double-elimination bracket, features three significant changes from the playoffs in 2021.
The first change is perhaps the most significant; teams that finish top of the standings in APAC North and South no longer qualify directly to the Major. Instead, they have to play through the APAC Playoffs as well. Their first place finishes still give them a big boost, however, as both teams get a first-round bye through to the Upper Bracket semifinals and put them one BO3 win away from the Major.
Secondly, the APAC Playoffs will now be played across six days -- three weeks of two play days each -- instead of three days across one weekend. Only the first two weeks will feature teams fighting out for Major qualification, however, with the final two days reserved for seeding.
Finally, as mentioned above, South Asian teams no longer feature in the APAC Playoffs directly and must first secure promotion to the APAC South Division.
The APAC Playoffs will start on Apr. 20, and will run on each Wednesday and Thursday until May 5. Each day will begin at 4 PM SGT (UTC+8) and will feature just two BO3 games, starting with CAG vs. Elevate on the first day.
SI Points and Prize Money
Each team that will qualify for the Charlotte Major will secure 225 SI Points. They will also earn $10,000, $5,000, $2,000, and $1,000 from the APAC Playoffs, ordered from highest to lowest seed. More SI Points and prize money can be secured based on placement at the Major itself.
Meanwhile, the teams placing fifth to eighth at the APAC Playoffs will earn 225, 180, 140, and 115 SI Points, respectively, with no prize money on offer.
Storylines to Watch
How will the fresh faces fare?
Of the eight teams present, only CAG and DWG KIA have made no changes from their 2021 rosters that featured at the Sweden Major and SI 2022. Talon are the only other team to be unchanged from Stage 3 in 2021, but are yet to debut internationally.
Also seeking to make their international debuts are Dire Wolves and Knights. The latter had qualified for the Mexico Major in 2021, but had been unable to attend, and now feature a returned Riley "Stigs" Mills and rookie Jai "Quiz" Riddle-Browning. Dire Wolves, too, feature a rookie in their 2022 roster in Chih-Kang "HARAM3E" Huang.
The faith in rookies is not just limited to teams that are yet to debut internationally. SANDBOX feature exciting new young talent Jiheon "GoodBoy" Lee, who debuted in the last match of the stage after turning 18 years-old, and have Sihun "Nova" Lee now in a coaching position. Meanwhile, Chiefs feature Lachlan "Boydy" Boyd and Kelton "bouncinballz" Mclachlan as their rookie signings.
Finally, Elevate brought in Saravut "Markshortboyz" Mandee and Phuriphat "MrPuncH" Kessaneeyabut after benching Sumate "Nay..Pew" Srimabut and losing Siwa "Nerix" Kaewtossapone to retirement in a surprising set of off-season moves.
Which of these fresh faces will provide the desired impetus to their teams and debut at the Charlotte Major?
Can Dire Wolves convert a flawless season into a Major debut?
Taiwanese team Dire Wolves have come a long way from their shaky debut season in 2020 as Electrify Esports. They barely survived relegation then, but had a decent 2021 season, nearly qualified to SI 2022 despite a messy set of qualifiers, and have now gone 7-0-0-0 in Stage 1 of the 2022 season.
Their new signing, HARAM3E, has been performing well on his support roles. He's the lowest-rated on his team, but that's with a 1.00. DW are thus the only team in both APAC leagues to have all players rated 1.00 or above and are the only team aside from Team Liquid in all the top-flight leagues to achieve that feat. Can they win one of possible two BO3 matches to make it to the Charlotte Major?
How good is GoodBoy?
While GoodBoy put in a stat-topping performance in his top-flight debut -- one that decided whether his team would progress to the APAC Playoffs or not -- he has only played in one official match. GoodBoy has been touted as one of the hottest prospects in APAC by the Korean community, but he is still new to competition at this level.
The team, too, played all but that last game with Nova as a coach, further reducing the time this roster had to gel with GoodBoy. And now, with Nova coaching, they also may have to adjust to having him in a purely coaching role. Luckily for them, being in the Lower Bracket means that they have an additional week to scrim together and work out their kinks before they play on Apr. 27.
Can the Korean chain of dominance be broken?
Korea has been doing exceedingly well since 2021. DWG KIA started things off with an impressive group stage at the Mexico Major, before becoming the closest APAC team to a grand final appearance at any international event. Alongside them, SANDBOX also made it to the quarter-finals at the Sweden Major and played at SI 2022.
This stage, the top four in APAC South only featured CAG as a non-Korean team. But the APAC Playoffs could be a different beast with the APAC South teams in the mix. Will Talon keep building on their strong Stage 1 form to debut internationally? Will both DWG and SANDBOX make it to yet another Major? Or will we see two or fewer Korean teams headed to Charlotte?
---
Catch the APAC Playoffs from Apr 20 to May 5, with two play days and four games each week. The matches will start at 4 PM SGT (UTC+8) each day, so be sure to tune in to the Rainbow6 Twitch and YouTube channels.