Image via Ubisoft
On Thursday, April 14th Ubisoft announced the first details on the upcoming Charlotte Major. Here's a rundown of all the information we know as of now.
Teams
Four teams from each region have qualified for the event:
Astralis -- Dpfire, iconic, J9O, Shuttle, Forrest, Callout (Coach), and Mango (Analyst)
Oxygen Esports -- FoxA, LaXInG, VertcL, Nuers, Dream, HOP3Z (Coach), and Redeemer (Coach)
DarkZero Esports -- Hyper, Ecl9pse, njr, Panbazou, Canadian, and Mint (coach)
XSET -- Kyno, DiasLucas, Gomez, Spiritz, Yoggas, Budega (Coach), Vivas (Coach), and PFernandes (Analyst)
w7m esports -- HerdsZ, GdNN1, Kheyze, Jv92, volpv, Abreu, and igoorctg (two coaches)
Team Liquid -- nesk, resetz, Paluh, psk1, AsK, hugzord (coach), and mcunha (analyst)
Team oNe eSports -- Lagonis, d4sh, Dotz, Maia, rhZ, and IntacT
FURIA Esports -- Miracle, R4re, Handyy, Stk, Fntzy, Twister, and Kizi (two coaches)

Team oNe, FURIA, and w7m will be competing from Mexico City after they were unable to travel into the USA.
Furthermore, Team oNe's Dotz is currently stuck in Brazil as he was unable to travel to Mexico. The team is currently working on a solution.

Heroic -- Sloth, GorgoNa, Grizzly, Benjamaster, UUNO, Mrofficer88 (Coach), Anarchic (Coach), and davil (Analyst)
Team BDS -- Shaiiko, Elemzje, Renshiro, RaFaLe, BriD, BiOs (Coach), and eaglemees (Analyst)
Wolves Esports -- BiBooAF, risze, Shiinka, P4, Mowwwgli, Lyloun (Head Coach), and Helbee (Asisstant Coach)
G2 Esports -- CTZN, Virtue, Alem4o, Prano, Doki, Shas (Coach)
CYCLOPS athlete gaming -- Anitun, SuzuC, Gatorada, Ayagator, BlackRay, Fuji3 (Coach), Hybrid (Analyst)
Dire Wolves -- Ed, JackyWu, Pikan, Souffle, HARAM3E, SHADOW, and Odin (coach)
Chiefs Esports Club -- Dgtl, Worthy, Ethan, Boydy, Bouncinballz, Todd (coach), and Hell (analyst)
Due to visa issues, Elevate will not be competing in the Major.
Elevate -- DCH, Sapper, Onigiri, Mark, MrPuncH, Dr.Bestsiaer (coach), and nanoKidz (analyst)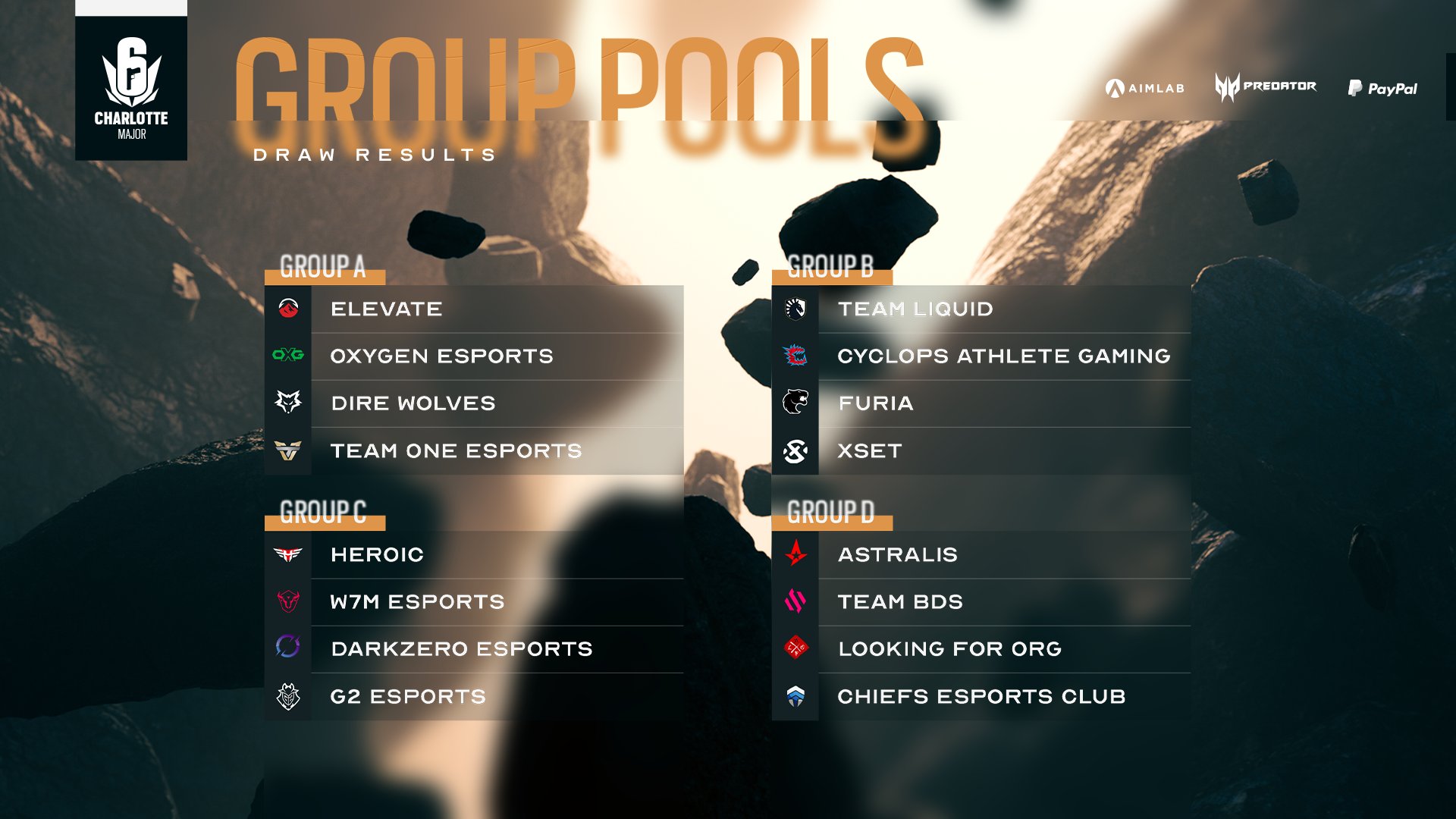 Schedule and Format
The Major will run from the 16th to the 22nd of May. May 20 to May 22, the playoffs phase, will be open to the public: crowds are finally back!
The format will be the same as prior Six Major events with May 16-19th seeing four double-round-robin, best-of-one map groups take place. Despite complaints during the Six Sweden Major, the group stage will continue with the 3-2-1-0 scoring system seen in each of the regional competitions.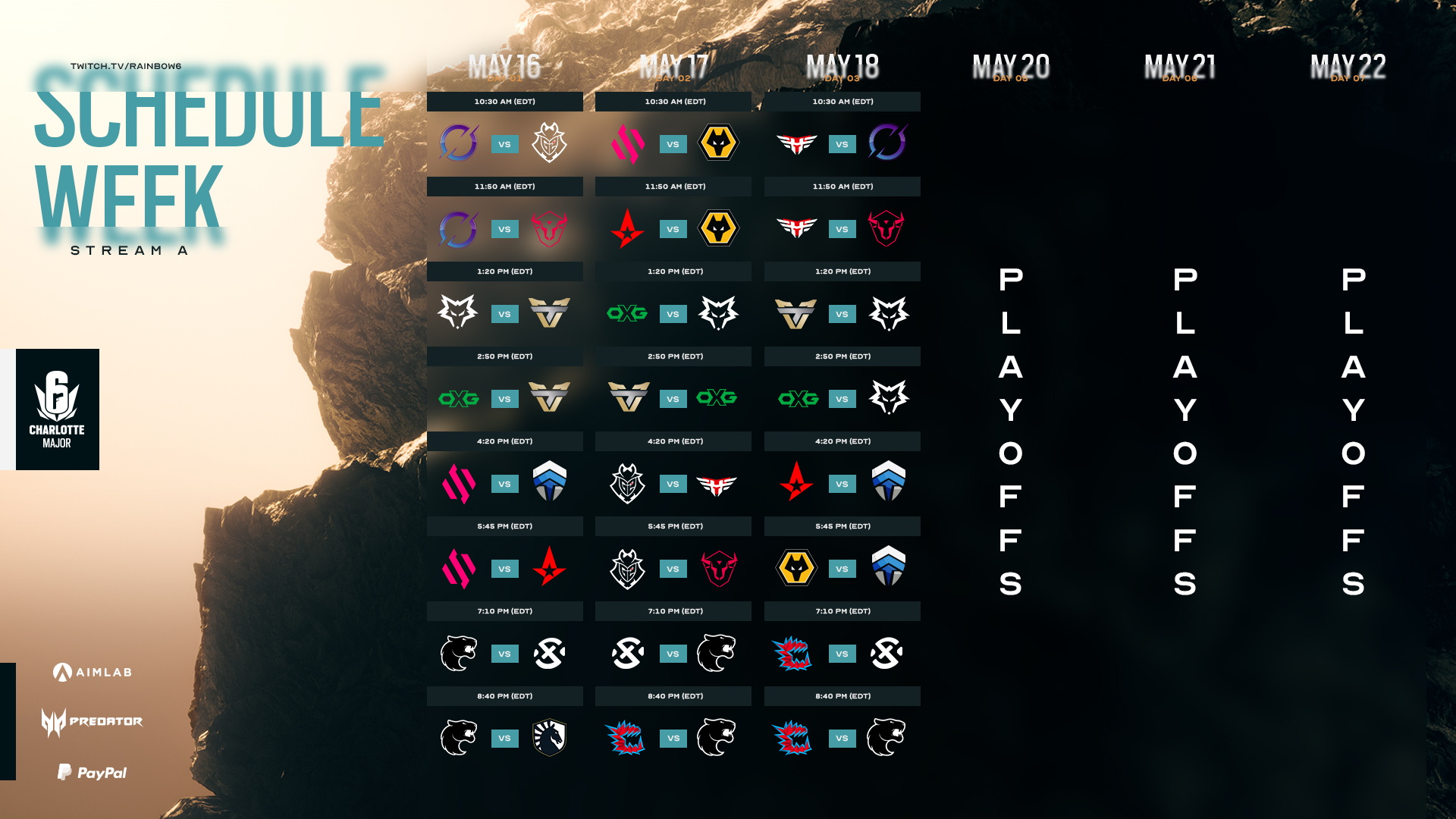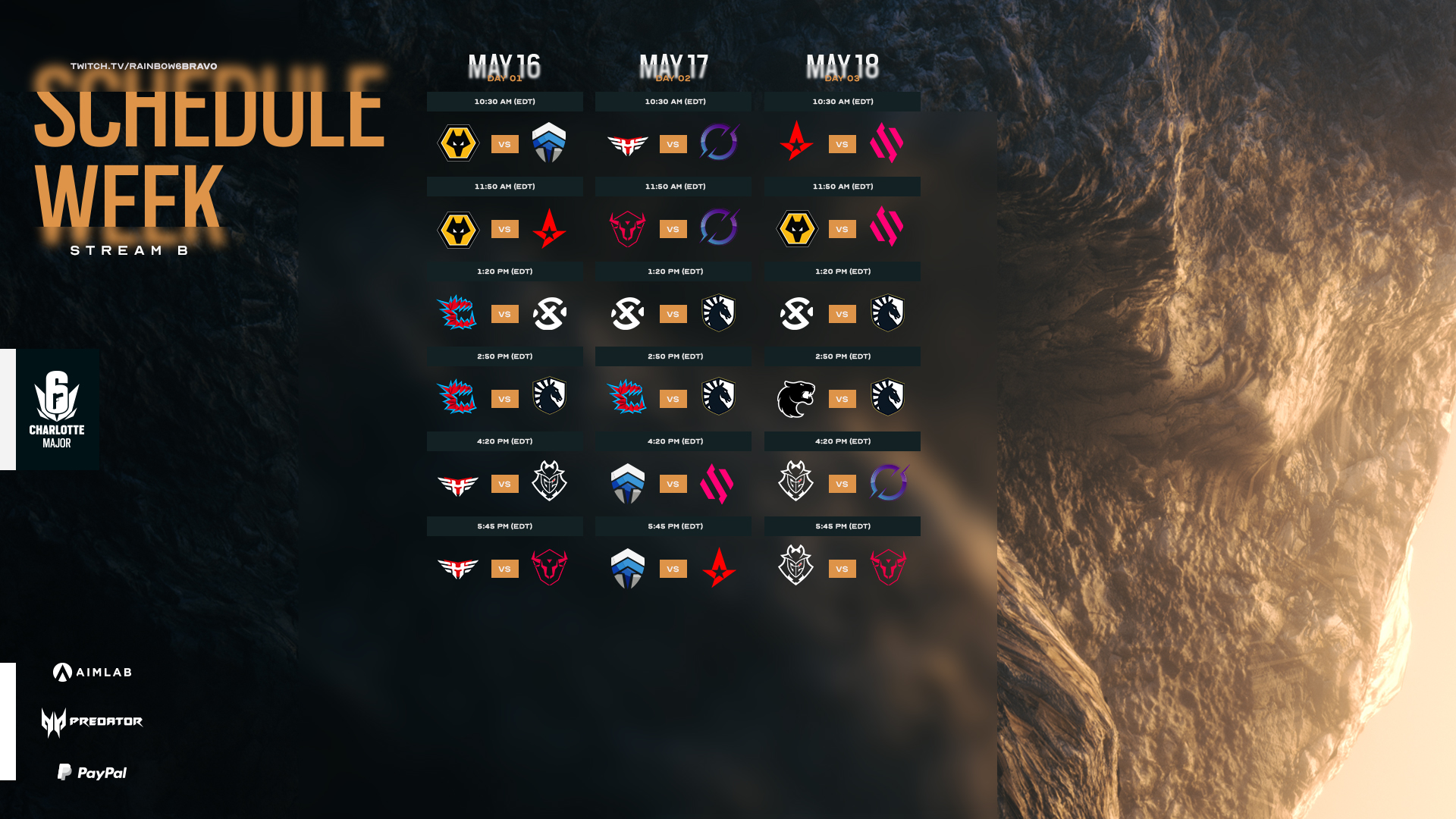 Following this, from the 20-22nd a single-elimination best-of-three map playoff will take place with a best-of-five map grand final. The grand final will not have a map advantage for either team.
Location
The Six Major will take place in Charlotte, North Carolina at the Charlotte Convention Center. This is around a 150-minute drive away from Raleigh, North Carolina where the last Six Major with a crowd took place.
While three-day general admission tickets were on sale for $40 (plus fees), the event is now sold out.
All attendees must wear a face mask while at the event.
There also will be a number of activities available to attendees including a demo booth, merchandise store, and meet and greets.
The merchandise store and demo booth will both be available at the following times (in EDT) while details on the meet and greets will be announced at a later date:
Friday: 8AM to 10PM
Saturday: 10AM to 7PM
Sunday: 12PM to 7:30PM
Broadcast talent
Your favorite casters will be back on the set for the Charlotte Major.
Twitch Drops
The Twitch Drops available for the Major include the full esports sets for Ying, Mozzie, Maestro, Ace, and Melusi, as well as Battlepass points. There are no duplicate drops.
For the group stage and for the first two days of the Playoffs, viewers will earn one pack after four hours watched, with a maximum cap of one pack per day.
For the grand final viewers will earn one pack after one hour of time watched, and one pack after three hours of time watched, with a maximum cap of two packs per day.