Last year the Esports Panel revealed to us a wealth of information with the reveal of the new six-month schedule and the introduction of the Six Major as well as changes to gameplay such as the sixth pick system and operator bans. While not all these changes were brought in straight away -- Season 7 was played on the old format before everything kicked into action for Season 8 -- this gave us a very clear look at what to expect over the next 12 months with many of these announced changes likely to stay in place for the rest of R6 esports' lifetime.
On top of the pure esports announcements, the panel also revealed more details on the upcoming Seasonal releases giving us a tease on what to expect with the upcoming PvE co-op event, Outbreak, being fully revealed a few hours later. While Operation Chimera's legacy is still causing issues to this day with ESL "quarantining" Lion for being poorly designed, this was still a remarkable glimpse forward at the world of R6 we would be experiencing in the future that formed the basis of the rest of the year's operator and seasonal announcements.
While we are unlikely to see such drastic announcements this time around, there are a number of announcements I have boiled down into these three simple categories: Pro League Finals changes, Minors changes, and format changes
Pro League Finals
While the actual location and dates of the Season 9 Finals will likely only be revealed in the weeks after the Invitational there's a number of things we do know about it and a few format changes I'd like to see at the event.
Concerning what we do know, the Season 9 Finals will invite eight teams, two from each region, to compete for a prize pool likely similar to Season 8's pool of $167,000. The tournament will take place over two days likely in a European country if Milosh's words during the Rio Finals are to be trusted:
This brings up two changes I'd like to see to these Finals:
1. Double-Elimination
With Pro League now consisting of six month long seasons with 14 individual play days in a double round-robin schedule, it is clear ESL and Ubi modelled the format to reward the consistently good teams, unlike the old Year 2 format which meant a team could qualify for a LAN Final with just three wins. This ideology is certainly the right call as it both gives teams months worth of chances to perform while also rewarding those consistently good teams over the more one-dimensional teams.
This theology, however, is then completely thrown out for the Finals.
After working for 6 months to make it to a Top Two position, teams are then randomly placed into the Finals bracket and are given one chance to win each of their matches -- half the eight teams play just one opponent before going home in a disappointing and anti-climatic end to their Season -- Season 8 perfectly illustrates the issue when looking at Immortals and Evil Geniuses.
Immortals won more rounds against G2 than FaZe Clan did in the Grand Final and were, at the time, the only team to take G2 to overtime since they joined that new organisation yet they went home with 1/4 of the prize money of FaZe. Would they have progressed further if they had been pulled out on the other side of the bracket? We don't know because after 14 online games we only got to see them play a single game against a G2 side they were realistically never going to win against before their season was over.
In a similar position was Evil Geniuses who, after proving themselves to be a world class team across the previous six months, lost to Fnatic in an obviously out of character defeat. Was this a systematic issue with Evil Geniuses that would have possibly manifested in other games too, or just an inability to cope with Fnatic alone? We don't know because Evil Geniuses went home after the one defeat not to play another streamed game for a month with a matchup against Fnatic unlikely for months to come.
Both of these are excellent examples of where having a double elimination bracket would aid everyone involved -- teams would have multiple chances to impress, viewers get to watch their favourite team play more than a single game all while organisers can profit off of their six months of toil to a much greater degree.
The main argument against this is funding -- running production and housing over 40 players for an extra day is expensive and not worth it. In response to this, I look directly at the $350,000 raised from just 9% of the golden Pro League bundles in just three months - the idea of viewers funding Pro League events is already in place and clearly very successful so instead of adding these funds to the already enormous Major prize pool, redirect these funds or create similar but separate initiatives to fund these extra games at the Pro League Finals to everyone's benefit.
2. Prize Pool Grows With Majors
With the Six Invitational already confirmed to have a $1,000,000+ prize pool with it likely to have grown a few extra hundred thousand dollars since (to a rumoured $2m total), it is simply ridiculous to keep Pro League prize pools at around $167,000. At the moment a pro playing at the top levels of the game for six whole months finishing as the #1 team in their region can then go home with just a mere $1.6k after one bad game.
Firstly, for six months of practice, scrims and weekly live matches, this seems hardly appropriate for the top team in a region while secondly, this puts four of the top teams in the world taking the same prize money home from a Pro League Season as the winners of the ESL Spanish Masters or the Mexican Nationals -- something that is in no way equivalent.
While it obviously makes sense for the Invitational and Majors to have growing prize pools, the rate R6 is growing means that the prizes for the standard Pro League Seasons should be tied to the prize pools of the other tournaments -- keep the Pro League as ¼ and Six Majors as ½ of the Invitational for instance -- or risk the Pro League consistently falling well behind in prestige and rewards which can have some pretty major effects in the quality of gameplay, investment and production quality.
When the Invitational has a prize pool eight times larger than standard seasons, organisations and players will start asking the same questions about the Pro League than they do with national tournaments or CCS -- why bother using strats in Pro League when I can earn 10 times as much by focusing purely on the Invitational? Why pick up this Pro League team if they're not gonna play in the Invitational? And why should I watch the Pro League when it's 20 times longer and "less important" than the Majors? All of these questions are ones which really should not be encouraged.
It's possible that the first of these questions have been asked by the current world Champions of G2 Esports who seem to be using the Pro League games to try out new setups such as with Kantoraketti consistently playing Smoke in a form of live scrims. This may explain their current drop in form as they are sacrificing Pro League games to give themselves an advantage at the Invitational -- something that severely diminishes Pro League's stature if true.

These changes would elevate the Pro League Finals to legitimate, free-standing tournaments rather than a time filler between Majors as they inadvertently sit at the moment. They are needed to keep them up with the growth the R6 scene is experiencing and will improve the experience for everyone involved. After all, even Farming Simulator outmatches our Pro League at the moment…
Online Season Changes
While the last 12 months have seen a number of controversies seemingly simmer to nothing -- auto banned maps and best-of-ones, just to name a couple -- there remain issues that will continue to pop up every season consistently until they are resolved. One of these is an issue which has caused multiple top tier organisations to leave, an issue which has hampered the Pro League's growth for over a year already -- relegations.
Currently, Pro League automatically relegates the 8th placed team in each region and gives the 7th placed team a single chance to survive -- this is done to give new blood a shot at the Pro League even if the new teams are clearly worse than the ones they are replacing. This system makes the quality of matches, and so the league in itself, worse than if there were actual playoff games -- surely we want the best teams, not just the newest teams, in the premier league in R6 esports?
This use of automatic relegations has already claimed the organisations of Counter Logic Gaming and Obey Alliance, and likely acts as a huge disincentive for orgs to invest in lower level R6 Pro League teams. Here are two solutions that will help to fix the problems with lower level Pro League:
1. Competitive Relegations
A system of relegation from the Pro League should fulfil a number of criteria; a) give all teams involved a fighting chance to qualify, b) still give the 7th Pro team an advantage over the 8th and the 1st Challenger team an advantage over the 2nd and c) make the Challenger League regular season standings significantly matter (more than just for the playoffs). All these criteria are fulfilled quite nicely in the example bracket below where:
Seed 1 = 7th placed in Pro League
Seed 2 = 8th placed in Pro League
Seeds 3-6 = 1st-4th in Challenger League as they ended the Regular Season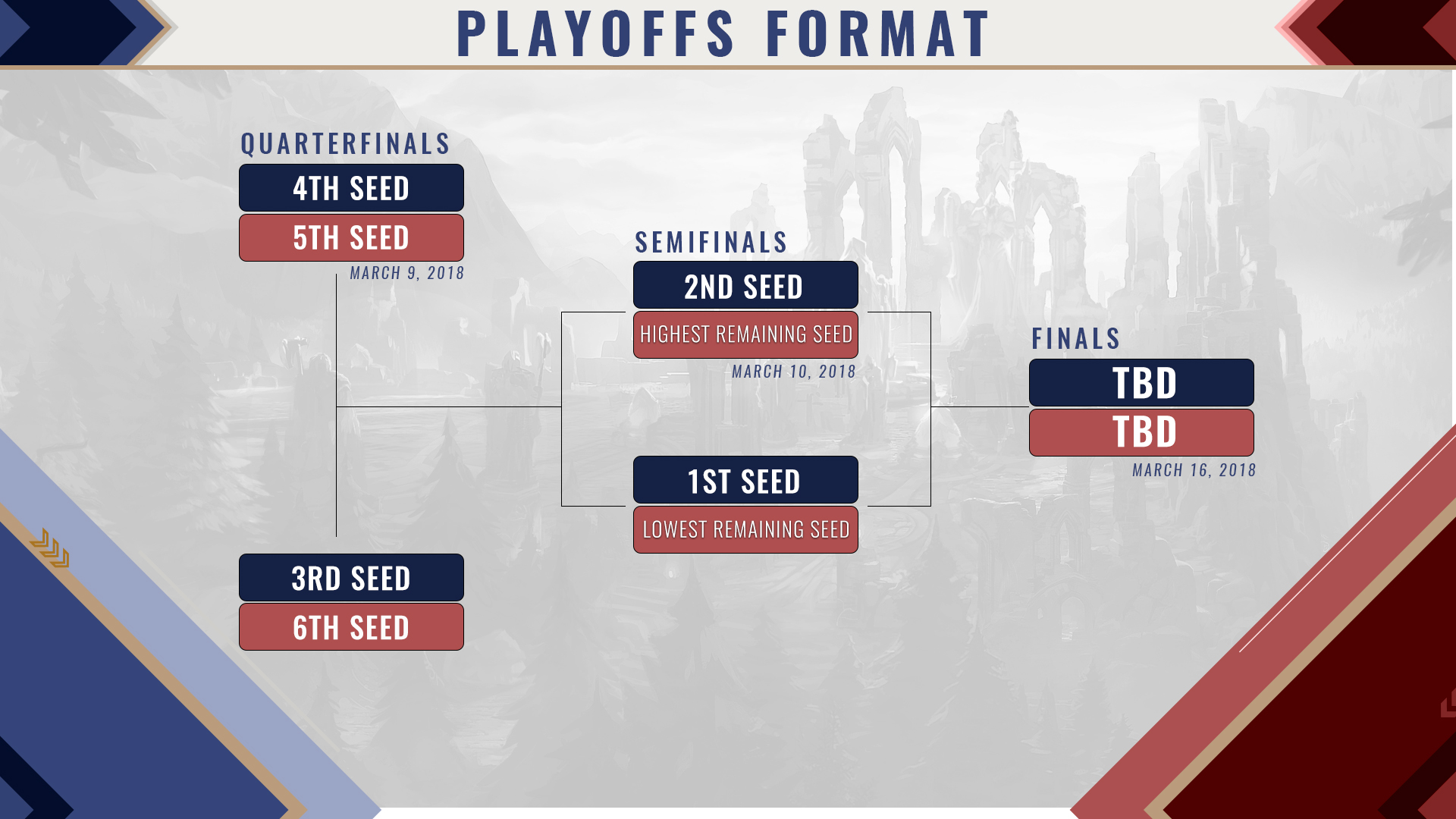 This format makes your end of Season Challenger League positioning matter an awful lot which hopefully, will encourage competition throughout rather than teams booking a playoff spot with weeks remaining and stop bothering with games, as ENCE's end of Season 8 results strongly imply was the case. This also gives both Pro League teams a chance to fight for their spot with, unlike a standard knockout bracket, seed #1 guaranteed to get an easier game than seed #2. All in all, this format seems the fairest of all systems available, fixing many of the issues brought up with the relegations -- if a team is relegated, their replacement has somewhat proved themselves by beating the ex-Pro League team.
Other than the issue with relegations itself, the issue of organisations leaving demoted teams also boils down to the question of why don't orgs want to stick around below the Pro League.
2. Make Challenger League More Appealing
This is a no-brainer in which everyone would effectively agree on and would be relatively easy to do… and yet hasn't happened yet. The issues which plague the Challenger League is a) lack of official coverage, b) which games are streamed relies on casters' decisions, and c) the mess of a schedule. All three of these stems from a lack of attention by Ubisoft on what is meant to be a collection of the 9-16th best teams from each region.
My suggestion, which a load of other people have brought up previously, would be to put these games on either the main Rainbow6 or the secondary Rainbow6Bravo Twitch account. Whichever one is chosen, it must be consistent so individuals know where to go to watch the games on any given Challenger League play day.
To support these channels there already is an effective "B-league" of casters including Flynn, Stoax, Sternab, Demo, and Hap who sit behind the core English language casters of Interro, mzo, Milosh, and KiXSTAr. These talents already cast these games as community casters which, for many of them, leads to longer schedules and much lower views than the main casters. It is also unpaid.
Four out of five of these individuals (Hap being the exception) have already been featured on highly produced ESL productions (Six Invitational Qualifiers for Sternab, the Paris Major for Demo and the US Nationals for Flynn and Stoax) showing they are capable and trusted on some of the biggest stages, and so definitely can survive to be the official casters of the Challenger League.
This would solve issues A and B, as all games would then be cast on the main channel, however the hectic schedule of eight games, one day per week per region would still exist. This makes it too crowded, meaning individuals won't be able to keep up with which games are playing let alone watch or care about them all.
This issue comes from Challenger League trying to copy the Pro League format unnecessarily and to its own detriment; the Pro League has a double round robin Bo1 schedule to ensure the same number of games are played at each side of the mid-season Major (and so the two different metas) and to ensure that every team plays every week... but this isn't relevant for Challenger League as all games take place after the mid-season break and teams lack the fan base for the weekly games to be worthwhile making this format unnecessary.
The ideal format is the one used previously by the Pro League during Seasons 4 to 7; a GSL-style bracket (seen below). This format was initiated due to it ensuring that every single game is important and so people will want to watch them which was crucial to the growth of R6 Pro League, an effect which is now needed for the Challenger League.
More practically, this allows you to stick to the old style Pro League schedule as a GSL-style bracket consists of 14 games over the seven weeks hence two games a week which then can be best-of-three maps. Not having to play two games against two different teams every week would be encouraged by teams, the higher stakes would draw in viewers, and the fewer games aids ESL themselves due to the lower workload.
This would ensure a higher level and consistent games for teams which hopefully would mean teams would actually want to stay in the Challenger League as they get something out of it. The higher prestige in the league also would hopefully keep teams together rather than the constant disbands and reorganisation of teams we see in the league (particularly in the NA region). In total, this leads to a major net benefit for R6 esports at these lower levels.
---
And so there are my hopes for next week's esports panel. You can watch the announcements live on the rainbow6 Twitch account or catch the full coverage of the Six Invitational right here at SiegeGG!