Once again, Europe continued bucking wildly from expected trends -- arguably solidifying a new European league order -- as G2 Esports, Mock-it Esports, and Team Secret all went winless. North America too, sprung some surprises but was largely predictable in the way the games played out, while Latin America's top three, that surprisingly excludes FaZe Clan, finished with a sizeable gap over the rest.
North America - OrgLess' Troubles Continue, Rise Gets Going
North America continued to have its top three teams pull out a sizeable gap over the rest of region, but a lot of the interesting action happened towards the bottom -- and outside of the game. Going to Consulate against DarkZero with MahMan, the team gave a decent challenge but the former Obey Alliance player was especially quiet with just two kills across the 11 rounds as OrgLess fell 7-4.
Soon after the game, though, MahMan was dropped by his team despite the extremely tough challenge of Evil Geniuses awaiting them the next day. The team's coach, UnrealGS, played in the loss as a stand-in as the team's first half of the season came to a close with just one win and a draw to their name. Unfortunately, due to technical issues with the ESL studio in Poland, the games were not broadcast live, and only the VODs were uploaded.
The only team below OrgLess finally got going, with Rise Nation finally collecting their first points of the season. Facing Rogue first, they seemed to show signs of life in a close 7-5 loss, and seemed to complete their turnaround the next day with an immense performance. While the win itself was a surprise, the manner in which it was achieved was even more stunning as the Invitational-qualified Spacestation Gaming (SSG) was swept aside in a brilliant 7-1.
The three-way tie for fifth from the week prior was broken, as Rogue took a lot closer a victory against Rise Nation as they would have liked, but followed it up with a strong showing against Excelerate Gaming (ExG) to finish the season with 10 points. SSG attempted to keep pace also with a win against ExG, but faltered on the second day against Rise, and Orgless for their part suffered two losses.
At the top of the table, though, Evil Geniuses finally got another game with Geoo under their belt after more than a few technical issues, but immediately lost 7-5 to Team Reciprocity in an unexpected result. DarkZero's win against Team Reciprocity the next day, though, meant that both team drew level on points. However, with head-to-head results being the first tiebreaker, the former staked their claim to second-place thanks to the 7-5 victory.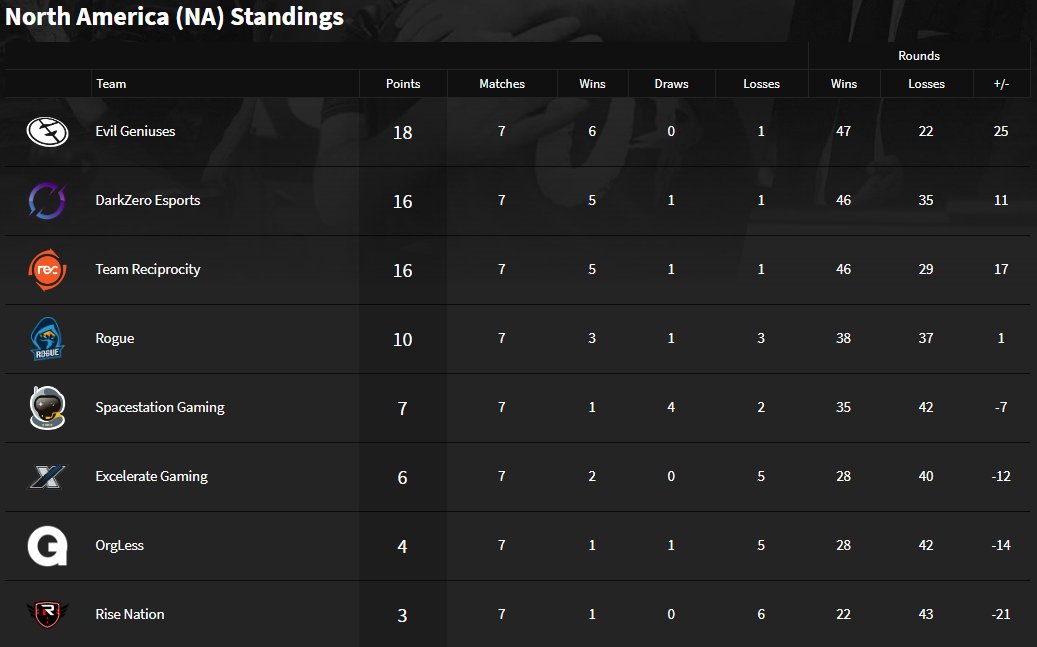 Going into the break, the current top five teams in the region (with the exception of DarkZero) will all be participating in the Six Invitational 2019 and are undoubtedly pouring all they have into a good performance in Canada. The other four, however, will get a chance to not only observe their rivals, but more importantly work on their failings and address them in anticipation of the league's resumption in the second week of March. OrgLess, in particular, will also be looking for a fifth player.
Latin America - FaZe Clan Slips Behind, Immortals Goes Top
FaZe Clan's travails continued, and even Mother Nature was not on their side. After a tropical storm knocked out power to their team house and threatened to take away their chances at even playing the match against Immortals (IMT), a gesture of goodwill from paiN Gaming saw FaZe hop over to regional rivals' place to play the game.
Unfortunately for them, with their nerves probably rattled after a near-forfeit loss and the added stress about having to swap locations, FaZe were unable to give too much trouble to IMT and lost 3-7. With this loss, FaZe has only collected three wins in the first half of the season, and with Team Liquid, Immortals, and Ninjas in Pyjamas performing well, are almost certainly out of contention for the Season 9 Finals.
As much as paiN Gaming's fans would have been hoping the cosmic karma to allow FaZe to play in their team house would work in their favour, any possible divine intervention was shut down by the antithesis to God -- Red DevilS. The newly promoted team's meteoric rise in reputation continued as they rose to fourth place above FaZe Clan with their 7-4 win.
When it came to Team Liquid and Ninjas in Pyjamas (NiP), however, the latter's good run was finally stopped as the Liquid leapfrogged their rivals to move into second place, although only by a single point. The affair on Coastline was not anywhere near as tight as NiP would have preferred, although they will not be unduly worried with seven games yet to be played from March onwards.
Finally, as was with Rise Nation in North America, INTZ eSports finally got a win in Season 9 as Black Dragons were unable to keep their streak going after some excellent results in the past weeks that saw them beat FaZe and draw with IMT.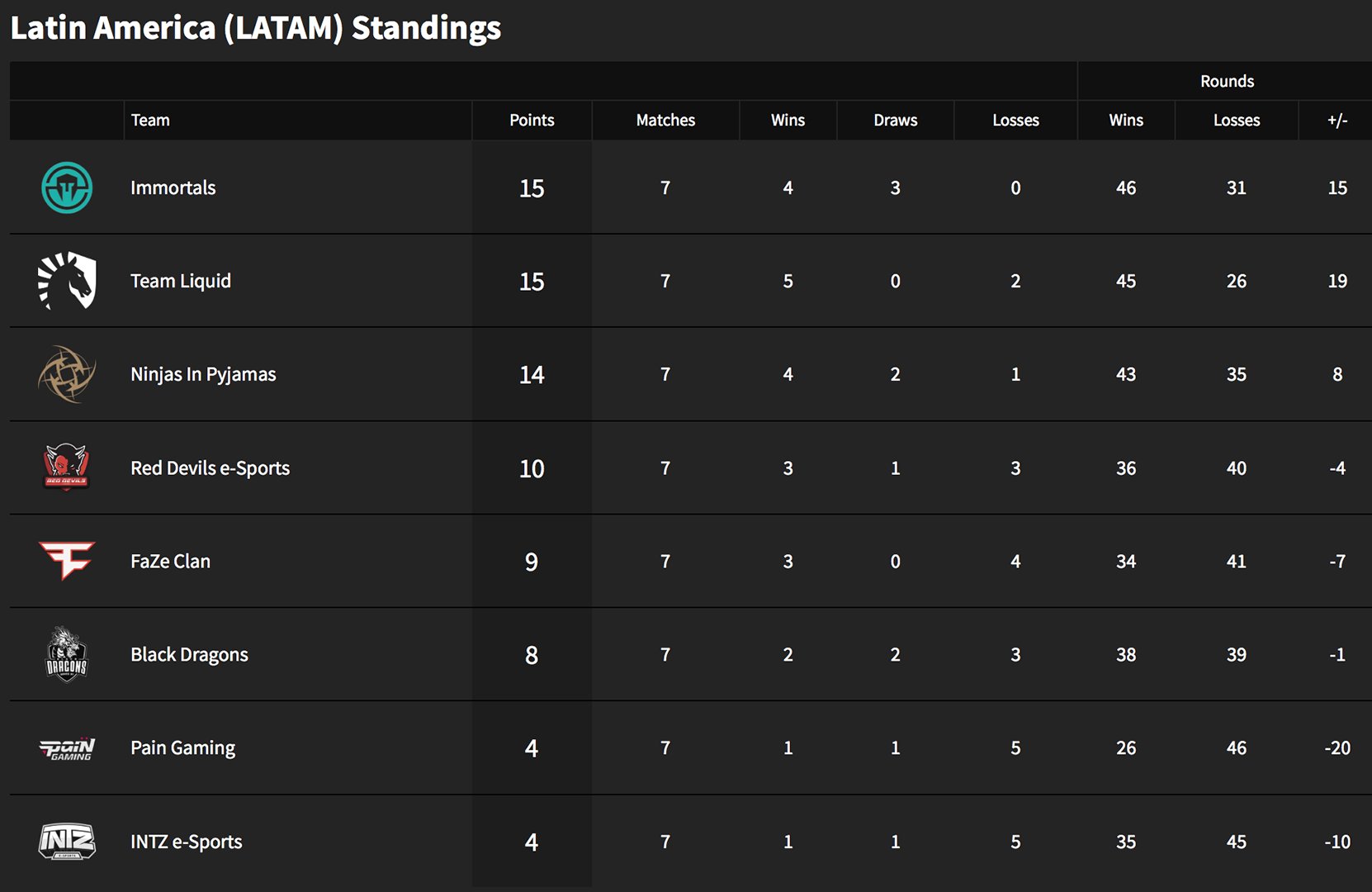 As with North America, half the region now gets to take a break from the Pro League for a month and a half while FaZe Clan, Team Liquid, Ninjas in Pyjamas, and Immortals head to Montreal. Of the four, the former will have to elevate their game a lot more to stand a chance if the Pro League results are any indicator. Red DevilS, though, are undoubtedly the standout performers of the season so far and -- while are four points off third -- will be very happy with the way their season has gone so far. Only time will tell if they will thrive in the new meta after the Invitational, or if FaZe Clan will be able to stage a credible comeback being six points off from a LAN spot.
Europe - Team Secret Dead Last, G2 Unable to Win (Again)
Team Secret closed out an absolutely shocking first half to Season 9 as they finished dead last in the EU standings after a loss to ENCE eSports in the opening game of the night. The match, while a nightmare for Secret's fans, was a treat to watch for the Finn's supporters who saw team captain Willkey shut down questions regarding his age with a stellar performance.
Many questions are still left unanswered as to the reasoning behind the struggles of Team Secret in particular, whose only points in the season have come from their second day victory over G2 Esports. Of the top three teams in Season 8, Secret has been by far the worst, but the problem is likely to be a larger one when the other two -- G2 and Mock-it Esports -- are also languishing in the bottom half of the table.
G2 Esports would have undoubtedly been raring to end off a highly subpar first half of the season with a victory against LeStream Esports (LSE), and were poised to do so at 6-4, but superior firepower from LSE saw their opponents bring it back to tie things up. While still the most successful team in Rainbow Six, and defending world champions, many are speculating that G2's dominance has finally come to an end.
Mock-it, too, the standout performers in the second-half of Season 8 have found the going tough. Only one place and three points above Team Secret, they too headed into the break on a disappointing note after suffering a narrow loss against PENTA Sports.
Over on the other end of the table -- a strange sentence when considering it refers to the top, and not the bottom as one would previously have expected -- league leaders Team Empire had little difficulty brushing aside Chaos. While the Swedes had burst out of the blocks with some excellent performances, their points tally remains the same as it was after the third day.
This match was also somewhat of a grudge match with Redgroove coming up against his former teammates, with whom he had played at the Six Invitational 2018 under Room Factory. Clearly, he had lost none of his touch, as he nearly made history with the first 1v5 clutch on attack against the fearsome Eastern-European opposition.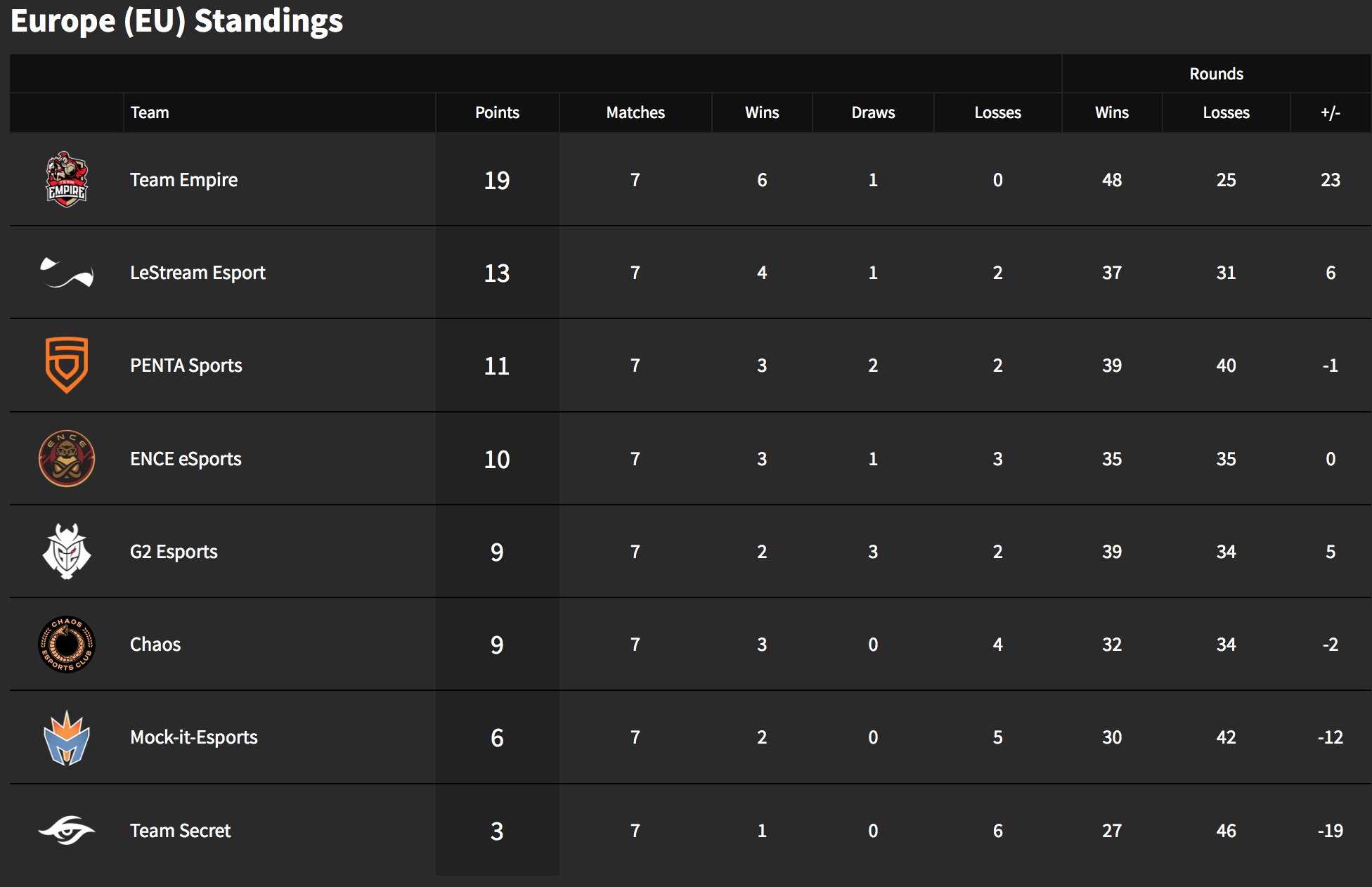 Now, with the season on break, five teams from Europe will be headed to the Six Invitational to strut their stuff on the biggest Rainbow Six tournament yet. Out of the five, G2 Esports and Mock-it Esports will have the greatest to prove after their poor first half of Season 9. The trio of PENTA Sports, LeStream Esports, and especially Team Empire will be full of confidence however, and will leave Team Secret, ENCE eSports, and Chaos in Europe to watch from the sidelines.
Asia-Pacific - South Korea Continues Playing With Four Teams
In what is undoubtedly a disappointment for the region, South Korea's Pro League had only its second play day of the season. Starting a week (and four play days) after the rest of APAC, they had played their first games on the 24th of January. Last week, the region continued to do so despite just fielding four teams. Team uR drew with Team Legacy, while mantisFPS narrowly beat Ageless Blue 7-4.
The Community Manager for the region, James "Jebus" Foster was thankfully able to shed light on the situation.
The region's struggles continue on, unfortunately, despite things having looked up previously. In Season 6, the region was famously unable to field a full eight-team league and operated with six teams instead. In Season 7, after the success of mantisFPS at the APAC LAN which saw them qualify for the Pro League Finals in Sao Paulo, teams seemed to be interested and the region was even able to get the Challenger League up and running.
However, in Season 8 -- despite eight teams participating at the start -- two had to be disqualified for forfeiting too many games. While the Challenger League continued on, the cultural differences saw just four teams remaining in the Pro League for Season 9. With mantisFPS certain to take one of the APAC LAN qualification places in this season, the chances for one of the other three to make a LAN appearance have now shot up drastically.
Korean Rainbow Six fans will now be hoping for a strong showing from mantisFPS at the Six Invitational that could possibly spark some life into the region once again.
---
And so that's my roundup of the final super week of Season 9 as we saw competition heat up in all four regions. Keep an eye out on SiegeGG for more Pro League updates and results, especially regarding our coverage for the Six Invitational 2019 just nine days away.