Map: Border
NiP: Julio, PZD, wag, Kamikaze, Psycho
BD: DocKy, Drunkz, RDz, slasH, LeVy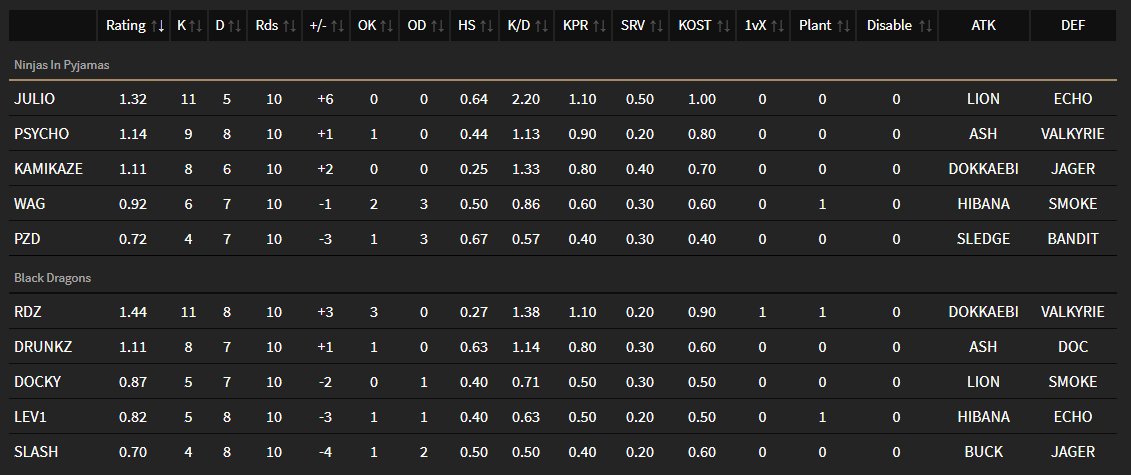 The first game of the day saw the ex-Black Dragons side held to a 5-5 draw against the newly promoted current Black Dragons side. NiP had kicked things off by banning Glaz and Mira, while BD had banned Thermite and Maestro.
Starting on attack, NiP flexed their muscles by executing a flawless second-floor bomb site take, and extended their lead to 2-0 in the second round aided by some well timed Lion EE-ONE-D activations. BD were not cowed, though, and put their first round on the board on the backs of a 2k from RDz and Drunkz each.
NiP further extended their advantage with a strong roam clear and site push, but their march towards 6 round wins was halted by some poor play from their own side losing them two rounds -- the first due to an overconfident push onto site despite having a 4 vs 2 advantage, and the second due to three of their players lining up for an easy triple for RDz.
Regaining the lead in the following round, NiP attempted to put things onto match point, but two last-second sets of kills in that round and the next (a 2 vs 1 refrag from Drunkz, and a 3k from DocKy respectively) meant that it was BD who would move onto match point instead. However, NiP would rescue themselves a point and stave off an upset after a strong hold of the offices led them to the round win.
Map: Border
FaZe: mav, Astro, gohaN, cameram4n, muringa
IMT: Novys, pX, Cyb3r, oNe, D1OGO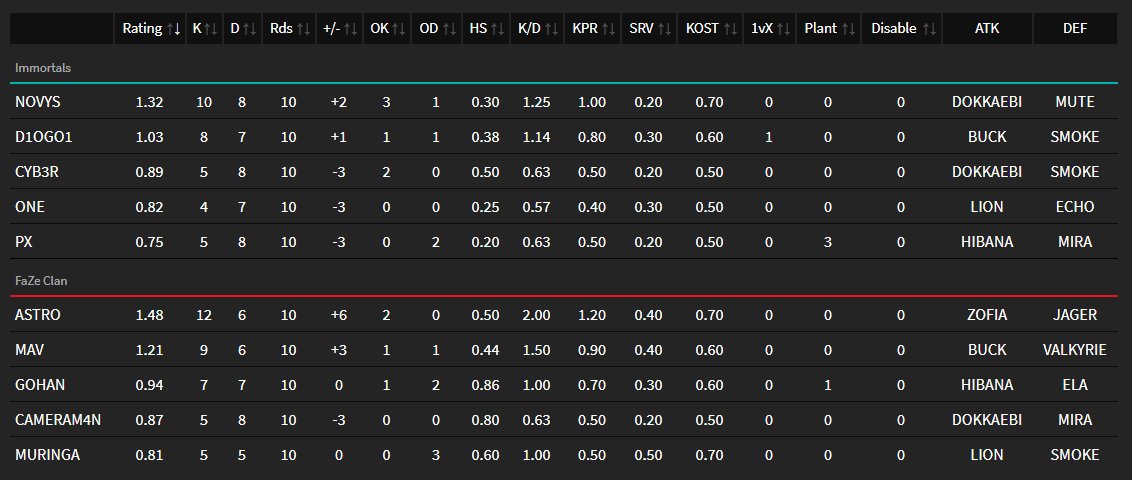 In yet another surprise, FaZe Clan was also held to a 5-5 draw like NiP had been in just the previous game. The ex-BRK eSports roster, now playing for Immortals had banned Glaz and Bandit, while FaZe had removed Thermite and Maestro from play.
The game started off with a sign of things to come, with FaZe almost throwing away a 4 vs 2 man advantage after a swift double-kill from pX. The next round also saw things come down to the dying seconds, with FaZe just clinging on for the win. However, their last-second luck ran out in the third round as smart play from D1OGO on the Smoke forced cameram4n to fall off the plant, and win the first round for IMT.
In an attempt to speed things up, FaZe started off the next round more sprightly and while down 3 vs 5, were rewarded with the round win with 45s to spare. Unfortunately for them, a reversion to a lethargic attack meant IMT would win yet another round thanks to the clock.
The next four rounds, however, were all traded back and forth between FaZe and IMT, with the former making mistakes such as leaving the site undefended, and the latter having oNe to clutch out a 1 vs 2 to tie things up and earn both sides a lonesome point each.
Map: Border
Liquid: Nesk, ziG, xSexyCake, Bullet1, psk1
BKG: Dudds, sSeiiya, IntacT, Lipe, MasterKing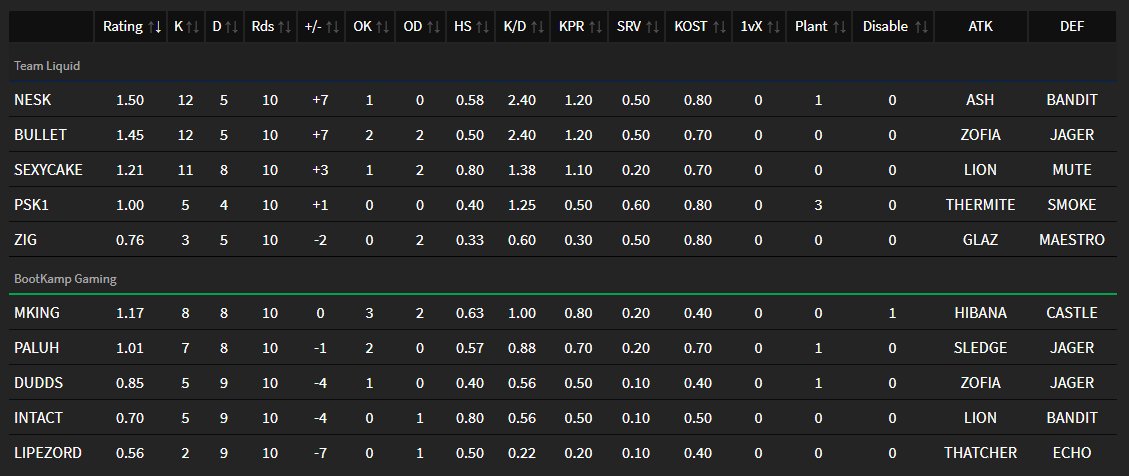 Breaking the trend of map draws, but not the map Border, was the third game between Liquid and BKG. BKG started the operator bans, excluding Buck and Vigil, while Liquid banned Dokkaebi and Mira.
Liquid started off brightly, picking up where their Season 7 ended, winning their first defense with an unorthodox and open setup. BKG wisened up the next round and fired back, but Liquid surged ahead with two further, clean, round wins to put themselves up 3-1.
BKG put a second round on the board for themselves but, after their switch onto defense, allowed Liquid to plant with all 10 operators still left alive, resulting in the latter securing 4 post-plant kills in 3 seconds. Unwilling to let Liquid run away to the win, BKG clawed another round back, but followed it up with a poor attempt to deny the plant in the next and let Liquid get to 5-3.
On matchpoint, and eager to end things as they stood, Liquid seemed to play right into the hands of BKG and left NESK alone in an almost-impossible 1 vs 3 scenario to give BKG hope of securing at least a point from the match. However, a rapid-fire attack from Liquid closed things out as BKG were unable to match the suddenly increased aggression, and secured the win for the Season 7 champions.
Map: Border
paiN: SpawNsss, fk1, Yoona, Revo1Tz, gCR
T1: Panico, Hugz, ion, gdNN1, iBlackZ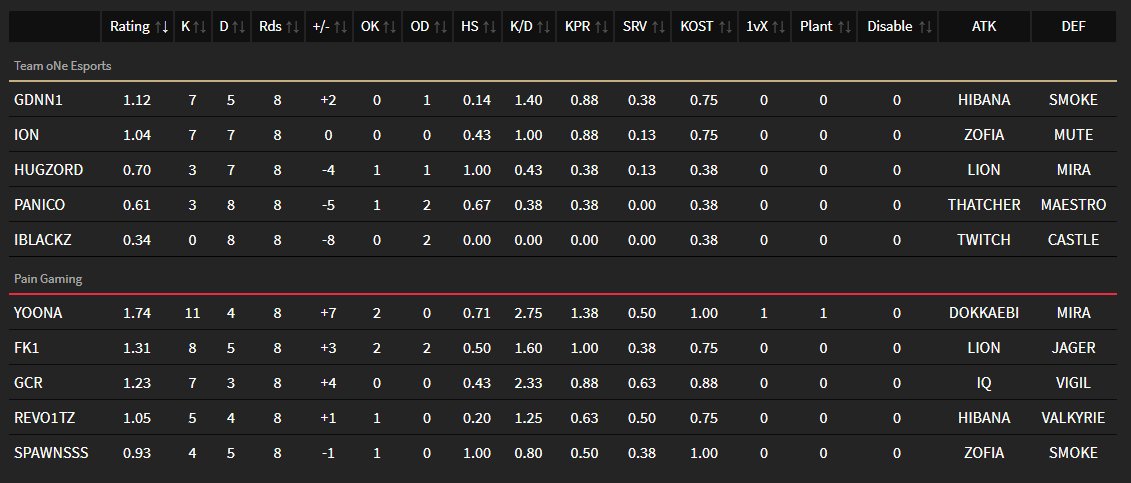 The final game of the night was, as in North America yesterday, the most one-sided. In a fearsome display of might, paiN Gaming easily dismantled Team oNe on Border once more, after the former had banned Thermite and Echo, and the latter had banned Glaz and Bandit.
The first round went to the eventual winners on attack, with T1 unable to find an avenue onto the bomb site to plant the defuser. However, paiN's decision to go with Alibi the next round failed to work out, and T1 tied things up 1-1 after a somewhat haphazard attack.
PaiN was undeterred, though, and forged on, with fk1 and Yoona both getting a 4k each in the subsequent two rounds. Coincidentally, Revo1Tz was the one to cap off the fifth kill in both these rounds. Team oNe attempted to fight back in the next round, ending up in a 1 vs 1 situation, but ion's great execute onto the bomb site was immediately undone by his decision to chase the final kill instead of retrieving the defuser from his downed teammate on site.
As the sides switched, paiN moved up to match point after a near-clutch from gdNN1, but T1 finally got a second round on the board after paiN made a meal of their second-floor attack no thanks to a teamkill from Yoona. However, paiN were uninterested in allowing a third draw to happen, and cleaned up T1 in a span of just over 30s as the round came to an end to take the win by a dominant margin.
---
Catch the next round of Latin American games tomorrow on the 28th of June on the main Rainbow Six Twitch and YouTube channels from 7PM BRT. To see all the upcoming games' schedules, go to our Matches page, and check out completed games' stats by clicking on the individual games.