The final match of the season saw what was also the longest and tensest matchup, as Team Demise beats the top seed of Big Guns to book their spot at the BeNeLux LAN.
Team Demise: Erkkari, Neo, Theo, Dark and Kabouter
Big Guns: Farooq, F4LCoN, Kryen, Ma3lish and NotHikky
Map 1, Consulate, started off strong for Team Demise as a hard east side push broke down Big Gun's Meeting Room defence getting them a series of early frags and so a quick lead in the match for Demise. In the following rounds the attack side showed their power for both teams as overpeaks from defensive teams led to attack winning the 4 rounds in a row. The closest of these rounds was in round 3 in which 2 across map kills by Kryen helped put him in a 1v1 before he was forced to push forward and was eventually put down by Erkarri.
This pattern was eventually broke as Demise successfully shutout defenders attacking up yellow stairs onto Console Room room leaving Kryen needing to get an ace to win the round before Kabouter killed him taking the first defensive win of the map. This was all that was needed for the team as Demise once again managed to close out their attacking round leading to a 5-2 victory for them on their map pick. This was in part thanks to a huge showing from Kabouter getting 10 kills to just 4 deaths across the 7 rounds.
Big Gun's map pick of Border came next which told the opposite story as the first 8 rounds all fell to the defensive side in convincing fashion. This included Kryen holding off an attack from all sides in Offices getting him 4 kills in the process in round 3, a 2v4 comeback by Theo and Neo in round 6 and a 1v2 clutch by Farooq on round 7.
Team Demise effectively won the coin toss going into overtime as they were put onto defence first meaning they had to just continue the defensive streak to close out the match. This began as expected in the first round of overtime as the defense won yet again thanks to a 1v2 victory by Dark which was once again drawn up by Big Guns in their own defence round. The final round of the map, however, went horribly for the defenders as adaptations by the attackers finally managed to break the deadlock leading to a 1v5 situation for Neo which, despite getting the first 3 kills, was too much for the bandit leading to a 6-5 victory for Big Guns.
The decider map saw the first BeNeLux appearance of Clubhouse post "map buff" which was highlighted in the very first round as Team Demise attempted a Cash Room defence. This saw a confused and unorganised attack from Big Guns fall apart in the newly added connector room between the top floor bedroom and cash room giving Team Demise an early lead. The unfamiliarity both teams had with the new map design was evident across the game as attackers tried to open up now defunct angles and defenders positioned themselves seemingly unaware new hatches and flank routes.
The map once again went all the way to overtime with a particular highlight from Farooq who, in round 4, managed an ace in a 1v4 scenario as Pulse however failed to disarm the planted diffuser leading to a round loss. In overtime, however, Demise managed to gain their first back to back round victory winning both an attack and defense round in the CCTV and Cash Room objective winning the map 6-4 and the series 2-1.
This result now books Team Demise a place at the BeNeLux LAN in 3rd place while dropping Big Guns down into second and, due to the forfeit of Remote Controlled, finishes off the league stage of Benelux League Season 1.
After week 7 the current league standings are:
Week 7 player stats: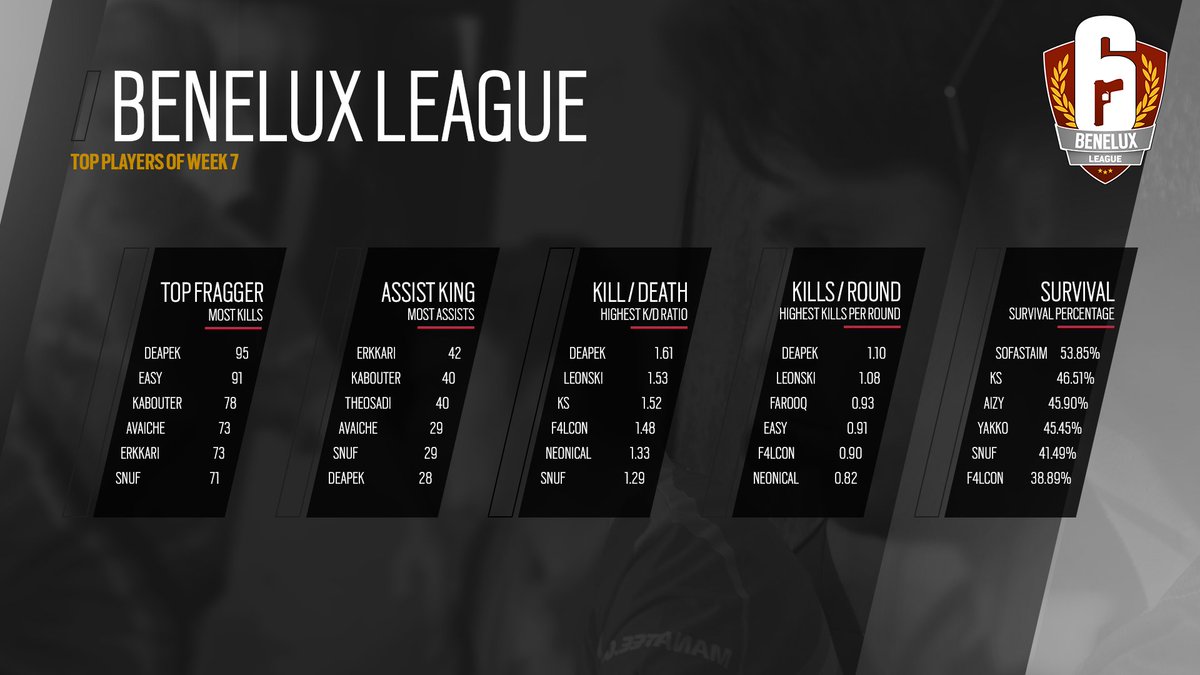 The highlights of this game can be found here.
Written by TheRussianEwok