This weekend, the Rainbow Six Japan League, the biggest domestic tournament across all of competitive Siege with its ¥32 million (US$308,000) prize pool, came to an end after six months and 28 days of play.
Read on to find out what went down in the 14th week of play and what will come next.
Jump to:
Day 27
While both of these teams are in the relegation zone, there is still clearly quite a gap between them, as sixth placed Crest smashed last placed EVA:e on the maps of Oregon and Clubhouse.
After starting off in the lead, EVA then lost five rounds running while attacking on Clubhouse. This included a 1v4 from "Eclair" on Arun, as EVA simply ran out of time with three bodies still up. As sides switched, a valiant performance from "amb3rxd" gave EVA another round before Crest cleaned up to win 7-2.
Map two was much closer, but outside of two more clutches on time from Riku "Maavi" Kaizo, EVA never seemed like much of a threat. Eventually, the map ended 7-4 to Crest, which officially meant EVA:e ended the season in last place, a very disappointing result for its coach Arthur "Ar7hur" Schubert and the playing core that had competed in the APAC North relegations last year.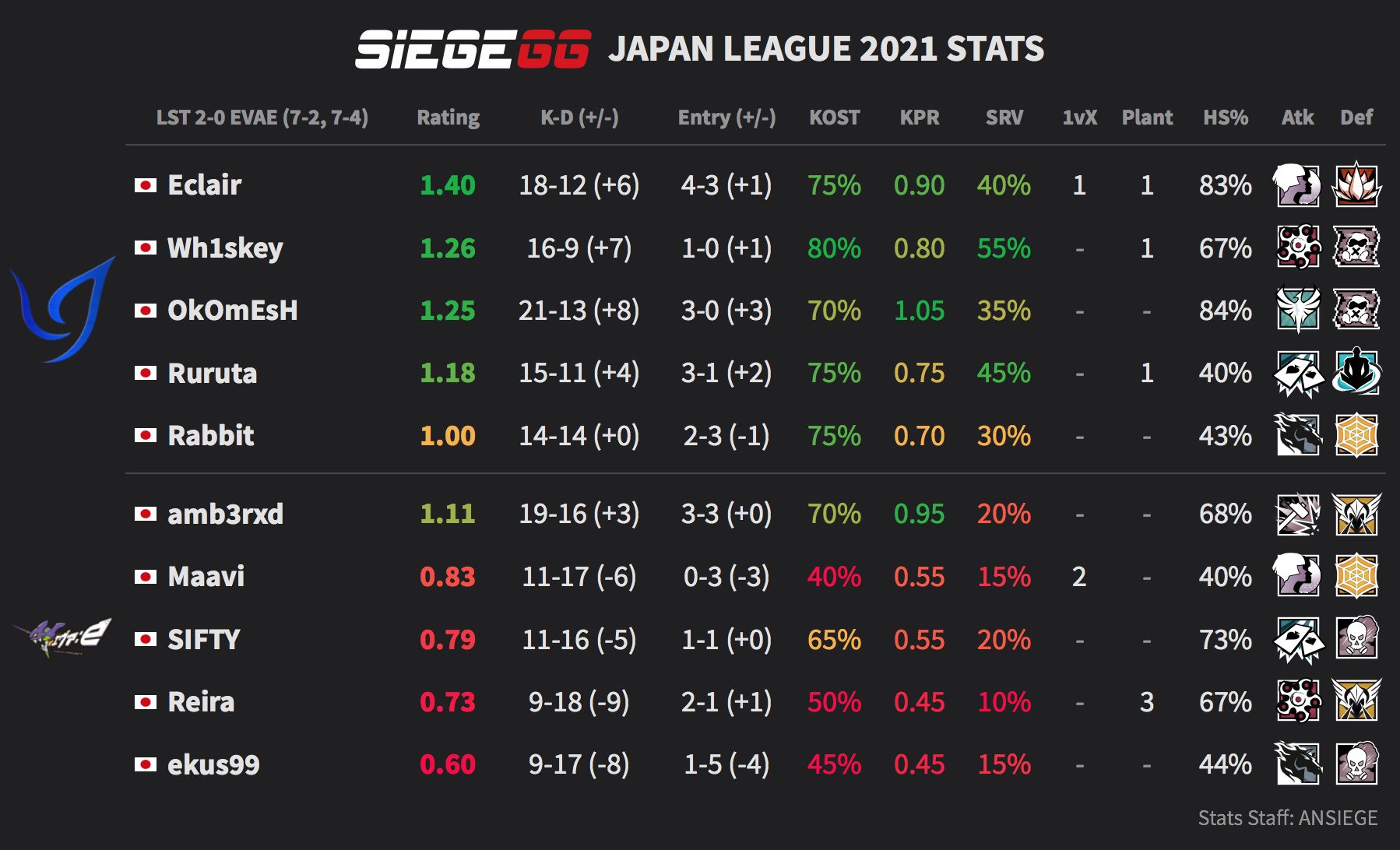 While a strong result from FAV was expected, its game against Northeption really did end the season on a high note for the APAC North side as it took Cluhouse and Villa 7-0 and 7-1. The trio of Taiga "Taipon" Katagari, Taku "No2" Murakami, and "Luugator" all achieved over a 2.0 kill-death ratio.
On Northeption's side, while Hashi "SpeakEqsy" Daichi and "Marol" didn't fare too poorly statistically, they were unable to gain any ground, with their lone round win coming due to a Marol triple kill on Alibi while defending Villa's Aviator/Game Room objective.
Ultimately, this was the most one-sided match in the entire 56 match season. Whether this was due to Northeption switching off, FAV being eager to stay ahead of GUTS in the standings, or the impact of Luugator's increasing familiarity within the team, it certainly made a statement on the skill gap between Japan's tier-one and two teams.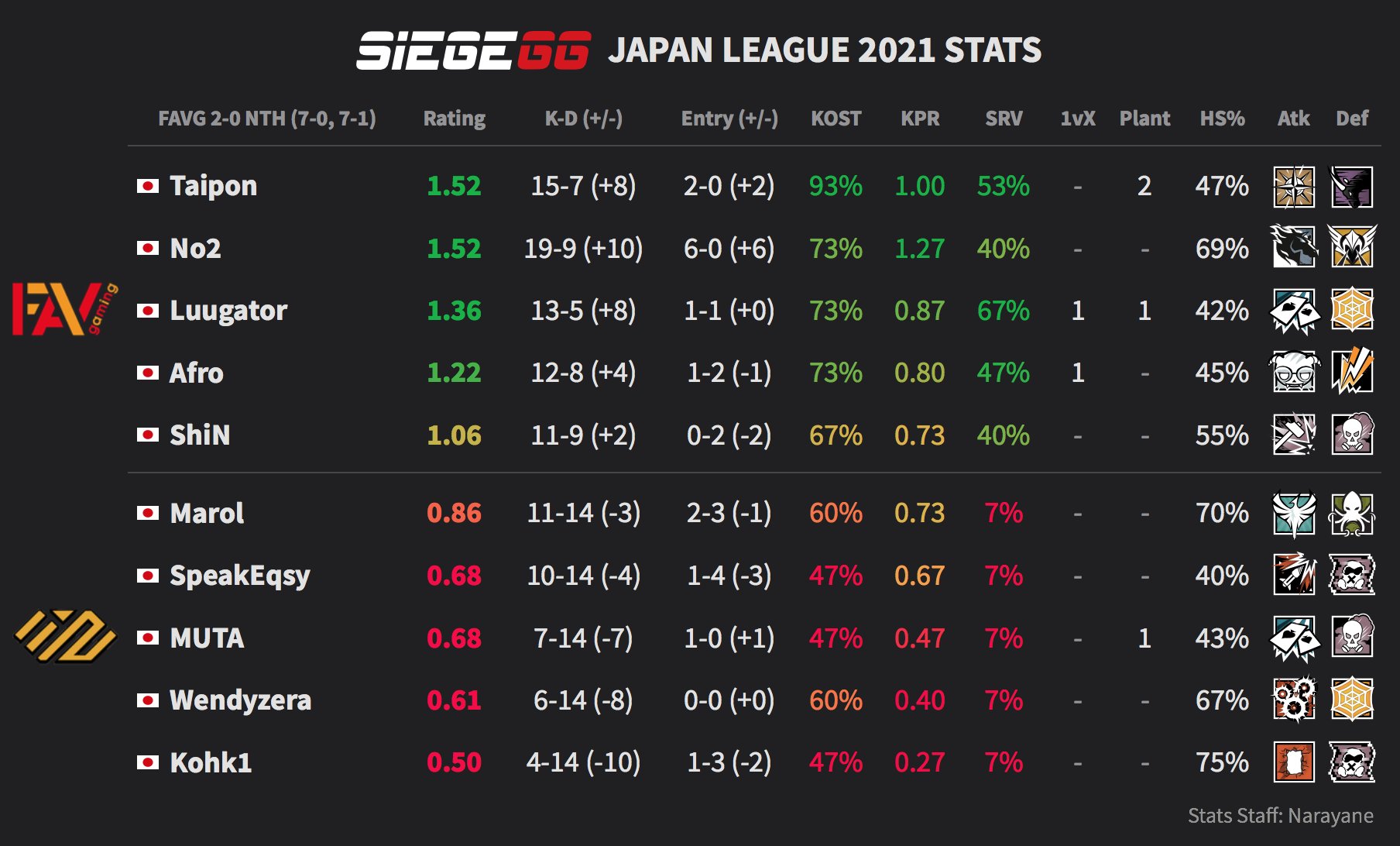 Day 28
On the final day of play, the GUTS vs. REJECT matchup was the only one that could've actually impacted the standings. GUTS had been in fourth place with 25 points, while REJECT had been in fifth on 23 points.
Starting on Chalet, a 1v2 quadruple kill from Kazuki "Lily" Yamane gave GUTS a 4-2 lead on its attacks, only for the side switch to tie it back up at 5-5. The Castle/Smoke duo of Lily and Hikaru "Li9ht" Osawa then halted REJECT's attacks onto the Master/Office site, before Naoki "Yura" Takamoto held on to win round 12 in a 1v2 on time to take the first map 7-5.
Map two was, unfortunately, much less interesting as we saw another runaway result. After winning the first two rounds, REJECT then lost seven in a row, which included another quadruple kill from Lily to end the series 2-0.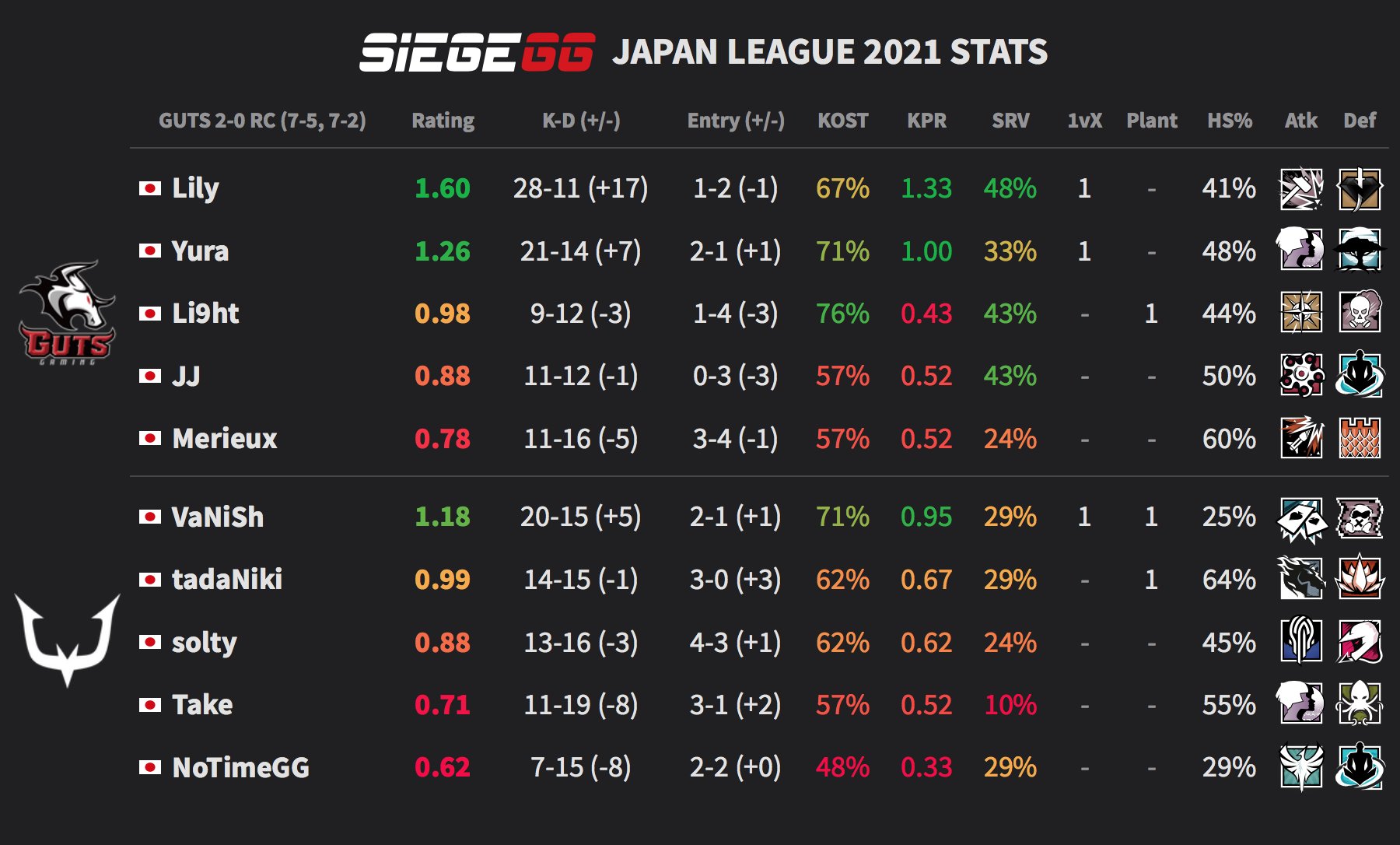 Finally, we had the match of the day between the top two teams in the league which, unlike the rest of the weekend's matches, was an actual contest.
Kafe started the game, which saw multiple multi-kills come out almost every single round. In the end, it was Reon "Anitun" Sakai who made the difference. After helping CAG tie scores at 4-4, he then secured six kills in three rounds to take three defensive holds and thus win the map.
Map two was Bank, which once again saw CAG fall behind on its attacks only to make up the ground on its defenses. Here, the APAC North team tied things up at 5-5, but they couldn't end it early, as a triple kill from Hayade "febar" Tsuda sent this map into overtime.
After losing the first offensive round, Yuta "ReyCyil" Inoue then won a 1v2 quad-kill to keep Sengoku in the game and followed this up with a triple kill on Thermite to win the map 8-7.
And so, we went to Coastline where in a flip of the prior two maps, CAG won its attacks and followed this momentum through. Taiyo "Ayagator" Hirayama then ended the league with a 1v3 on Maestro to win the map 7-4, and the series 2-1.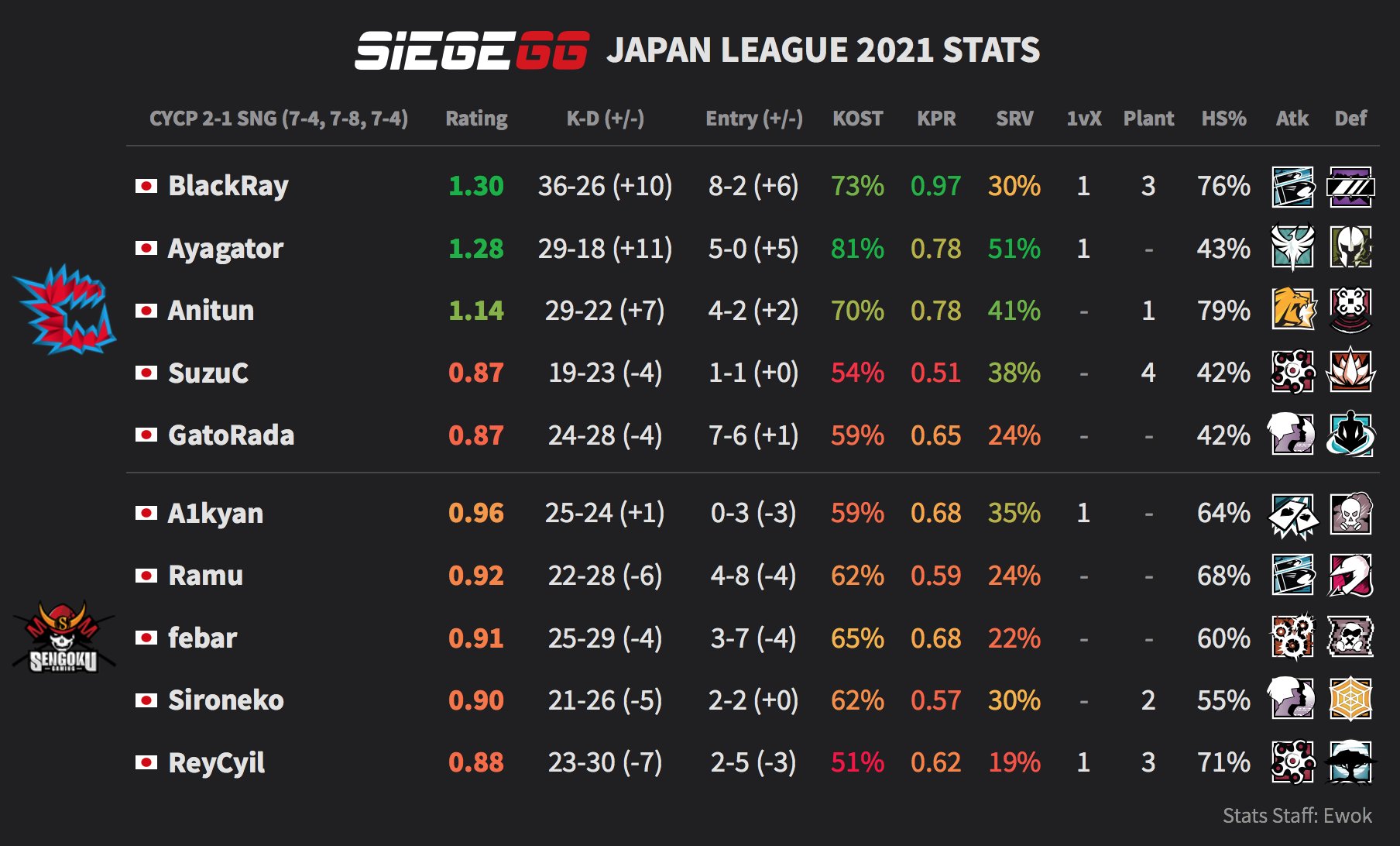 Final Results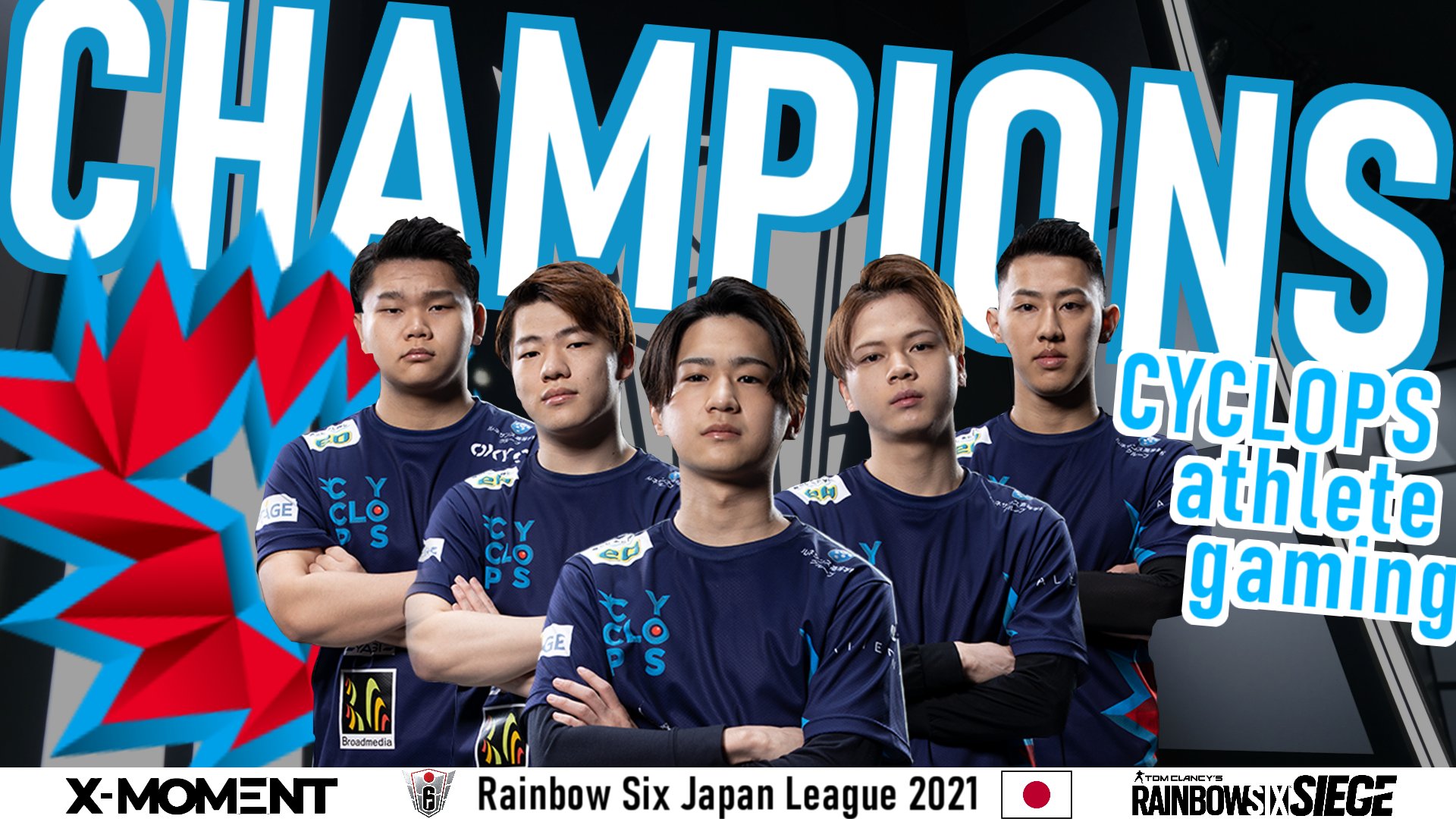 With this, CAG lifts the national trophy and takes home $136,000 in prize money. The roster has now won all four top-tier Japan national tournaments, with the team having had just one player change since its first national title back in September 2019.
Also of note is that second placed Sengoku Gaming and fifth placed REJECT have qualified for the APAC North relegation matches, with both these teams being the favourites to win a top-flight spot for the 2022 Season.
Finally, despite a rough first half of the season, GUTS managed to avoid the relegation zone, with the three tier-two rosters of Crest, Northeption, and EVA:e instead needing to fight for their spots in the 2022 Japan League in November.
What's next?
The Japanese national season isn't over yet, however, as all eight of these teams will join 12 qualified rosters in the 2021 Japan Championship, which will take place throughout October.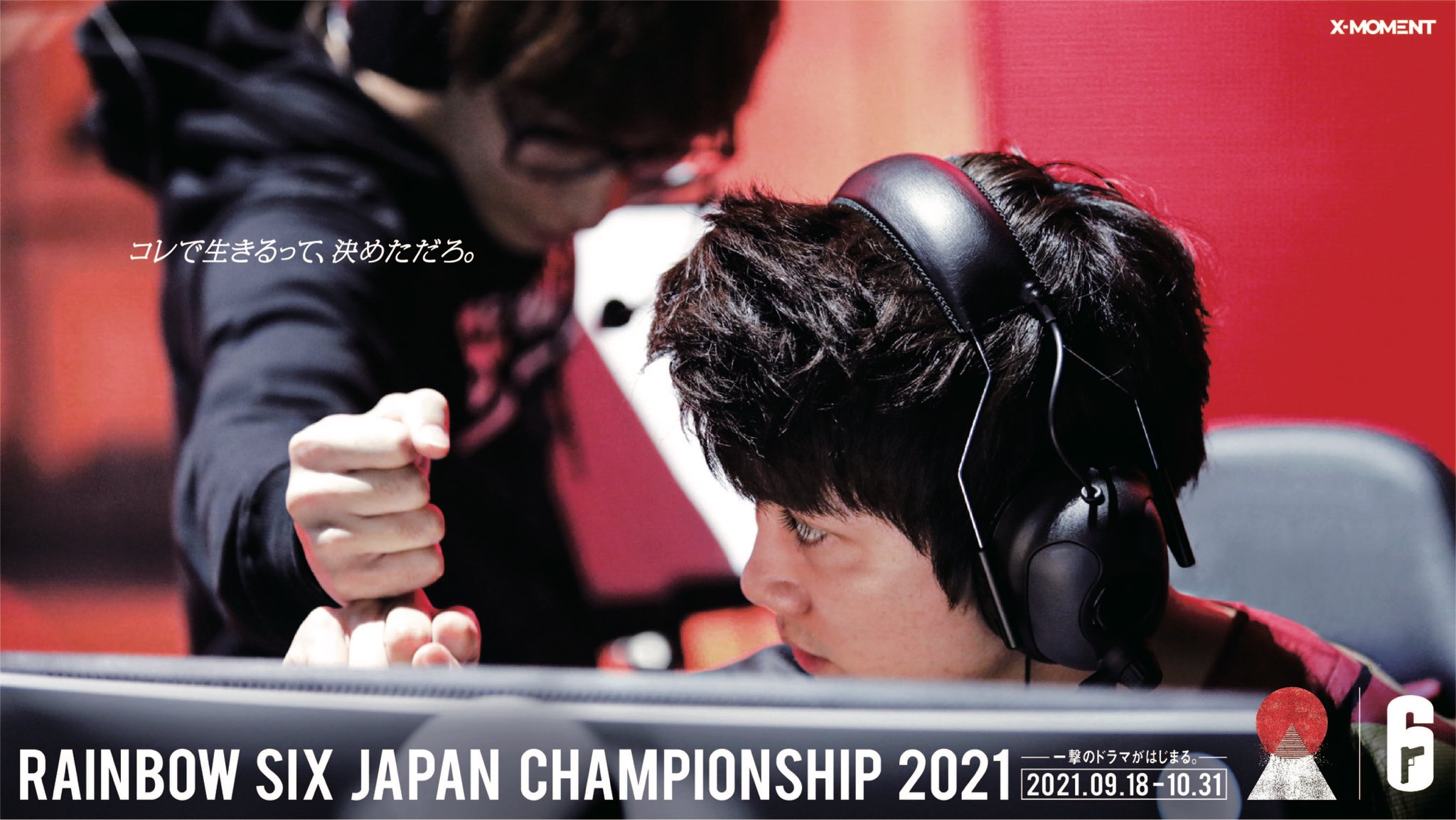 From Oct. 2 to Oct. 10, 16 of these teams will compete in four double-round robin best-of-one map groups. The top two in each group will then progress onto the playoffs, which will take place in the final three days of the month.
Here, these eight teams will meet CYCLOPS, GUTS, Sengoku, and FAV in a single-elimination bracket to crown the Japan Championship 2021 winner.
The 20 teams are fighting for another massive $136,000 prize pool, as well as a spot in the Japan League relegations. This is also the only remaining opportunity for up-and-coming teams to fight Crest, Northeption, and EVA for a spot in the main league for the 2022 season.