Banner image: Ubisoft/Joao Ferreira
After the COVID-19 pandemic led to the cancellation of three Six Major tournaments, the August 2021 Major will finally take place, starting tomorrow, in Mexico City, Mexico.
This closed event had 16 teams qualify, the top four from each region, but only 15 will play in the second international competition since the Six Invitational 2020.
Jump to:
The Format
Monday to Wednesday will see a double round-robin best-of-one map tournament take place across the four groups.
Following this, the top two teams in each group progress to a BO3-map single-elimination playoff stage from Friday to Sunday, with a BO5-map grand-final determining the victor on Sunday.
These games will all be cast in English by a number of returning names as well as the additional faces of Alexander "Skys" Magor on the desk and Christopher "MonteCristo" Mykles as the host. A complete rundown of all this information can be found here.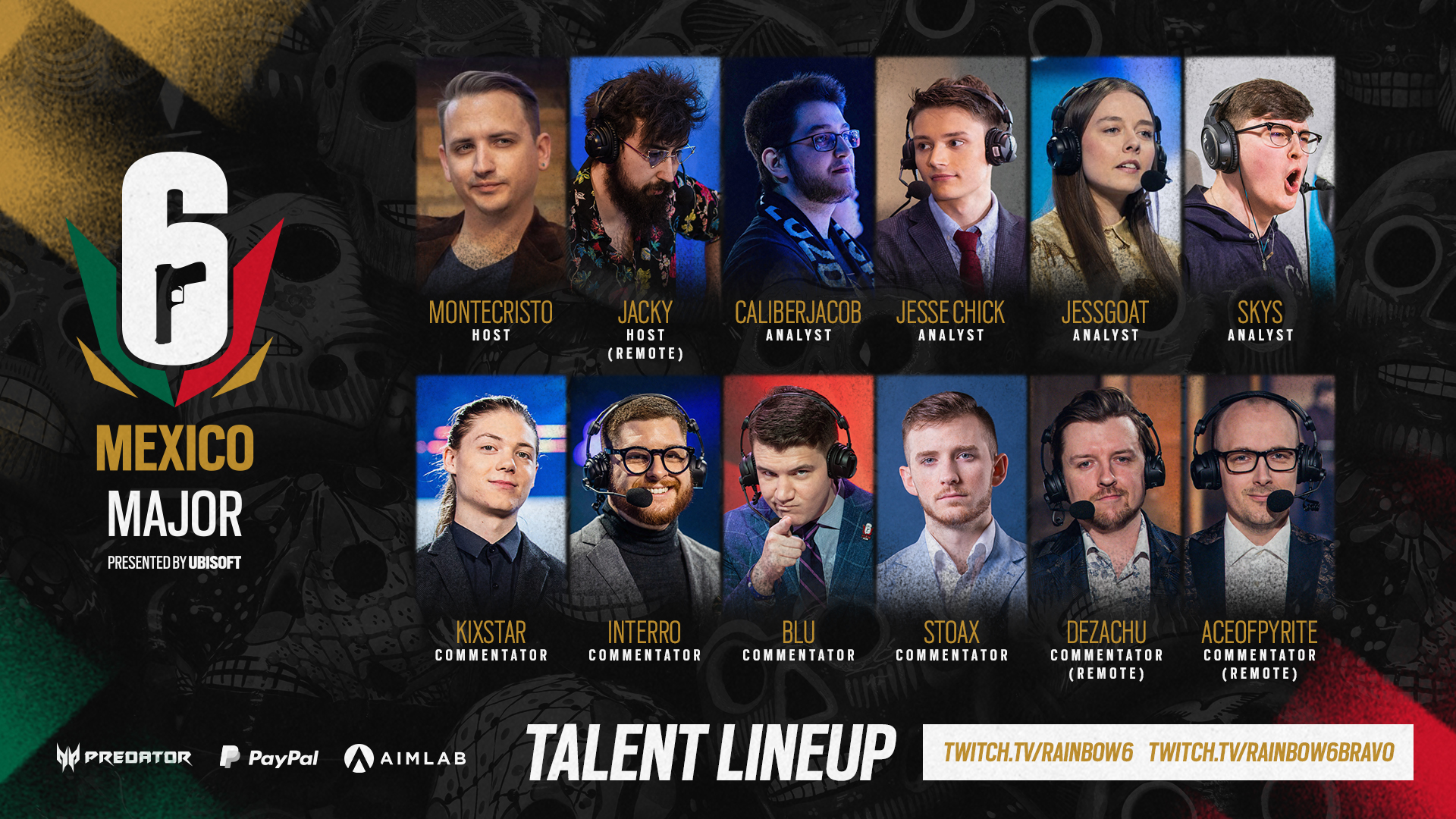 The Teams
Due to the Knights being unable to attend due to Australian COVID travel restrictions, the following 15 teams will be in attendance:
North America
Europe
Latin America
Asia Pacific
CYCLOPS athlete gaming -- Anitun, SuzuC, Gatorada, Ayagator, BlackRay, Fuji3 (Coach), and Hybrid (Analyst)

"Even more aggression" in Mexico the way to go for "best in APAC" CAG, says Hybrid

DWG KIA -- CATsang, yass, Woogiman, coted, RIN, Gotti (Substitute), RoyBoy (Substitute), HoundBird (Coach)

Despite the pressure of a new organisation and nine personnel changes, DWG KIA still emerged stronger and hungrier

Invictus Gaming -- Lunarmetal, HysteRiX, SpeakEasy, Jrdn, Jo, Ultima (Substitute), GiG (Coach)

Doubling down on structure the key to Invictus Gaming's climb back to the top, says Lunarmetal

In Group A, TSM, the closest team there is to a home favorite, hit a snag as Bryan "Merc" Wrzek tested positive for COVID and will not be playing. Instead, TSM coach Owen "Pojoman" Mitura will once again step in, as had for Emilio "Geo" Cuevas for the majority of Stage 2, which will force last-minute role changes.
While TSM was second in the NAL, it found itself in Group D -- the so-called 'Group of Death'. With only two teams from each group making it to the playoffs, this may lead to an early exit for Geo in the debut event on home soil for him.
Even should this happen, however, the NA League is well represented in the form of SSG who not only set a new NAL points record, but is also in arguably the easiest group with just two opponents. APAC South top seed, Knights, was unable to attend due to Australian restrictions not able to ensure a return to the country after the event.
Looking elsewhere, the reigning world champion team, Ninjas in Pyjamas, will be favorites to top Group C. Also in the group is a new-look G2 Esports, a DarkZero that had a very mixed season with a 1-6-0-1 record, and the international debutant DWG KIA from APAC North.
DWG's counterpart in this is Soniqs in Group D. While it took till the final play day for the North American team to qualify, the Soniqs were the only one to have finished in the top-four during both Stages 1 and 2 of the NAL.
Now, its competition takes a new dimension as it will face the self-professed "best team in APAC", CYCLOPS, as well as a BDS Esport desperate for recovery and a rapidly rising Team oNe.
SiegeGG Predictions
So with all this in mind, how does everyone think the tournament will go?
As well as the usual 26 casters that usually predict the results every week, we asked a number of other names to predict both the group stage standings and who they thought would finish in first and second place.
Note: most of the predictions above were made prior to the Merc's announcement that he had COVID-19.
Group A
Starting with Group A, BDS and oNe are the two clear favorites to escape the group, with BDS predicted to finish first despite being Europe's fourth-place seed.
The group's top-seed meanwhile, is APAC North-winning CYCLOPS, but is only predicted to be third, just ahead of the relatively inexperienced Soniqs.
Here's a few standout facts about the Group A predictions:
While six different people picked oNe to win the group, none of them were from LATAM
Only four people predicted BDS to not finish in the top-two, which included two of three of the Japanese casters
Despite finishing EUL Stage 2 in fourth, BDS is the only European team predicted (on average) to top its group
Group B
Next up is the three-team Group B. It, unsurprisingly, has Spacestation Gaming leading the pack following its excellent NAL performance, while both Na'Vi and FURIA are pretty close to each other in second and third.
Here's a few standout facts about the Group B predictions:
Back at SI20, SSG and Na'Vi were also both in Group B and were predicted to be the third and fourth place finishers compared to first and second now.
All five of the LATAM casters believe in FURIA's ability to progress to the playoffs.
Each one of the NA casters agrees on the pecking order here.
Group C
Onto Group C, where every single person agrees that the reigning Six Invitational Champions will make it to the playoffs. However, three European and two APAC casters still picked G2 to be first ahead of the Brazilians.
Overall G2, is favored to finish as the runner-up, while APAC's third seed of DWG is firmly predicted to finish last, likely due to its lack of international experience.
Here's a few standout facts about the Group C predictions:
DWG's lone believer is APAC South caster Guzz, who picked them to finish in second ahead of G2 and then DZ.
Out of the four people to pick DZ to come second, two of them are from Mexico.
Group D
Finally, there is the "Group of Death".
After a runners-up finish at SI21 three months ago, three-quarters of all casters believe Liquid will escape the group, half of whom have Brazilians picked to finish first.
Team Empire is then predicted as the runner-up in the group, just ahead of TSM, even though most predictions had come in before Merc's COVID-19 diagnosis was revealed.
Finally, outside of APAC, it is almost unanimously agreed that Invictus Gaming will finish in last place.
Here's a few standout facts about the Group D predictions:
More people believe that iG will make it to the Playoffs than DWG, with four predictions for the Singaporeans compared to just one for the Koreans.
Unsurprisingly, the Singaporeans picked iG to finish in the top two, the Mexicans predicted TSM to be in the top two, while all three Brazilians predicted Liquid to be second.
Only three people picked TSM to win the Major, two of which were the European observers of med1cz and Easy.
Grand-Final
Easily the most curious thing about these numbers is that more people believe that Liquid will make it to the grand-final than NiP, despite NiP having won SI 2021 and the Stage 2 Copa Elite Six.
Nevertheless, a NiP vs Liquid rematch from the SI21 grand-final is definitely the favorite here, with SSG and TSM in quick pursuit.
Interestingly, all four European teams got picked to be in the grand-final, but both Empire and Na'Vi have no one expecting them to win, while APAC's iG and CAG had three APAC casters predicting them to win.
Finally, we also asked who everyone thought will be the event MVP, a title Paluh took home during SI 2021.
While 16 players in total were picked from the casters -- seven from LATAM and three each from the three other regions -- below are the names that got multiple picks:
While Paluh, pino, and nesk are unsurprisingly at the top, no one picked Beaulo or Shaiiko to take home the largest individual honor.
Staff Predictions
To round things off, here's a look at what the SiegeGG Staff thought about the games, with our staff on average a lot more favorable about SSG's odds. Additionally, not a single staff member picked a European or APAC grand-finalist.
---
SiegeGG will be covering every one of these games with stats, news, highlights, and more over the next week. Be sure to check here at SiegeGG for this coverage and take part in the predictions yourself over at the Predictions tab.