While a new face to esports in general, much less to Rainbow Six, Ovation eSports has certainly had a trial by fire in its bid to grow as an organisation.
Launched just before the COVID-19 pandemic shut the world down, Ovation has grown despite the difficulties and currently has teams in four games. Rainbow Six, too, is new to the organisation, with the LookingForOrg roster signed only in April this year.
But the going has been tough.
In its national league, the GSA League 2021, Ovation is dead last in the standings with just two wins from eight games. As such, the only other team aside from Sissi State Punks to sport a full German roster, sits inside of the relegation zone.
GC Esport and PENTA are the two main rivals for Ovation in its bid to avoid having to play in the GSA League 2021 Relegations, but Ovation trails sixth-placed PENTA by three points.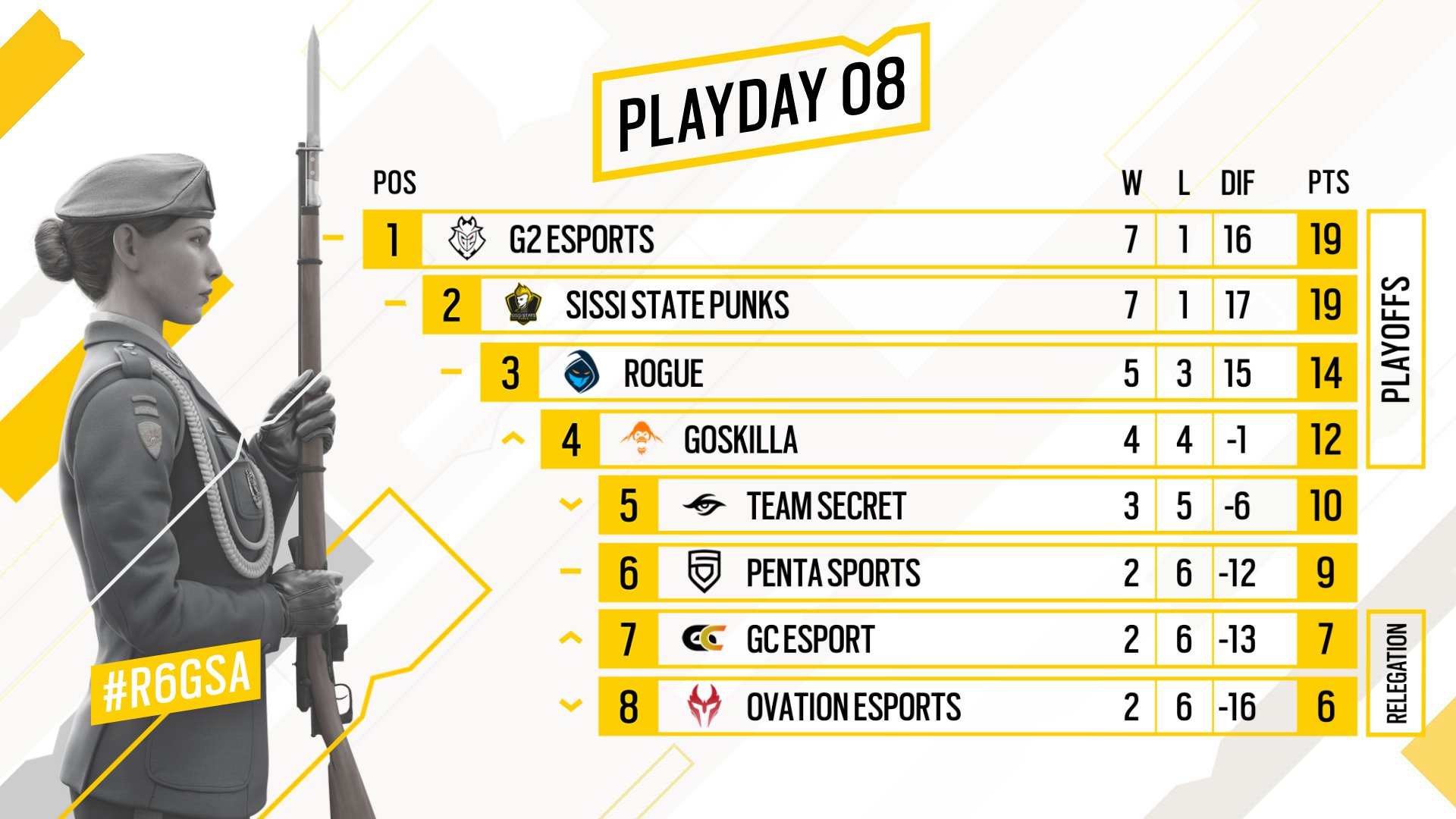 Thankfully for Ovation, its run-in to the end of the 2021 regular season is slightly easier than that of both PENTA and GC Esport. Not only that, Ovation is set to face GC Esport on Day 11 and then PENTA on the final day of play and could well decide its own fate.
Furthermore, its players clearly have the quality to avoid relegation.
In the GSA League 2021, StrkR is tied for second in terms of Entry K-D, while slshr has the third-highest number of defuser plants. Should they keep up their form, should the other players also join them, and should the team be able to translate its scrim performances into official games, Ovation will be quite safe.
But those are big ifs and both GC Esport and PENTA could also just as easily turn on the style.
To understand the Ovation eSports GSA 2021 campaign and its push for the Challenger League, SiegeGG spoke to team manager Sascha "Kiba" Rohde and In-Game Leader (IGL) Jonas "slshr" Schulze.
Hello! For those unfamiliar, tell us about Ovation and its history in competitive Siege!
(Screengrab: Ovation eSports)

Kiba: Hello everyone! Ovation is a young Swiss organisation that was only founded in March 2020. They faced their first tough test with the COVID-19 pandemic and still managed to expand into different titles.

So far, they are active in Fortnite, Valorant, with us in R6, and most recently, FIFA.

The focus here is on sustainability, healthy nutrition, and long-term cooperation with the teams. As R6 is their first over-18 years-old FPS game, special attention is paid to select partnerships and sponsorships with the younger players of the other titles, which correspond to their focus.

By finding a lovely new home, it was their entry into the GSA League 2021 and a ig step to enter a really established esports title.

It's just the beginning of Ovation's history in Siege. We have big plans and goals. We are here to stay and to win trophies in the future.
The GSA season has been tough for your team and you find yourself in last place, although just four points from Team Secret. How is the team atmosphere like and what has not been working out?
Kiba: I like to be honest with you, of course it's actually a bit tense right now, because at the beginning of the season it wouldn't have occurred to us to be in last place. Something has to change.

It's frustrating at the moment that despite the good results in scrims and a successful boot camp during the Invitational, where we were able to gain very important experience and found good training partnerships in that time, we can't bring it on board (in official games).

Ovation eSports' bootcamp facility. (Photo: Babuu)

Our biggest problem I see right now is that all the good approaches and ideas that are discussed in advance are forgotten in matches. No adjustments to the play style by the opposing picks. Furthermore, I have the feeling that we stick too much to strats, both attack and defence.

In the future, we have to work on showing more initiative, playing more reactively and training our synergy even more so that we don't have to depend on individual performances.
Failure is the greatest teacher they say, but how do you pick yourself back up from losses such as that 1-7 against Rogue? What goes on from the moment that the game ends and until the next game begins?
Kiba: Well, you can only tick off games like that as quickly as possible. Don't forget that, theoretically, there are still two tiers between the EUL and a national league.

In general, I find it very difficult when so many EUL teams participate in a national league. On the one hand, various players have admitted in different interviews that they understandably don't prepare very much for the national leagues because they also have to hide their strats.

A nationals team can play at 110% against them and it's possible that they will earn some points. On the other hand, they have to consider their reputation, as everyone expects these teams to finish the league in the Top 3 and then have to play a few games with more strength to keep secure in the standings.

Because of this, I believe that the points dropped by the EUL teams are very costly for the other national teams. Therefore, the results with the direct competitors are clearly more important for us to crystallise our strengths and weaknesses.
Your team had been in a favourable 5-3 against Team Secret, but could not hold on. When losing in such scenarios, viewers and casters often cite "experience" as the reason why teams like Secret mount a comeback, especially against teams like yours. Do you agree, or do you disagree that experience was the key factor?
Slshr: Of course, experience is an important factor in competitive Siege and can be the difference between teams such as an EUL team like Secret and a national team like us.

Regarding this match, though, we didn't feel like experience made the difference in those last rounds. Our players have become experienced enough to master such situations over the past years, but unfortunately we just couldn't close out the match like we wished to due to small mistakes in the last few rounds.
How do you rate your chances in the Challenger League qualifiers, where you are joint-10th right now? Is qualification something feasible this season or do you think you will only mount a real run for the EUL in 2022?
Slshr: We are aware of the fact that reaching the Challenger League is still very much possible and our main goal right now and even though the team struggled in the last qualifier we are not out of the race.

Obviously, there is a lot to do and improve on during the next days and weeks to reach that goal and be capable of competing as well as possible in the upcoming Challenger League season, but we are convinced that we can play at this level.
The GSA season is an incredibly long one, which tests each team's consistency and endurance. How is your team tackling it?
Ovation eSports' statistics prior to its loss to Sissi State Punks on Day 8.

Kiba: Our current team is actually doing quite well with it. The goals are clearly defined and everyone is willing to do everything to achieve them.

Last season was a real test for our captain Brian "StrkR" Hildebrandt and me with FACT Gaming.

We played incredibly well at the beginning and were briefly in first place in the table. However, the longer the season went on, the more our performance slumped and we lost ground. This gave the team a mental hit and we slipped to sixth place by the end of the season.

StrkR and I were able to take this experience with us into our new team and prepare for it.

Thanks to the boot camp, which we are allowed to attend thanks to our organisation, we should at least not lack endurance. Unfortunately, we still have to discover consistency for ourselves, as described above!

The GSA is a marathon, not a sprint!
StrkR is currently joint-second best in terms of Entry K-D, while slshr has the third-highest defuser plants. Does your team have any special methods they use to either ensure they are able to perform like this, or do you plan strategies around the levels of their performances?
The statistic leaderboards for the GSA League 2021 so far.

Slshr: We are aware of the capabilities and strengths of every single player in the roster. Our strategies and good coordination around drones and info gathering ensure that players like StrkR are able to get the most benefit out of their aim and in-game mechanics, but also guarantees lots of scenarios where a plant is able to go down.
Your team has, so far, avoided Coastline, Consulate, and Kafe in the GSA League. Is there any particular reason why, or have things just not worked out that way?
Slshr: We carefully prepare for every GSA game by watching our opponents favorite maps and anticipating our chances on those in advance. So far, we felt like the majority of teams are confident and performing extremely well on those three maps in particular, which has resulted in the fact that those maps just haven't been an option yet.
Is there anything you or your players would like to say to your fans?
Coincidentally, I wrote a short statement about this on my Twitter profile on Friday (25/06), which I would like to repeat here!
---
Catch Ovation eSports next during the ninth play day of the 2021 GSA League, when they take on GoSkilla on the 2nd of July at 7 PM CEST (UTC+2).