The Italian national season came to its close last weekend, as Mkers faced Outplayed for the title, while MACKO faced Totem for third.
You can read our full preview of last week's games right here, but read on to find out what went down as Mkers were pushed to the brink.
Jump to: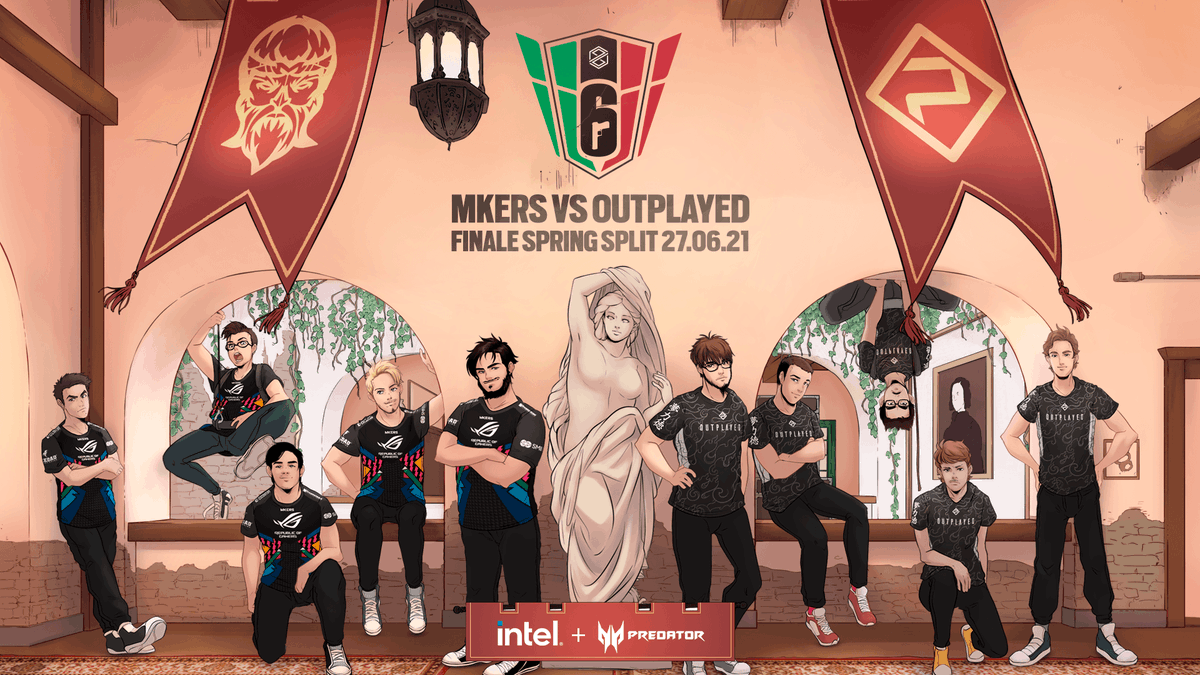 The Teams
The four teams competing last weekend were the standout names this season.
Mkers recently attended the Six Invitational 2021, while Outplayed were one of only two non-pro teams to have beaten Mkers.
Meanwhile, MACKO were the back-to-back PGN champions set to lose their title and Totem sported the new French roster that had just knocked out Sloppy's Notorious Legion team.
Grand-Final:
Mkers -- Aqui, Gemini, Scatto, Sasha, and Lollo
Outplayed -- YZN, quick, Oscr, csonki, Demoniak, and JPM (coach)
While Mkers were the obvious pick to take this game, Outplayed had already beat Mkers once and could definitely do it again.
Since that initial win, they have also finished the recent Challenger League qualifiers in joint-fifth after losing to Acend in a nailbiting 2-1 scoreline, proving that performance wasn't a fluke.
3rd Place Playoff:
Totem Esports -- DjuZ, Mowwwgli, Linkoo, Ayzenn, Neyox, Bolt (coach), and Shocks (analyst)
MACKO Esports -- g3r0, T3b, Alation, J3n4, Krizz, and Jakesouthster (coach)
While Totem had won both of their head-to-heads during the season, these two teams ended the league tied on 22 points before both dispatching their quarter-final opponents with relative ease.
Mkers vs Outplayed
The grand-final kicked off on Mkers' pick of Consulate, followed by Clubhouse, and then Villa, as all three maps were needed to crown a victor.
This first map saw a particularly rare ban of Pulse from Outplayed, as they started on defense. After a win on Round 1 for Outplayed, Lollo secured triple kills in Rounds 2 and 3 to take the lead for Mkers. However, five kills in two rounds for YZN meant that the first half ended even.
Mkers' defenses were, however, pretty impenetrable. Outplayed only managed eight kills across the following four rounds as they were completely locked out, ending Map 1 at 7-3.
Next up was Clubhouse, where Lollo took a back seat to Aqui and quick, who both secured quadruple kills in the opening few rounds and Mkers took the lead on their defensive half once again.
This time rather than a draw, Mkers won the first half 4-2, before moving to the offense.
Here, in a complete reversal from Map 1, it was Outplayed who won five out of the next six rounds to come right back and win the map in regulation time, 7-5.
Across these rounds, quick secured an ace on Round 7 and a quad-kill on Round 11, while Oscr won a 1v1 on Round 9.
This ridiculously strong performance, from quick in particular, pushed the game to an unexpected Map 3.
This final map of Villa started pretty well for Outplayed. Despite being on the attack, they managed to tie the first half, with the top multi-kill this time coming in fhe form of an Oscr quad-kill.
Four rounds later, Outplayed were on title-point at 6-4 and were looking to close it out, only for Mkers to narrowly take it to overtime with a rush on Round 12.
Finally, a triple kill from Scatto on Sledge won Mkers their attack, allowing Aqui to take it home with a triple of his own on Aruni.
With this, Mkers regained the PGN title, which the organisation had previously won in the Summer and Winter 2019 seasons.
This is also the first Italian national title won since Mkers replaced its entire lineup in September 2020, making this a memorable occasion for the team despite their much higher ambitions.
MACKO vs Totem
Just prior to the grand-final was the third-place playoff between MACKO Esports and Totem Esports, starting with Totem's pick of Clubhouse.
Little separated MACKO and Totem coming into this game.
Both of these teams had ended the league tied on points, then smashed their quarter-final opponents, and then were swatted aside by the eventual grand-finalists in the semi-finals.
MACKO were eager to show a distinction, however, as they won four of their defensive rounds while the two rounds they lost also coming down to the wire
The second half showed this was largely due to side preference, however, as Totem also won most of their defenses. A 1v3 from Djuz on time was the lone difference, allowing Totem to take the map 7-5, rather than the game going to overtime.
Next up was Consulate. Being MACKO's map pick, they were eager to win here and take the game to the final map of Villa.
Once again, the game was pretty tight throughout, with the map being tied at the end of the first half on the back of a 1v3 from Linkoo from Maestro and a 1v1 from Krizz on Ace.
By Round 10, things were still tied at 5-5 following another 1v3 from Totem's Ayzenn, with the same player then securing a 1v2 on Round 11 to give Totem the lead. This was just enough, as they won the following round near-flawlessly to end the series 2-0.
While third place is not what Totem would have wanted, this was the very first season as a team in the PGN. Come 2022, they may be a real challenger for the Challenger League spot, especially if Mkers are in the EU League by then.
For MACKO, they officially lose their back-to-back PGN-winning streak, a result many people expected following the rise of Mkers and the loss of Keenan to Team Secret.
2020/2021 Season Finals
The next Italian national tournament will take place in July, as the 2021 Season's PGN Challenger League spot is awarded.
Here, the top six teams based on performances across the Winter 2020 and Spring 2021 tournaments will meet in an "end-of-year" final, where the victor will take home the Challenger League spot.
Mkers -- Aqui, Gemini, Scatto, Sasha, and Lollo
Outplayed -- YZN, quick, Oscr, csonki, Demoniak, and JPM (coach)
Totem Esports -- DjuZ, Mowwwgli, Linkoo, Ayzenn, Neyox, Bolt (coach), and Shocks (analyst)
MACKO Esports -- g3r0, T3b, Alation, J3n4, Krizz, and Jakesouthster (coach)
Notorious Legion -- Pat, Kxhz, Sloppy, Treiko, Darkwin
Hmble -- cmarcor, Lolloboii, wuK, carzi, Fabby
This will be a double-elimination bracket, in which Totem and Hmble start in the losers bracket as the lowest seeds. Here, the Challenger League spot will be awarded.
Mkers have already guaranteed themselves a Challenger League spot via the open qualifiers, but if they are to win this tournament, the next best qualifier roster gets their "second" spot -- not the PGN runners-up.
No further details, including the dates, are currently available, with more information to likely come in the following weeks.
---
Keep up to date with the PG National news and stats here at SiegeGG as the the 2020/2021 Finals near.