Banner image by Ubisoft Italy.
Following three months of games, the grand-final and third-place matchups in the PG Italian National league will take place on Sunday.
The four best teams in the league -- only two of which actually have an Italian core -- will play for the title and for seeding in July's yearly Finals, so here's everything you need to know about it.
Jump to:
Format
Over the course of April and June, a double round-robin group stage took place to lead into this weekend's Finals.
The top six teams progressed onwards, with the two leaders -- Mkers and Outplayed -- progressing straight to the semi-finals, while Totem, Legion, MACKO, and Hmble played in an initial play-in to meet them there.
Last week saw these semi-finals take place and now the grand-final will end the Spring season this weekend.
These playoffs aren't the end of the story, however, as the top six teams based on performance across the Winter 2020 and ongoing Spring 2021 tournaments will meet in July in a sort of a "end-of-year" final, where the victor will take home the Challenger League spot.
This means that this weekend's grand-final is simply for the title and money, and that teams such as MACKO and Legion still have a chance to clinch the coveted CL spot.
Season So Far
First Half
Coming into this season, there was only one team really worth talking about -- Mkers. They looked to clinch the title that MACKO had won across the last two seasons and looked unstoppable on their way to do so.
Mkers took their first three games against IGP, Hmble, and Legion 7-0 in a feat that not even professional teams have been able to do in national leagues before.
They were finally slowed down by MACKO, who still lost, as Mkers 'only' won 7-3.
Alessio "Aqui" Aquilano stated this about their PG Nationals campaign as they neared the Six Invitational:
PG is our league; playing without precise strategies or bans is just a precaution that we felt we had to take, as we would be observed (by our Six Invitational opponents) and we had to find teams with more expert preparations than ours at the Six Invitational.
On the final game of the half and the last game before their Six Invitational appearances, Mkers played Outplayed who gave them their sole loss of the season in a 6-8 scoreline on Kafe.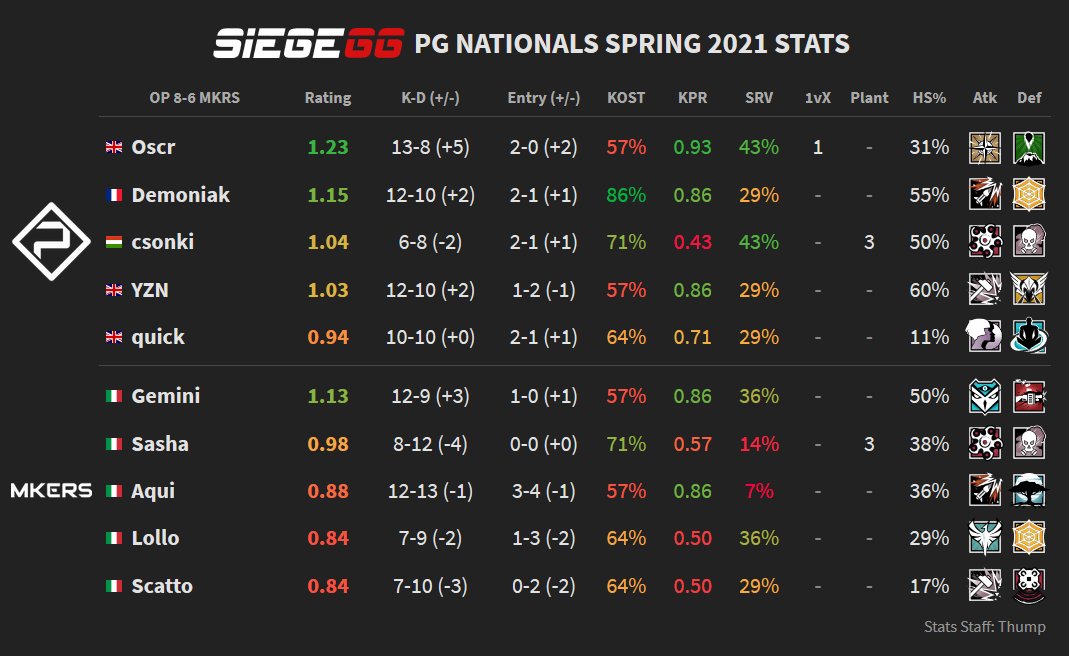 Outplayed themselves had got off to a somewhat weak start, losing to MACKO on Day 1, 7-4, and Cyberground on day three, 7-5. However, they then got into their rhythm and cleaned up the remainder of their games with relative ease, as Mkers were their only overtime game.
Elsewhere, Hmble was the team to watch as they sat in second place, one point ahead of Outplayed, as all of Hmble's five wins had been in regulation time.
Second Half
Following the Six Invitational, seven more play days took place, which went fairly similarly for Mkers.
After starting with another 7-0 win, they kept on winning their games in increasingly closer scorelines, until their finally faced Outplayed at the end of the season.
Outplayed themselves had lost to Totem two days prior (4-7) and had only narrowly defeated Legion the day beforehand (8-7), meaning that they did look weak. Mkers took advantage of that, with a quadruple kill from Aqui, and a 1v2 from Sasha helping them to a clean 7-2 scoreline.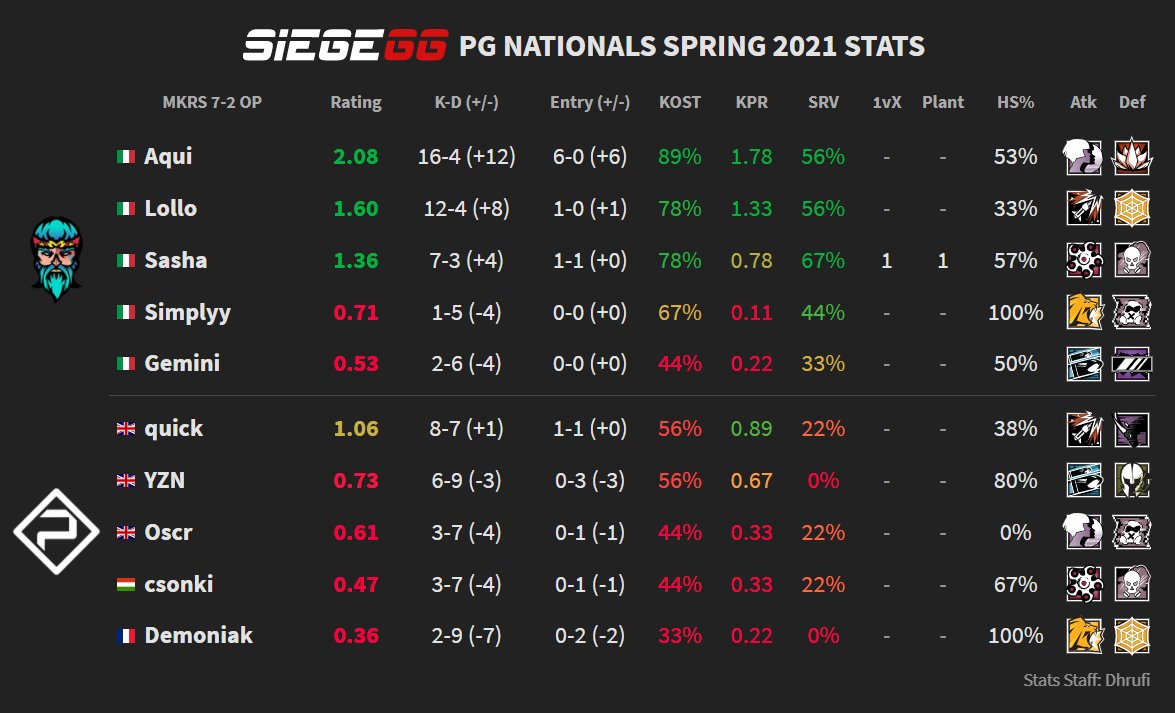 Despite these lost points, Outplayed still managed to push up from third to second place as Hmble, who had replaced two players and their staff during the mid-season, had a very bad second half, only managing to win two games -- a 7-1 vs Legion, and an 8-6 vs MACKO.
This meant they dropped from second down to fifth behind Totem and MACKO and just ahead of Legion, their three quarter-final rivals.
Quarter-Finals
To start off the Playoffs, we had the two simple Bo3s of Totem vs Legion, and MACKO vs Hmble, both of which were blowouts.
Starting with Totem's game, the French side took Chalet in a straight 7-0 result which included three clutches in a row -- a 1v1 and 1v2 from Ayzenn, and another 1v2 from Linkoo.
After eight rounds running, Legion finally got on the board, as a triple kill from their Thermite of Darkwin won them Round 2 of Clubhouse. After losing the lead, Totem then fought back to tie their defensive half, only to then sweep the offensive half, ending the map 7-3, and series 2-0.
The second quarter-final of MACKO vs Hmble was another 2-0 in a very similar but slightly closer scoreline.
Here, a 1v2 from the Greek player of Kerv game Hmble Round 1, on course to a first half 4-2. Going onto their Villa defenses, though, MACKO played it pretty perfectly, winning five rounds running and taking the map.
Finally, the last map of the day of Kafe ended 7-1, with Hmble's lone round win coming due to a quick double-kill from Kerv on Sledge in a 2v2 situation.
This meant MACKO and Totem progressed to last week's semi-finals against Mkers and Outplayed, respectively.
Semi-Finals
And so, we got to the semi-finals of Mkers vs MACKO and Outplayed vs Totem.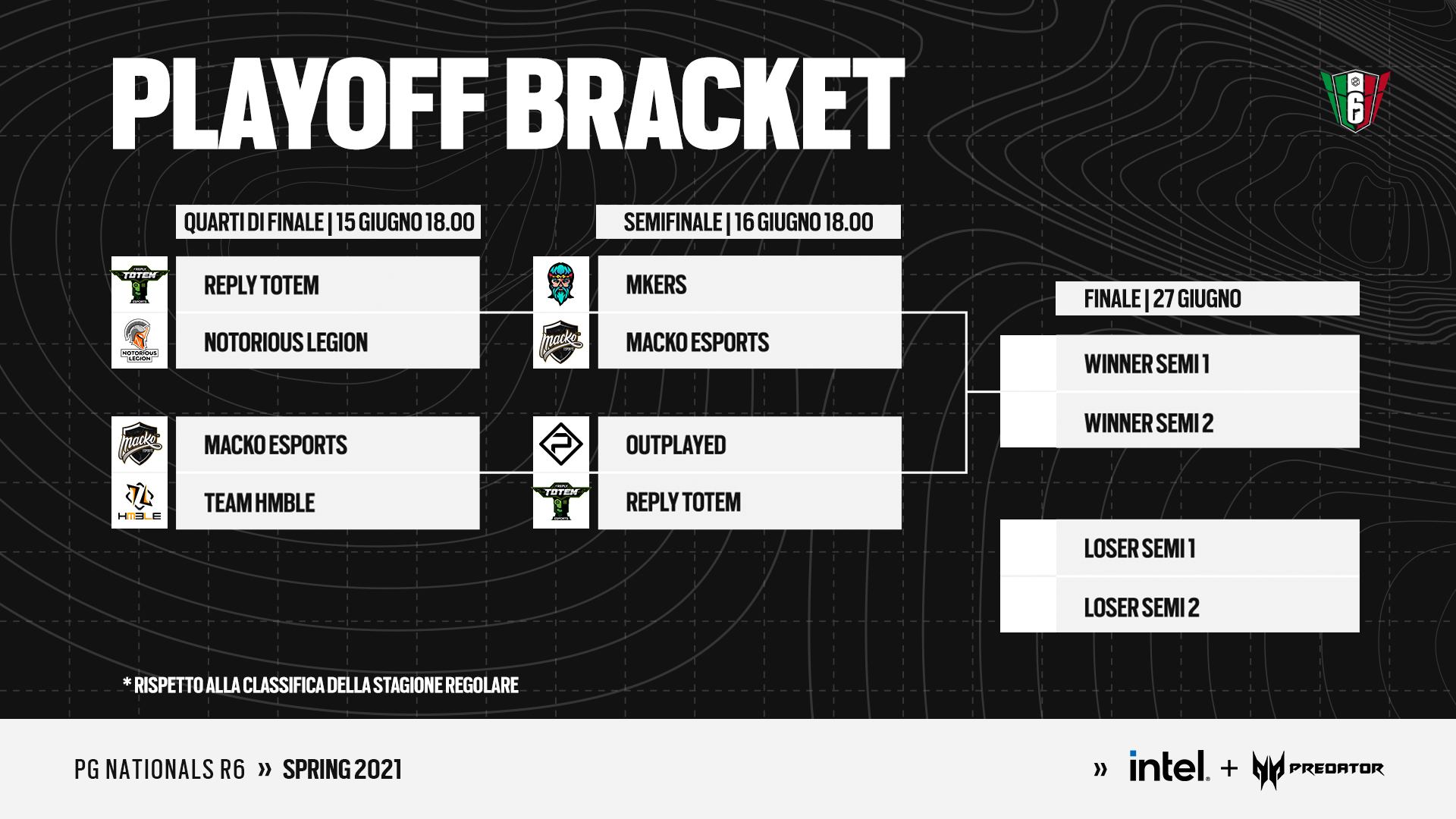 Game 1 was a repeat of last season's grand-final and people hoped that it would be a tight game.
While MACKO initially went up 3-1 thanks in part to a 1v2 from j3n4, Mkers had their defenses on Chalet locked down and swept the rest of the map to a 7-3 scoreline in a disappointingly one-sided end.
Once again, Mkers looked unstoppable and also hit eight round wins running before MACKO ended the bleeding on Oregon. This Round 3 win was all they got, as a quad-kill and 1v1 from Sasha in separate rounds, as well as a quadruple kill from Scatto, all sent MACKO into the third-place matchup.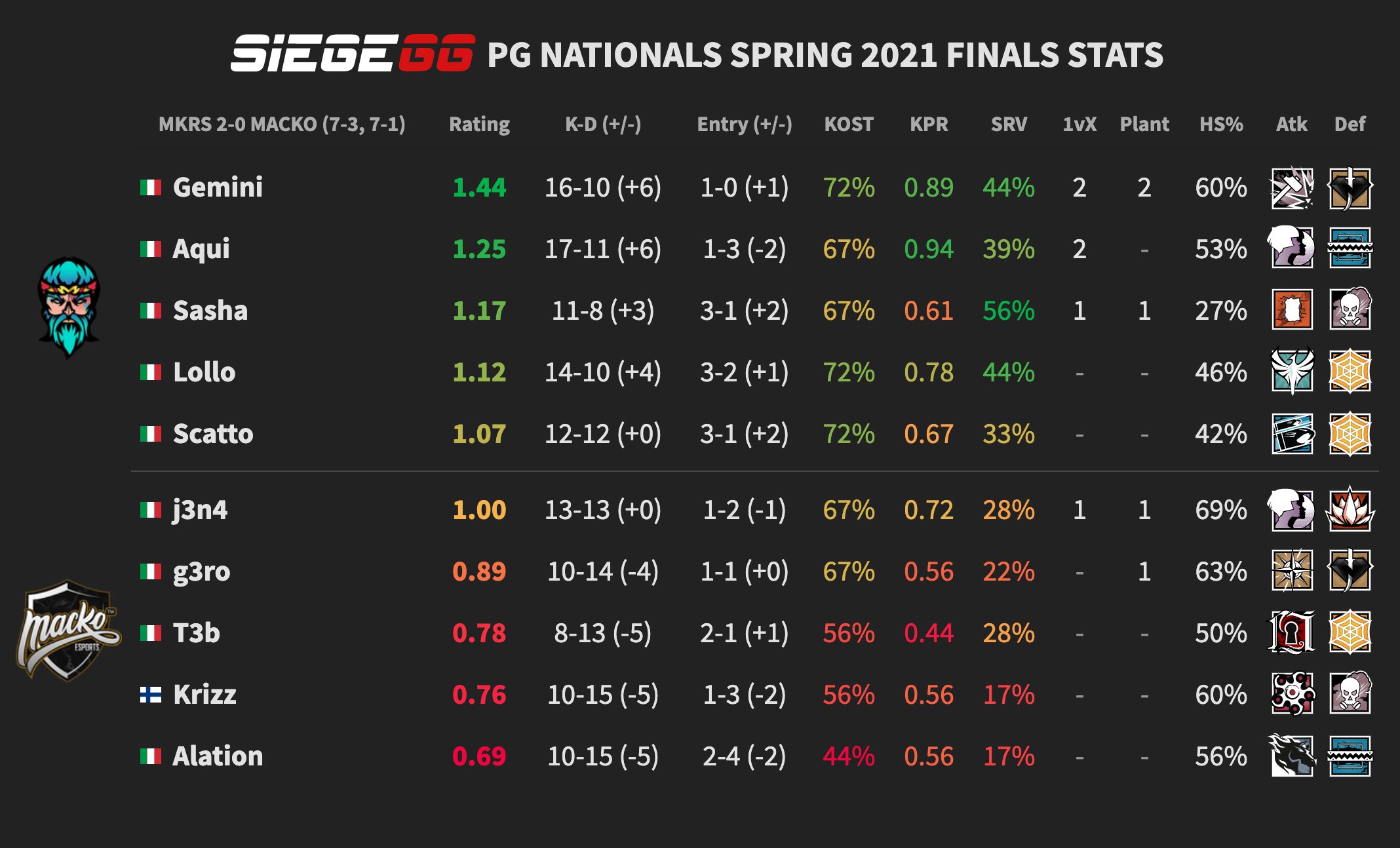 Finally, in the fourth one-sided game in a row, the semi-finals came to a close with a 7-3, 7-2 win by Outplayed over Totem.
This game started off close, with the two teams tying the first half on Kafe. But then, yet again, Outplayed won six rounds running, including both a 1v1 and a 1v2 from quick to take Map 1 and start off on Map 2.
Oregon saw Totem take the lead with wins on Rounds 2 and 3, but these were the only rounds they won as Outplayed won another six in a row, setting up a Mkers vs Outplayed grand-final.
Mkers
As a Six Invitational attendee which has beaten the pro teams of Rogue, Chaos, Na'Vi, Tempra, TSM, SSG, and Cloud9, Mkers is essentially a sleeping giant in Europe, despite not even playing in the EUL.
This year it hopes to change that and now, after already guaranteeing themselves a Challenger League spot, is the clear favourite to win the grand-finals on Sunday.
Alessio "Aqui" Aquilano

Luigi "Gemini" Ferrigno

Pietro "Scatto" Scattolin

Sasha "Sasha" Michelizzi

Lorenzo "Lollo" Masuccio
Outplayed
This British roster has less of a record, but a significant amount of promise. As well as being one of only two non-pro teams to have beaten Mkers in the last five months (alongside Acend), they also finished the recent Challenger League qualifiers in joint-fifth after losing to Acend in a nailbiting 2-1 scoreline.
"YZN"

"quick"

"Oscr"

"csonki"

"Demoniak"

"JPM" (coach)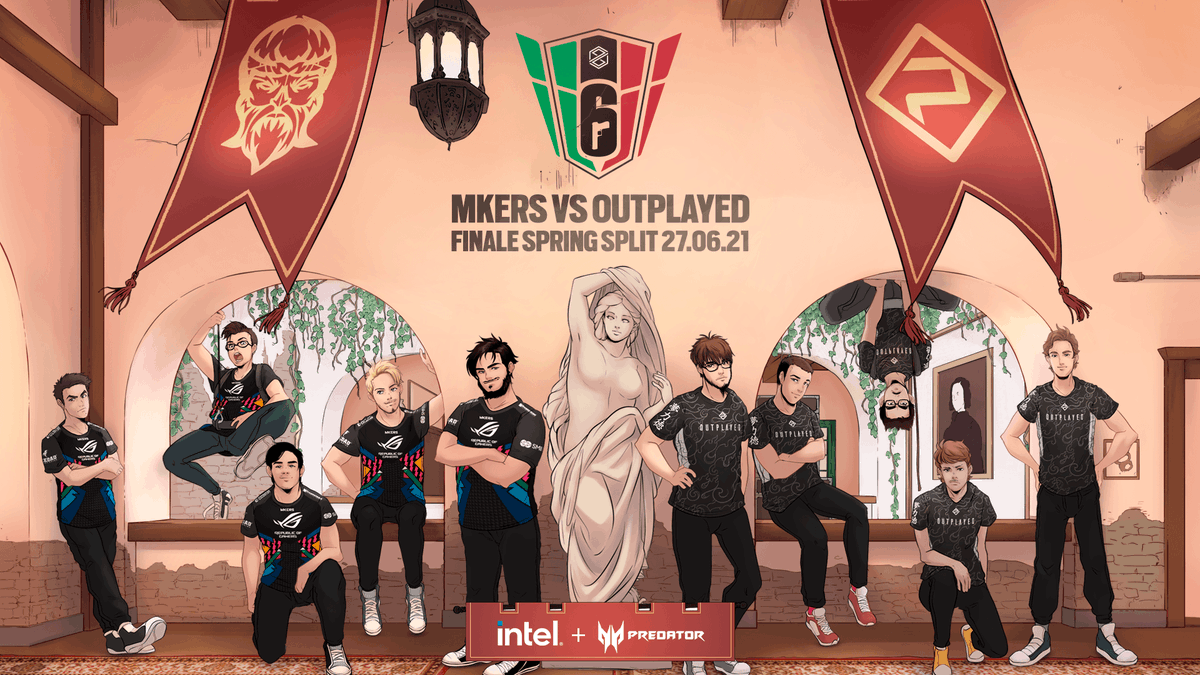 MACKO and Totem
Just before the grand-final will be the third-place playoff Bo3 between MACKO and Totem to find find the third-best team in the spring split:
MACKO Esports -- g3r0, T3b, Alation, J3n4, Krizz, and Jakesouthster (coach)
Totem Esports -- DjuZ, Mowwwgli, Linkoo, Ayzenn, Neyox, Bolt (coach), and Shocks (analyst)
MACKO comes in as the back-to-back PGN champion -- a title they will lose this weekend -- and last year's Italian representatives in the Challenger League.
Here, they beat the German representatives and tied both the Spanish and Nordic teams before being knocked out in the quarter-finals to MnM Gaming.
Totem meanwhile, joins after failing to qualify for the 6 French League season.
After this, they then beat a number of Italian teams as well as Liven, Alive, and Aherys' Mad Wizards lineup to be promoted to the PGN alongside Outplayed. As well as this, they also knocked Acend out of the 6 Open Cup and took a map off of TrainHard.
Spring Finals
These games will all take place this Sunday, starting with MACKO vs Totem at 18:00 CEST (UTC+2) followed by Mkers vs Outplayed at 21:00.
Both games will be Best-of-Threes and likely cast by the usual names of Filippo "Etrurian" Burresi, Jody "ChiNook" Carraro, Mauro "JustRyuk" Barone, and Valentino "LordChanka" Allegri, with Pietro "RedLike" Girardo observing.
As well as this, the final will see the ex-Italian champion and Pro League player of Matteo "Torok" Bellotti and the current CYCLOPS analyst of Riccardo "Hybrid" Massimino Font on the analyst desk, which will be hosted by the content creator of Raffaele "ilSolitoMute" Bottone.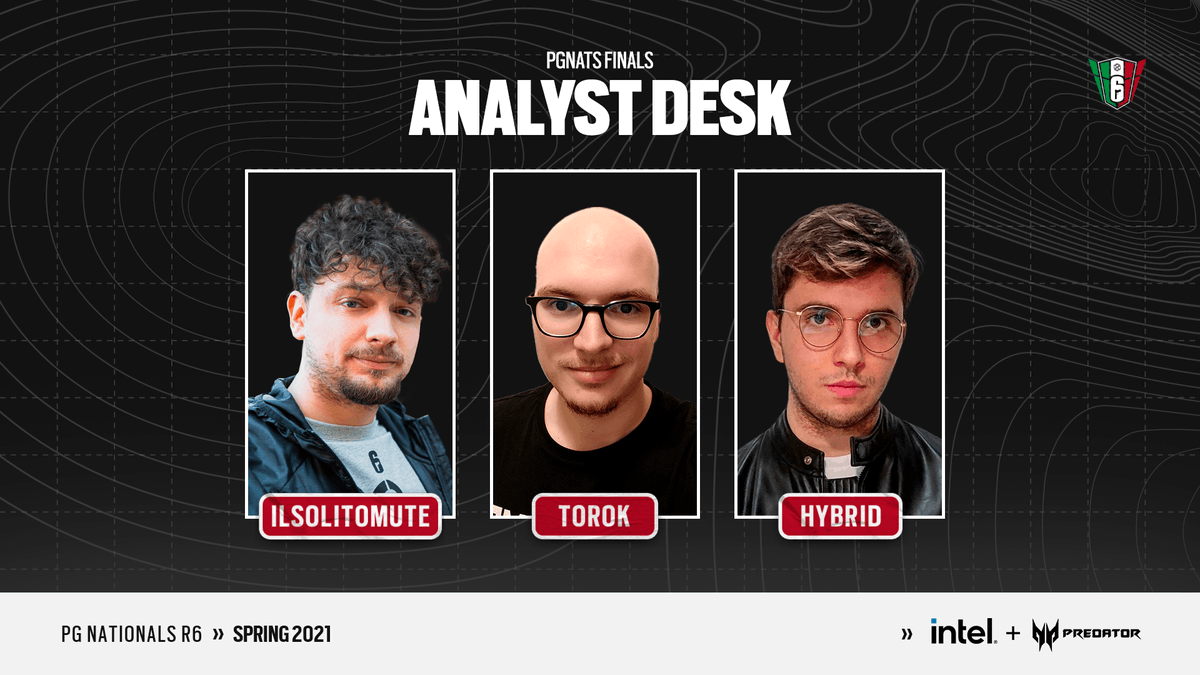 Yearly Playoffs
Later in July, the previously mentioned yearly finals are taking place with the four teams above, plus the two following:
Notorious Legion -- Pat, Kxhz, Sloppy, Treiko, Darkwin
Hmble -- cmarcor, Lolloboii, wuK, carzi, Fabby
This will be a double-elimination bracket, in which Totem and Hmble start in the losers bracket as the lowest seeds. Here, the Challenger League spot will be awarded.
Mkers has already guaranteed themselves a Challenger League spot via the open qualifiers but, if they are to win this tournament, the next best qualifier roster gets their "second" spot -- not the PGN runners-up.
No further details, including the dates, are currently available, with more information to likely come this weekend.
---
Keep up to date with the PG National news and stats here at SiegeGG as the Spring Season comes to its close and the '20/'21 Finals near.