Today the NA League continues with four Bo1 (Best-of-One) games:
To get a rundown on the teams, schedule, and changes from stage one check out our article here and carry on reading for a live feed of all the highlights, commentary, and stats from the games!
Mirage vs Oxygen Esports
Post-Game
18:20 -- The post-game interview responses during an interview with Velly:
Quartz: It feels good. The team came in here really confident and we knew we had what it takes to beat them. We were happy with the map pool and the map choice and we came here and we won so we're just really happy.

Obviously there's a lot of pressure, Hotancold did really well last stage. But obviously I know how I play and I'm confident in my playstyle so even though there's a lot of pressure I want to show I can hang at this level and that I can do just as good if not better than what he did.

The standout player on bc is probably Sippin. I don't think we're really stressed about that team. Today they got smoked by TSM and we're looking to do the same to them.
18:14 -- The analysts on the action:
Velly: Mirage, we said they were looking good but they're looking great. Quartz and the boy, they're looking better than ever.

Jesse: This was probably a mistake by Oxygen to take them to this map. There were some other options for them but they go to Mirage's... maybe their best map and they suffer because of it.

This game did really lean towards the attackers. I think that was because both teams really did want to get aggressive and get in there when their opponents weren't expecting it.
---
Second-Half:
18:11 (7-5) -- A garage side attack saw Mirage win all their gunfights putting LaXInG into a 1v4 situation. He gets two kills before Dream shuts him down.
18:07 (6-5) -- Mirage gets the first lead of the game hitting match point. Oxygen calls their timeouts.
18:02 (5-5) -- While Kyno gave OxG their initial lead, another surprise push on round 10 by Mirage found the defenders unaware allowing them to mop up.
17:54 (4-4) -- Quick push down blue allows Mirage to take the win despite Loading killing Benji:
17:48 (4-2) -- As Oxygen starts defending in Church, VertcL brings out the rather odd pick of Kapkan in order to slow down the attack.
---
First-Half:
17:43 (3-2) -- OxG opens the wall and FoxA simply walks in and gets a double-kill on the way to a flawless round win.
17:30 (1-1) -- Oxygen losing their Thermite of Kyno as the opening death meant the round was over just as it began. OxG was forced to rush into the defenders and all got cut down.
17:27 (0-1) -- Despite Mirage trying an extended roam and picking off a number of attackers, OxG simply had better control and reigned in the chaos to start the game with a win.
17:24 -- Oxygen starts on the attack.
Mirage -- Hibana / Wamai
Oxygen Esports -- Zofia / Mira
---
Pre-Game:
"The Main Player. This episode covers Qrtz and his wait for an opportunity. We also dive deeper into the reasons behind Hotancold's departure.":
17:18 -- Keeping with tradition, all three analysts pick the favourites of Oxygen.
17:17 -- Both these teams have a good history on Club House, however, they haven't played each other here before.
17:13 --
---
Disrupt Gaming vs XSET
Post-Game:
16:58 --
16:53 -- The stats for the game. Find the full match page here.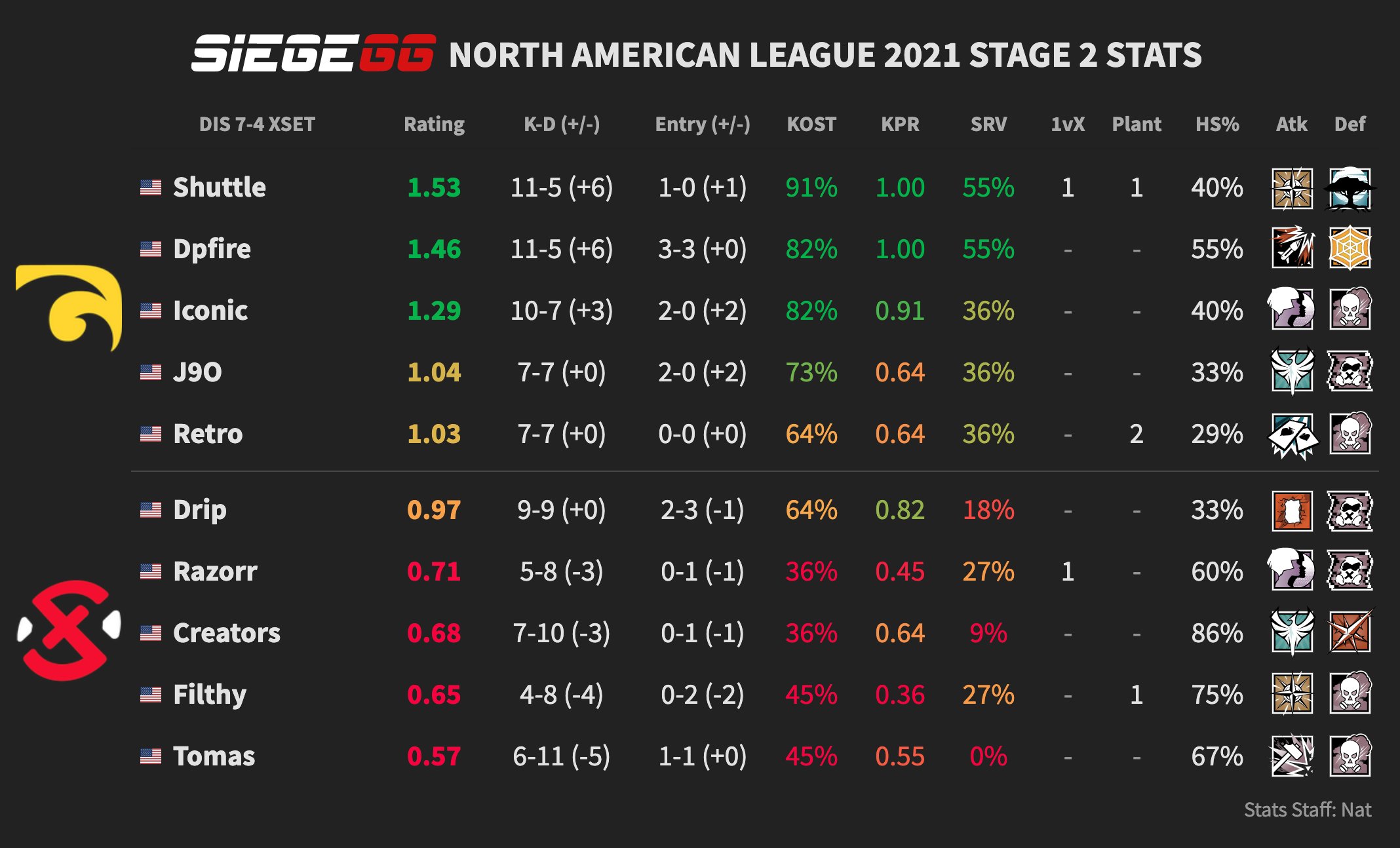 16:52 -- The analysts on the game:
CaliberJacob: Disrupt didn't really allow XSET to breathe. They were very suffocating and moved in really quickly. This is the kind of game plan that we were wanting Dpfire and J9O to capitalize on a little bit more. This was more of a case of XSET just making too many mistakes so Disrupt could capitalize easily.

Jesse: It definitely felt like XSET coming back with this new roster isn't looking that much better than before. We're only one game in but it was pretty tough for XSET.

CaliberJacob: A lot of XSET was solo plays. For XSET's attacks, it seemed like it was very disjointed and on defense, they were simply getting picked apart by Disrupt in almost every way.

Jesse: Disrupt a lot of time on defense were throwing away a lot of those opening picks, getting a little bit too aggressive. XSET for their attacks were discoordinated and weren't pushing together.
---
Second-Half:
16:46 (7-4) -- Disrupt ends the game following a slow attack, a very successful Nitro-Cell and a triple kill from iconic.
16:43 (6-4) -- After Dpfire had his time to shine then it was Razorr's turn as he held off a Disrupt win with a standout 1v2 win in his pro-debut:
16:38 (6-3) -- XSET takes two rounds due to a lack of control from DG before Disrupt hits overtime with a flawless defence of the Aviator site. XSET calls their timeout.
---
First-Half:
16:24 (5-1) -- Despite the change in players and staff, this was a fairly similar XSET as we saw during stage one while Disrupt's newest addition of Dpfire continues to make a name for himself:
16:14 (3-1) -- XSET gets on the board despite an opening double kill from J9O. At this point Disrupt calls their timeout despite being in a strong lead.
16:05 (2-0) -- After an almost perfect first round, Shuttle secures a 1v2 victory after planting to add a second round to Disrupt's count.
15:54 -- Disrupt starts on the attack.
Disrupt Gaming -- Hibana / Wamai
XSET -- Thatcher / Valkyrie
---
Pre-Game:
15:47 -- All three analysts on Disrupt once again.
15:45 -- The last time these two teams met was also on Villa where DG won 7-3.
---
TSM FTX vs beastcoast
Post-Game:
15:27 -- The analysts on the game:
CaliberJacob: The fact that Chanka was brought out in any respect ius great to see but it's the way he was being utilised. We saw a little bit of him at SI and more often than not he's being used in tandom with Smoke, not replacing him. Everytime you saw Beaulo playing Chanka it was because Chala was playing Smoke.

It wasn't even that beastcoast were playing incorrectly against those two operators, it's just that is an overwhelming thing for TSM to utilise as there's so much area denial.
15:25 -- The stats for the game. Find the full match page here.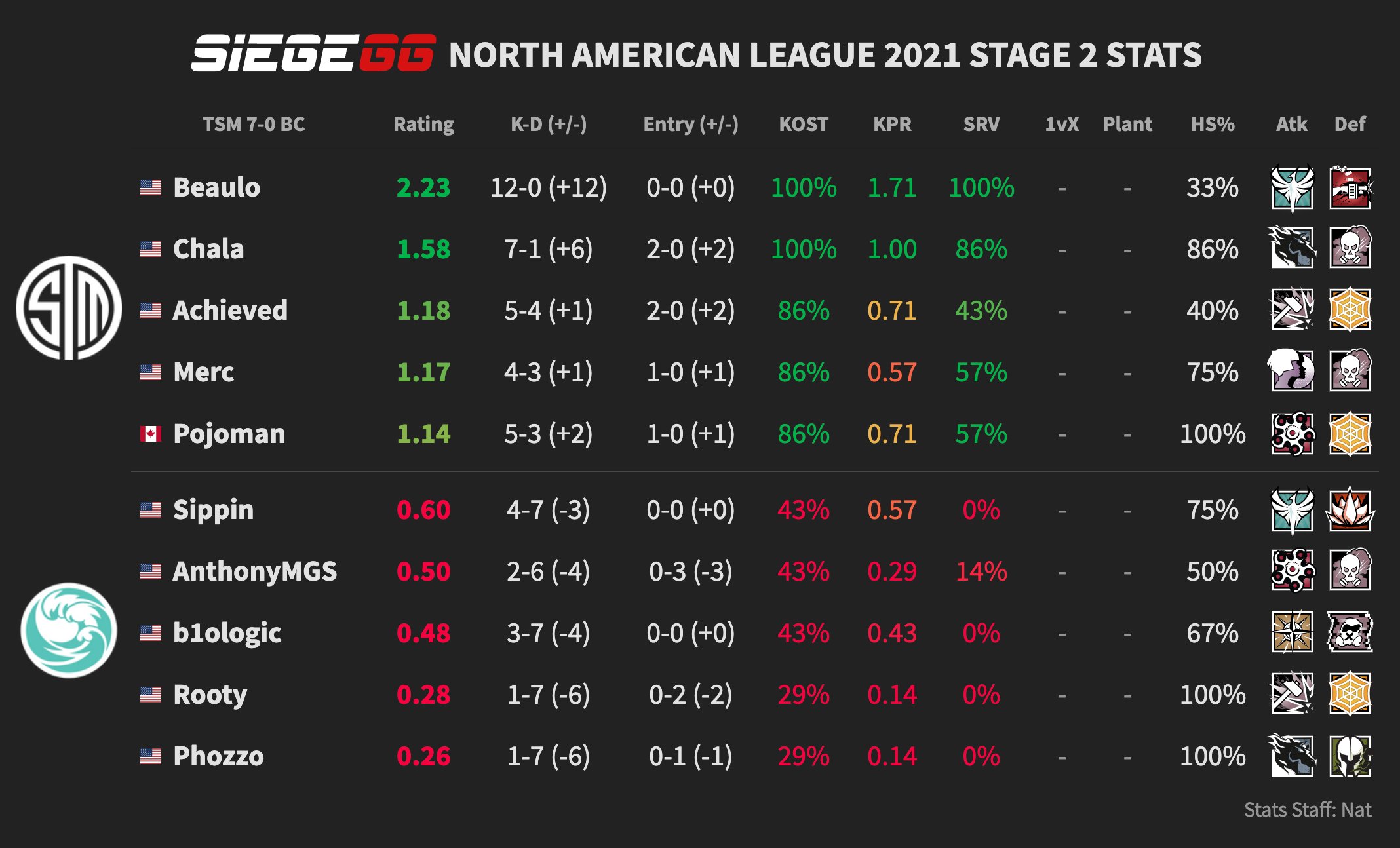 ---
Second-Half:
15:19 (7-0) -- TSM pulls off a flawless map as Beaulo goes 12-0:
KiX: Number one: beastcoast had a terrible map, absolutely terrible. Number two: this new structure that TSM is employing on the defense is really good. I love it! I don't think most of North America is used to seeing it yet. It's going to take some time before TSM starts to lose again in my opinion.
---
First-Half:
15:11 (5-0) -- This timeout also gave TSM some time to think as well as they came back seemingly even stronger than before. Two almost flawless rounds followed as beaulo sat at 9-0 while Phozzo and rooty combined achieved just one kill to 10 deaths.
15:03 (3-0) -- After losing three straight rounds, bc calls their timeout. DZ did the same in the prior game and went on to win six rounds running.
14:51 (1-0) -- Beaulo brings Tachanka and rooty brings Blitz. Rooty attacks via freezer as Beaulo denies him in particular. All the attackers die as they push forward.
14:50 -- beastcoast starts on the attack.
TSM FTX -- Thatcher / Wamai
beastcoast -- Flores / Valkyrie
---
Pre-Game:
14:39 -- Interro on what to expect from beastcoast during a pre-game tech pause:
Interro: The fascinating thing as we talk about bc is their matchup against OxG yesterday. Yes, they pushed OxG to the brink but if you look at the individual scores of the players on bc and compare them to the players on OxG then the scoreline tells a very interesting story. The only bc who went positive is Phozzo at +3. The remainder of the players went even or negative.

Anthony was the standout player by rating with five plants in six rounds, a remarkably high number.

If you were to look at OxG though, almost everyone went positive. Only Kyno and FoxA didn't at -1 and -2 which is exactly where you would find such an even matchup.
14:34 -- The only prior meeting against these two saw bc win 7-3 on Villa, however, TSM looks much more put together since then.
14:33 -- The casters once again all picked TSM despite the 7-8 performance by bc against OxG yesterday.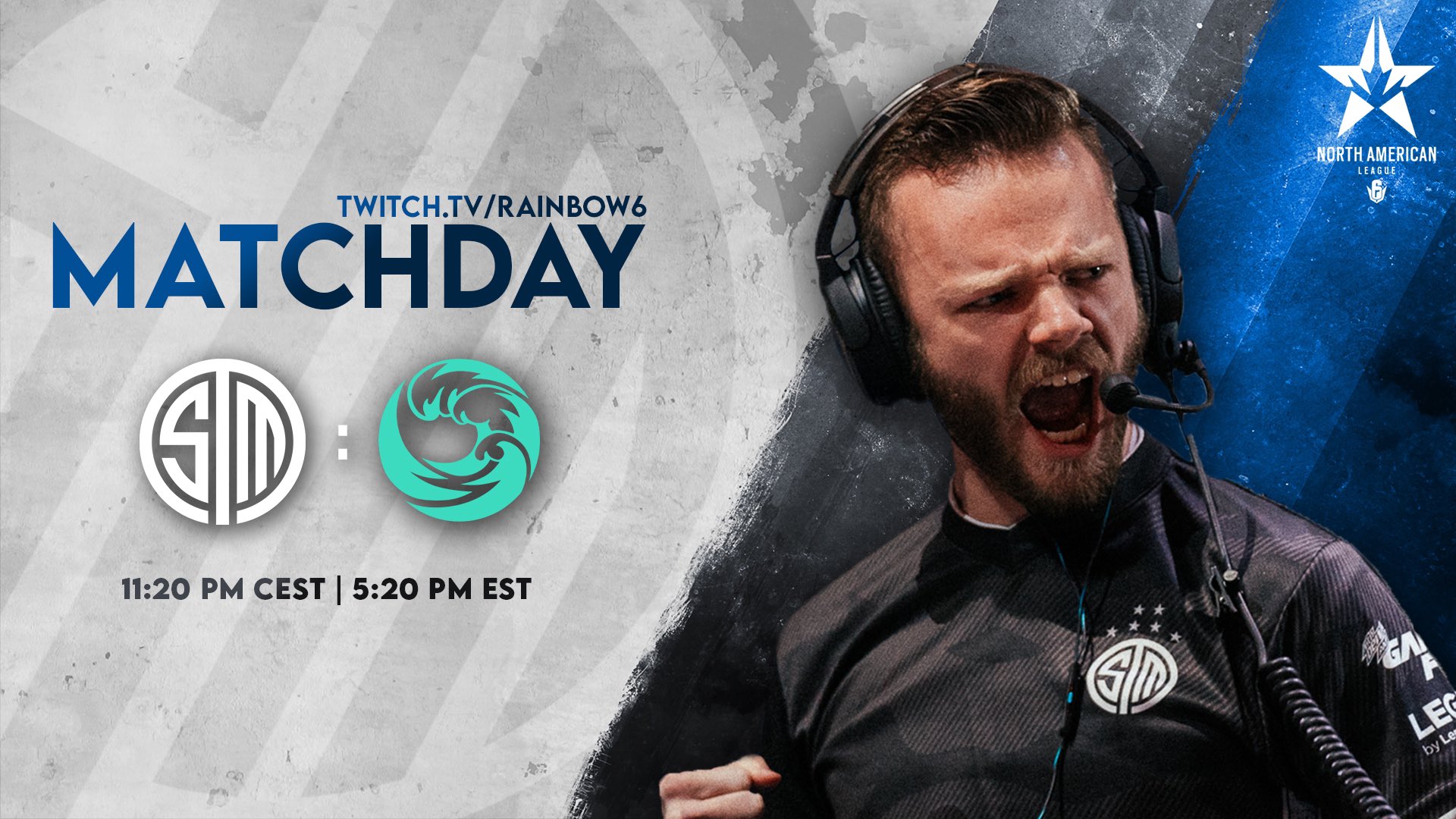 ---
DarkZero Esports vs Spacestation Gaming
Post-Game:
14:13 -- The stats for this game. Find the full match page right here.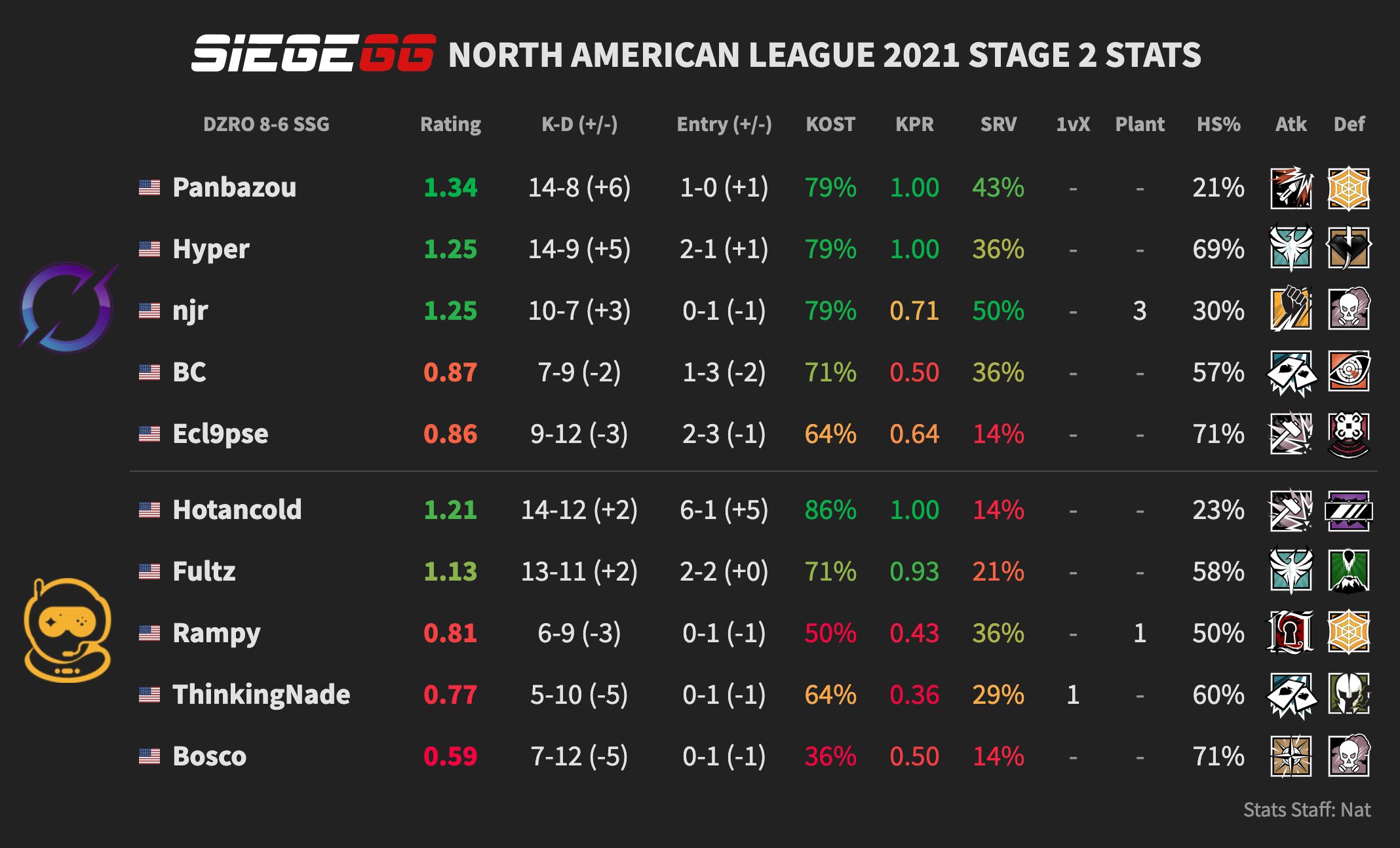 14:08 --
---
Overtime:
14:05 (8-6) -- A very slow two minutes from SSG, an opening kill from DZ, and a triple from njr gives DarkZero the win in a very similar match than we saw yesterday between DZ and Mirage.
14:01 (7-6) -- DZ starts overtime on the attack. They manage to take the Aviator objective, plant behind the door, and hold it from below to win the round to once again hit match point.
---
Second-Half:
13:53 (6-5) -- Despite a standout attempt from Hyper, SSG continues their comeback with a quick post-plant retake.
13:46 (6-4) -- The fraggers on SSG come alive as they finally break the streak DZ was on.
13:37 (5-3) -- DZ wins five rounds running to take the lead after two explosive rounds. After DZ rushed the site on round seven and managed to get the bomb down, round eight then saw Panbazou get the final kill with zero seconds remaining:
---
First-Half:
13:28 (3-3) -- SSG returns closer to their stage one form as DZ bounces back to 3-3 following the timeout. SSG calls their timeout
Interro: Spacestation were so confident in their entry, their coordination was good and I think a large part of that was simply that they were able to assess early on that DZ had holes in their defense that they could exploit.

When DarkZero started spreading out a bit more, maybe playing less as a team directly, that worked out much better for them. They spread out their utility in such a way that they needed more time to get through it all.
13:20 (1-3) -- Panbazou kills both Rampy and Bosco to get DZ on the board as they return to the Aviator objective.
13:16 (0-3) --
13:14 (0-3) -- Hotancold gets his third entry kill in a row with this round coming down to an eventual 1v3 for Hyper. ThinkingNade kills him a round later. DZ calls their tactical timeout.
KiX: It is a masterclass right now from Spacestation.

Interro: Obviously some frustration from DZ, calling a timeout after three rounds. This puts you in a rough spot as if you continue in freefall there is no other ripcord for you to pull.
13:10 (0-2)-- A Fultz double kill takes their opening attack onto the Games Room objective despite it being the most defender-favored site on the map. Round two goes very similarly as both rounds end in unwinnable 1v4 situations for DZ.
13:01 -- SSG starts on the attack.
DarkZero Esports -- Thatcher / Valkyrie
Spacestation Gaming -- Hibana / Mute
KiX: All very predictable concerning the bans here.
---
Pre-Game:
12:54 -- The casters on the action:
KiX: I think that both of these teams have a lot of learning about their current roster iterations. Hotancold has come in really strong but at the same time, he has to find his place. DarkZero, Panbazou really impressive performance to start things off. I said it during the match, I'll repeat it now, he didn't have the same blowout performance from the likes of Kyno but he's looking solid and he could fit right into this team.

Interro: Yeah, it is hard when you have a team like DZ when they play to the system so well. Even when they picked up Hyper and njr -- even Skys to a certain extent -- had some struggles finding their place on the squad. DZ can take outstanding players who play their own style and keep them just as good but they need to play the way DZ plays.

For Panbazou I have no doubt that we are going to see him continue to improve but only one playdya is not enough time to give a good sample size
12:51 --
12:50 -- All three analysts pick SSG to win this match.
12:45 -- Both times these two teams have gone to Villa in the past SSG has won 8-7, 8-6 likely making this game a close one.
12:20 -- The SiegeGG Caster Predictions for days one and two.
Only three pairs got all of day one correct; Scok/FuriouSG, AlexPolo/Verdi, and Frieda/Tomozo: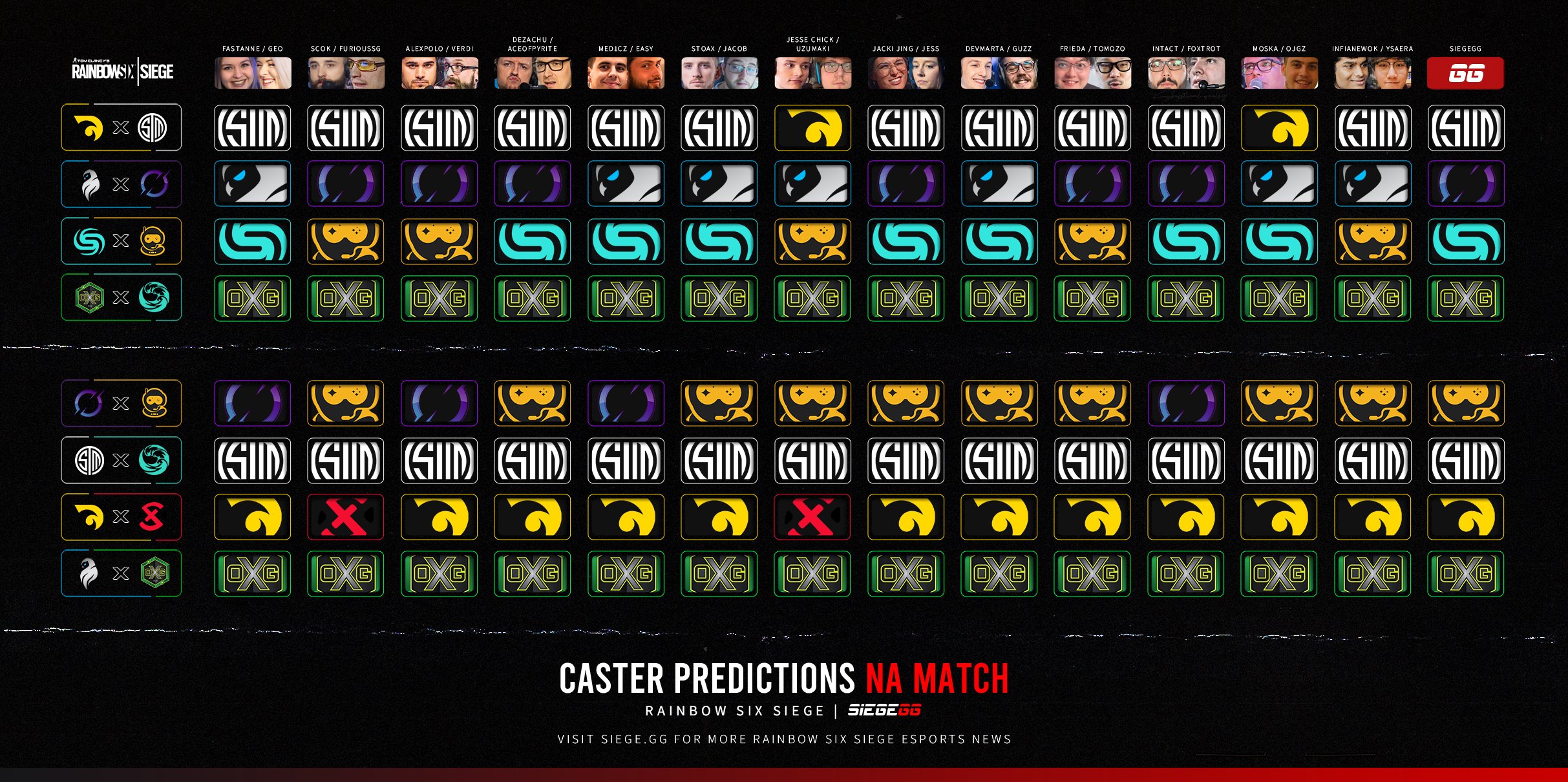 ---
Check back here later on during the playday for further updates on the ongoing NAL matches.