The 26th annual E3 event this year saw Ubisoft's panel kick off the show, as they announced new games, DLC updates to three titles, and a number of new announcements concerning Rainbow Six, including the launch of Extraction.
Jump to:
Rainbow Six: Extraction
Firstly, the biggest announcement of the day concerning the Rainbow Six franchise was the official reveal of the new PvE, co-operative zombies game, Rainbow Six: Extraction.
This game, previously known as Quarantine, is a three-player shooter that involves 18 operators who bring with them many of the abilities we know from Rainbow Six: Siege.
This includes droning as a gameplay mechanic, one-hit-kill headshots, and a number of reimagined gadgets to fit with the new PvE gameplay.
The game sees the three players progress through three increasingly difficult stages, across 12 new maps, to extract intel or other operators from an infested map.
Should a player die, that operator is lost and cannot be played until a mission to rescue them is successful, which adds a roguelike element to the game.
The game will be US$60 on launch on September 16th and includes exclusive cosmetics available for both pre-orders and the game's deluxe edition.
Furthermore, the game has cross-play and cross-progression across all platforms. Owning both Siege and Extraction grants a player an extra cosmetic bundle for Frost in both games and unlocks the 18 Extraction operators in Siege as well.
Thunderbird
Ahead of the release of the new North Star update tomorrow, the seasonal animated video surrounding the new operator of Thunderbird was released in which we learn about her backstory alongside Frost and an angry bear.
More crucially, also released was a behind the scenes look at Ubisoft's work with Nakoda First Nation consultants to ensure they got the character right:
Crossplay and Cross-Progression
One of the biggest changes to the games as a whole came with the highly-anticipated announcement of both cross-play and cross-progression between various platforms.
Concerning cross-play, Xbox and PlayStation players will soon be able to play against each other, while the Cloud Gaming platforms of Luna and Stadia will now be able to play alongside PC players. Crucially, there will be no crossplay between PC and console players.
Cross-progression, meanwhile, will be coming across all platforms, but it is unconfirmed how this will work.
Whether players will be able to import their items from an existing account to another, or if they will need to create a fresh account to bring their items over is yet to be seen.
Top Issues
Ubisoft's post-show following the panel focused primarily on Siege, as they went through community concerns. The full video can be seen below, but in summary, this is what was mentioned:
Smoke Propagation -- Smokes no longer clip through solid objects (walls/floors etc)
Bullet Hole Peeks -- Small bullet holes will not be made on soft surfaces to peek through
Flash Bang Fixes -- Flashes should be more consistent

(Y6S3 release)

Ring Lighting -- A small halo highlights players to stop them from blending in with the surrounding (Y6S3 release)
Anti-Cheat -- Automatic statistical cheat detection is live
MMR Rollback Fix -- Working to make it fairer for players
Abandon Penalties -- The punishment for leaving a match early has been increased.
Next week a full developer blog will be released discussing these problems among others.
Stream-Sniping
While not included in the panel itself, Ubisoft posted an update on their battle against stream-snipers just afterward.
In effect, they're trying to come to a solution but there's no timeline available right now: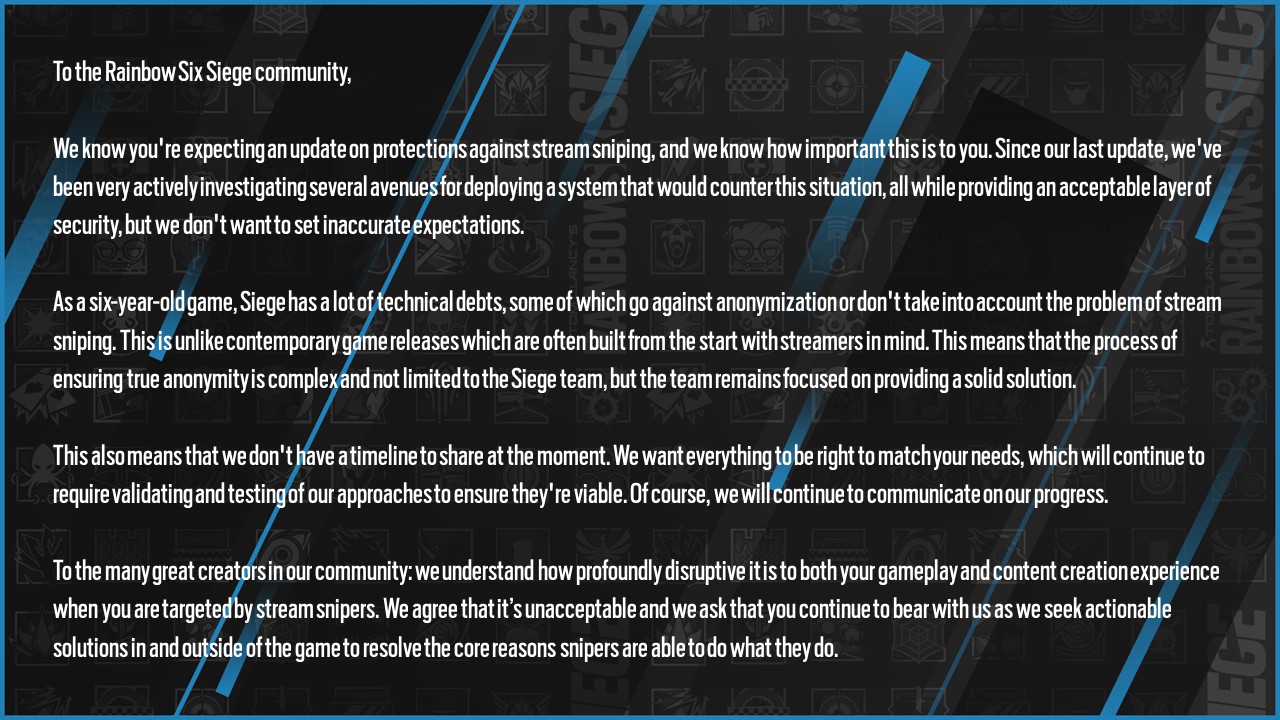 New Cosmetics
Finally of note, a number of new cosmetics were revealed, including the Sixth Guardian Valkyrie bundle, in which 100% of net proceeds will go to StackUp:
Stack Up is a wonderful military charity supporting active and veteran service members from the US and allied nations by promoting positive mental health and combating veteran suicide through gaming.
Last season's Sixth Guardian bundle for Doc raised a total of $171,183 for AbleGamers which, at approximately $6 a bundle, equals around 28,500 bundles sold.
The new season's streamer charms were also unveiled, which included the tournament organiser of CCS Esports in a major announcement for R6 Esports as a whole.
As well as this, the Fnatic player of Mag and SSG streamer of yo_boy_roy all received charms, adding to the 44 other returning streamers.
Finally, following last season's Caveira uniform from SAU-SIEGE, this season will see a Lion firefighter uniform designed by Sunstark released via Twitch Gaming.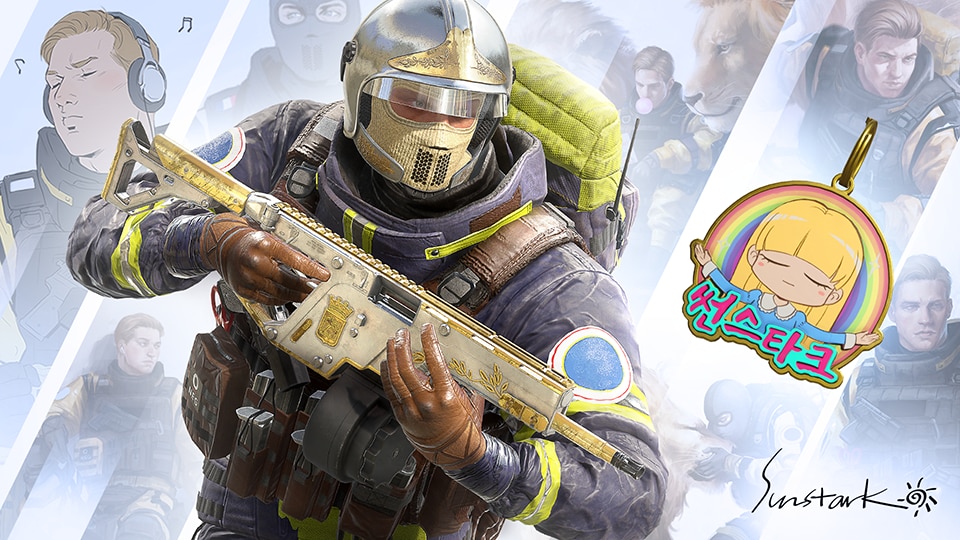 This was announced just after Lion's first official face reveal during the Extraction trailer, which was also designed by Sunstark based on her prior fanart of the character:
6 | Siege Board Game
While no announcements about Rainbow Six's upcoming Board Game were unveiled during the panel itself, the last few weeks have seen a number of reveals surrounding "6 | Siege", including unboxing videos and a blog post introducing the game.
The game, which is currently in its pre-launch stage on Kickstarter, will include 20 operators (presumably the launch characters) and the two maps of Consulate and Clubhouse, which gives it plenty of room for expansions in the future should this be successful.
With a release date of Summer 2021 and a whole kickstarter campaign yet to run, further details and the launch of the third game in the wider Rainbow Six: Siege franchise seems to be coming soon.
Other Announcements
Outside of all the R6 news, Ubisoft Forward also revealed a number of other updates across the rest of the Ubisoft catalog of games.
Most of the note includes the reveal of their previously announced Avatar game titled "Avatar: Frontiers of Pandora" which will be coming to next-gen consoles in 2022:
A sequel to the Switch exclusive of Mario + Rabbids Kingdom Battle was also revealed as the turn-based tactical role-playing game returns after the first game won the title of Best Strategy Game at The Game Awards 2017.
As well as new game announcements, Ubisoft also showed off Assassin's Creed: Valhalla's new "The Siege of Paris" DLC as well as confirming support for the game for another year.
Similarly, Far Cry 6's "Become the Villian" DLC was also announced, as the game allows you to play as past antagonists Vaas, Pagan, and Joseph from the games of Far Cry 3, 4, and 5.
Finally, Ubisoft revealed another trailer for their upcoming extreme sports game, Riders Republic, and announced that their music game of Rocksmith will evolve into an "interactive music learning subscription service" called Rocksmith+.
Unfortunately, no details on Ubisoft's confirmed Star Wars game, a possible future Splinter Cell game, or any of the recently announced Netflix titles were unveiled. These would have followed the recent announcements of a live-action Assassins Creed series and three animated series -- Far Cry, Splinter Cell, and "Captain Laserhawk: A Blood Dragon Remix".
---
The new North Star update will be releasing tomorrow ahead of the NA League kick-off in the evening. For further updates, including a rundown on the upcoming key issues blog post, keep an eye out here at SiegeGG.