As SiegeGG's hub for all roster changes in the transfer window post-Stage 1 of the 2021 season, this page will be regularly updated with the latest transfer news. Check out the APAC, NA, and LATAM threads for changes within those regions as well.
Summary of Changes So Far
EU League:
Virtus.pro - wTg moves to coaching role, Andreezy moves to player role
Team Secret - Prano and Drvn dropped, Pacbull and Keenan signed
TrainHard eSport - Spark benched, Voy signed
Team Vitality - Fabian and Goga contracts lapse, Goga retires
Cowana Gaming - Kendrew benched
GSA League 2021:
PENTA's Levolution banned from all competitions until June 2022
Miscellaneous:
Roster Changes
Jul 19th: Kendrew Benched on Cowana Gaming, Felt "Disrespected" by Team
Following Cowana Gaming's victory over Team Secret in the European League (EUL) today, Luke "Kendrew" Kendrew revealed on Twitter that he had been benched.
In the interim, Cowana Gaming Head Coach Murat "Mrofficer88" Motevalli is standing-in for Kendrew.
Alongside the announcement, he released a video and a text message from him to "[stand up] for [himself]" for the "benefit of [his] mental health", due to the poor optics of being benched on two different teams in under a year.
In his written message, Kendrew stated that the way he had been treated in the team had been "nothing short of a joke". He also said that he was "generalizing the whole team" and would not name specific individuals.
According to him, he had been "used as a scapegoat for a bad split".
He elaborated that the coaching staff had instructed him to "hold people accountable" in his In-Game Leadership, but that the players reacted negatively to his strict attempts at leading the team. As a result, he stated that he felt "tired" and "demotivated" on the team.
Eventually, after being told that he was being benched, Kendrew said he felt "relieved" despite initially believing the news to be a "joke".
The reasons for his shift to the substitute bench, according to him, were that his In-Game Leadership was "inconsistent" and that he sometimes "gives up".
In addition, Kendrew claimed that the team "[allowed] players to tell their teammates to kill themselves over in-game disagreements" and "never punished" the alleged offenders.
Kendrew has now stated that he will be looking for a playing role in a new team and is even open to switching regions, though he is still "open" to becoming a coach or analyst.
MrOfficer88 declined to comment for the timebeing.
Cowana Gaming, however, quoted Kendrew's tweet on Twitter, stating that they "100% support [his] decision to speak of this openly" and that they "genuinely apologize for the stress" caused to him.
Jul 8th: PENTA's Levolution Banned From All Competitions Until June 2022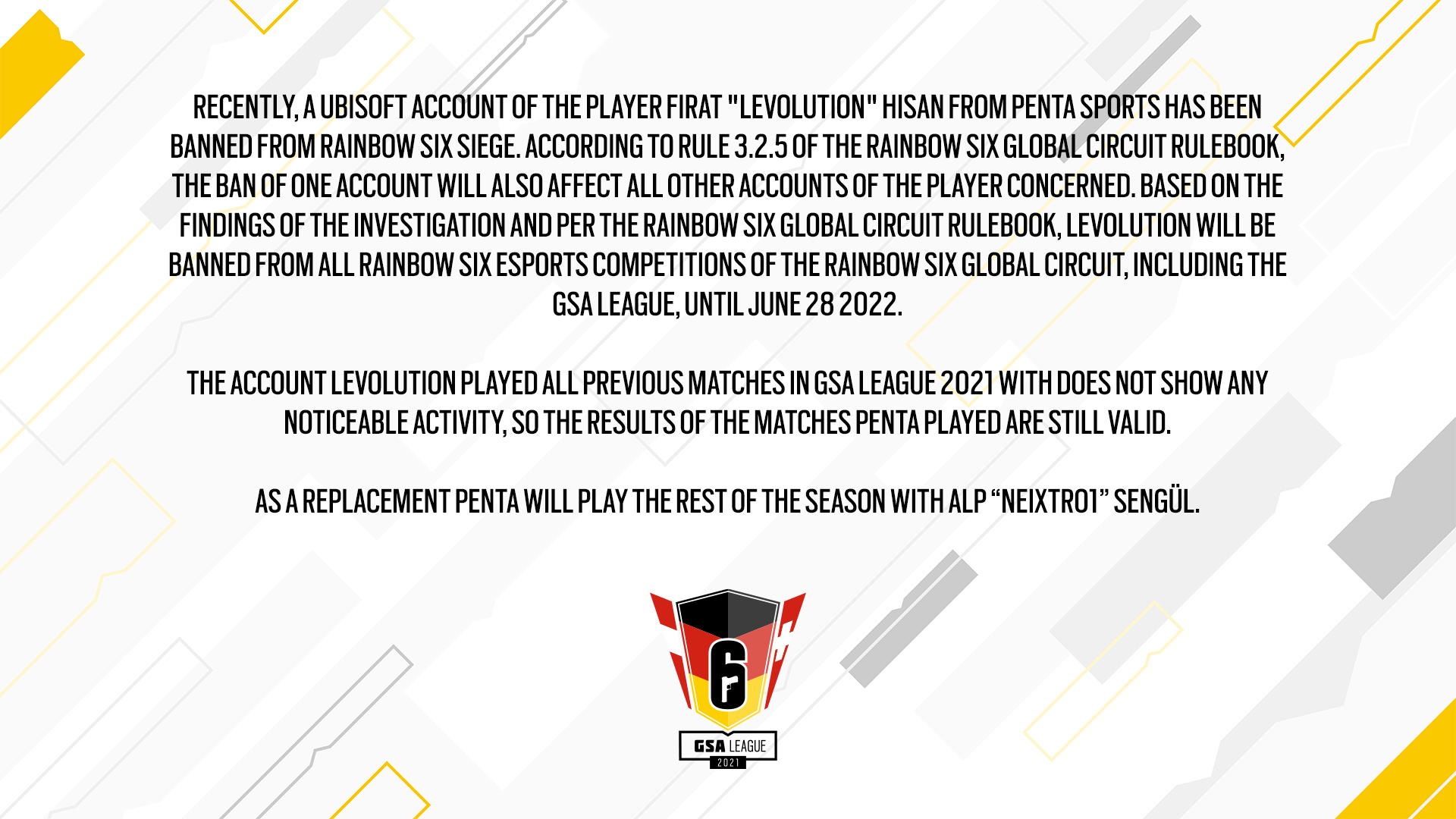 PENTA player Firat "Levolution" Hisan has been banned from all competitions until the 28th of June 2022 after one of his accounts had been hit by an in-game ban.
While Levolution had not played in the GSA League 2021 with the banned account, Ubisoft rules dictate that that ban will also affect all other accounts of the player.
The GSA League has been the primary competition for the PENTA team, though it has also been participating in the Challenger League qualifiers for the 2021 season.
Levolution released a Twitlonger in response to the ban, where he maintained his innocence and implied that his account had been banned as part of the ongoing sweep of false-positives that have affected some players.
In the Twitlonger, Levolution revealed that he had himself approached the GSA League administrators about the banned account on the 24th of April.
A month later, he had been informed that the banned account would not be "unblocked", but that the ban itself would be reviewed. In addition, Levolution stated that his two remaining accounts had been checked and had been found to be legitimate.
That claim was confirmed in the official Ubisoft statement and was given as the reason why the results of the matches played by PENTA will be upheld.
PENTA will thus play with Alp "neixtro" Sengül, with the substitute set to join the main roster for the rest of the season.
Update (July 8th):
Ubisoft today released a follow-up statement in response to public outcry over the ban, stating that the ban was justified based on "performance and in-game toxicity indicators" during a "second review" after PENTA and Levolution's appeals.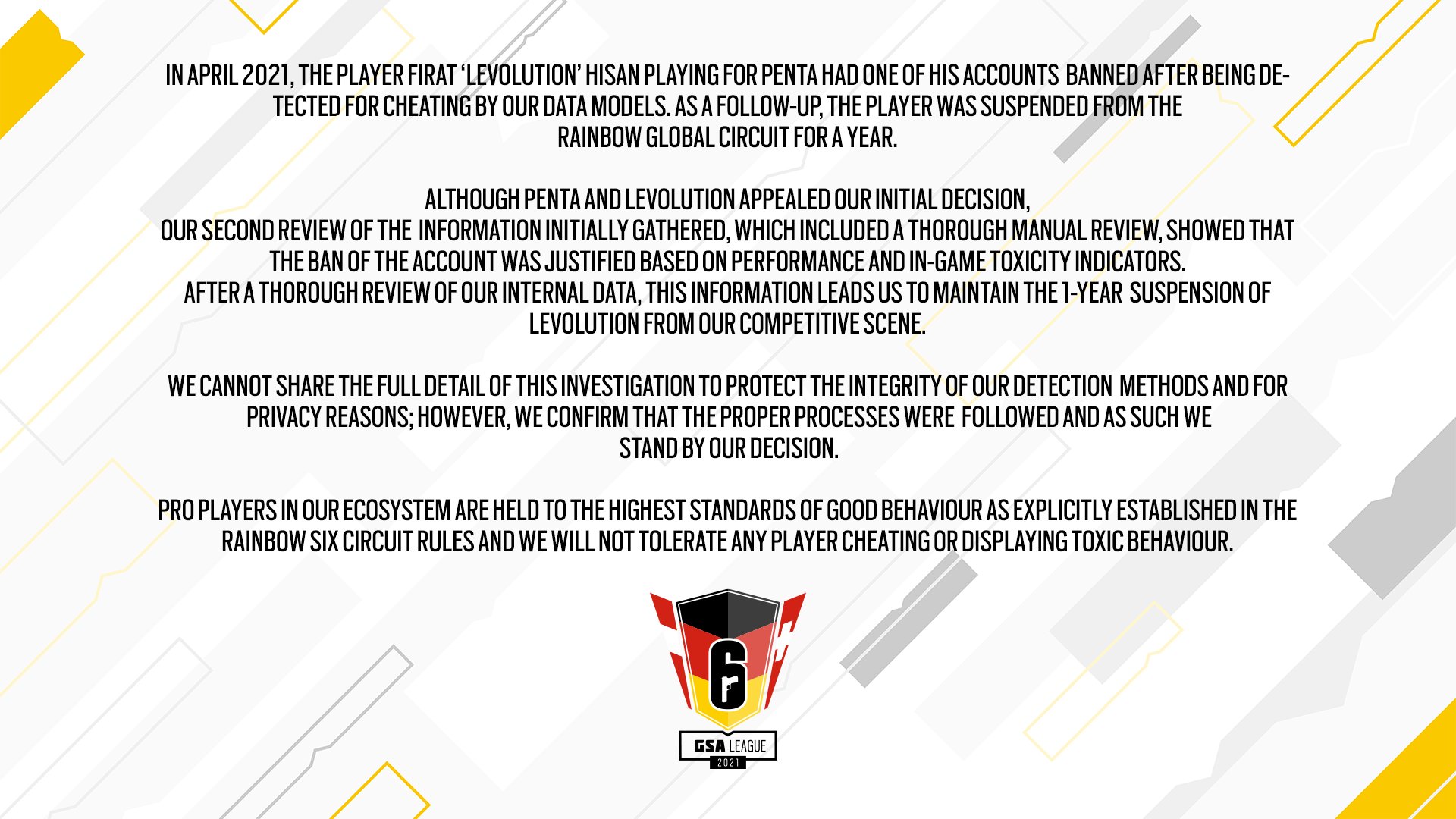 June 22nd: Goga Announces Retirement from Competitive Siege
After being released from his Team Vitality contract, Goga has called time on his competitive career.
Read the full article here.
June 16th: Fabian, KS, Drvn & Jume Form Delta Project, Ferral and Fresh to Coach, and Pengu to Stand-In for First CL Qualifier
Following the end of his contract with Team Vitality today, Fabian "Fabian" Hällsten has joined forces with Niklas "KS" Massierer, Fynn "Drvn" Lorenzen, and Marc "Jume" Steinmann to form 'Delta Project'.
The fifth player is not yet announced and, with Jume unable to formally join Delta Project thanks to the closed transfer window, former G2 Esports talisman Niclas "Pengu" Mouritzen will be standing-in for the first week of the Challenger League qualifiers.
Read the full article here.
June 16th: Team Vitality Formally Releases Fabian
Fabian "Fabian" Hällsten has been formally released from his Team Vitality contract as of today, having been benched by the French organisation earlier in March this year.
June 8th: TrainHard eSport Signs Voy as Spark Replacement
TrainHard eSport has signed former Tempra Esports pro Valentin "Voy" Cheron as a replacement for Martin "Spark" Eberhard, who had been benched yesterday.
Voy had been part of the Tempra Esports roster that had been dropped at the end of the 2020 season and had been the only one of the five players not to be signed to a new roster.
He rejoins his former Tempra teammates Christophe "Chaoxys" Soares and Dylan "Dirza" Brigitte, both of whom had been signed to the TrainHard roster in March this year.
This move this re-forms the Tempra Esports core that had finished fourth at the European November Major and had been one map away from going to the Six Invitational 2021 instead of Mkers.
TrainHard will be hoping it sparks a renaissance in the team, with it currently in danger of relegation after finishing Stage 1 of the 2021 EUL season in eighth place.
June 7th: TrainHard eSport Benches Spark
TrainHard eSport has benched the Frenchman of Martin "Spark" Eberhard, with his replacement set to be announced tomorrow.
June 2nd: Team Secret Signs pacbull and Keenan
After having dropped Prano and Drvn, Team Secret has signed Peter "pacbull" Bull and Keenan "Keenan" Dunne, with the former returning to the team after having been dropped first in February.
Keenan joins from MACKO Esports, having won the PG Nationals Winter 2020 over Mkers as his top honour.
He had made his debut in the March of 2019, but finally makes his way to a top-flight team with Team Secret this year.
Meanwhile, pacbull returns to Team Secret after nearly four months, having spent his time on the recently-relegated roster of Chaos Esports in the interim.
May 27th: Virtus.pro Shifts wTg to Coaching Role, Andreezy to Playing Roster
After a sixth-place finish in Stage 1 of the 2021 European and a failure to attend the Six Invitational 2021, Virtus.pro has opted to swap two of its members ahead of Stage 2. Current analyst Andrey "Andreezy" Bavian will move to a playing role, replacing Artyom "wTg" Morozov, who will now be coaching the team instead.
Read about this change in full detail in our dedicated transfer article right here.
May 22nd: Team Secret Drops Prano and Drvn
Two of the initial members of the Team Secret roster in Fynn "Drvn" Lorenzen and Kevin "Prano" Pranowitz have been dropped from the team.
This change comes after Secret finished stage one in the last place as Prano and Drvn finished third and fourth statistically on the lineup. This was a major drop from their sixth-place finish -- three points away from Empire in second -- the stage prior with the lineup adding SlebbeN and Gomfi between stages.
Now with these two players exiting, that leaves the roster with just SlebbeN, Gomfi, and Hife on the roster with the remaining two players to be announced in the coming weeks.