Tuesday was full of surprises. Both Rogue and Team Secret lost to Sissi State Punks (SSP) and PENTA Sports, respectively. Meanwhile, G2 Esports won in overtime against GC Esport.
However, Thursday was a whole different story. The European League sides won their games in a day where we saw two wins in overtime and two one-sided games. Meanwhile, SSP and Team GoSkilla showed everyone why they are considered to be the favorites to clinch the Challenger League spot.
Let's have a deeper look into the matches seen on Day 3 of the GSA League!
Thursday began with a highly anticipated clash between two well-known organizations in Siege. Despite G2's roster being completely different to the one that signed for the Berlin based organisation, almost three years ago, this game will always be special.
G2's roster struggled to get past PENTA Sports, but after an exhausting 15 rounds, the European roster secured two points after winning in overtime.
The match featured yet more incredible performances from CTZN and Tsuky, who were chosen as the best performers in their respective matches on Day 2. Both players finished with 16 kills and were pivotal in some rounds, as Tsuky came up big in Round 7 with four kills, while CTZN went absolutely berserk on the very last round of the match to give his team the win.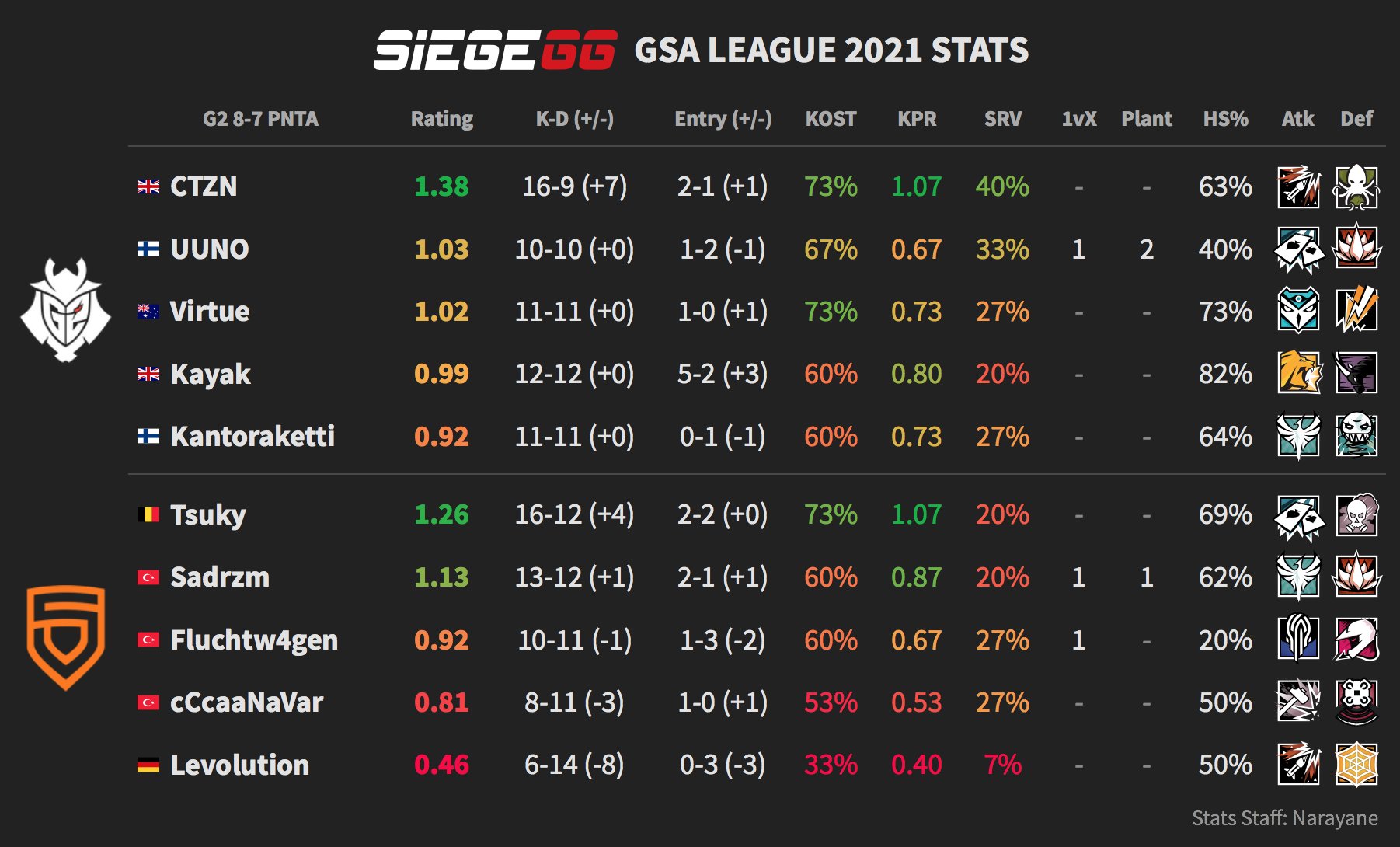 It is also worth noting that this was G2's first appearance on Chalet since its re-work. The map has not had a big impact in the top-tier leagues in Europe and Latin America, while North America and APAC have been open to experimentation with it. In the European League, it has only been played twice, as teams are probably saving strats for the Six Invitational.
Following G2's victory it was SSP's turn to bear the pressure. Prior to this game, the German roster was the only side in the league to win the first two games without having to play overtime. Nevertheless, Team GoSkilla would put that to an end.
Playing on Oregon, both sides offered an incredibly fought match where none of them could open a sizeable gap over the other. However, Zenoxo was the eventual difference maker.
The German player finished the match as the top-fragger player, with 20 kills and a rating of 1.45, which clearly contrasts with the ratings of his teammates as they all finished under the 0.9 mark.
GoSkilla did not exclusively rely on any of the players, as all of its players finished with at least nine kills and ratings above 0.9, with three players reaching a KOST of 80%. But Zenoxo effectively washed away GoSkilla's efforts, with multiple double-kills and a quad-kill that gave his team Round 10, which eventually made the difference in the final score.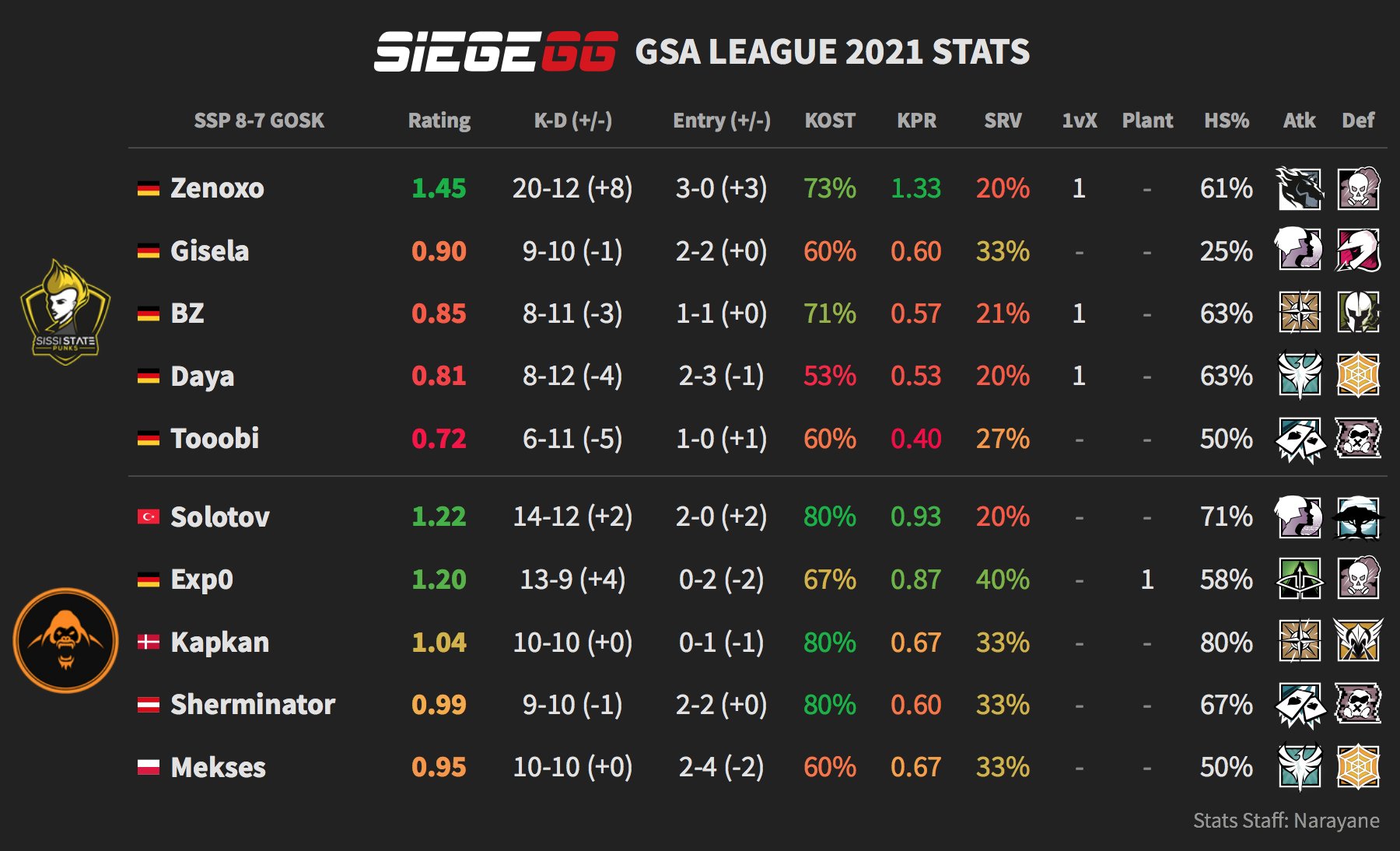 If the previous two games were evenly-matched, the next two would be the exact opposite.
After two play days of failing to win, Team Secret finally got their very first victory in the competition. The European League team did not have problems this time, as Hife was the only player on Secret who finished with a rating below 1.0. Meanwhile, it was a performance to forget for both Veyzel and Konkih, who all had ratings below 0.4.
Despite only having nine rounds in the game, three of them finished with 1v1 clutches, 2-1 in Secret's favour. Sushi was GC's top performer once again, while Prano led his team in what was a rock-solid performance.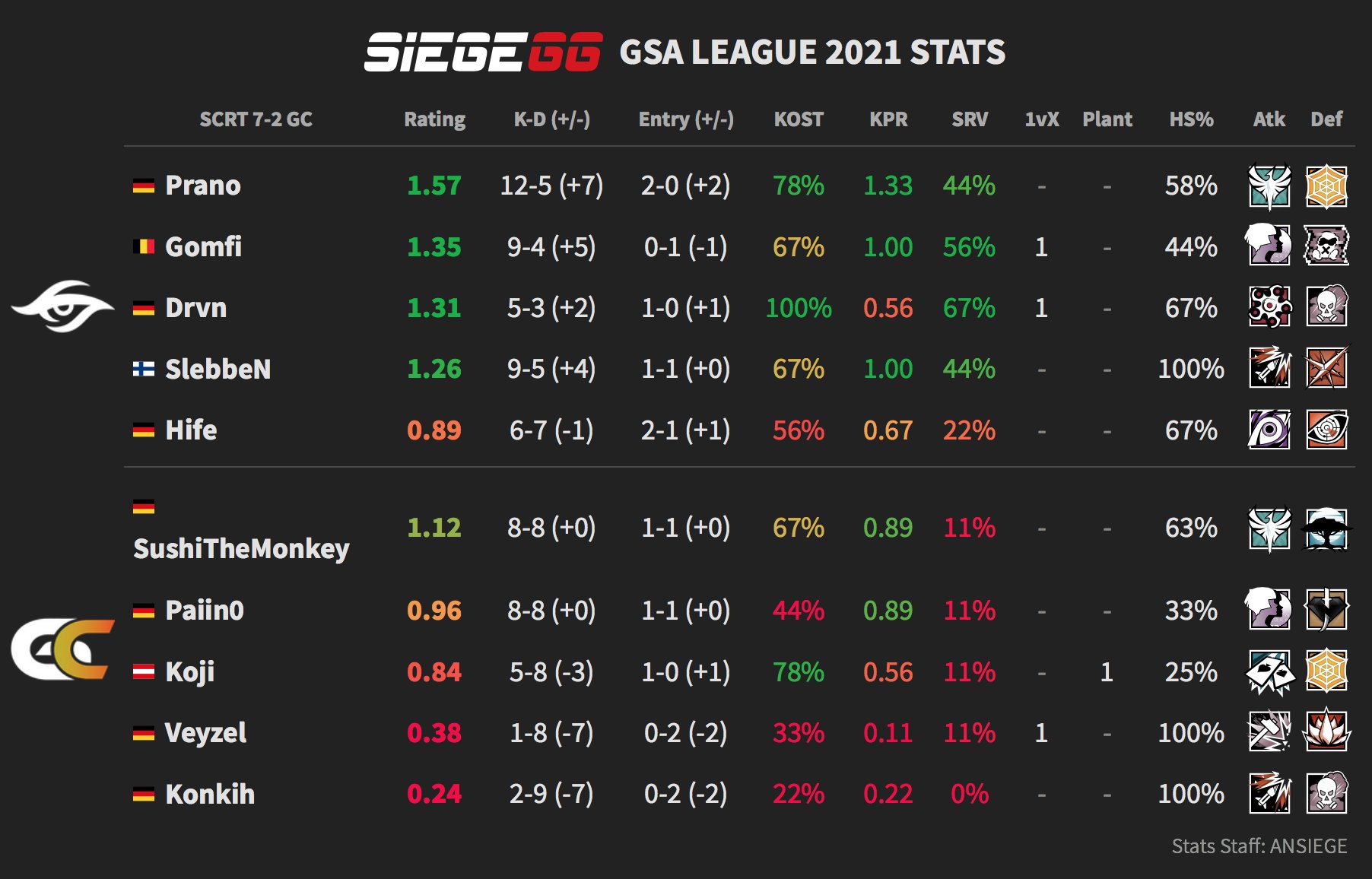 The final game of Thursday was even more one-sided than the previous one. After a flawless first half on attack, Rogue had complete control of Club House.
Ripz went absolutely insane in Rounds 1 and 2, as he secured seven kills, leaving LeonGids in a perfect spot to plant. The German player would not slow down and finished with 14 kills under his name in only eight rounds.
Ovation's only round came after a StrkR clutch on the team's first offensive round. Although this gave the team some hopes to mount what would be an unexpected comeback, it never happened.
It is also worth noting Cryn and LeonGids' performances, as they both finished with a perfect KOST. These all came at the perfect moment, as Rogue's top-performer in the competition, AceeZ, finished with a rating of 0.79.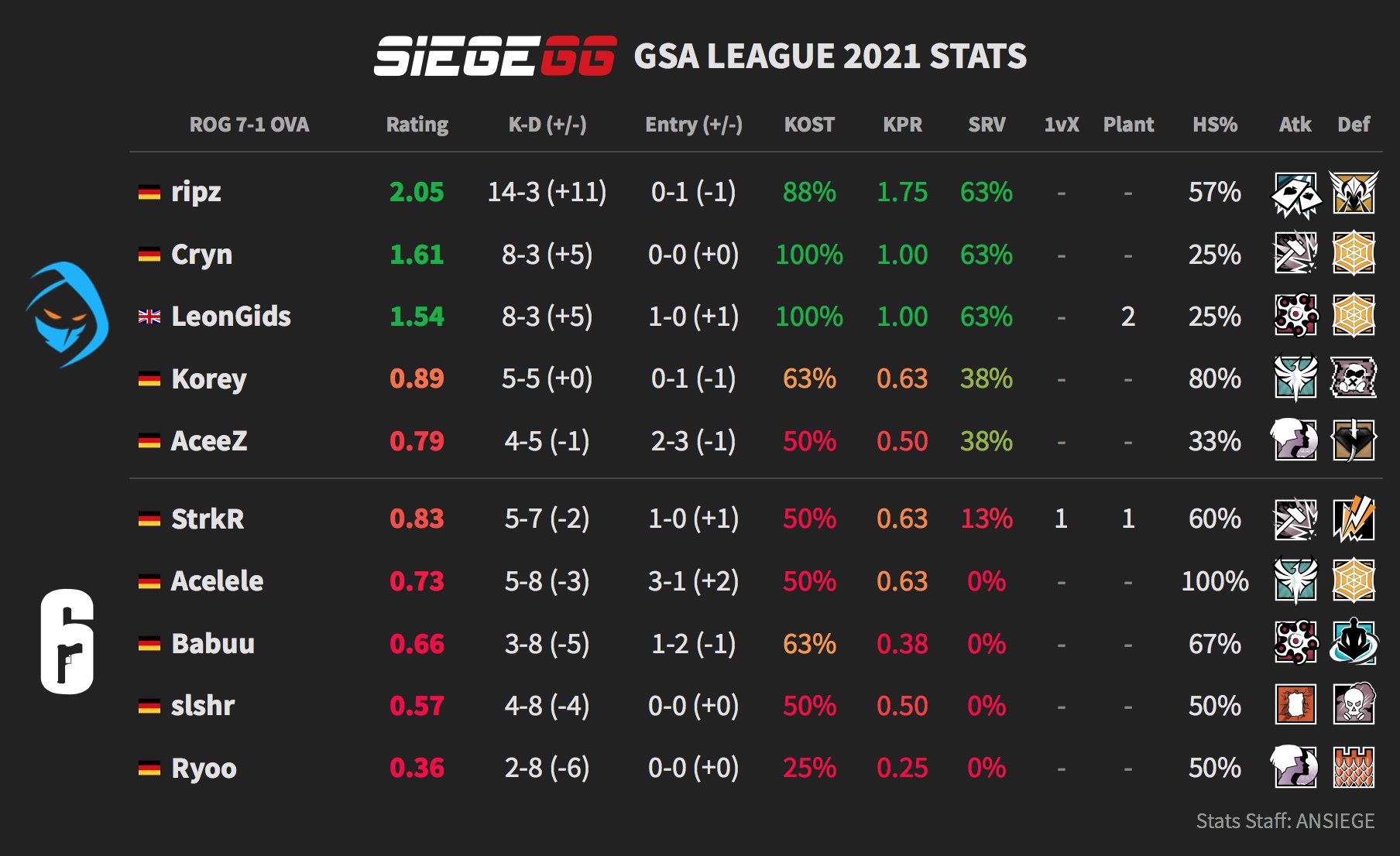 What's next?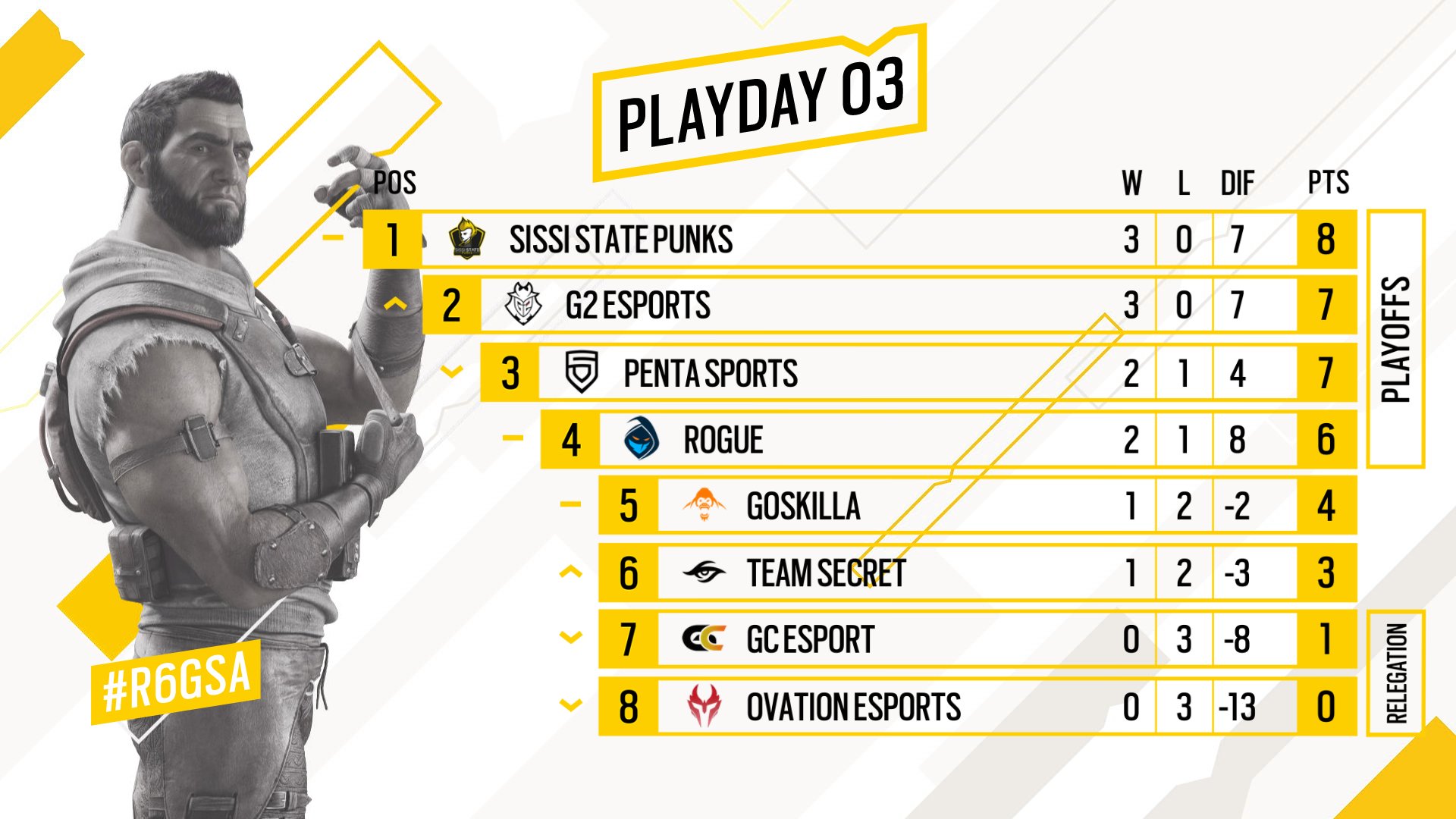 You will not want to miss this week of play. Team GoSkilla and PENTA Sports will face off in a game that could make the difference at the end of the season in the battle for the Challenger League spot.
Later, we will have an European League clash as Rogue and Team Secret will play in a crucial game for the top places.
Then, it will be G2's turn to face the current league leaders, SSP. A win for the Berlin-based organization would see them overcoming their opponents just before their trip to Paris.
Finally, GC Esport and Ovation will face each other to put Day 4 to an end. This is also an important game, as these organisations are the only ones winless in the competition.