BR6 came to a close this week following five weeks of play. As the top six teams all prepare to face the best of Mexico and South America, here's a rundown of all the action since Stage 1 kicked off.
Jump to:
The Teams
While the same 10 organisations we saw last year returned for the 2021 Season, half of them saw a complete lineup change as the balance of power in Brazil was looking to change after the same few teams had led the region for a number of years now:
MIBR -- reduct, Faallz, LuKid, Rappz, FelipoX, and Budega (coach)
Team Liquid -- nesk, xS3xyCake, Paluh, psk1, HSnamuringa, and Silence (coach)
Team oNe eSports -- Lagonis, KDS, Neskin, Alem4o, Levy, TchubZ (coach), and RafadeLL (analyst)
Ninjas in Pyjamas -- Kamikaze, Psycho, julio, Muzi, pino, and Mity (coach)
FaZe Clan -- Astro, cameram4n, Bullet1, Cyber, soulz1, and Ramalho (coach)
INTZ -- Dudds, Vnx, DRUNKKZZ, Vittzzz, Hornetao, JP (coach), and igoorctg (analyst)
W7M Gaming -- panico, HerdsZ, Guii, pdr1n, kurtz, Abreu (coach), and Alpha (analyst)
Black Dragons e-Sports -- live, hugzord, ion, Patoxy, yoona, sSeiiya, and Vivas (two coaches)
Santos e-Sports -- rhZ, kondz, Hxnteer, destiny, Stk, freezao, Lend4 (coach), and depresso (analyst)
FURIA Esports -- h1ghs, LENDA, Miracle, Fntzy, R4re, Twister, and Kizi (two coaches)
The main change from 2020 saw three teams rotate orgs in one of the weirdest set of changes in R6 history:
Full Team oNe roster to MIBR
Four members of the MIBR roster to FaZe
Three members of the FaZe roster to Black Dragons
To replace their lost lineup, Team oNe picked up a team of left-over players from FaZe, INTZ, BD, and Singularity. Finally, the last organisation to completely remake its team was Santos, who dropped four players in favour of four rookie players from four separate Challenger League teams.
Elsewhere, FURIA made two changes in bringing in Fntzy and R4re, while INTZ and W7M both made one change each in Hornetao and kurtz.
Finally, staff changes were made in Liquid, NiP, and FURIA, with Liquid dropping mav following abuse allegations, NiP picking up Mity from Santos, and FURIA acquiring Mizi from last year's CL winners of Falkol.
The Season
The BR6 format sees two playdays of games happen every Saturday and Sunday totalling eight BO1 map games per week. Like in NA this means some teams fall behind in games played as not every team can play twice per week.
Week 1
Week one kicked off with four of the biggest matchups of the stage -- Liquid vs NiP, FaZe vs MIBR, MIBR vs NiP, and Liquid vs FaZe as the classic big-four orgs all faced each other.
Starting with NIP vs Liquid on Oregon, this game saw the very odd bans of Clash/Zofia from Liquid, however, while unconventional it certainly worked as NiP seemed very disorganised on their attacks running out of time, rushing single entryways and being unable to clear entrenched defenders.
This led to a standout ace from Nesk as they took a 4-1 lead before JULIO kept NiP in it with a 1v1 to keep the close by the scoreline. 1v2s from muzi and pino added to it before their luck ran out and Liquid ran their attacks to a 7-5 win.
Onto FaZe vs MIBR, this was somewhat interesting going into it as the current FaZe Clan roster played under the MIBR name last year; time to see whether MIBR upgraded or downgraded with their pickup of the Team oNe roster.
While it was close to begin with, triple kills from Cyber, and Astro pushed FaZe into the lead despite some severe pushback from LuKid in particular. By the half the scoreline was 4-2 which FaZe added to get to match point before a MIBR comeback began.
After a few confident rounds including a quadruple kill from LuKid, the match ended on round 11 with a 1v1 from soulz1 giving FaZe a 7-4 win.
The next day MIBR faced their second challenge, this time against the Ninjas in Pyjamas. After an initial round from MIBR, NiP then shot ahead in a similar way that FaZe did in the prior game as standout individual plays pushed them well into the lead. A 4k from Psycho was responded to with a 4k from LuKid the following round to end the half 2-4 yet again.
NiP immediately went to match point but, unlike against FaZe, MIBR was not able to mount any comeback losing the game two rounds later, 7-3, in another disappointing result considering this roster won the BR6 online season last year.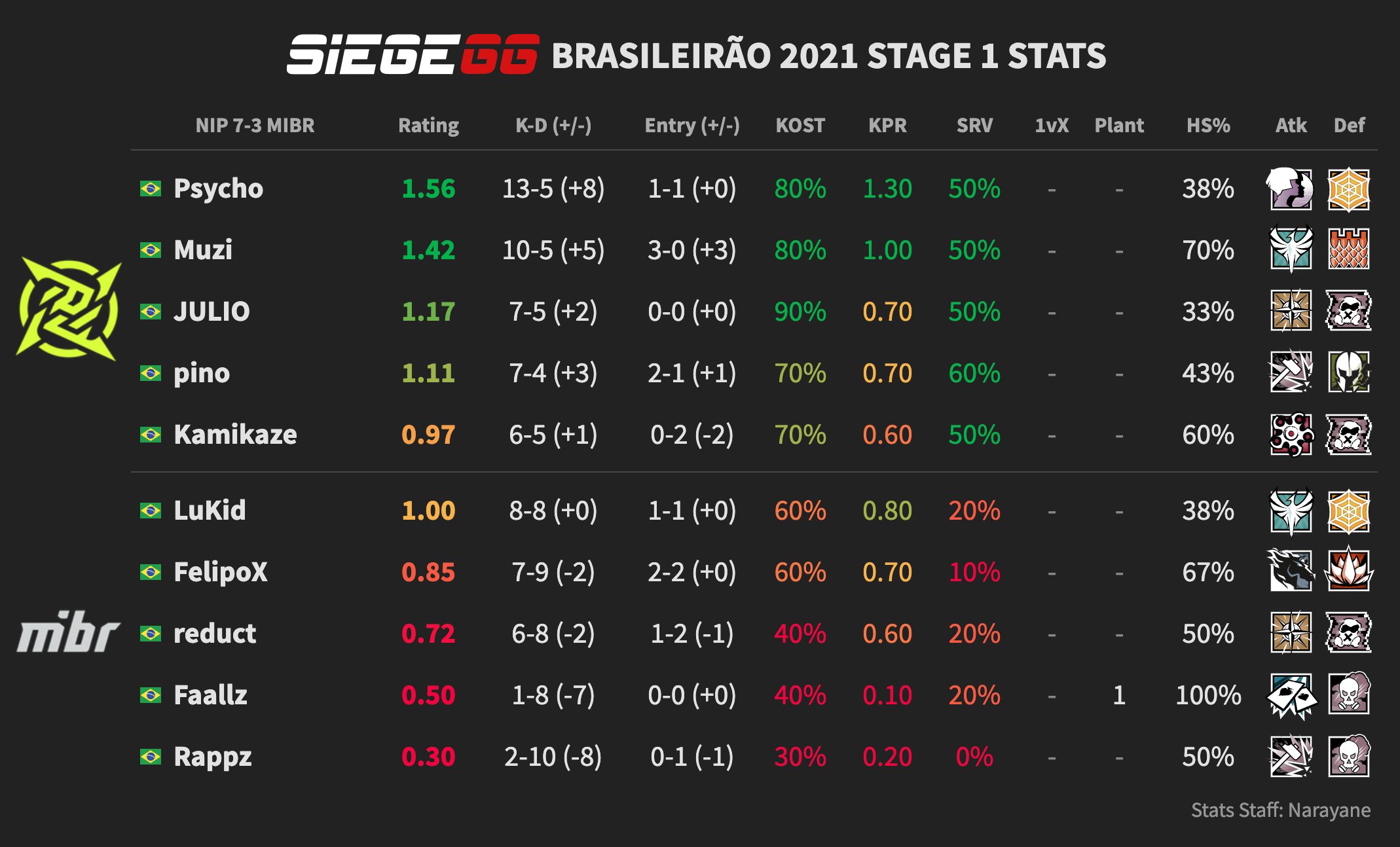 Finally of note, FaZe Clan vs Team Liquid ended the weekend in what turned out to be the most important game of the Stage in Brazil.
After Team Liquid started off well, this turned out to be more due to the attack sided nature of Club House as a 4-2 lead from Liquid turned into a 4-2 second half from FaZe putting the game into overtime. Here Nesk pulled off the only clutch of the game -- a post-plant 1v3 on Wamai -- to gain the lead once again before FaZe won their own defence almost flawlessly putting the game to round 15.
Finally, to end the game, an entry kill from cameram4n onto his ex-teammate of Muringa followed by a triple kill from Cyber gave FaZe the crucial two points that would win them the entire stage:
Week 2
Following two defeats the week prior, MIBR then was faced with another problem for week two; Covid. Both LuKid and their coach of Budega were out of action and quarantining following a Covid test which came back positive during the prior week's games putting the team at a clear disadvantage. Replacing LuKid for their games against FURIA and NiP was the ex-FURIA Academy player of TradyZz.
MIBR showed their defeats weren't too endemic with a win over FURIA due to three clutches across their 12 rounds as Faallz in particular was a standout player. Tradyz did somewhat struggle with 8 kills to 12 deaths, however, also went 4-2 on entry as Ash/Wamai so was clearly helping.
The following day, MIBR then faced W7M which, after an initial to and fro MIBR took control and dominated to a 7-3 scoreline, this time led by Rappz, in which Tradyz performed a tab bit worse.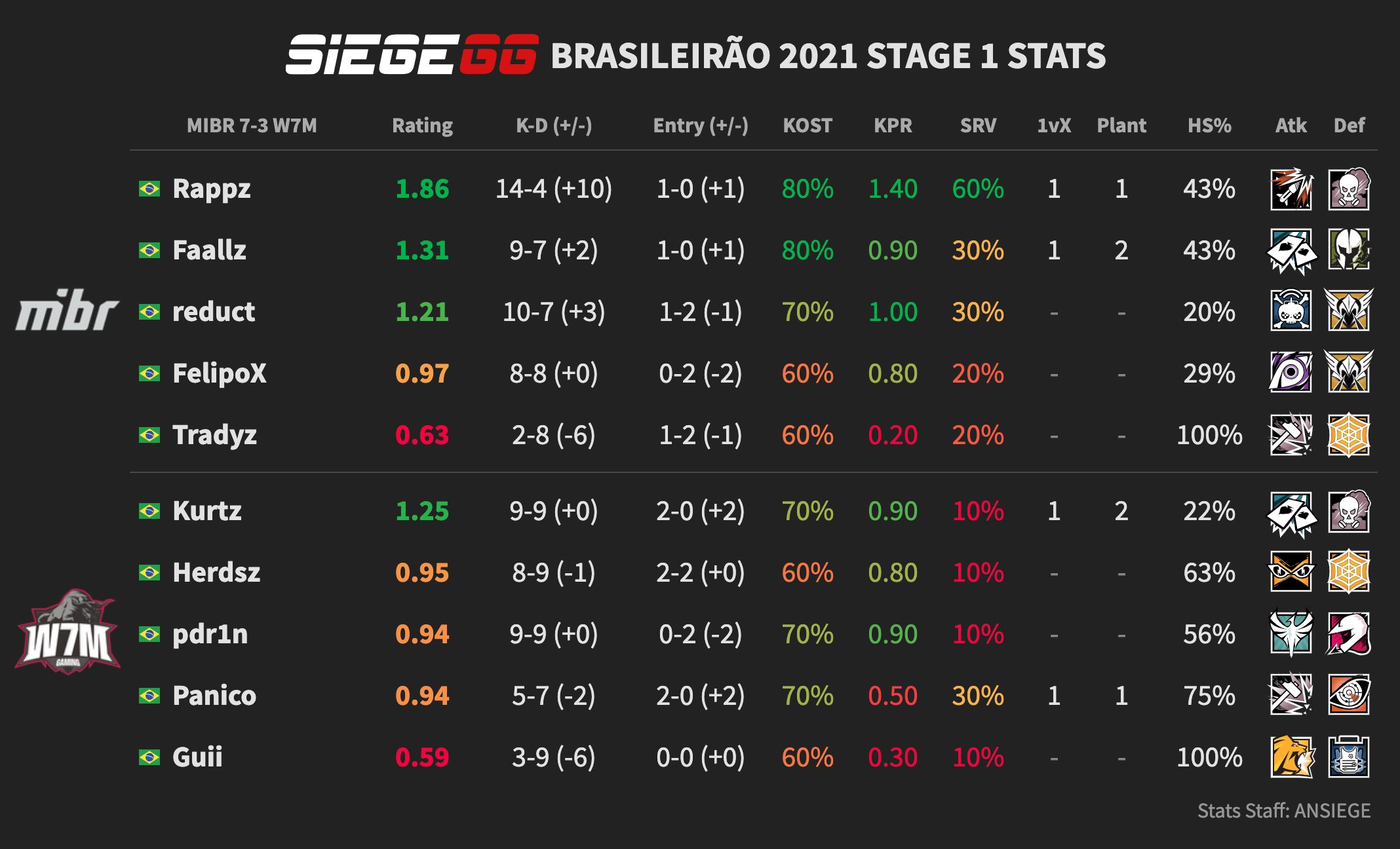 MIBR's results this week looked even better as, after beating FURIA on Saturday, FURIA then defeated NiP on Sunday in a shock result. On Oregon, FURIA went up 5-1 as, similar to their attacks against Liquid, NiP looked pretty lost on what to do most rounds despite having an unchanged roster for the last 18 months and playing on a very well played map.
As they started defending NiP came back into action before round 10 saw a quadruple kill from Fntzy be finished off by Miracle and round 11 had a quad kill from Miracle be finished off by Fntzy to end the game, 7-4.
Finally, another grudge match came between FaZe Clan and the ex-FaZe roster of Black Dragons which includes Yoona, ion and live who were all kicked from the team during the mid-season.
While many were hoping for a fairytale upset with BD toppling FaZe, FaZe were clearly a league ahead of their opponents going ahead 6-0 before closing it out at 7-2 on Kafe. Somewhat embarrassingly, while Astro topped his team with a 1.51 rating, his teammate of two and a half years of Yoona hit a measly 0.53 rating as his chance for revenge went very very badly.
Week 3
Adding to NiP's woes, week three began with them losing to Black Dragons as a 3-3 half turned into a run through by the Dragons as they managed to win all four of their attacks on Coastline. The map saw Kamikaze really struggle with a 1-8 scoreline on the very frag-capable operators of Smoke and Ace while BD's Ash/Jager main of Patoxy led the game with a 1.44 rating: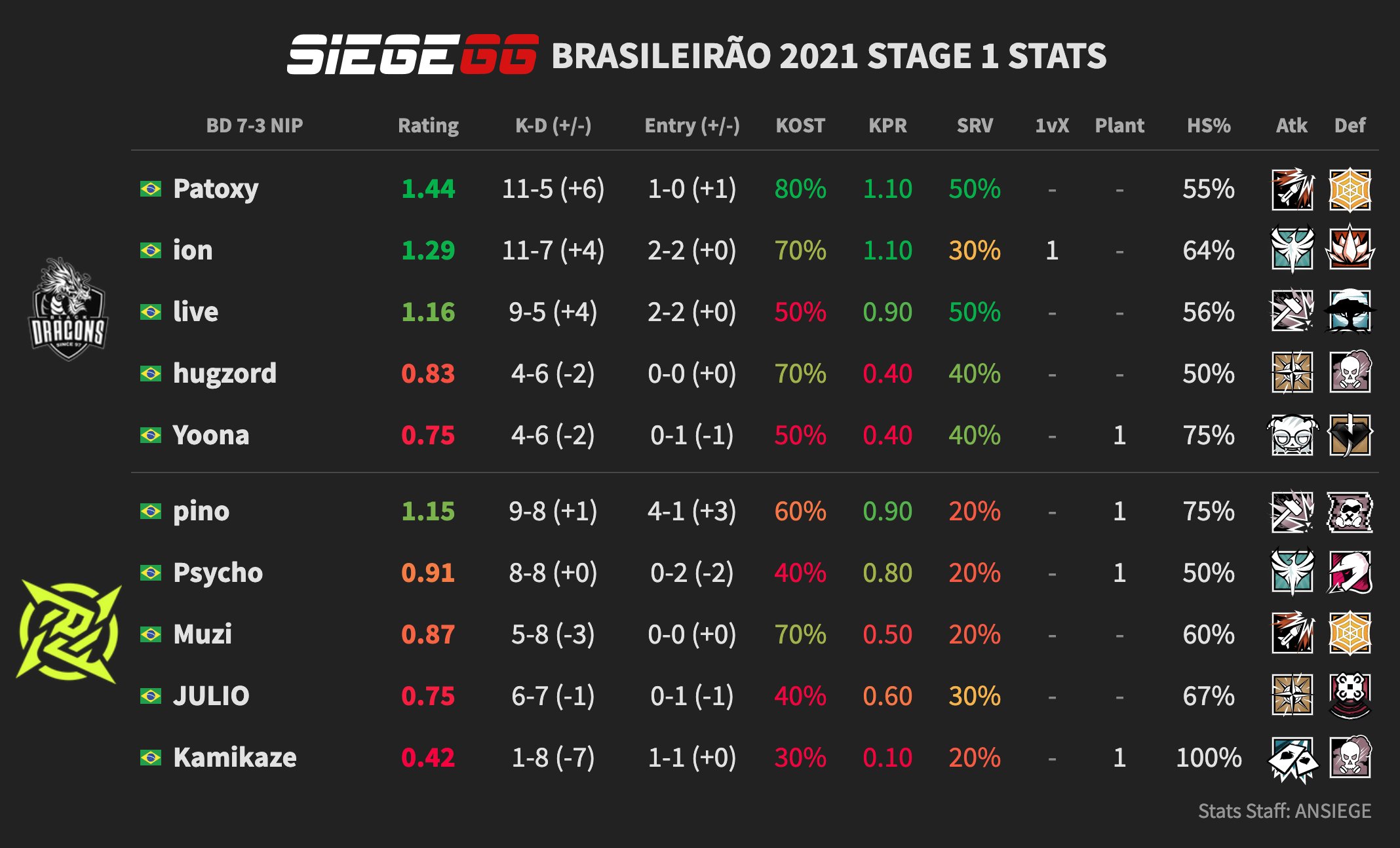 After losing to the ex-FaZe roster on Saturday, NiP then faced the current FaZe roster on Sunday on Consulate, starting on defence. FaZe started 3-0 up before NiP finally woke up on their third attempt at the garage site which Kamikaze won in a clutch over Cyber. NiP ended the half 3-3 before a very similar pattern happened in the second half pushing the game into overtime thanks to some herculean plays from pino in particular.
Overtime saw NiP take the lead for the first time this game due to a 1v3 from Muzi before they closed it out 8-6 on their defense in a result FaZe would be very annoyed about
With the stage now 6/11 playdays over, the standings were in many ways how you'd expect it with the teams of FaZe, Liquid, BD, and MIBR in the top four with just NiP missing from the top five rosters from last year.
NiP weren't just missing from this list but were in fact down in seventh outside a playoff qualification spot as FURIA sat in fifth and oNe in sixth. Finally, at the bottom of the table, INTZ were the duds with not a single point to their name across five games.
Week 4
With INTZ at zero points, their luck didn't improve going into week four with Vnx announcing he is unable to play due to health issues leading the women's league player of Miranda to stand in for him in what was the very first pro-tier game for a woman in Latin America.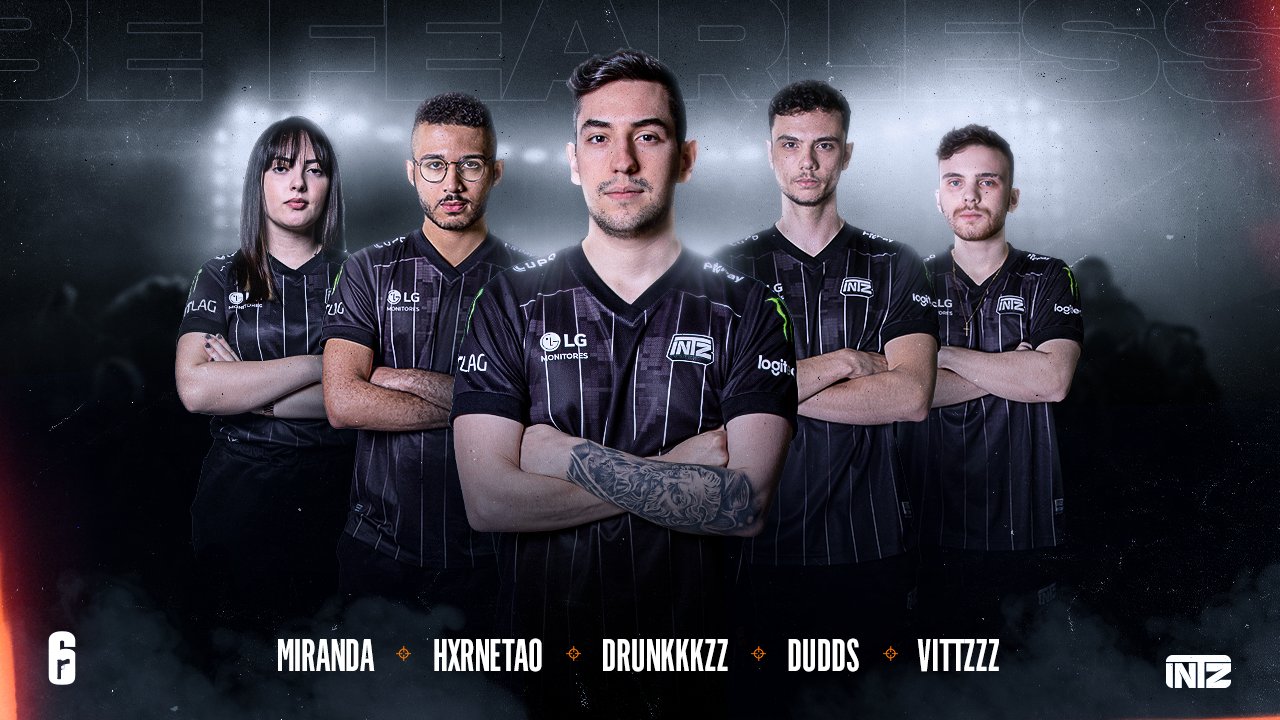 Their two games this weekend was against FURIA and FaZe. The first of these games came incredibly close to getting their first point as a 1v1 win from Miranda put INTZ an inch from match point in their first 12-round game of the stage.
Their loss here wasn't too bad as they followed this up with a momentous win against FaZe Clan the following day in which they won all three points. In what turned out to be FaZe's only clean defeat in the entire stage, INTZ initially kept them to a 3-3 half due to a 1v2 4k from Hornetão before an uneasy second half was broken in INTZ favour on round 12 as a number of early kills left Astro to plant in a 2v4 situation which got swarmed on.
While this was nowhere near enough to lift INTZ from the last place, this was the start of a fairly fortuitous few games for INTZ as the role changes forced by the illness carried into their following games in which they defeated both NiP and W7M in the following week.
While less impressive following INTZ's upset, W7M also surprised everyone with a clean win over the Black Dragons on Villa. This result came as BD's defence seemed very weak on this notoriously defender-sided map. BD managed to eke out a 3-3 half thanks to a 1v1 win by ion only to get swept on their attacks in a much more typical four rounds to one.
Week 5
Onto the final week, this saw both an extra playday on Friday and a five-game playday on Sunday totalling 13 maps compared to the usual eight.
At this point, every team except for INTZ theoretically still had a shot of finishing in or out of the top six, however, in reality, Liquid and FaZe had both secured a playoff spot with Liquid both two points ahead of FaZe in first and with a game in hand.
Liquid, however, completely squandered this advantage with a 7-8 loss over Black Dragons. Despite Nesk securing 23 kills over the full 15 round duration, a 1v1 from live pushed BD into overtime before a 1v2 from ion in a full 10-kill round gave BD the victory.
FaZe followed this with a win of their own W7M straight afterwards to tie Liquid on points in first place with two days to go.
The following day, FURIA locked in a playoff spot with a 7-2 win over W7M which saw them push ahead of MIBR into third place after ending last year in last. Without a doubt, FURIA Esports were the biggest surprise this season and have positioned themselves as quite a force in the upcoming Six Invitational:
GGWP FaZe Clan. Very happy with the performance of the team individually and collectively. For the first time facing a large team on an equal footing with a lot of potential in the game! but there is still a lot of room for improvement!
Finally, on the final day of the BR6 stage, NiP finally made it with a 7-4 win over Team oNe while oNe themselves qualified as Black Dragons lost against Santos, 7-2. BD needed just a single point to take sixth but quite literally fell on the very last hurdle.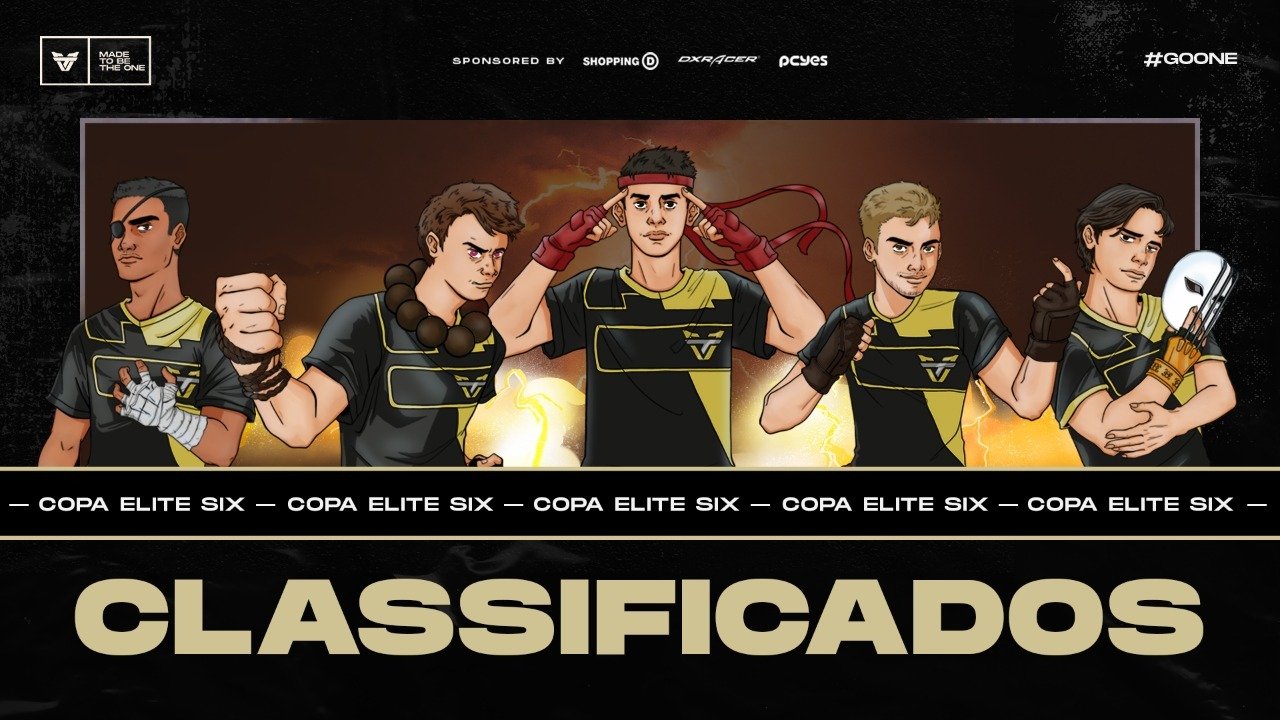 With this, the six teams which will progress to the Elite Six Cup were decided -- Liquid, FaZe, MIBR, FURIA, NiP, and oNe -- meaning all that was left was Liquid's chance to take first place in Team Liquid vs MIBR.
From round one this game was a slaughter in MIBR's favour. LuKid started it with an ace which set the tone for six straight round wins before a single Liquid win by round timer was ended 7-1 meaning Liquid failed to get the single point required for victory giving FaZe Clan the stage one title.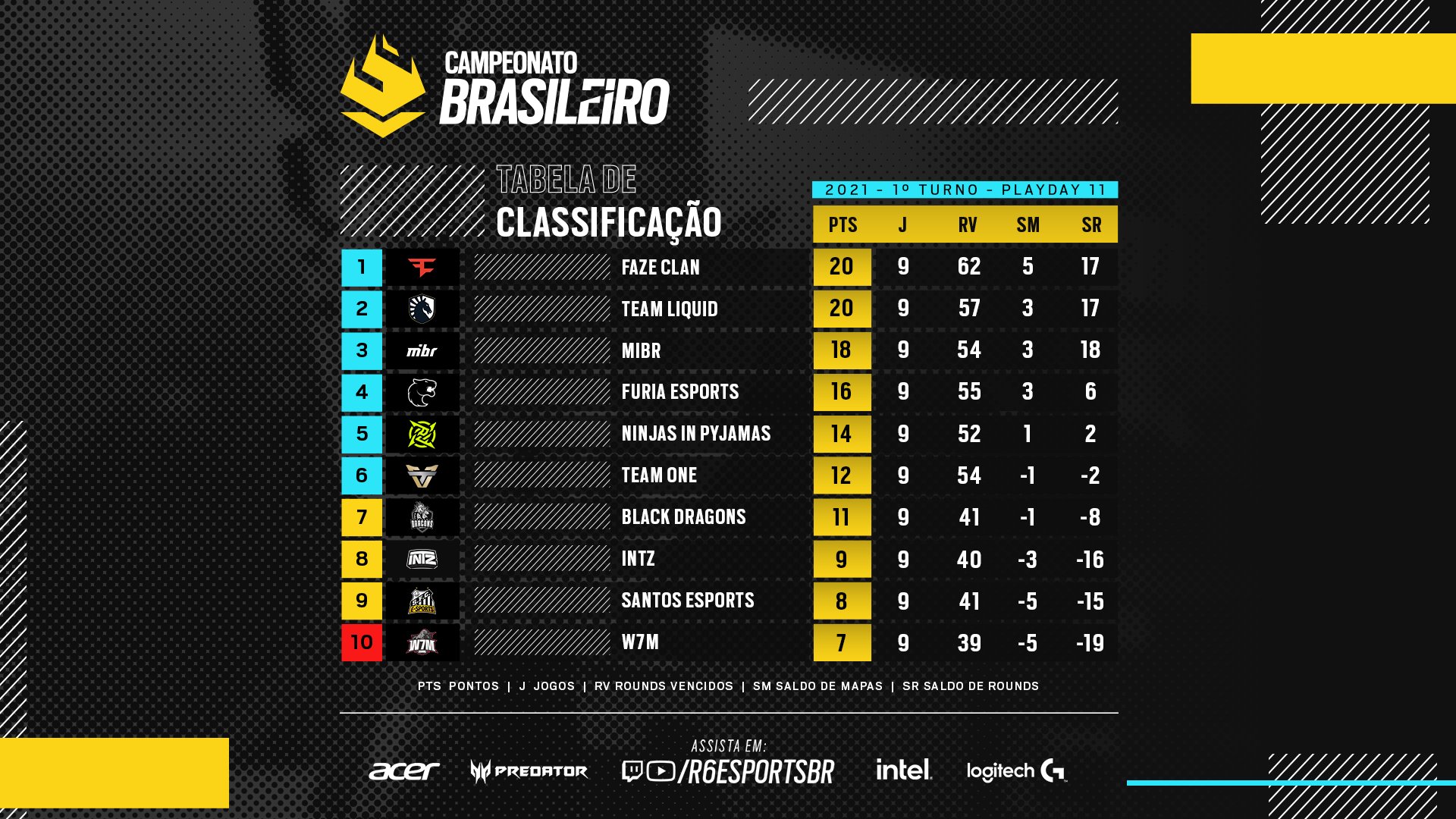 With Liquid and FaZe tied on points, the tiebreaker went down to head-to-head in which FaZe's 8-7 win earlier in the season made the difference in truly the tightest of margins.
What's Next
With this league now over, the top six teams will progress to the Elite Six Cup kicking off tomorrow where they'll face the top teams from around the LATAM Region.
Here, FaZe, Liquid, FURIA, MIBR, BD, and NiP will be joined by Atheris and Fenix from Mexico and the South American teams of 9z and Malvinas to form a 10-team online regional final to crown the best team in Latin America.
The tournament will see these 10 be split into two round-robin groups with the top three in each progressing to the playoffs. In total, this event will dole out a massive $175k in prize money and 2165 SI Points as the rewards from the cancelled May Six Major is split among the teams also.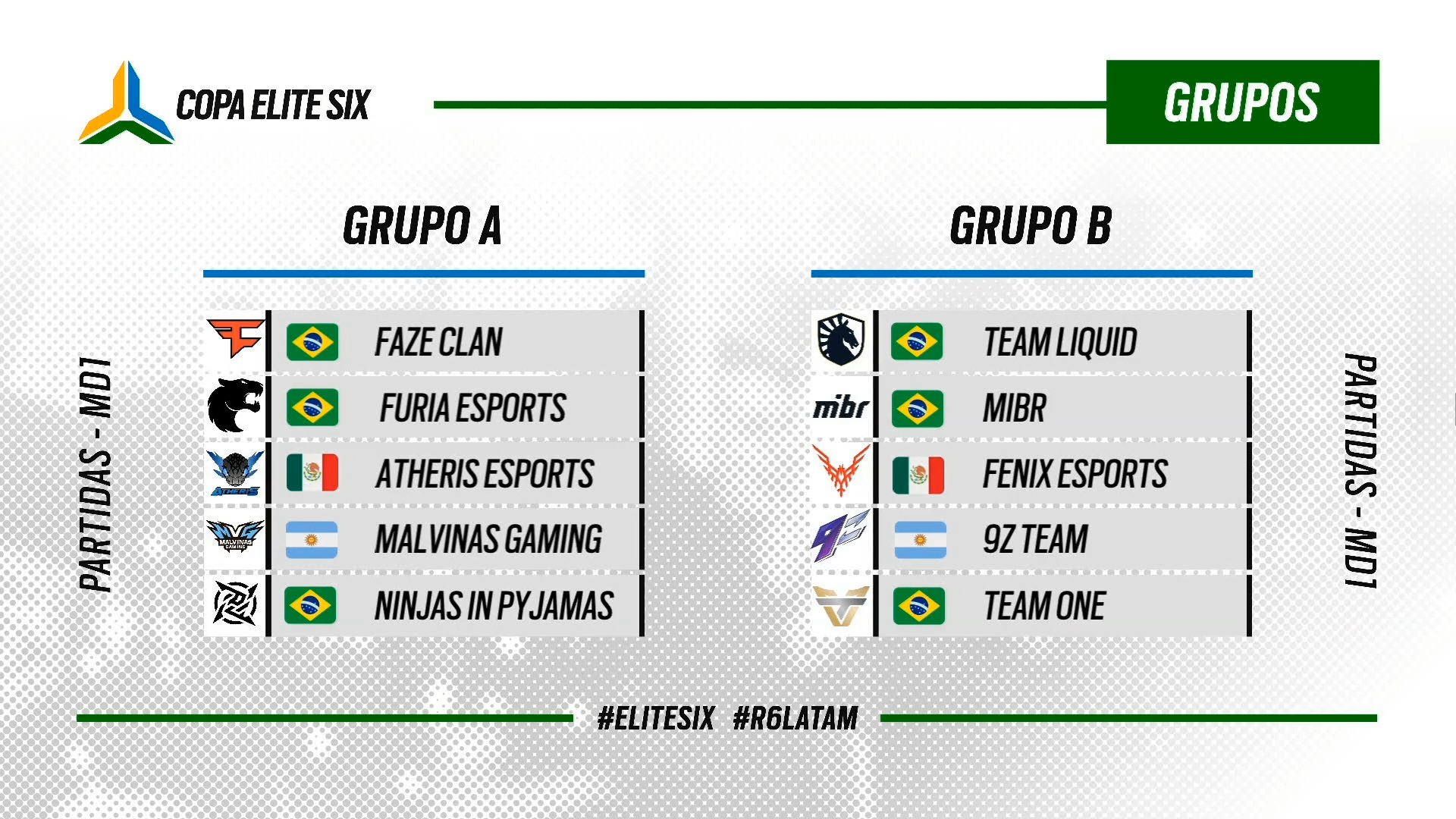 Finally, the six Brazilian teams of Liquid, FaZe, MIBR, NiP, oNe, and FURIA will compete at the upcoming Six Invitational in May after qualifying for the event six months ago.
---
Keep an eye out here at SiegeGG for full coverage of these games over the next few weeks as Stage 1 comes to a close in LATAM.